Allergenic Extracts, Apple
Dosage form: injection, solution

Allergenic Extracts
Directions for Use
On This Page
Warnings
This product is intended for use by physicians who are experienced in the administration of allergenic extracts and the emergency care of anaphylaxis, or for use under the guidance of an allergy specialist.
Patients should be instructed to recognize adverse reaction symptoms and cautioned to contact physicians' office if reaction symptoms occur. As with all allergenic extracts, severe systemic reactions may occur. In certain individuals these life threatening reactions may be fatal. Patients should be observed for at least 20 to 30 minutes following treatment and emergency measures as well as personnel trained in their use should be immediately available in the event of a life threatening reaction. Serious adverse reactions can be reported to the US Food and Drug Administration MedWatch, 5600 Fishers Lane, Rockville, Maryland 20852-9787, (800) FDA-1088, or www.fda/gov/medwatch.
This product should not be injected intravenously. Patients who are taking non-selective beta blockers may be more reactive to allergens given for testing and may be unresponsive to the usual doses of epinephrine used to treat allergic reactions. Refer to the Warnings, Precautions, Adverse Reactions and Dosage sections below.
Allergenic Extracts, Apple Description
Therapeutic extracts (concentrates) are designed primarily for the physician equipped to prepare dilutions and mixtures as necessary. Allergenic Extracts are manufactured from various biological allergenic source materials including pollens, molds, epidermals, insects, food and environmental inhalants. The extraction is performed in a glycerin solution and the resulting concentration is expressed as weight to volume (w/v) ratio. This is the weight of dry pollen in grams to volume of glycerin extracting solution in milliliters. Extracts are filtered and sterile filled. Tests include those for safety and sterility. The route of administration is subcutaneous. Scratch diagnostic extracts are of the same therapeutic extract formulation and their route of administration is percutaneous. Intradermal diagnostic extracts are dilutions of the therapeutic extracts using Sterile Diluent for Allergenic Extract.
Inactive ingredients:

Therapeutic and Scratch extracts

:

Intradermal 1:500 v/v

(foods)

Intradermal 1:1,000 v/v (

pollens, molds, epidermals, inhalants)
Glycerin, USP, 50% v/v
Glycerin, USP, 0.1% v/v
Glycerin, USP, 0.05% v/v
Sodium chloride, USP, 0.166% w/v
Sodium chloride, USP, 0.9% w/v
Sodium chloride, USP, 0.9% w/v
Sodium bicarbonate, USP, 0.091% w/v
Sodium bicarbonate, USP, 0.000182% w/v
Sodium bicarbonate, USP, 0.000091% w/v
Phenol, USP, 0.4% w/v
Phenol, USP, 0.4% w/v

Sterile Diluent for Allergenic Extract:

Normal Saline with Phenol:

Human Serum Albumin:

Glycerin, USP, 50% w/v

Sodium chloride, USP 0.9% w/v
Sodium chloride, USP 0.9% w/v
Sodium bicarbonate, USP 0.091% w/v
Phenol, USP 0.4% w/v
Phenol, USP 0.4% w/v
Sodium chloride, USP 0.166% w/v
Water for Injection, USP q.s.
Normal Serum Albumin (Human), 0.03% w/v
Water for Injection, USP, q.s.
Air replaced with Nitrogen, NF
Water for Injection, USP q.s.
Air replaced with Nitrogen, NF
The following allergenic extracts are designated and labeled "FOR DIAGNOSTIC USE ONLY". Data to support the therapeutic use of these extracts has not been established: Coffee Cottonseed Flaxseed Housefly Mosquito
The strength of Standardized Short Ragweed and Ragweed Mix, Giant and Short extracts is described (in addition to w/v) as antigen E content. The concentration of antigen E per milliliter of the final preparation as determined by radial immunodiffusion (RID). The antigen E content of an extract is influenced by several variables. These include antigen E content of the pollen, nature of extracting solutions, ratio of pollen weight to volume of extracting solution and storage conditions. Variables which influence antigen E stability during storage conditions include nature of the solvent, antigen E concentration and storage temperature. Glycerin is a stabilizer of antigen E and other allergens.
Allergenic Extracts, Apple - Clinical Pharmacology
Allergenic extracts for diagnostic testing produce erythema or erythema and wheal reactions in patients with significant IgE-mediated sensitivity to the relevant allergen. This allergic inflammatory response, although not completely understood, is thought to begin with the reaction of antigen with IgE on the surface of basofils, or mast cells, which initiates a series of biochemical events resulting in the production of histamine and other mediators. These, in turn, produce the immediate-type "wheal and flare" skin reaction. The more mediator released, the larger the reaction. Because of a variety of factors, including the types of allergen extracts, delayed skin reactions can occur and usually disappear within a couple of days. The type of extract, size of the reaction and timing of the reaction are all factors used in determining a patient's sensitivity to an allergen.
Allergen immunotherapy (also known as desensitization, hyposensitization, allergy vaccination, or allergy shots) involves treating a patient with increasing dosage of the allergens to which he is allergic, eventually reaching a dose plateau whereas the patient experiences an increased tolerance upon re-exposure to the allergens. The patient may or may not need to receive continued treatment to demonstrate the desensitization. The exact mechanisms of reaction of desensitization with allergens, which involve the allergen, IgE and IgG antibodies, mast cells and basophils and possibly other mediators, are not completely understood. However, efficacy has been shown in numerous well-controlled studies using specific common allergens.
The goals of allergen immunotherapy are to decrease the production of IgE antibodies, initiate the production of IgG antibodies and stabilize mast cells and basophils. Overproduction of IgE in response to an allergen can induce other cells, particularly mast cells and basophils, to initiate a complex chain reaction that results in allergy symptoms. Numerous IgE receptor sites are located on mast cells as well as basophil cells. These cells are among the first cells to be encountered by the antigen. They contain potent chemical mediators (histamine and leukotriene, for example) of inflammation that are released when IgE and a specific allergen cross-link on the cell surface. The release of the chemical mediators results in inflammation and allergy symptoms. As a response to immunotherapy, the production of IgG is believed to work by blocking IgE from binding to mast cells and basophils. Thus IgG, the blocking antibody, may prevent the release of chemical mediators that produce allergy symptoms.
Indications and Usage for Allergenic Extracts, Apple
Immunotherapy using allergenic extracts is indicated for use in patients with severe allergy symptoms (hay fever, rhinitis, etc.) to pollens, molds, insects, animal danders and various other allergens. Immunotherapy is intended for patients whose symptoms are not satisfactorily controlled by avoidance of the offending allergen or by the use of symptomatic medications. Treatment uses only those specific allergens that the patient is sensitive to based on diagnostic tests and medical history. It is not intended for treatment of patients who do not manifest immediate hypersensitivity reactions to the allergenic extract following skin testing.
CONTRAINDICATIONS
There are no known absolute contraindications to diagnostic testing or hyposensitization with allergen immunotherapy.
Patients with cardiovascular disease or pulmonary disease such as symptomatic asthma, and/or who are receiving cardiovascular drugs such as beta blockers, may be at higher risk for severe adverse reactions. These patients may also be more refractory to the normal anaphylaxis treatment regimen.
Immunotherapy is not generally indicated when the offending allergen(s) can be effectively eliminated or minimized by environmental control. There are differences of opinion on the possibility of routine immunizations exacerbating autoimmune diseases. The evidence has been inconclusive. Therefore, caution should be exercised in administering immunotherapy to patients with other immunologic diseases and only administered if the risk from exposure to the allergen is greater than the risk of exacerbating the underlying disorder. Injections should be avoided in patients with a bleeding tendency.
Warnings
See boxed WARNINGS at the beginning of this information sheet.
Do not administer allergenic extract injections intravenously. Patients should always be observed for at least 20 to 30 minutes after any skin test or injection. Concentrated allergenic extracts should be diluted with Sterile Diluent for Allergenic Extract prior to use for intradermal testing and for immunotherapy preparation. Systemic reactions may occur infrequently and may range from mild exaggeration of the patient's allergic symptoms to urticaria, rhinitis, conjunctivitis, angioedema, cough, wheezing, fainting, pallor, bradycardia, hypotension, or even, in extremely sensitive individuals, to anaphylactic shock and death. Have epinephrine 1:1,000 readily available in case of a reaction. Emergency measures and personnel trained for medical emergencies should be immediately available in the event of a life-threatening reaction. Patients with unstable asthma or steroid dependent asthmatics and patients with underlying cardiovascular disease are at greater risk. Patients taking beta-blocker medication may not respond to the usual dose of epinephrine.
Diagnostic testing as well as immunotherapy should be temporarily withheld from patients or the dose reduced until cause of reaction is evaluated by prescribing physician if any of the following conditions exist: (1) severe symptoms of rhinitis and/or asthma, (2) infection or flu accompanied by fever, (3) exposure to excessive amounts of clinically relevant allergen prior to a scheduled injection, and (4) systemic reaction to previous injection.
Precautions
(1) GENERAL
The presence of asthmatic signs and symptoms may be an indicator of severe reaction following allergen injections. Any evidence of a local or generalized reaction requires a dose reduction during the initial stages of immunotherapy, as well as during maintenance therapy. Patient reactions to previous injections should be reviewed before each new injection and a conservative dosage schedule should be followed until a pattern of local responses is established which can be used to monitor increases in dosage. Patients should be observed in the office for at least 20 to 30 minutes after each treatment injection and instructed to seek medical attention if symptoms of a systemic reaction occur. Most severe reactions will occur within this time period, and rapid treatment measures should be initiated (see ADVERSE REACTIONS). In rare circumstances, a patient may have systemic reactions to minute doses of antigen and does not demonstrate increasing tolerance to injections after several months of treatment. If systemic reactions or excessive local responses occur persistently at very small doses, efforts at immunotherapy should be stopped.
When changing lots of extracts, even though the formulation may be the same, the first dose should not exceed 50% of the previous dose as the extract may have lost potency over time and a fresh extract could have an effective potency that is substantially greater than that of the old extract. Aseptic technique should always be used when injections of allergenic extracts are administered.
(2) INFORMATION FOR PATIENTS
Patients should be instructed to remain in the office for 20 to 30 minutes after each injection to monitor for adverse reactions. Patients should be instructed to describe any active allergic symptoms such as rhinitis, wheezing, dyspnea, etc. prior to injection including any late reactions from previous administration.
(3) DRUG INTERACTIONS
Beta-Blockers: Patients who are taking non-selective beta blockers may be more reactive to allergens given for testing and may be unresponsive to the usual doses of epinephrine used to treat allergic reactions. Patients with cardiovascular diseases and/or pulmonary diseases such as symptomatic unstable, steroid-dependent asthma, and/or those who are receiving cardiovascular drugs such as beta-blockers, may be at higher risk for severe adverse reactions.
Antihistamines can significantly inhibit the immediate skin test reactions. If long acting antihistamines have been taken recently, it is recommended that they should be stopped for the following minimum intervals before skin testing is performed: 1 week for hydroxyzine or cetirizine; 4 to 7 days for loratadine; 3 to 4 days for fexofenadine; and 24 to 48 hours for other sustained release antihistamines.
(4) CARCINOGENISIS, MUTAGENESIS, IMPAIRMENT OF FERTILITY
Long term studies with allergenic extracts have not been conducted in animals to determine their potential for carcinogenesis, mutagenesis, or impairment of fertility.
(5) PREGNANCY – CATEGORY C
Animal reproduction studies have not been conducted with allergenic extracts. It is also not known whether allergenic extracts can cause fetal harm when administered to a pregnant woman or if they can affect reproduction capacity. The physician must weigh the benefits of immunotherapy against the risk of anaphylactic reactions that could result in harm to the mother and/or fetus. Hyposensitization should be used during pregnancy only if clearly necessary and administered cautiously.
(6) NURSING MOTHERS
It is not known if allergenic extracts appear in human milk. Because many drugs are excreted in human milk, caution should be exercised when allergenic extracts are administered to a nursing woman.
(7) PEDIATRIC USE
Extracts have not been studied in children, so the safety in children has not been established. Doses of allergenic extracts for children are generally the same as those for adults. In the case of large doses, the amount of extract given to a child may be modified so that the discomfort of the injection is minimized.
Adverse Reactions
(1) Local Reactions - A mild burning immediately after the injection is to be expected; this usually subsides in 10 to 20 seconds. Reactions at the site of injection (erythema, swelling, pruritus) may be immediate or delayed. Immediate wheal and erythema reactions are ordinarily of little consequence; but if very large, may be the first manifestation of a systemic reaction. Delayed reactions start several hours after injection with local edema, erythema, itching or pain. The reactions are most apparent 24 hours after injection and usually require no treatment. Antihistamines may be administered orally if necessary. Large local reactions may be treated by local applications of cold, wet dressings and/or the use of oral antihistamines. These reactions should be considered a warning of possible severe systemic reaction and need for temporarily reduced dosage. In such cases the next therapeutic dose should be reduced to the last dose which did not elicit a reaction and subsequent doses increased more slowly.
(2) Systemic Reactions - Most severe systemic reactions occur within 30 minutes of injection but may occur at anytime subsequent to treatment. Symptoms may range from mild to life-threatening (due to anaphylaxis). Systemic reactions are characterized by one or more of the following symptoms: sneezing, mild to severe generalized urticaria, itching other than at the injection site, extensive or generalized edema, wheezing, asthma, dyspnea, cyanosis, tachycardia, lacrimation, marked perspiration, cough, hypotension, syncope and upper airway obstruction. Symptoms may progress to anaphylactic shock and death.
If a systemic or anaphylactic reaction does occur, apply a tourniquet above the site of injection and inject 1:1,000 epinephrine-hydrochloride intramuscularly into the opposite arm or gluteal area. Loosen the tourniquet at least every 10 minutes. Do not obstruct arterial blood flow with the tourniquet.
1:1,000 EPHEDRINE DOSAGE:
ADULT: 0.3 mL to 0.5 mL should be injected intramuscularly or subcutaneously. Repeat in 5 to 10 minutes if necessary.
PEDIATRIC: Suggested dosage for infants to 2 years of age is 0.05 mL to 0.1 mL; for children 2 to 6 years, 0.15 mL; and children 6 to 12 years, 0.2 mL.
Doses may be repeated every 20 minutes, depending on the severity of the condition and the response of the patient. After administration of epinephrine, profound shock or vasomotor collapse should be treated with intravenous fluids, and vasoactive drugs if necessary. An open airway should be insured. Give oxygen by mask. Intravenous antihistamine, inhaled bronchodilators, theophyllin and/or adrenal corticosteroids may be used if necessary after adequate epinephrine and circulatory support has been given. Emergency resuscitation measures and personnel trained in their use must be available immediately in the event of a serious systemic or anaphylactic reaction not responsive to the above measures.
If the patient is continued on immunotherapy, a decrease of at least 50% in the next dose should follow serious systemic reactions. Increases in dose should be made cautiously. Repeated systemic reactions are sufficient reason for discontinuation of increased dosages.
(3) To report suspected ADVERSE REACTIONS, contact Allergy Laboratories, Inc. 800-654-3971 or FDA 800-FDA-1088 or www.fda/gov/medwatch.
OVERDOSAGE
Signs and symptoms of overdose are typically local and systemic reactions. For a description and management of overdose reactions, see ADVERSE REACTIONS.
DOSAGE AND ADMINISTRATION
Parenteral drug products should be inspected visually for particulate matter and discoloration prior to administration, whenever solution and container permit.
Allergenic extracts may be administered for diagnostic testing or therapeutic purposes. The dosage will depend on the particular use of the extract.
General: When used for diagnostic testing to determine a patient's sensitivity to specific antigens and aid in the diagnosis and treatment of atopic disease, the recommended procedure is to initially perform puncture tests, then follow with intradermal tests. The number of skin tests applied at one time will depend on the particular patient and their allergic history. These tests should be performed and observed in 15 to 20 minutes. Additional tests may be applied in sequence. Perform tests on the anterolateral aspect of the upper arm on an area that permits the effective application of a tourniquet proximal to the site of the test. The skin at the site of injection should be disinfected with rubbing alcohol before testing. A positive reaction usually develops in 15 to 20 minutes. The positive response is a wheal and flare reaction that is larger than the negative control and evaluated based on the size of the reaction.
Controls: A negative control containing the same solution that the extract was prepared in should be applied to a test site in the same manner as the tests being performed. Histamine phosphate should be used as a positive control for evaluation of skin testing. Refer to manufacturers directions provided with Histamine phosphate for recommended dosage and administration.
Percutaneous testing: In general, skin is scratched, punctured or pricked just before the allergen is applied or through a drop of test allergen which is placed on the skin. There are several devices available for this technique. Refer to the device manufacturers instructions for proper use. Test areas should be no closer than 4-5 cm apart to avoid the interference of multiple reactions. Clean test areas with alcohol and air dry. Place the allergen on the volar surface of the patient's forearm, upper arm, or back.
1. For puncture tests, apply one drop of extract to the skin. Pierce the drop of extract and skin using a sterile hypodermic needle or vaccinating needle. Maintain the needle perpendicular to the skin surface and rock the needle back and forth to produce a small hole without bleeding. Do not rotate or gouge the needle. Remove needle from skin and wipe excess extract from skin surface.
2. For scratch tests using a scarifier or needle: make a scratch 1/16 inch long on the epidermis penetrating the outer cornified area but being careful not to draw blood. Apply one drop of allergen to the scratch or puncture.
Intracutaneous (Intradermal) testing: If puncture test is negative, proceed with intradermal test. Intradermal tests should not be performed if puncture test is positive. Use a separate sterile syringe (tuberculin type equipped with a 27 gauge by 3/8 inch needle with intradermal bevel) for each antigen. To administer the test, inject 0.02 mL of allergen into the epidermis using dilutions of the concentrated extract; a 1:500 v/v dilution for foods and 1:1,000 v/v dilution for other extracts. If the test has been performed properly, the solution should raise a bleb 2 to 3 mm in diameter. If the bleb does not appear, the injection was made too deeply. To prepare intradermal testing strengths using 1:20 w/v bulk concentrates, use the following example: Add 1 mL of 1:20 w/v to 4 mL diluent to make a 1:100 v/v dilution. Add 1 mL of 1:100 v/v to 4 mL diluent to make a 1:500 v/v dilution. Add 0.5 mL of 1:100 v/v dilution to 4.5 mL diluent to make a 1:1,000 v/v dilution.
Interpretation of results:

Percutaneous tests
Intradermal tests

1

1+ Erythema with 5mm wheal
0 <5mm Erythema with a <5mm wheal
2+ Erythema with a 5-10mm wheal
+/- 5-10mm Erythema with a 5-10mm wheal
3+ Erythema with a 10-15mm wheal
1+ 11-20mm Erythema with a 5-10mm wheal
4+ Erythema with a wheal 15mm or larger with pseudopodia
2+ 21-30mm Erythema with a 5-10mm wheal
3+ 31-40mm Erythema with a 10-15mm wheal or with pseudopodia
4+ >40mm Erythema with >15mm wheal or with pseudopodia
Immunotherapy:
(1) General: Parenteral drug products should be inspected visually for particulate matter and discoloration prior to administration whenever solution and container permit. Injections are given subcutaneously; preferably in the arm. It is advantageous to give injections in alternate arms. Use sterile precautions and a tuberculin syringe when administering each dose. Allergen immunotherapy is typically initiated with a diluted formulation of allergens prescribed by a physician for administration to a patient. Doses are gradually increased over time and ultimately reach a maintenance dose where the patient is maintained for as long as the physician or patient feels is necessary. The formulation and dosage schedule is determined by the physician and is based on diagnostic testing and patient history. Patients with very high sensitivities should be initiated with lower concentrations (higher dilutions) and may need a very relaxed progression to maintenance doses. Pre-seasonal therapy may be initiated three months before seasonal difficulty begins and brought to maintenance dose and discontinued after that season ends. Perennial therapy (recommended) brings the patient up to tolerated maintenance dose where they remain until improvement of allergic symptoms occurs. Injections may be given at intervals of 4 to 7 days with either therapy.
(2) Suggested dilution series: Concentrated Allergenic Extracts must be diluted with Sterile Diluent for Allergenic Extract before using for immunotherapy. A 1:100,000 v/v dilution of concentrate is usually satisfactory to start treatment. To prepare a 10-fold dilution series from concentrated bulk extract, the following is suggested: Add 1 mL of 1:20 w/v extract to 4 mL diluent to make a 1:100 v/v dilution. Add 0.5 mL of the 1:100 dilution to 4.5 mL of diluent to make a 1:1,000 v/v dilution. Add 0.5 mL of the 1:1,1000 dilution to 4.5 mL diluent to make a 1:10,000 v/v dilution. Add 0.5 mL of the 1:10,000 dilution to 4.5 mL of diluent to make a 1:100,000 v/v dilution. The series may be extended to 1:1,000,000 v/v by preparing one more similar dilution as a precaution for sensitive patients.
(3) Maintenance: The maintenance level is the largest dose tolerated by the patient that relieves symptoms without producing undesirable local or general reactions. After immunotherapy has been established, a maintenance dose should be given at weekly intervals. The interval between maintenance doses can be increased gradually from one week to 10 days, to 2 weeks, 3 weeks, or even 4 weeks as allergy symptoms allow. Repeat maintenance doses at a given interval three or four times to check for continued allergy symptom relief before increasing the interval further. If large local (or systemic) reactions occur at one interval, do not increase the interval. Protection is lost rapidly if the interval between doses is more than 4 weeks. It may not be possible for all patients to reach the maximum dose indicated on the suggested dosage schedule.
(4) Suggested dosage schedule: Because the degree of sensitivity varies in many individuals, the dose and interval may need adjustment and should reflect the patient's tolerance and response. A dose should never be given until all reactions resulting from a previous dose have entirely disappeared. After a period on immunotherapy, better tolerance may permit a longer interval between injections, or a larger maintenance dose, or both.
1:100,000 v/v
1:10,000 v/v
1:1,000 v/v
1:100 v/v
Dose
Vol. (mL)
Dose
Vol. (mL)
Dose
Vol. (mL)
Dose
Vol. (mL)
Maintenance
1
0.02
8
0.02
13
0.02
19
0.02
2
0.04
9
0.05
14
0.05
20
0.05
Continue 0.25 mL of 1:100 v/v weekly.
3
0.06
10
0.10
15
0.10
21
0.08
4
0.10
11
0.15
16
0.15
22
0.10
5
0.15
12
0.25
17
0.20
23
0.15
6
0.20
18
0.25
24
0.20
7
0.25
25
0.25
(5) Dose adjustments: Since the individual components of the extract are those to which the patient is allergic and to which he will be exposed, typical allergic symptoms may follow shortly after the injection, particularly those experienced by the patient during exposure when the antigen from the environment plus the injected antigen exceeds the patient's tolerance to the antigen. In such cases, decrease the size of the next scheduled dose by at least one-half of the previous dose.
(6) Administration: Use aseptic precautions when diluting and/or preparing an injection. To avoid cross-contamination, do not use the same needle to withdraw materials from multiple vials. Use a sterile tuberculin syringe (26 or 27 gauge) with a needle at least 5/8" long and graduated in 0.01 mL units to measure each dose.
How is Allergenic Extracts, Apple Supplied
Bulk extract (stock concentrate) in 50% v/v glycerin is supplied in 10 mL, 30 mL, and 50 mL multiple dose vials as well as 2 mL scratch (dropper) vials. Intradermal tests are supplied in 5 mL vials at 1:500 v/v for food extracts and at 1:1,000 v/v for other extracts.
STORAGE
To insure the maximum potency of bulk extract and extract dilutions, it is recommended that they be maintained at a temperature of 2 to 8 degrees Celsius. Do not freeze. Do not use after the expiration date shown on the vial label.
REFERENCES
Norman, P.S.: In vivo methods of study of allergy: Skin and Mucosal tests, techniques, and interpretation. In Middleton, E. Jr., Reed, C. E. and Ellis, E.F. (ed): Allergy Principles and Practice, (Vol. 1), p. 258. St. Louis, The C.V. Mosby Co. 1978.
ALLERGY LABORATORIES, INC.
U.S. License # 103
Oklahoma City, OK 73109
(800) 654-3971, (405) 235-1451
Rev. 12/2010
PRINCIPAL DISPLAY PANEL
ALLERGENIC EXTRACT
RX ONLY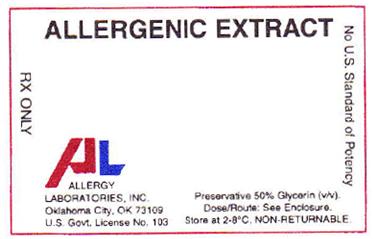 PRINCIPAL DISPLAY PANEL
ALLERGENIC EXTRACT
SCRATCH TESTING
RX ONLY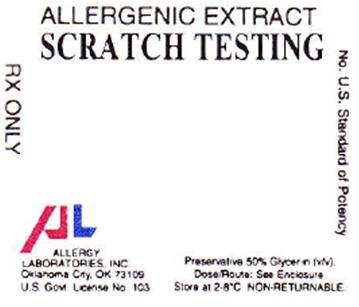 APPLE
apple injection, solution
Product Information
Product Type
HUMAN PRESCRIPTION DRUG LABEL
Item Code (Source)
NDC:54575-335
Route of Administration
PERCUTANEOUS, SUBCUTANEOUS
DEA Schedule
Active Ingredient/Active Moiety
Ingredient Name
Basis of Strength
Strength
APPLE (APPLE)
APPLE
1 g in 20 mL
Inactive Ingredients
Ingredient Name
Strength
SODIUM CHLORIDE
0.166 g in 100 mL
SODIUM BICARBONATE
0.091 g in 100 mL
WATER
GLYCERIN
50 mL in 100 mL
Packaging
#
Item Code
Package Description
1
NDC:54575-335-02
2 mL in 1 VIAL, MULTI-DOSE
2
NDC:54575-335-10
10 mL in 1 VIAL, MULTI-DOSE
3
NDC:54575-335-30
30 mL in 1 VIAL, MULTI-DOSE
4
NDC:54575-335-50
50 mL in 1 VIAL, MULTI-DOSE
Marketing Information

Marketing Category
Application Number or Monograph Citation
Marketing Start Date
Marketing End Date
BLA
BLA101376
12/07/1967
APRICOT
apricot injection, solution
Product Information
Product Type
HUMAN PRESCRIPTION DRUG LABEL
Item Code (Source)
NDC:54575-336
Route of Administration
PERCUTANEOUS, SUBCUTANEOUS
DEA Schedule
Active Ingredient/Active Moiety
Ingredient Name
Basis of Strength
Strength
APRICOT (APRICOT)
APRICOT
1 g in 20 mL
Inactive Ingredients
Ingredient Name
Strength
SODIUM CHLORIDE
0.166 g in 100 mL
SODIUM BICARBONATE
0.091 g in 100 mL
WATER
GLYCERIN
50 mL in 100 mL
Packaging
#
Item Code
Package Description
1
NDC:54575-336-02
2 mL in 1 VIAL, MULTI-DOSE
2
NDC:54575-336-10
10 mL in 1 VIAL, MULTI-DOSE
3
NDC:54575-336-30
30 mL in 1 VIAL, MULTI-DOSE
4
NDC:54575-336-50
50 mL in 1 VIAL, MULTI-DOSE
Marketing Information

Marketing Category
Application Number or Monograph Citation
Marketing Start Date
Marketing End Date
BLA
BLA101376
12/07/1967
AVOCADO
avocado injection, solution
Product Information
Product Type
HUMAN PRESCRIPTION DRUG LABEL
Item Code (Source)
NDC:54575-338
Route of Administration
PERCUTANEOUS, SUBCUTANEOUS
DEA Schedule
Active Ingredient/Active Moiety
Ingredient Name
Basis of Strength
Strength
AVOCADO (AVOCADO)
AVOCADO
1 g in 20 mL
Inactive Ingredients
Ingredient Name
Strength
SODIUM CHLORIDE
0.166 g in 100 mL
SODIUM BICARBONATE
0.091 g in 100 mL
WATER
GLYCERIN
50 mL in 100 mL
Packaging
#
Item Code
Package Description
1
NDC:54575-338-02
2 mL in 1 VIAL, MULTI-DOSE
2
NDC:54575-338-10
10 mL in 1 VIAL, MULTI-DOSE
3
NDC:54575-338-30
30 mL in 1 VIAL, MULTI-DOSE
4
NDC:54575-338-50
50 mL in 1 VIAL, MULTI-DOSE
Marketing Information

Marketing Category
Application Number or Monograph Citation
Marketing Start Date
Marketing End Date
BLA
BLA101376
12/07/1967
BANANA
banana injection, solution
Product Information
Product Type
HUMAN PRESCRIPTION DRUG LABEL
Item Code (Source)
NDC:54575-339
Route of Administration
PERCUTANEOUS, SUBCUTANEOUS
DEA Schedule
Active Ingredient/Active Moiety
Ingredient Name
Basis of Strength
Strength
BANANA (BANANA)
BANANA
1 g in 20 mL
Inactive Ingredients
Ingredient Name
Strength
SODIUM CHLORIDE
0.166 g in 100 mL
SODIUM BICARBONATE
0.091 g in 100 mL
GLYCERIN
50 mL in 100 mL
WATER
Packaging
#
Item Code
Package Description
1
NDC:54575-339-02
2 mL in 1 VIAL, MULTI-DOSE
2
NDC:54575-339-10
10 mL in 1 VIAL, MULTI-DOSE
3
NDC:54575-339-30
30 mL in 1 VIAL, MULTI-DOSE
4
NDC:54575-339-50
50 mL in 1 VIAL, MULTI-DOSE
Marketing Information

Marketing Category
Application Number or Monograph Citation
Marketing Start Date
Marketing End Date
BLA
BLA101376
12/07/1967
BLACKBERRY
blackberry injection, solution
Product Information
Product Type
HUMAN PRESCRIPTION DRUG LABEL
Item Code (Source)
NDC:54575-353
Route of Administration
PERCUTANEOUS, SUBCUTANEOUS
DEA Schedule
Active Ingredient/Active Moiety
Ingredient Name
Basis of Strength
Strength
BLACKBERRY (BLACKBERRY)
BLACKBERRY
1 g in 20 mL
Inactive Ingredients
Ingredient Name
Strength
SODIUM CHLORIDE
SODIUM BICARBONATE
WATER
GLYCERIN
Packaging
#
Item Code
Package Description
1
NDC:54575-353-02
2 mL in 1 VIAL, MULTI-DOSE
2
NDC:54575-353-10
10 mL in 1 VIAL, MULTI-DOSE
3
NDC:54575-353-30
30 mL in 1 VIAL, MULTI-DOSE
4
NDC:54575-353-50
50 mL in 1 VIAL, MULTI-DOSE
Marketing Information

Marketing Category
Application Number or Monograph Citation
Marketing Start Date
Marketing End Date
BLA
BLA102192
08/29/1972
BLUEBERRY
blue ridge blueberry injection, solution
Product Information
Product Type
HUMAN PRESCRIPTION DRUG LABEL
Item Code (Source)
NDC:54575-354
Route of Administration
PERCUTANEOUS, SUBCUTANEOUS
DEA Schedule
Active Ingredient/Active Moiety
Ingredient Name
Basis of Strength
Strength
BLUE RIDGE BLUEBERRY (BLUE RIDGE BLUEBERRY)
BLUE RIDGE BLUEBERRY
1 g in 20 mL
Inactive Ingredients
Ingredient Name
Strength
SODIUM CHLORIDE
0.166 g in 100 mL
SODIUM BICARBONATE
0.091 g in 100 mL
GLYCERIN
50 mL in 100 mL
WATER
Packaging
#
Item Code
Package Description
1
NDC:54575-354-02
2 mL in 1 VIAL, MULTI-DOSE
2
NDC:54575-354-10
10 mL in 1 VIAL, MULTI-DOSE
3
NDC:54575-354-30
30 mL in 1 VIAL, MULTI-DOSE
4
NDC:54575-354-50
50 mL in 1 VIAL, MULTI-DOSE
Marketing Information

Marketing Category
Application Number or Monograph Citation
Marketing Start Date
Marketing End Date
BLA
BLA102192
08/29/1972
CANTALOUPE
cantaloupe injection, solution
Product Information
Product Type
HUMAN PRESCRIPTION DRUG LABEL
Item Code (Source)
NDC:54575-360
Route of Administration
PERCUTANEOUS, SUBCUTANEOUS
DEA Schedule
Active Ingredient/Active Moiety
Ingredient Name
Basis of Strength
Strength
CANTALOUPE (CANTALOUPE)
CANTALOUPE
1 g in 20 mL
Inactive Ingredients
Ingredient Name
Strength
SODIUM CHLORIDE
0.166 g in 100 mL
SODIUM BICARBONATE
0.091 g in 100 mL
GLYCERIN
50 mL in 100 mL
WATER
Packaging
#
Item Code
Package Description
1
NDC:54575-360-02
2 mL in 1 VIAL, MULTI-DOSE
2
NDC:54575-360-10
10 mL in 1 VIAL, MULTI-DOSE
3
NDC:54575-360-30
30 mL in 1 VIAL, MULTI-DOSE
4
NDC:54575-360-50
50 mL in 1 VIAL, MULTI-DOSE
Marketing Information

Marketing Category
Application Number or Monograph Citation
Marketing Start Date
Marketing End Date
BLA
BLA102192
08/29/1972
CHERRY FOOD
cherry injection, solution
Product Information
Product Type
HUMAN PRESCRIPTION DRUG LABEL
Item Code (Source)
NDC:54575-371
Route of Administration
PERCUTANEOUS, SUBCUTANEOUS
DEA Schedule
Active Ingredient/Active Moiety
Ingredient Name
Basis of Strength
Strength
CHERRY (CHERRY)
CHERRY
1 g in 20 mL
Inactive Ingredients
Ingredient Name
Strength
SODIUM CHLORIDE
0.166 g in 100 mL
SODIUM BICARBONATE
0.091 g in 100 mL
GLYCERIN
50 mL in 100 mL
WATER
Packaging
#
Item Code
Package Description
1
NDC:54575-371-02
2 mL in 1 VIAL, MULTI-DOSE
2
NDC:54575-371-10
10 mL in 1 VIAL, MULTI-DOSE
3
NDC:54575-371-30
30 mL in 1 VIAL, MULTI-DOSE
4
NDC:54575-371-50
50 mL in 1 VIAL, MULTI-DOSE
Marketing Information

Marketing Category
Application Number or Monograph Citation
Marketing Start Date
Marketing End Date
BLA
BLA102192
08/29/1972
CRANBERRY
cranberry injection, solution
Product Information
Product Type
HUMAN PRESCRIPTION DRUG LABEL
Item Code (Source)
NDC:54575-383
Route of Administration
PERCUTANEOUS, SUBCUTANEOUS
DEA Schedule
Active Ingredient/Active Moiety
Ingredient Name
Basis of Strength
Strength
CRANBERRY (CRANBERRY)
CRANBERRY
1 g in 20 mL
Inactive Ingredients
Ingredient Name
Strength
SODIUM CHLORIDE
0.166 g in 100 mL
SODIUM BICARBONATE
0.091 g in 100 mL
GLYCERIN
50 mL in 100 mL
WATER
Packaging
#
Item Code
Package Description
1
NDC:54575-383-02
2 mL in 1 VIAL, MULTI-DOSE
2
NDC:54575-383-10
10 mL in 1 VIAL, MULTI-DOSE
3
NDC:54575-383-30
30 mL in 1 VIAL, MULTI-DOSE
4
NDC:54575-383-50
50 mL in 1 VIAL, MULTI-DOSE
Marketing Information

Marketing Category
Application Number or Monograph Citation
Marketing Start Date
Marketing End Date
BLA
BLA102192
08/29/1972
DATE
date injection, solution
Product Information
Product Type
HUMAN PRESCRIPTION DRUG LABEL
Item Code (Source)
NDC:54575-387
Route of Administration
PERCUTANEOUS, SUBCUTANEOUS
DEA Schedule
Active Ingredient/Active Moiety
Ingredient Name
Basis of Strength
Strength
DATE (DATE)
DATE
1 g in 20 mL
Inactive Ingredients
Ingredient Name
Strength
SODIUM CHLORIDE
0.166 g in 100 mL
SODIUM BICARBONATE
0.091 g in 100 mL
GLYCERIN
50 mL in 100 mL
WATER
Packaging
#
Item Code
Package Description
1
NDC:54575-387-02
2 mL in 1 VIAL, MULTI-DOSE
2
NDC:54575-387-10
10 mL in 1 VIAL, MULTI-DOSE
3
NDC:54575-387-30
30 mL in 1 VIAL, MULTI-DOSE
4
NDC:54575-387-50
50 mL in 1 VIAL, MULTI-DOSE
Marketing Information

Marketing Category
Application Number or Monograph Citation
Marketing Start Date
Marketing End Date
BLA
BLA102192
08/29/1972
BASIL
basil injection, solution
Product Information
Product Type
HUMAN PRESCRIPTION DRUG LABEL
Item Code (Source)
NDC:54575-341
Route of Administration
PERCUTANEOUS, SUBCUTANEOUS
DEA Schedule
Active Ingredient/Active Moiety
Ingredient Name
Basis of Strength
Strength
BASIL (BASIL)
BASIL
1 g in 20 mL
Inactive Ingredients
Ingredient Name
Strength
SODIUM CHLORIDE
0.166 g in 100 mL
SODIUM BICARBONATE
0.091 g in 100 mL
GLYCERIN
50 mL in 100 mL
WATER
Packaging
#
Item Code
Package Description
1
NDC:54575-341-02
2 mL in 1 VIAL, MULTI-DOSE
2
NDC:54575-341-10
10 mL in 1 VIAL, MULTI-DOSE
3
NDC:54575-341-30
30 mL in 1 VIAL, MULTI-DOSE
4
NDC:54575-341-50
50 mL in 1 VIAL, MULTI-DOSE
Marketing Information

Marketing Category
Application Number or Monograph Citation
Marketing Start Date
Marketing End Date
BLA
BLA102192
08/29/1972
GRAPEFRUIT
grapefruit injection, solution
Product Information
Product Type
HUMAN PRESCRIPTION DRUG LABEL
Item Code (Source)
NDC:54575-399
Route of Administration
PERCUTANEOUS, SUBCUTANEOUS
DEA Schedule
Active Ingredient/Active Moiety
Ingredient Name
Basis of Strength
Strength
GRAPEFRUIT (GRAPEFRUIT)
GRAPEFRUIT
1 g in 20 mL
Inactive Ingredients
Ingredient Name
Strength
SODIUM CHLORIDE
0.166 g in 100 mL
SODIUM BICARBONATE
0.091 g in 100 mL
GLYCERIN
50 mL in 100 mL
WATER
Packaging
#
Item Code
Package Description
1
NDC:54575-399-02
2 mL in 1 VIAL, MULTI-DOSE
2
NDC:54575-399-10
10 mL in 1 VIAL, MULTI-DOSE
3
NDC:54575-399-30
30 mL in 1 VIAL, MULTI-DOSE
4
NDC:54575-399-50
50 mL in 1 VIAL, MULTI-DOSE
Marketing Information

Marketing Category
Application Number or Monograph Citation
Marketing Start Date
Marketing End Date
BLA
BLA102192
08/29/1972
BLACK BASS
largemouth bass injection, solution
Product Information
Product Type
HUMAN PRESCRIPTION DRUG LABEL
Item Code (Source)
NDC:54575-342
Route of Administration
PERCUTANEOUS, SUBCUTANEOUS
DEA Schedule
Active Ingredient/Active Moiety
Ingredient Name
Basis of Strength
Strength
LARGEMOUTH BASS (LARGEMOUTH BASS)
LARGEMOUTH BASS
1 g in 20 mL
Inactive Ingredients
Ingredient Name
Strength
SODIUM CHLORIDE
0.166 g in 100 mL
SODIUM BICARBONATE
0.091 g in 100 mL
GLYCERIN
50 mL in 100 mL
WATER
Packaging
#
Item Code
Package Description
1
NDC:54575-342-02
2 mL in 1 VIAL, MULTI-DOSE
2
NDC:54575-342-10
10 mL in 1 VIAL, MULTI-DOSE
3
NDC:54575-342-30
30 mL in 1 VIAL, MULTI-DOSE
4
NDC:54575-342-50
50 mL in 1 VIAL, MULTI-DOSE
Marketing Information

Marketing Category
Application Number or Monograph Citation
Marketing Start Date
Marketing End Date
BLA
BLA102192
08/29/1972
LEMON
lemon injection, solution
Product Information
Product Type
HUMAN PRESCRIPTION DRUG LABEL
Item Code (Source)
NDC:54575-406
Route of Administration
PERCUTANEOUS, SUBCUTANEOUS
DEA Schedule
Active Ingredient/Active Moiety
Ingredient Name
Basis of Strength
Strength
LEMON (LEMON)
LEMON
1 g in 20 mL
Inactive Ingredients
Ingredient Name
Strength
SODIUM CHLORIDE
0.166 g in 100 mL
SODIUM BICARBONATE
0.091 g in 100 mL
GLYCERIN
50 mL in 100 mL
WATER
Packaging
#
Item Code
Package Description
1
NDC:54575-406-02
2 mL in 1 VIAL, MULTI-DOSE
2
NDC:54575-406-10
10 mL in 1 VIAL, MULTI-DOSE
3
NDC:54575-406-30
30 mL in 1 VIAL, MULTI-DOSE
4
NDC:54575-406-50
50 mL in 1 VIAL, MULTI-DOSE
Marketing Information

Marketing Category
Application Number or Monograph Citation
Marketing Start Date
Marketing End Date
BLA
BLA102192
08/29/1972
LIME
lime, citrus injection, solution
Product Information
Product Type
HUMAN PRESCRIPTION DRUG LABEL
Item Code (Source)
NDC:54575-408
Route of Administration
PERCUTANEOUS, SUBCUTANEOUS
DEA Schedule
Active Ingredient/Active Moiety
Ingredient Name
Basis of Strength
Strength
LIME (CITRUS) (LIME (CITRUS))
LIME (CITRUS)
1 g in 20 mL
Inactive Ingredients
Ingredient Name
Strength
SODIUM CHLORIDE
0.166 g in 100 mL
SODIUM BICARBONATE
0.091 g in 100 mL
GLYCERIN
50 mL in 100 mL
WATER
Packaging
#
Item Code
Package Description
1
NDC:54575-408-02
2 mL in 1 VIAL, MULTI-DOSE
2
NDC:54575-408-10
10 mL in 1 VIAL, MULTI-DOSE
3
NDC:54575-408-30
30 mL in 1 VIAL, MULTI-DOSE
4
NDC:54575-408-50
50 mL in 1 VIAL, MULTI-DOSE
Marketing Information

Marketing Category
Application Number or Monograph Citation
Marketing Start Date
Marketing End Date
BLA
BLA102192
08/29/1972
ORANGE FOOD
orange injection, solution
Product Information
Product Type
HUMAN PRESCRIPTION DRUG LABEL
Item Code (Source)
NDC:54575-423
Route of Administration
PERCUTANEOUS, SUBCUTANEOUS
DEA Schedule
Active Ingredient/Active Moiety
Ingredient Name
Basis of Strength
Strength
ORANGE (ORANGE)
ORANGE
1 g in 20 mL
Inactive Ingredients
Ingredient Name
Strength
SODIUM CHLORIDE
0.166 g in 100 mL
SODIUM BICARBONATE
0.091 g in 100 mL
GLYCERIN
50 mL in 100 mL
WATER
Packaging
#
Item Code
Package Description
1
NDC:54575-423-02
2 mL in 1 VIAL, MULTI-DOSE
2
NDC:54575-423-10
10 mL in 1 VIAL, MULTI-DOSE
3
NDC:54575-423-30
30 mL in 1 VIAL, MULTI-DOSE
4
NDC:54575-423-50
50 mL in 1 VIAL, MULTI-DOSE
Marketing Information

Marketing Category
Application Number or Monograph Citation
Marketing Start Date
Marketing End Date
BLA
BLA101376
12/07/1967
PEACH
peach injection, solution
Product Information
Product Type
HUMAN PRESCRIPTION DRUG LABEL
Item Code (Source)
NDC:54575-432
Route of Administration
PERCUTANEOUS, SUBCUTANEOUS
DEA Schedule
Active Ingredient/Active Moiety
Ingredient Name
Basis of Strength
Strength
PEACH (PEACH)
PEACH
1 g in 20 mL
Inactive Ingredients
Ingredient Name
Strength
SODIUM CHLORIDE
0.166 g in 100 mL
SODIUM BICARBONATE
0.091 g in 100 mL
GLYCERIN
50 mL in 100 mL
WATER
Packaging
#
Item Code
Package Description
1
NDC:54575-432-02
2 mL in 1 VIAL, MULTI-DOSE
2
NDC:54575-432-10
10 mL in 1 VIAL, MULTI-DOSE
3
NDC:54575-432-30
30 mL in 1 VIAL, MULTI-DOSE
4
NDC:54575-432-50
50 mL in 1 VIAL, MULTI-DOSE
Marketing Information

Marketing Category
Application Number or Monograph Citation
Marketing Start Date
Marketing End Date
BLA
BLA102192
08/29/1972
PEAR
pear injection, solution
Product Information
Product Type
HUMAN PRESCRIPTION DRUG LABEL
Item Code (Source)
NDC:54575-434
Route of Administration
PERCUTANEOUS, SUBCUTANEOUS
DEA Schedule
Active Ingredient/Active Moiety
Ingredient Name
Basis of Strength
Strength
PEAR (PEAR)
PEAR
1 g in 20 mL
Inactive Ingredients
Ingredient Name
Strength
SODIUM CHLORIDE
0.166 g in 100 mL
SODIUM BICARBONATE
0.091 g in 100 mL
GLYCERIN
50 mL in 100 mL
WATER
Packaging
#
Item Code
Package Description
1
NDC:54575-434-02
2 mL in 1 VIAL, MULTI-DOSE
2
NDC:54575-434-10
10 mL in 1 VIAL, MULTI-DOSE
3
NDC:54575-434-30
30 mL in 1 VIAL, MULTI-DOSE
4
NDC:54575-434-50
50 mL in 1 VIAL, MULTI-DOSE
Marketing Information

Marketing Category
Application Number or Monograph Citation
Marketing Start Date
Marketing End Date
BLA
BLA102192
08/29/1972
PINEAPPLE
pineapple injection, solution
Product Information
Product Type
HUMAN PRESCRIPTION DRUG LABEL
Item Code (Source)
NDC:54575-440
Route of Administration
PERCUTANEOUS, SUBCUTANEOUS
DEA Schedule
Active Ingredient/Active Moiety
Ingredient Name
Basis of Strength
Strength
PINEAPPLE (PINEAPPLE)
PINEAPPLE
1 g in 20 mL
Inactive Ingredients
Ingredient Name
Strength
SODIUM CHLORIDE
0.166 g in 100 mL
SODIUM BICARBONATE
0.091 g in 100 mL
GLYCERIN
50 mL in 100 mL
WATER
Packaging
#
Item Code
Package Description
1
NDC:54575-440-02
2 mL in 1 VIAL, MULTI-DOSE
2
NDC:54575-440-10
10 mL in 1 VIAL, MULTI-DOSE
3
NDC:54575-440-30
30 mL in 1 VIAL, MULTI-DOSE
4
NDC:54575-440-50
50 mL in 1 VIAL, MULTI-DOSE
Marketing Information

Marketing Category
Application Number or Monograph Citation
Marketing Start Date
Marketing End Date
BLA
BLA102192
08/29/1972
PINTO BEAN
kidney bean injection, solution
Product Information
Product Type
HUMAN PRESCRIPTION DRUG LABEL
Item Code (Source)
NDC:54575-346
Route of Administration
PERCUTANEOUS, SUBCUTANEOUS
DEA Schedule
Active Ingredient/Active Moiety
Ingredient Name
Basis of Strength
Strength
KIDNEY BEAN (KIDNEY BEAN)
KIDNEY BEAN
1 g in 20 mL
Inactive Ingredients
Ingredient Name
Strength
SODIUM CHLORIDE
0.166 g in 100 mL
SODIUM BICARBONATE
0.091 g in 100 mL
GLYCERIN
50 mL in 100 mL
WATER
Packaging
#
Item Code
Package Description
1
NDC:54575-346-02
2 mL in 1 VIAL, MULTI-DOSE
2
NDC:54575-346-10
10 mL in 1 VIAL, MULTI-DOSE
3
NDC:54575-346-30
30 mL in 1 VIAL, MULTI-DOSE
4
NDC:54575-346-50
50 mL in 1 VIAL, MULTI-DOSE
Marketing Information

Marketing Category
Application Number or Monograph Citation
Marketing Start Date
Marketing End Date
BLA
BLA102192
08/29/1972
BEEF
beef injection, solution
Product Information
Product Type
HUMAN PRESCRIPTION DRUG LABEL
Item Code (Source)
NDC:54575-350
Route of Administration
PERCUTANEOUS, SUBCUTANEOUS
DEA Schedule
Active Ingredient/Active Moiety
Ingredient Name
Basis of Strength
Strength
BEEF (BEEF)
BEEF
1 g in 20 mL
Inactive Ingredients
Ingredient Name
Strength
SODIUM CHLORIDE
0.166 g in 100 mL
SODIUM BICARBONATE
0.091 g in 100 mL
GLYCERIN
50 mL in 100 mL
WATER
Packaging
#
Item Code
Package Description
1
NDC:54575-350-02
2 mL in 1 VIAL, MULTI-DOSE
2
NDC:54575-350-10
10 mL in 1 VIAL, MULTI-DOSE
3
NDC:54575-350-30
30 mL in 1 VIAL, MULTI-DOSE
4
NDC:54575-350-50
50 mL in 1 VIAL, MULTI-DOSE
Marketing Information

Marketing Category
Application Number or Monograph Citation
Marketing Start Date
Marketing End Date
BLA
BLA102192
08/29/1972
STRAWBERRY
strawberry injection, solution
Product Information
Product Type
HUMAN PRESCRIPTION DRUG LABEL
Item Code (Source)
NDC:54575-462
Route of Administration
PERCUTANEOUS, SUBCUTANEOUS
DEA Schedule
Active Ingredient/Active Moiety
Ingredient Name
Basis of Strength
Strength
STRAWBERRY (STRAWBERRY)
STRAWBERRY
1 g in 20 mL
Inactive Ingredients
Ingredient Name
Strength
SODIUM CHLORIDE
0.166 g in 100 mL
SODIUM BICARBONATE
0.091 g in 100 mL
GLYCERIN
50 mL in 100 mL
WATER
Packaging
#
Item Code
Package Description
1
NDC:54575-462-02
2 mL in 1 VIAL, MULTI-DOSE
2
NDC:54575-462-10
10 mL in 1 VIAL, MULTI-DOSE
3
NDC:54575-462-30
30 mL in 1 VIAL, MULTI-DOSE
4
NDC:54575-462-50
50 mL in 1 VIAL, MULTI-DOSE
Marketing Information

Marketing Category
Application Number or Monograph Citation
Marketing Start Date
Marketing End Date
BLA
BLA101376
12/07/1967
CATFISH
catfish injection, solution
Product Information
Product Type
HUMAN PRESCRIPTION DRUG LABEL
Item Code (Source)
NDC:54575-365
Route of Administration
PERCUTANEOUS, SUBCUTANEOUS
DEA Schedule
Active Ingredient/Active Moiety
Ingredient Name
Basis of Strength
Strength
CATFISH (CATFISH)
CATFISH
1 g in 20 mL
Inactive Ingredients
Ingredient Name
Strength
SODIUM CHLORIDE
0.166 g in 100 mL
SODIUM BICARBONATE
0.091 g in 100 mL
GLYCERIN
50 mL in 100 mL
WATER
Packaging
#
Item Code
Package Description
1
NDC:54575-365-02
2 mL in 1 VIAL, MULTI-DOSE
2
NDC:54575-365-10
10 mL in 1 VIAL, MULTI-DOSE
3
NDC:54575-365-30
30 mL in 1 VIAL, MULTI-DOSE
4
NDC:54575-365-50
50 mL in 1 VIAL, MULTI-DOSE
Marketing Information

Marketing Category
Application Number or Monograph Citation
Marketing Start Date
Marketing End Date
BLA
BLA102192
08/29/1972
WATERMELON
watermelon injection, solution
Product Information
Product Type
HUMAN PRESCRIPTION DRUG LABEL
Item Code (Source)
NDC:54575-474
Route of Administration
PERCUTANEOUS, SUBCUTANEOUS
DEA Schedule
Active Ingredient/Active Moiety
Ingredient Name
Basis of Strength
Strength
WATERMELON (WATERMELON)
WATERMELON
1 g in 20 mL
Inactive Ingredients
Ingredient Name
Strength
SODIUM CHLORIDE
0.166 g in 100 mL
SODIUM BICARBONATE
0.091 g in 100 mL
GLYCERIN
50 mL in 100 mL
WATER
Packaging
#
Item Code
Package Description
1
NDC:54575-474-02
2 mL in 1 VIAL, MULTI-DOSE
2
NDC:54575-474-10
10 mL in 1 VIAL, MULTI-DOSE
3
NDC:54575-474-30
30 mL in 1 VIAL, MULTI-DOSE
4
NDC:54575-474-50
50 mL in 1 VIAL, MULTI-DOSE
Marketing Information

Marketing Category
Application Number or Monograph Citation
Marketing Start Date
Marketing End Date
BLA
BLA102192
08/29/1972
CHICKEN FOOD
chicken injection, solution
Product Information
Product Type
HUMAN PRESCRIPTION DRUG LABEL
Item Code (Source)
NDC:54575-372
Route of Administration
PERCUTANEOUS, SUBCUTANEOUS
DEA Schedule
Active Ingredient/Active Moiety
Ingredient Name
Basis of Strength
Strength
CHICKEN (CHICKEN)
CHICKEN
1 g in 20 mL
Inactive Ingredients
Ingredient Name
Strength
SODIUM CHLORIDE
0.166 g in 100 mL
SODIUM BICARBONATE
0.091 g in 100 mL
GLYCERIN
50 mL in 100 mL
WATER
Packaging
#
Item Code
Package Description
1
NDC:54575-372-02
2 mL in 1 VIAL, MULTI-DOSE
2
NDC:54575-372-10
10 mL in 1 VIAL, MULTI-DOSE
3
NDC:54575-372-30
30 mL in 1 VIAL, MULTI-DOSE
4
NDC:54575-372-50
50 mL in 1 VIAL, MULTI-DOSE
Marketing Information

Marketing Category
Application Number or Monograph Citation
Marketing Start Date
Marketing End Date
BLA
BLA102192
08/29/1972
CLAM
quahog injection, solution
Product Information
Product Type
HUMAN PRESCRIPTION DRUG LABEL
Item Code (Source)
NDC:54575-375
Route of Administration
PERCUTANEOUS, SUBCUTANEOUS
DEA Schedule
Active Ingredient/Active Moiety
Ingredient Name
Basis of Strength
Strength
QUAHOG (QUAHOG)
QUAHOG
1 g in 20 mL
Inactive Ingredients
Ingredient Name
Strength
SODIUM CHLORIDE
0.166 g in 100 mL
SODIUM BICARBONATE
0.091 g in 100 mL
GLYCERIN
50 mL in 100 mL
WATER
Packaging
#
Item Code
Package Description
1
NDC:54575-375-02
2 mL in 1 VIAL, MULTI-DOSE
2
NDC:54575-375-10
10 mL in 1 VIAL, MULTI-DOSE
3
NDC:54575-375-30
30 mL in 1 VIAL, MULTI-DOSE
4
NDC:54575-375-50
50 mL in 1 VIAL, MULTI-DOSE
Marketing Information

Marketing Category
Application Number or Monograph Citation
Marketing Start Date
Marketing End Date
BLA
BLA101376
12/07/1967
RED KIDNEY BEAN
kidney bean injection, solution
Product Information
Product Type
HUMAN PRESCRIPTION DRUG LABEL
Item Code (Source)
NDC:54575-347
Route of Administration
PERCUTANEOUS, SUBCUTANEOUS
DEA Schedule
Active Ingredient/Active Moiety
Ingredient Name
Basis of Strength
Strength
KIDNEY BEAN (KIDNEY BEAN)
KIDNEY BEAN
1 g in 20 mL
Inactive Ingredients
Ingredient Name
Strength
SODIUM CHLORIDE
0.166 g in 100 mL
SODIUM BICARBONATE
0.091 g in 100 mL
GLYCERIN
50 mL in 100 mL
WATER
Packaging
#
Item Code
Package Description
1
NDC:54575-347-02
2 mL in 1 VIAL, MULTI-DOSE
2
NDC:54575-347-10
10 mL in 1 VIAL, MULTI-DOSE
3
NDC:54575-347-30
30 mL in 1 VIAL, MULTI-DOSE
4
NDC:54575-347-50
50 mL in 1 VIAL, MULTI-DOSE
Marketing Information

Marketing Category
Application Number or Monograph Citation
Marketing Start Date
Marketing End Date
BLA
BLA102192
08/29/1972
LIMA BEAN
lima bean injection, solution
Product Information
Product Type
HUMAN PRESCRIPTION DRUG LABEL
Item Code (Source)
NDC:54575-344
Route of Administration
PERCUTANEOUS, SUBCUTANEOUS
DEA Schedule
Active Ingredient/Active Moiety
Ingredient Name
Basis of Strength
Strength
LIMA BEAN (LIMA BEAN)
LIMA BEAN
1 g in 20 mL
Inactive Ingredients
Ingredient Name
Strength
SODIUM CHLORIDE
0.166 g in 100 mL
SODIUM BICARBONATE
0.091 g in 100 mL
GLYCERIN
50 mL in 100 mL
WATER
Packaging
#
Item Code
Package Description
1
NDC:54575-344-02
2 mL in 1 VIAL, MULTI-DOSE
2
NDC:54575-344-10
10 mL in 1 VIAL, MULTI-DOSE
3
NDC:54575-344-30
30 mL in 1 VIAL, MULTI-DOSE
4
NDC:54575-344-50
50 mL in 1 VIAL, MULTI-DOSE
Marketing Information

Marketing Category
Application Number or Monograph Citation
Marketing Start Date
Marketing End Date
BLA
BLA102192
08/29/1972
NAVY BEAN
kidney bean injection, solution
Product Information
Product Type
HUMAN PRESCRIPTION DRUG LABEL
Item Code (Source)
NDC:54575-345
Route of Administration
PERCUTANEOUS, SUBCUTANEOUS
DEA Schedule
Active Ingredient/Active Moiety
Ingredient Name
Basis of Strength
Strength
KIDNEY BEAN (KIDNEY BEAN)
KIDNEY BEAN
1 g in 20 mL
Inactive Ingredients
Ingredient Name
Strength
SODIUM CHLORIDE
0.166 g in 100 mL
SODIUM BICARBONATE
0.091 g in 100 mL
GLYCERIN
50 mL in 100 mL
WATER
Packaging
#
Item Code
Package Description
1
NDC:54575-345-02
2 mL in 1 VIAL, MULTI-DOSE
2
NDC:54575-345-10
10 mL in 1 VIAL, MULTI-DOSE
3
NDC:54575-345-30
30 mL in 1 VIAL, MULTI-DOSE
4
NDC:54575-345-50
50 mL in 1 VIAL, MULTI-DOSE
Marketing Information

Marketing Category
Application Number or Monograph Citation
Marketing Start Date
Marketing End Date
BLA
BLA102192
08/29/1972
GREEN STRING BEAN
string bean injection, solution
Product Information
Product Type
HUMAN PRESCRIPTION DRUG LABEL
Item Code (Source)
NDC:54575-349
Route of Administration
PERCUTANEOUS, SUBCUTANEOUS
DEA Schedule
Active Ingredient/Active Moiety
Ingredient Name
Basis of Strength
Strength
STRING BEAN (STRING BEAN)
STRING BEAN
1 g in 20 mL
Inactive Ingredients
Ingredient Name
Strength
SODIUM CHLORIDE
0.166 g in 100 mL
SODIUM BICARBONATE
0.091 g in 100 mL
GLYCERIN
50 mL in 100 mL
WATER
Packaging
#
Item Code
Package Description
1
NDC:54575-349-02
2 mL in 1 VIAL, MULTI-DOSE
2
NDC:54575-349-10
10 mL in 1 VIAL, MULTI-DOSE
3
NDC:54575-349-30
30 mL in 1 VIAL, MULTI-DOSE
4
NDC:54575-349-50
50 mL in 1 VIAL, MULTI-DOSE
Marketing Information

Marketing Category
Application Number or Monograph Citation
Marketing Start Date
Marketing End Date
BLA
BLA102192
08/29/1972
CODFISH
cod injection, solution
Product Information
Product Type
HUMAN PRESCRIPTION DRUG LABEL
Item Code (Source)
NDC:54575-379
Route of Administration
PERCUTANEOUS, SUBCUTANEOUS
DEA Schedule
Active Ingredient/Active Moiety
Ingredient Name
Basis of Strength
Strength
COD (COD)
COD
1 g in 20 mL
Inactive Ingredients
Ingredient Name
Strength
SODIUM CHLORIDE
0.166 g in 100 mL
SODIUM BICARBONATE
0.091 g in 100 mL
GLYCERIN
50 mL in 100 mL
WATER
Packaging
#
Item Code
Package Description
1
NDC:54575-379-02
2 mL in 1 VIAL, MULTI-DOSE
2
NDC:54575-379-10
10 mL in 1 VIAL, MULTI-DOSE
3
NDC:54575-379-30
30 mL in 1 VIAL, MULTI-DOSE
4
NDC:54575-379-50
50 mL in 1 VIAL, MULTI-DOSE
Marketing Information

Marketing Category
Application Number or Monograph Citation
Marketing Start Date
Marketing End Date
BLA
BLA102192
08/29/1972
BROCCOLI
broccoli injection, solution
Product Information
Product Type
HUMAN PRESCRIPTION DRUG LABEL
Item Code (Source)
NDC:54575-356
Route of Administration
PERCUTANEOUS, SUBCUTANEOUS
DEA Schedule
Active Ingredient/Active Moiety
Ingredient Name
Basis of Strength
Strength
BROCCOLI (BROCCOLI)
BROCCOLI
1 g in 20 mL
Inactive Ingredients
Ingredient Name
Strength
SODIUM CHLORIDE
0.166 g in 100 mL
SODIUM BICARBONATE
0.091 g in 100 mL
GLYCERIN
50 mL in 100 mL
WATER
Packaging
#
Item Code
Package Description
1
NDC:54575-356-02
2 mL in 1 VIAL, MULTI-DOSE
2
NDC:54575-356-10
10 mL in 1 VIAL, MULTI-DOSE
3
NDC:54575-356-30
30 mL in 1 VIAL, MULTI-DOSE
4
NDC:54575-356-50
50 mL in 1 VIAL, MULTI-DOSE
Marketing Information

Marketing Category
Application Number or Monograph Citation
Marketing Start Date
Marketing End Date
BLA
BLA102192
08/29/1972
CRAB MEAT
blue crab injection, solution
Product Information
Product Type
HUMAN PRESCRIPTION DRUG LABEL
Item Code (Source)
NDC:54575-382
Route of Administration
PERCUTANEOUS, SUBCUTANEOUS
DEA Schedule
Active Ingredient/Active Moiety
Ingredient Name
Basis of Strength
Strength
BLUE CRAB (BLUE CRAB)
BLUE CRAB
1 g in 20 mL
Inactive Ingredients
Ingredient Name
Strength
SODIUM CHLORIDE
0.166 g in 100 mL
SODIUM BICARBONATE
0.091 g in 100 mL
GLYCERIN
50 mL in 100 mL
WATER
Packaging
#
Item Code
Package Description
1
NDC:54575-382-02
2 mL in 1 VIAL, MULTI-DOSE
2
NDC:54575-382-10
10 mL in 1 VIAL, MULTI-DOSE
3
NDC:54575-382-30
30 mL in 1 VIAL, MULTI-DOSE
4
NDC:54575-382-50
50 mL in 1 VIAL, MULTI-DOSE
Marketing Information

Marketing Category
Application Number or Monograph Citation
Marketing Start Date
Marketing End Date
BLA
BLA102192
08/29/1972
BRUSSEL SPROUTS
brussels sprout injection, solution
Product Information
Product Type
HUMAN PRESCRIPTION DRUG LABEL
Item Code (Source)
NDC:54575-357
Route of Administration
PERCUTANEOUS, SUBCUTANEOUS
DEA Schedule
Active Ingredient/Active Moiety
Ingredient Name
Basis of Strength
Strength
BRUSSELS SPROUT (BRUSSELS SPROUT)
BRUSSELS SPROUT
1 g in 20 mL
Inactive Ingredients
Ingredient Name
Strength
SODIUM CHLORIDE
0.166 g in 100 mL
SODIUM BICARBONATE
0.091 g in 100 mL
GLYCERIN
50 mL in 100 mL
WATER
Packaging
#
Item Code
Package Description
1
NDC:54575-357-02
2 mL in 1 VIAL, MULTI-DOSE
2
NDC:54575-357-10
10 mL in 1 VIAL, MULTI-DOSE
3
NDC:54575-357-30
30 mL in 1 VIAL, MULTI-DOSE
4
NDC:54575-357-50
50 mL in 1 VIAL, MULTI-DOSE
Marketing Information

Marketing Category
Application Number or Monograph Citation
Marketing Start Date
Marketing End Date
BLA
BLA102192
08/29/1972
CABBAGE
cabbage injection, solution
Product Information
Product Type
HUMAN PRESCRIPTION DRUG LABEL
Item Code (Source)
NDC:54575-359
Route of Administration
PERCUTANEOUS, SUBCUTANEOUS
DEA Schedule
Active Ingredient/Active Moiety
Ingredient Name
Basis of Strength
Strength
CABBAGE (CABBAGE)
CABBAGE
1 g in 20 mL
Inactive Ingredients
Ingredient Name
Strength
SODIUM CHLORIDE
0.166 g in 100 mL
SODIUM BICARBONATE
0.091 g in 100 mL
GLYCERIN
50 mL in 100 mL
WATER
Packaging
#
Item Code
Package Description
1
NDC:54575-359-02
2 mL in 1 VIAL, MULTI-DOSE
2
NDC:54575-359-10
10 mL in 1 VIAL, MULTI-DOSE
3
NDC:54575-359-30
30 mL in 1 VIAL, MULTI-DOSE
4
NDC:54575-359-50
50 mL in 1 VIAL, MULTI-DOSE
Marketing Information

Marketing Category
Application Number or Monograph Citation
Marketing Start Date
Marketing End Date
BLA
BLA102192
08/29/1972
CARROT
carrot injection, solution
Product Information
Product Type
HUMAN PRESCRIPTION DRUG LABEL
Item Code (Source)
NDC:54575-362
Route of Administration
PERCUTANEOUS, SUBCUTANEOUS
DEA Schedule
Active Ingredient/Active Moiety
Ingredient Name
Basis of Strength
Strength
CARROT (CARROT)
CARROT
1 g in 20 mL
Inactive Ingredients
Ingredient Name
Strength
SODIUM CHLORIDE
0.166 g in 100 mL
SODIUM BICARBONATE
0.091 g in 100 mL
GLYCERIN
50 mL in 100 mL
WATER
Packaging
#
Item Code
Package Description
1
NDC:54575-362-02
2 mL in 1 VIAL, MULTI-DOSE
2
NDC:54575-362-10
10 mL in 1 VIAL, MULTI-DOSE
3
NDC:54575-362-30
30 mL in 1 VIAL, MULTI-DOSE
4
NDC:54575-362-50
50 mL in 1 VIAL, MULTI-DOSE
Marketing Information

Marketing Category
Application Number or Monograph Citation
Marketing Start Date
Marketing End Date
BLA
BLA102192
08/29/1972
CAULIFLOWER
cauliflower injection, solution
Product Information
Product Type
HUMAN PRESCRIPTION DRUG LABEL
Item Code (Source)
NDC:54575-366
Route of Administration
PERCUTANEOUS, SUBCUTANEOUS
DEA Schedule
Active Ingredient/Active Moiety
Ingredient Name
Basis of Strength
Strength
CAULIFLOWER (CAULIFLOWER)
CAULIFLOWER
1 g in 20 mL
Inactive Ingredients
Ingredient Name
Strength
SODIUM CHLORIDE
0.166 g in 100 mL
SODIUM BICARBONATE
0.091 g in 100 mL
GLYCERIN
50 mL in 100 mL
WATER
Packaging
#
Item Code
Package Description
1
NDC:54575-366-02
2 mL in 1 VIAL, MULTI-DOSE
2
NDC:54575-366-10
10 mL in 1 VIAL, MULTI-DOSE
3
NDC:54575-366-30
30 mL in 1 VIAL, MULTI-DOSE
4
NDC:54575-366-50
50 mL in 1 VIAL, MULTI-DOSE
Marketing Information

Marketing Category
Application Number or Monograph Citation
Marketing Start Date
Marketing End Date
BLA
BLA102192
08/29/1972
CELERY
celery injection, solution
Product Information
Product Type
HUMAN PRESCRIPTION DRUG LABEL
Item Code (Source)
NDC:54575-367
Route of Administration
PERCUTANEOUS, SUBCUTANEOUS
DEA Schedule
Active Ingredient/Active Moiety
Ingredient Name
Basis of Strength
Strength
CELERY (CELERY)
CELERY
1 g in 20 mL
Inactive Ingredients
Ingredient Name
Strength
SODIUM CHLORIDE
0.166 g in 100 mL
SODIUM BICARBONATE
0.091 g in 100 mL
GLYCERIN
50 mL in 100 mL
WATER
Packaging
#
Item Code
Package Description
1
NDC:54575-367-02
2 mL in 1 VIAL, MULTI-DOSE
2
NDC:54575-367-10
10 mL in 1 VIAL, MULTI-DOSE
3
NDC:54575-367-30
30 mL in 1 VIAL, MULTI-DOSE
4
NDC:54575-367-50
50 mL in 1 VIAL, MULTI-DOSE
Marketing Information

Marketing Category
Application Number or Monograph Citation
Marketing Start Date
Marketing End Date
BLA
BLA102192
08/29/1972
EGG WHITE
egg white injection, solution
Product Information
Product Type
HUMAN PRESCRIPTION DRUG LABEL
Item Code (Source)
NDC:54575-389
Route of Administration
PERCUTANEOUS, SUBCUTANEOUS
DEA Schedule
Active Ingredient/Active Moiety
Ingredient Name
Basis of Strength
Strength
EGG WHITE (EGG WHITE)
EGG WHITE
1 g in 20 mL
Inactive Ingredients
Ingredient Name
Strength
SODIUM CHLORIDE
0.166 g in 100 mL
SODIUM BICARBONATE
0.091 g in 100 mL
GLYCERIN
50 mL in 100 mL
WATER
Packaging
#
Item Code
Package Description
1
NDC:54575-389-02
2 mL in 1 VIAL, MULTI-DOSE
2
NDC:54575-389-10
10 mL in 1 VIAL, MULTI-DOSE
3
NDC:54575-389-30
30 mL in 1 VIAL, MULTI-DOSE
4
NDC:54575-389-50
50 mL in 1 VIAL, MULTI-DOSE
Marketing Information

Marketing Category
Application Number or Monograph Citation
Marketing Start Date
Marketing End Date
BLA
BLA102192
08/29/1972
CUCUMBER
cucumber injection, solution
Product Information
Product Type
HUMAN PRESCRIPTION DRUG LABEL
Item Code (Source)
NDC:54575-385
Route of Administration
PERCUTANEOUS, SUBCUTANEOUS
DEA Schedule
Active Ingredient/Active Moiety
Ingredient Name
Basis of Strength
Strength
CUCUMBER (CUCUMBER)
CUCUMBER
1 g in 20 mL
Inactive Ingredients
Ingredient Name
Strength
SODIUM CHLORIDE
0.166 g in 100 mL
SODIUM BICARBONATE
0.091 g in 100 mL
GLYCERIN
50 mL in 100 mL
WATER
Packaging
#
Item Code
Package Description
1
NDC:54575-385-02
2 mL in 1 VIAL, MULTI-DOSE
2
NDC:54575-385-10
10 mL in 1 VIAL, MULTI-DOSE
3
NDC:54575-385-30
30 mL in 1 VIAL, MULTI-DOSE
4
NDC:54575-385-50
50 mL in 1 VIAL, MULTI-DOSE
Marketing Information

Marketing Category
Application Number or Monograph Citation
Marketing Start Date
Marketing End Date
BLA
BLA102192
08/29/1972
WHOLE EGG
egg injection, solution
Product Information
Product Type
HUMAN PRESCRIPTION DRUG LABEL
Item Code (Source)
NDC:54575-390
Route of Administration
PERCUTANEOUS, SUBCUTANEOUS
DEA Schedule
Active Ingredient/Active Moiety
Ingredient Name
Basis of Strength
Strength
EGG (EGG)
EGG
1 g in 20 mL
Inactive Ingredients
Ingredient Name
Strength
SODIUM CHLORIDE
0.166 g in 100 mL
SODIUM BICARBONATE
0.091 g in 100 mL
GLYCERIN
50 mL in 100 mL
WATER
Packaging
#
Item Code
Package Description
1
NDC:54575-390-02
2 mL in 1 VIAL, MULTI-DOSE
2
NDC:54575-390-10
10 mL in 1 VIAL, MULTI-DOSE
3
NDC:54575-390-30
30 mL in 1 VIAL, MULTI-DOSE
4
NDC:54575-390-50
50 mL in 1 VIAL, MULTI-DOSE
Marketing Information

Marketing Category
Application Number or Monograph Citation
Marketing Start Date
Marketing End Date
BLA
BLA102192
08/29/1972
GREEN PEPPER
green bell pepper injection, solution
Product Information
Product Type
HUMAN PRESCRIPTION DRUG LABEL
Item Code (Source)
NDC:54575-437
Route of Administration
PERCUTANEOUS, SUBCUTANEOUS
DEA Schedule
Active Ingredient/Active Moiety
Ingredient Name
Basis of Strength
Strength
GREEN BELL PEPPER (GREEN BELL PEPPER)
GREEN BELL PEPPER
1 g in 20 mL
Inactive Ingredients
Ingredient Name
Strength
SODIUM CHLORIDE
0.166 g in 100 mL
SODIUM BICARBONATE
0.091 g in 100 mL
GLYCERIN
50 mL in 100 mL
WATER
Packaging
#
Item Code
Package Description
1
NDC:54575-437-02
2 mL in 1 VIAL, MULTI-DOSE
2
NDC:54575-437-10
10 mL in 1 VIAL, MULTI-DOSE
3
NDC:54575-437-30
30 mL in 1 VIAL, MULTI-DOSE
4
NDC:54575-437-50
50 mL in 1 VIAL, MULTI-DOSE
Marketing Information

Marketing Category
Application Number or Monograph Citation
Marketing Start Date
Marketing End Date
BLA
BLA102192
08/29/1972
EGG YOLK
egg yolk injection, solution
Product Information
Product Type
HUMAN PRESCRIPTION DRUG LABEL
Item Code (Source)
NDC:54575-391
Route of Administration
PERCUTANEOUS, SUBCUTANEOUS
DEA Schedule
Active Ingredient/Active Moiety
Ingredient Name
Basis of Strength
Strength
EGG YOLK (EGG YOLK)
EGG YOLK
1 g in 20 mL
Inactive Ingredients
Ingredient Name
Strength
SODIUM CHLORIDE
0.166 g in 100 mL
SODIUM BICARBONATE
0.091 g in 100 mL
GLYCERIN
50 mL in 100 mL
WATER
Packaging
#
Item Code
Package Description
1
NDC:54575-391-02
2 mL in 1 VIAL, MULTI-DOSE
2
NDC:54575-391-10
10 mL in 1 VIAL, MULTI-DOSE
3
NDC:54575-391-30
30 mL in 1 VIAL, MULTI-DOSE
4
NDC:54575-391-50
50 mL in 1 VIAL, MULTI-DOSE
Marketing Information

Marketing Category
Application Number or Monograph Citation
Marketing Start Date
Marketing End Date
BLA
BLA102192
08/29/1972
LETTUCE
lettuce injection, solution
Product Information
Product Type
HUMAN PRESCRIPTION DRUG LABEL
Item Code (Source)
NDC:54575-407
Route of Administration
PERCUTANEOUS, SUBCUTANEOUS
DEA Schedule
Active Ingredient/Active Moiety
Ingredient Name
Basis of Strength
Strength
LETTUCE (LETTUCE)
LETTUCE
1 g in 20 mL
Inactive Ingredients
Ingredient Name
Strength
SODIUM CHLORIDE
0.166 g in 100 mL
SODIUM BICARBONATE
0.091 g in 100 mL
GLYCERIN
50 mL in 100 mL
WATER
Packaging
#
Item Code
Package Description
1
NDC:54575-407-02
2 mL in 1 VIAL, MULTI-DOSE
2
NDC:54575-407-10
10 mL in 1 VIAL, MULTI-DOSE
3
NDC:54575-407-30
30 mL in 1 VIAL, MULTI-DOSE
4
NDC:54575-407-50
50 mL in 1 VIAL, MULTI-DOSE
Marketing Information

Marketing Category
Application Number or Monograph Citation
Marketing Start Date
Marketing End Date
BLA
BLA102192
08/29/1972
MUSHROOM FOOD
cultivated mushroom injection, solution
Product Information
Product Type
HUMAN PRESCRIPTION DRUG LABEL
Item Code (Source)
NDC:54575-414
Route of Administration
PERCUTANEOUS, SUBCUTANEOUS
DEA Schedule
Active Ingredient/Active Moiety
Ingredient Name
Basis of Strength
Strength
CULTIVATED MUSHROOM (CULTIVATED MUSHROOM)
CULTIVATED MUSHROOM
1 g in 20 mL
Inactive Ingredients
Ingredient Name
Strength
SODIUM CHLORIDE
0.166 g in 100 mL
SODIUM BICARBONATE
0.091 g in 100 mL
GLYCERIN
50 mL in 100 mL
WATER
Packaging
#
Item Code
Package Description
1
NDC:54575-414-02
2 mL in 1 VIAL, MULTI-DOSE
2
NDC:54575-414-10
10 mL in 1 VIAL, MULTI-DOSE
3
NDC:54575-414-30
30 mL in 1 VIAL, MULTI-DOSE
4
NDC:54575-414-50
50 mL in 1 VIAL, MULTI-DOSE
Marketing Information

Marketing Category
Application Number or Monograph Citation
Marketing Start Date
Marketing End Date
BLA
BLA102192
08/29/1972
FLOUNDER
flounder injection, solution
Product Information
Product Type
HUMAN PRESCRIPTION DRUG LABEL
Item Code (Source)
NDC:54575-394
Route of Administration
PERCUTANEOUS, SUBCUTANEOUS
DEA Schedule
Active Ingredient/Active Moiety
Ingredient Name
Basis of Strength
Strength
FLOUNDER (FLOUNDER)
FLOUNDER
1 g in 20 mL
Inactive Ingredients
Ingredient Name
Strength
SODIUM CHLORIDE
0.166 g in 100 mL
SODIUM BICARBONATE
0.091 g in 100 mL
GLYCERIN
50 mL in 100 mL
WATER
Packaging
#
Item Code
Package Description
1
NDC:54575-394-02
2 mL in 1 VIAL, MULTI-DOSE
2
NDC:54575-394-10
10 mL in 1 VIAL, MULTI-DOSE
3
NDC:54575-394-30
30 mL in 1 VIAL, MULTI-DOSE
4
NDC:54575-394-50
50 mL in 1 VIAL, MULTI-DOSE
Marketing Information

Marketing Category
Application Number or Monograph Citation
Marketing Start Date
Marketing End Date
BLA
BLA102192
08/29/1972
GREEN OLIVE
green olive injection, solution
Product Information
Product Type
HUMAN PRESCRIPTION DRUG LABEL
Item Code (Source)
NDC:54575-420
Route of Administration
PERCUTANEOUS, SUBCUTANEOUS
DEA Schedule
Active Ingredient/Active Moiety
Ingredient Name
Basis of Strength
Strength
GREEN OLIVE (GREEN OLIVE)
GREEN OLIVE
1 g in 20 mL
Inactive Ingredients
Ingredient Name
Strength
SODIUM CHLORIDE
0.166 g in 100 mL
SODIUM BICARBONATE
0.091 g in 100 mL
GLYCERIN
50 mL in 100 mL
WATER
Packaging
#
Item Code
Package Description
1
NDC:54575-420-02
2 mL in 1 VIAL, MULTI-DOSE
2
NDC:54575-420-10
10 mL in 1 VIAL, MULTI-DOSE
3
NDC:54575-420-30
30 mL in 1 VIAL, MULTI-DOSE
4
NDC:54575-420-50
50 mL in 1 VIAL, MULTI-DOSE
Marketing Information

Marketing Category
Application Number or Monograph Citation
Marketing Start Date
Marketing End Date
BLA
BLA102192
08/29/1972
ONION
onion injection, solution
Product Information
Product Type
HUMAN PRESCRIPTION DRUG LABEL
Item Code (Source)
NDC:54575-422
Route of Administration
PERCUTANEOUS, SUBCUTANEOUS
DEA Schedule
Active Ingredient/Active Moiety
Ingredient Name
Basis of Strength
Strength
ONION (ONION)
ONION
1 g in 20 mL
Inactive Ingredients
Ingredient Name
Strength
SODIUM CHLORIDE
0.166 g in 100 mL
SODIUM BICARBONATE
0.091 g in 100 mL
GLYCERIN
50 mL in 100 mL
WATER
Packaging
#
Item Code
Package Description
1
NDC:54575-422-02
2 mL in 1 VIAL, MULTI-DOSE
2
NDC:54575-422-10
10 mL in 1 VIAL, MULTI-DOSE
3
NDC:54575-422-30
30 mL in 1 VIAL, MULTI-DOSE
4
NDC:54575-422-50
50 mL in 1 VIAL, MULTI-DOSE
Marketing Information

Marketing Category
Application Number or Monograph Citation
Marketing Start Date
Marketing End Date
BLA
BLA102192
08/29/1972
PARSLEY
parsley injection, solution
Product Information
Product Type
HUMAN PRESCRIPTION DRUG LABEL
Item Code (Source)
NDC:54575-428
Route of Administration
PERCUTANEOUS, SUBCUTANEOUS
DEA Schedule
Active Ingredient/Active Moiety
Ingredient Name
Basis of Strength
Strength
PARSLEY (PARSLEY)
PARSLEY
1 g in 20 mL
Inactive Ingredients
Ingredient Name
Strength
SODIUM CHLORIDE
0.166 g in 100 mL
SODIUM BICARBONATE
0.091 g in 100 mL
GLYCERIN
50 mL in 100 mL
WATER
Packaging
#
Item Code
Package Description
1
NDC:54575-428-02
2 mL in 1 VIAL, MULTI-DOSE
2
NDC:54575-428-10
10 mL in 1 VIAL, MULTI-DOSE
3
NDC:54575-428-30
30 mL in 1 VIAL, MULTI-DOSE
4
NDC:54575-428-50
50 mL in 1 VIAL, MULTI-DOSE
Marketing Information

Marketing Category
Application Number or Monograph Citation
Marketing Start Date
Marketing End Date
BLA
BLA102192
08/29/1972
GREEN PEA
pea injection, solution
Product Information
Product Type
HUMAN PRESCRIPTION DRUG LABEL
Item Code (Source)
NDC:54575-431
Route of Administration
PERCUTANEOUS, SUBCUTANEOUS
DEA Schedule
Active Ingredient/Active Moiety
Ingredient Name
Basis of Strength
Strength
PEA (PEA)
PEA
1 g in 20 mL
Inactive Ingredients
Ingredient Name
Strength
SODIUM CHLORIDE
0.166 g in 100 mL
SODIUM BICARBONATE
0.091 g in 100 mL
GLYCERIN
50 mL in 100 mL
WATER
Packaging
#
Item Code
Package Description
1
NDC:54575-431-02
2 mL in 1 VIAL, MULTI-DOSE
2
NDC:54575-431-10
10 mL in 1 VIAL, MULTI-DOSE
3
NDC:54575-431-30
30 mL in 1 VIAL, MULTI-DOSE
4
NDC:54575-431-50
50 mL in 1 VIAL, MULTI-DOSE
Marketing Information

Marketing Category
Application Number or Monograph Citation
Marketing Start Date
Marketing End Date
BLA
BLA102192
08/29/1972
SWEET POTATO
sweet potato injection, solution
Product Information
Product Type
HUMAN PRESCRIPTION DRUG LABEL
Item Code (Source)
NDC:54575-444
Route of Administration
PERCUTANEOUS, SUBCUTANEOUS
DEA Schedule
Active Ingredient/Active Moiety
Ingredient Name
Basis of Strength
Strength
SWEET POTATO (SWEET POTATO)
SWEET POTATO
1 g in 20 mL
Inactive Ingredients
Ingredient Name
Strength
SODIUM CHLORIDE
0.166 g in 100 mL
SODIUM BICARBONATE
0.091 g in 100 mL
GLYCERIN
50 mL in 100 mL
WATER
Packaging
#
Item Code
Package Description
1
NDC:54575-444-02
2 mL in 1 VIAL, MULTI-DOSE
2
NDC:54575-444-10
10 mL in 1 VIAL, MULTI-DOSE
3
NDC:54575-444-30
30 mL in 1 VIAL, MULTI-DOSE
4
NDC:54575-444-50
50 mL in 1 VIAL, MULTI-DOSE
Marketing Information

Marketing Category
Application Number or Monograph Citation
Marketing Start Date
Marketing End Date
BLA
BLA102192
08/29/1972
WHITE POTATO
potato injection, solution
Product Information
Product Type
HUMAN PRESCRIPTION DRUG LABEL
Item Code (Source)
NDC:54575-445
Route of Administration
PERCUTANEOUS, SUBCUTANEOUS
DEA Schedule
Active Ingredient/Active Moiety
Ingredient Name
Basis of Strength
Strength
POTATO (POTATO)
POTATO
1 g in 20 mL
Inactive Ingredients
Ingredient Name
Strength
SODIUM CHLORIDE
0.166 g in 100 mL
SODIUM BICARBONATE
0.091 g in 100 mL
GLYCERIN
50 mL in 100 mL
WATER
Packaging
#
Item Code
Package Description
1
NDC:54575-445-02
2 mL in 1 VIAL, MULTI-DOSE
2
NDC:54575-445-10
10 mL in 1 VIAL, MULTI-DOSE
3
NDC:54575-445-30
30 mL in 1 VIAL, MULTI-DOSE
4
NDC:54575-445-50
50 mL in 1 VIAL, MULTI-DOSE
Marketing Information

Marketing Category
Application Number or Monograph Citation
Marketing Start Date
Marketing End Date
BLA
BLA102192
08/29/1972
GRAPE
concord grape injection, solution
Product Information
Product Type
HUMAN PRESCRIPTION DRUG LABEL
Item Code (Source)
NDC:54575-398
Route of Administration
PERCUTANEOUS, SUBCUTANEOUS
DEA Schedule
Active Ingredient/Active Moiety
Ingredient Name
Basis of Strength
Strength
CONCORD GRAPE (CONCORD GRAPE)
CONCORD GRAPE
1 g in 20 mL
Inactive Ingredients
Ingredient Name
Strength
SODIUM CHLORIDE
0.166 g in 100 mL
SODIUM BICARBONATE
0.091 g in 100 mL
GLYCERIN
50 mL in 100 mL
WATER
Packaging
#
Item Code
Package Description
1
NDC:54575-398-02
2 mL in 1 VIAL, MULTI-DOSE
2
NDC:54575-398-10
10 mL in 1 VIAL, MULTI-DOSE
3
NDC:54575-398-30
30 mL in 1 VIAL, MULTI-DOSE
4
NDC:54575-398-50
50 mL in 1 VIAL, MULTI-DOSE
Marketing Information

Marketing Category
Application Number or Monograph Citation
Marketing Start Date
Marketing End Date
BLA
BLA102192
08/29/1972
RADISH
radish injection, solution
Product Information
Product Type
HUMAN PRESCRIPTION DRUG LABEL
Item Code (Source)
NDC:54575-449
Route of Administration
PERCUTANEOUS, SUBCUTANEOUS
DEA Schedule
Active Ingredient/Active Moiety
Ingredient Name
Basis of Strength
Strength
RADISH (RADISH)
RADISH
1 g in 20 mL
Inactive Ingredients
Ingredient Name
Strength
SODIUM CHLORIDE
0.166 g in 100 mL
SODIUM BICARBONATE
0.091 g in 100 mL
GLYCERIN
50 mL in 100 mL
WATER
Packaging
#
Item Code
Package Description
1
NDC:54575-449-02
2 mL in 1 VIAL, MULTI-DOSE
2
NDC:54575-449-10
10 mL in 1 VIAL, MULTI-DOSE
3
NDC:54575-449-30
30 mL in 1 VIAL, MULTI-DOSE
4
NDC:54575-449-50
50 mL in 1 VIAL, MULTI-DOSE
Marketing Information

Marketing Category
Application Number or Monograph Citation
Marketing Start Date
Marketing End Date
BLA
BLA102192
08/29/1972
RHUBARB
rhubarb injection, solution
Product Information
Product Type
HUMAN PRESCRIPTION DRUG LABEL
Item Code (Source)
NDC:54575-451
Route of Administration
PERCUTANEOUS, SUBCUTANEOUS
DEA Schedule
Active Ingredient/Active Moiety
Ingredient Name
Basis of Strength
Strength
RHUBARB (RHUBARB)
RHUBARB
1 g in 20 mL
Inactive Ingredients
Ingredient Name
Strength
SODIUM CHLORIDE
0.166 g in 100 mL
SODIUM BICARBONATE
0.091 g in 100 mL
GLYCERIN
50 mL in 100 mL
WATER
Packaging
#
Item Code
Package Description
1
NDC:54575-451-02
2 mL in 1 VIAL, MULTI-DOSE
2
NDC:54575-451-10
10 mL in 1 VIAL, MULTI-DOSE
3
NDC:54575-451-30
30 mL in 1 VIAL, MULTI-DOSE
4
NDC:54575-451-50
50 mL in 1 VIAL, MULTI-DOSE
Marketing Information

Marketing Category
Application Number or Monograph Citation
Marketing Start Date
Marketing End Date
BLA
BLA102192
08/29/1972
SOYBEAN
soybean injection, solution
Product Information
Product Type
HUMAN PRESCRIPTION DRUG LABEL
Item Code (Source)
NDC:54575-348
Route of Administration
PERCUTANEOUS, SUBCUTANEOUS
DEA Schedule
Active Ingredient/Active Moiety
Ingredient Name
Basis of Strength
Strength
SOYBEAN (SOYBEAN)
SOYBEAN
1 g in 20 mL
Inactive Ingredients
Ingredient Name
Strength
SODIUM CHLORIDE
0.166 g in 100 mL
SODIUM BICARBONATE
0.091 g in 100 mL
GLYCERIN
50 mL in 100 mL
WATER
Packaging
#
Item Code
Package Description
1
NDC:54575-348-02
2 mL in 1 VIAL, MULTI-DOSE
2
NDC:54575-348-10
10 mL in 1 VIAL, MULTI-DOSE
3
NDC:54575-348-30
30 mL in 1 VIAL, MULTI-DOSE
4
NDC:54575-348-50
50 mL in 1 VIAL, MULTI-DOSE
Marketing Information

Marketing Category
Application Number or Monograph Citation
Marketing Start Date
Marketing End Date
BLA
BLA102192
08/29/1972
SPINACH
spinach injection, solution
Product Information
Product Type
HUMAN PRESCRIPTION DRUG LABEL
Item Code (Source)
NDC:54575-460
Route of Administration
PERCUTANEOUS, SUBCUTANEOUS
DEA Schedule
Active Ingredient/Active Moiety
Ingredient Name
Basis of Strength
Strength
SPINACH (SPINACH)
SPINACH
1 g in 20 mL
Inactive Ingredients
Ingredient Name
Strength
SODIUM CHLORIDE
0.166 g in 100 mL
SODIUM BICARBONATE
0.091 g in 100 mL
GLYCERIN
50 mL in 100 mL
WATER
Packaging
#
Item Code
Package Description
1
NDC:54575-460-02
2 mL in 1 VIAL, MULTI-DOSE
2
NDC:54575-460-10
10 mL in 1 VIAL, MULTI-DOSE
3
NDC:54575-460-30
30 mL in 1 VIAL, MULTI-DOSE
4
NDC:54575-460-50
50 mL in 1 VIAL, MULTI-DOSE
Marketing Information

Marketing Category
Application Number or Monograph Citation
Marketing Start Date
Marketing End Date
BLA
BLA102192
08/29/1972
YELLOW SQUASH
squash injection, solution
Product Information
Product Type
HUMAN PRESCRIPTION DRUG LABEL
Item Code (Source)
NDC:54575-461
Route of Administration
PERCUTANEOUS, SUBCUTANEOUS
DEA Schedule
Active Ingredient/Active Moiety
Ingredient Name
Basis of Strength
Strength
SQUASH (SQUASH)
SQUASH
1 g in 20 mL
Inactive Ingredients
Ingredient Name
Strength
SODIUM CHLORIDE
0.166 g in 100 mL
SODIUM BICARBONATE
0.091 g in 100 mL
GLYCERIN
50 mL in 100 mL
WATER
Packaging
#
Item Code
Package Description
1
NDC:54575-461-02
2 mL in 1 VIAL, MULTI-DOSE
2
NDC:54575-461-10
10 mL in 1 VIAL, MULTI-DOSE
3
NDC:54575-461-30
30 mL in 1 VIAL, MULTI-DOSE
4
NDC:54575-461-50
50 mL in 1 VIAL, MULTI-DOSE
Marketing Information

Marketing Category
Application Number or Monograph Citation
Marketing Start Date
Marketing End Date
BLA
BLA102192
08/29/1972
TOMATO
tomato injection, solution
Product Information
Product Type
HUMAN PRESCRIPTION DRUG LABEL
Item Code (Source)
NDC:54575-466
Route of Administration
PERCUTANEOUS, SUBCUTANEOUS
DEA Schedule
Active Ingredient/Active Moiety
Ingredient Name
Basis of Strength
Strength
TOMATO (TOMATO)
TOMATO
1 g in 20 mL
Inactive Ingredients
Ingredient Name
Strength
SODIUM CHLORIDE
0.166 g in 100 mL
SODIUM BICARBONATE
0.091 g in 100 mL
GLYCERIN
50 mL in 100 mL
WATER
Packaging
#
Item Code
Package Description
1
NDC:54575-466-02
2 mL in 1 VIAL, MULTI-DOSE
2
NDC:54575-466-10
10 mL in 1 VIAL, MULTI-DOSE
3
NDC:54575-466-30
30 mL in 1 VIAL, MULTI-DOSE
4
NDC:54575-466-50
50 mL in 1 VIAL, MULTI-DOSE
Marketing Information

Marketing Category
Application Number or Monograph Citation
Marketing Start Date
Marketing End Date
BLA
BLA102192
08/29/1972
HADDOCK
haddock injection, solution
Product Information
Product Type
HUMAN PRESCRIPTION DRUG LABEL
Item Code (Source)
NDC:54575-400
Route of Administration
PERCUTANEOUS, SUBCUTANEOUS
DEA Schedule
Active Ingredient/Active Moiety
Ingredient Name
Basis of Strength
Strength
HADDOCK (HADDOCK)
HADDOCK
1 g in 20 mL
Inactive Ingredients
Ingredient Name
Strength
SODIUM CHLORIDE
0.166 g in 100 mL
SODIUM BICARBONATE
0.091 g in 100 mL
GLYCERIN
50 mL in 100 mL
WATER
Packaging
#
Item Code
Package Description
1
NDC:54575-400-02
2 mL in 1 VIAL, MULTI-DOSE
2
NDC:54575-400-10
10 mL in 1 VIAL, MULTI-DOSE
3
NDC:54575-400-30
30 mL in 1 VIAL, MULTI-DOSE
4
NDC:54575-400-50
50 mL in 1 VIAL, MULTI-DOSE
Marketing Information

Marketing Category
Application Number or Monograph Citation
Marketing Start Date
Marketing End Date
BLA
BLA102192
08/29/1972
HALIBUT
pacific halibut injection, solution
Product Information
Product Type
HUMAN PRESCRIPTION DRUG LABEL
Item Code (Source)
NDC:54575-401
Route of Administration
PERCUTANEOUS, SUBCUTANEOUS
DEA Schedule
Active Ingredient/Active Moiety
Ingredient Name
Basis of Strength
Strength
PACIFIC HALIBUT (PACIFIC HALIBUT)
PACIFIC HALIBUT
1 g in 20 mL
Inactive Ingredients
Ingredient Name
Strength
SODIUM CHLORIDE
0.166 g in 100 mL
SODIUM BICARBONATE
0.091 g in 100 mL
GLYCERIN
50 mL in 100 mL
WATER
Packaging
#
Item Code
Package Description
1
NDC:54575-401-02
2 mL in 1 VIAL, MULTI-DOSE
2
NDC:54575-401-10
10 mL in 1 VIAL, MULTI-DOSE
3
NDC:54575-401-30
30 mL in 1 VIAL, MULTI-DOSE
4
NDC:54575-401-50
50 mL in 1 VIAL, MULTI-DOSE
Marketing Information

Marketing Category
Application Number or Monograph Citation
Marketing Start Date
Marketing End Date
BLA
BLA102192
08/29/1972
COW MILK
cow milk injection, solution
Product Information
Product Type
HUMAN PRESCRIPTION DRUG LABEL
Item Code (Source)
NDC:54575-412
Route of Administration
PERCUTANEOUS, SUBCUTANEOUS
DEA Schedule
Active Ingredient/Active Moiety
Ingredient Name
Basis of Strength
Strength
COW MILK (COW MILK)
COW MILK
1 g in 20 mL
Inactive Ingredients
Ingredient Name
Strength
SODIUM CHLORIDE
0.166 g in 100 mL
SODIUM BICARBONATE
0.091 g in 100 mL
GLYCERIN
50 mL in 100 mL
WATER
Packaging
#
Item Code
Package Description
1
NDC:54575-412-02
2 mL in 1 VIAL, MULTI-DOSE
2
NDC:54575-412-10
10 mL in 1 VIAL, MULTI-DOSE
3
NDC:54575-412-30
30 mL in 1 VIAL, MULTI-DOSE
4
NDC:54575-412-50
50 mL in 1 VIAL, MULTI-DOSE
Marketing Information

Marketing Category
Application Number or Monograph Citation
Marketing Start Date
Marketing End Date
BLA
BLA102192
08/29/1972
CASHEW NUT
cashew injection, solution
Product Information
Product Type
HUMAN PRESCRIPTION DRUG LABEL
Item Code (Source)
NDC:54575-364
Route of Administration
PERCUTANEOUS, SUBCUTANEOUS
DEA Schedule
Active Ingredient/Active Moiety
Ingredient Name
Basis of Strength
Strength
CASHEW (CASHEW)
CASHEW
1 g in 20 mL
Inactive Ingredients
Ingredient Name
Strength
SODIUM CHLORIDE
0.166 g in 100 mL
SODIUM BICARBONATE
0.091 g in 100 mL
GLYCERIN
50 mL in 100 mL
WATER
Packaging
#
Item Code
Package Description
1
NDC:54575-364-02
2 mL in 1 VIAL, MULTI-DOSE
2
NDC:54575-364-10
10 mL in 1 VIAL, MULTI-DOSE
3
NDC:54575-364-30
30 mL in 1 VIAL, MULTI-DOSE
4
NDC:54575-364-50
50 mL in 1 VIAL, MULTI-DOSE
Marketing Information

Marketing Category
Application Number or Monograph Citation
Marketing Start Date
Marketing End Date
BLA
BLA102192
08/29/1972
COCONUT
coconut injection, solution
Product Information
Product Type
HUMAN PRESCRIPTION DRUG LABEL
Item Code (Source)
NDC:54575-378
Route of Administration
PERCUTANEOUS, SUBCUTANEOUS
DEA Schedule
Active Ingredient/Active Moiety
Ingredient Name
Basis of Strength
Strength
COCONUT (COCONUT)
COCONUT
1 g in 20 mL
Inactive Ingredients
Ingredient Name
Strength
SODIUM CHLORIDE
0.166 g in 100 mL
SODIUM BICARBONATE
0.091 g in 100 mL
GLYCERIN
50 mL in 100 mL
WATER
Packaging
#
Item Code
Package Description
1
NDC:54575-378-02
2 mL in 1 VIAL, MULTI-DOSE
2
NDC:54575-378-10
10 mL in 1 VIAL, MULTI-DOSE
3
NDC:54575-378-30
30 mL in 1 VIAL, MULTI-DOSE
4
NDC:54575-378-50
50 mL in 1 VIAL, MULTI-DOSE
Marketing Information

Marketing Category
Application Number or Monograph Citation
Marketing Start Date
Marketing End Date
BLA
BLA102192
08/29/1972
ENGLISH WALNUT FOOD
english walnut injection, solution
Product Information
Product Type
HUMAN PRESCRIPTION DRUG LABEL
Item Code (Source)
NDC:54575-473
Route of Administration
PERCUTANEOUS, SUBCUTANEOUS
DEA Schedule
Active Ingredient/Active Moiety
Ingredient Name
Basis of Strength
Strength
ENGLISH WALNUT (ENGLISH WALNUT)
ENGLISH WALNUT
1 g in 20 mL
Inactive Ingredients
Ingredient Name
Strength
SODIUM CHLORIDE
0.166 g in 100 mL
SODIUM BICARBONATE
0.091 g in 100 mL
GLYCERIN
50 mL in 100 mL
WATER
Packaging
#
Item Code
Package Description
1
NDC:54575-473-02
2 mL in 1 VIAL, MULTI-DOSE
2
NDC:54575-473-10
10 mL in 1 VIAL, MULTI-DOSE
3
NDC:54575-473-30
30 mL in 1 VIAL, MULTI-DOSE
4
NDC:54575-473-50
50 mL in 1 VIAL, MULTI-DOSE
Marketing Information

Marketing Category
Application Number or Monograph Citation
Marketing Start Date
Marketing End Date
BLA
BLA102192
08/29/1972
BLACK PEPPER
black pepper injection, solution
Product Information
Product Type
HUMAN PRESCRIPTION DRUG LABEL
Item Code (Source)
NDC:54575-436
Route of Administration
PERCUTANEOUS, SUBCUTANEOUS
DEA Schedule
Active Ingredient/Active Moiety
Ingredient Name
Basis of Strength
Strength
BLACK PEPPER (BLACK PEPPER)
BLACK PEPPER
1 g in 20 mL
Inactive Ingredients
Ingredient Name
Strength
SODIUM CHLORIDE
0.166 g in 100 mL
SODIUM BICARBONATE
0.091 g in 100 mL
GLYCERIN
50 mL in 100 mL
WATER
Packaging
#
Item Code
Package Description
1
NDC:54575-436-02
2 mL in 1 VIAL, MULTI-DOSE
2
NDC:54575-436-10
10 mL in 1 VIAL, MULTI-DOSE
3
NDC:54575-436-30
30 mL in 1 VIAL, MULTI-DOSE
4
NDC:54575-436-50
50 mL in 1 VIAL, MULTI-DOSE
Marketing Information

Marketing Category
Application Number or Monograph Citation
Marketing Start Date
Marketing End Date
BLA
BLA102192
08/29/1972
PEANUT FOOD
peanut injection, solution
Product Information
Product Type
HUMAN PRESCRIPTION DRUG LABEL
Item Code (Source)
NDC:54575-433
Route of Administration
PERCUTANEOUS, SUBCUTANEOUS
DEA Schedule
Active Ingredient/Active Moiety
Ingredient Name
Basis of Strength
Strength
PEANUT (PEANUT)
PEANUT
1 g in 20 mL
Inactive Ingredients
Ingredient Name
Strength
SODIUM CHLORIDE
0.166 g in 100 mL
SODIUM BICARBONATE
0.091 g in 100 mL
GLYCERIN
50 mL in 100 mL
WATER
Packaging
#
Item Code
Package Description
1
NDC:54575-433-02
2 mL in 1 VIAL, MULTI-DOSE
2
NDC:54575-433-10
10 mL in 1 VIAL, MULTI-DOSE
3
NDC:54575-433-30
30 mL in 1 VIAL, MULTI-DOSE
4
NDC:54575-433-50
50 mL in 1 VIAL, MULTI-DOSE
Marketing Information

Marketing Category
Application Number or Monograph Citation
Marketing Start Date
Marketing End Date
BLA
BLA102192
08/29/1972
PECAN FOOD
pecan injection, solution
Product Information
Product Type
HUMAN PRESCRIPTION DRUG LABEL
Item Code (Source)
NDC:54575-435
Route of Administration
PERCUTANEOUS, SUBCUTANEOUS
DEA Schedule
Active Ingredient/Active Moiety
Ingredient Name
Basis of Strength
Strength
PECAN (PECAN)
PECAN
1 g in 20 mL
Inactive Ingredients
Ingredient Name
Strength
SODIUM CHLORIDE
0.166 g in 100 mL
SODIUM BICARBONATE
0.091 g in 100 mL
GLYCERIN
50 mL in 100 mL
WATER
Packaging
#
Item Code
Package Description
1
NDC:54575-435-02
2 mL in 1 VIAL, MULTI-DOSE
2
NDC:54575-435-10
10 mL in 1 VIAL, MULTI-DOSE
3
NDC:54575-435-30
30 mL in 1 VIAL, MULTI-DOSE
4
NDC:54575-435-50
50 mL in 1 VIAL, MULTI-DOSE
Marketing Information

Marketing Category
Application Number or Monograph Citation
Marketing Start Date
Marketing End Date
BLA
BLA102192
08/29/1972
PERCH
perch injection, solution
Product Information
Product Type
HUMAN PRESCRIPTION DRUG LABEL
Item Code (Source)
NDC:54575-438
Route of Administration
PERCUTANEOUS, SUBCUTANEOUS
DEA Schedule
Active Ingredient/Active Moiety
Ingredient Name
Basis of Strength
Strength
PERCH (PERCH)
PERCH
1 g in 20 mL
Inactive Ingredients
Ingredient Name
Strength
SODIUM CHLORIDE
0.166 g in 100 mL
SODIUM BICARBONATE
0.091 g in 100 mL
GLYCERIN
50 mL in 100 mL
WATER
Packaging
#
Item Code
Package Description
1
NDC:54575-438-02
2 mL in 1 VIAL, MULTI-DOSE
2
NDC:54575-438-10
10 mL in 1 VIAL, MULTI-DOSE
3
NDC:54575-438-30
30 mL in 1 VIAL, MULTI-DOSE
4
NDC:54575-438-50
50 mL in 1 VIAL, MULTI-DOSE
Marketing Information

Marketing Category
Application Number or Monograph Citation
Marketing Start Date
Marketing End Date
BLA
BLA102192
08/29/1972
BARLEY FOOD
barley injection, solution
Product Information
Product Type
HUMAN PRESCRIPTION DRUG LABEL
Item Code (Source)
NDC:54575-340
Route of Administration
PERCUTANEOUS, SUBCUTANEOUS
DEA Schedule
Active Ingredient/Active Moiety
Ingredient Name
Basis of Strength
Strength
BARLEY (BARLEY)
BARLEY
1 g in 20 mL
Inactive Ingredients
Ingredient Name
Strength
SODIUM CHLORIDE
0.166 g in 100 mL
SODIUM BICARBONATE
0.091 g in 100 mL
GLYCERIN
50 mL in 100 mL
WATER
Packaging
#
Item Code
Package Description
1
NDC:54575-340-02
2 mL in 1 VIAL, MULTI-DOSE
2
NDC:54575-340-10
10 mL in 1 VIAL, MULTI-DOSE
3
NDC:54575-340-30
30 mL in 1 VIAL, MULTI-DOSE
4
NDC:54575-340-50
50 mL in 1 VIAL, MULTI-DOSE
Marketing Information

Marketing Category
Application Number or Monograph Citation
Marketing Start Date
Marketing End Date
BLA
BLA101376
12/07/1967
BUCKWHEAT
buckwheat injection, solution
Product Information
Product Type
HUMAN PRESCRIPTION DRUG LABEL
Item Code (Source)
NDC:54575-358
Route of Administration
PERCUTANEOUS, SUBCUTANEOUS
DEA Schedule
Active Ingredient/Active Moiety
Ingredient Name
Basis of Strength
Strength
BUCKWHEAT (BUCKWHEAT)
BUCKWHEAT
1 g in 20 mL
Inactive Ingredients
Ingredient Name
Strength
SODIUM CHLORIDE
0.166 g in 100 mL
SODIUM BICARBONATE
0.091 g in 100 mL
GLYCERIN
50 mL in 100 mL
WATER
Packaging
#
Item Code
Package Description
1
NDC:54575-358-02
2 mL in 1 VIAL, MULTI-DOSE
2
NDC:54575-358-10
10 mL in 1 VIAL, MULTI-DOSE
3
NDC:54575-358-30
30 mL in 1 VIAL, MULTI-DOSE
4
NDC:54575-358-50
50 mL in 1 VIAL, MULTI-DOSE
Marketing Information

Marketing Category
Application Number or Monograph Citation
Marketing Start Date
Marketing End Date
BLA
BLA102192
08/29/1972
OATS FOOD
oat injection, solution
Product Information
Product Type
HUMAN PRESCRIPTION DRUG LABEL
Item Code (Source)
NDC:54575-418
Route of Administration
PERCUTANEOUS, SUBCUTANEOUS
DEA Schedule
Active Ingredient/Active Moiety
Ingredient Name
Basis of Strength
Strength
OAT (OAT)
OAT
1 g in 20 mL
Inactive Ingredients
Ingredient Name
Strength
SODIUM CHLORIDE
0.166 g in 100 mL
SODIUM BICARBONATE
0.091 g in 100 mL
GLYCERIN
50 mL in 100 mL
WATER
Packaging
#
Item Code
Package Description
1
NDC:54575-418-02
2 mL in 1 VIAL, MULTI-DOSE
2
NDC:54575-418-10
10 mL in 1 VIAL, MULTI-DOSE
3
NDC:54575-418-30
30 mL in 1 VIAL, MULTI-DOSE
4
NDC:54575-418-50
50 mL in 1 VIAL, MULTI-DOSE
Marketing Information

Marketing Category
Application Number or Monograph Citation
Marketing Start Date
Marketing End Date
BLA
BLA102192
08/29/1972
RICE FOOD
rice injection, solution
Product Information
Product Type
HUMAN PRESCRIPTION DRUG LABEL
Item Code (Source)
NDC:54575-452
Route of Administration
PERCUTANEOUS, SUBCUTANEOUS
DEA Schedule
Active Ingredient/Active Moiety
Ingredient Name
Basis of Strength
Strength
RICE (RICE)
RICE
1 g in 20 mL
Inactive Ingredients
Ingredient Name
Strength
SODIUM CHLORIDE
0.166 g in 100 mL
SODIUM BICARBONATE
0.091 g in 100 mL
GLYCERIN
50 mL in 100 mL
WATER
Packaging
#
Item Code
Package Description
1
NDC:54575-452-02
2 mL in 1 VIAL, MULTI-DOSE
2
NDC:54575-452-10
10 mL in 1 VIAL, MULTI-DOSE
3
NDC:54575-452-30
30 mL in 1 VIAL, MULTI-DOSE
4
NDC:54575-452-50
50 mL in 1 VIAL, MULTI-DOSE
Marketing Information

Marketing Category
Application Number or Monograph Citation
Marketing Start Date
Marketing End Date
BLA
BLA102192
08/29/1972
RYE FOOD
rye injection, solution
Product Information
Product Type
HUMAN PRESCRIPTION DRUG LABEL
Item Code (Source)
NDC:54575-453
Route of Administration
PERCUTANEOUS, SUBCUTANEOUS
DEA Schedule
Active Ingredient/Active Moiety
Ingredient Name
Basis of Strength
Strength
RYE (RYE)
RYE
1 g in 20 mL
Inactive Ingredients
Ingredient Name
Strength
SODIUM CHLORIDE
0.166 g in 100 mL
SODIUM BICARBONATE
0.091 g in 100 mL
GLYCERIN
50 mL in 100 mL
WATER
Packaging
#
Item Code
Package Description
1
NDC:54575-453-02
2 mL in 1 VIAL, MULTI-DOSE
2
NDC:54575-453-10
10 mL in 1 VIAL, MULTI-DOSE
3
NDC:54575-453-30
30 mL in 1 VIAL, MULTI-DOSE
4
NDC:54575-453-50
50 mL in 1 VIAL, MULTI-DOSE
Marketing Information

Marketing Category
Application Number or Monograph Citation
Marketing Start Date
Marketing End Date
BLA
BLA102192
08/29/1972
WHOLE WHEAT FOOD
wheat injection, solution
Product Information
Product Type
HUMAN PRESCRIPTION DRUG LABEL
Item Code (Source)
NDC:54575-476
Route of Administration
PERCUTANEOUS, SUBCUTANEOUS
DEA Schedule
Active Ingredient/Active Moiety
Ingredient Name
Basis of Strength
Strength
WHEAT (WHEAT)
WHEAT
1 g in 20 mL
Inactive Ingredients
Ingredient Name
Strength
SODIUM CHLORIDE
0.166 g in 100 mL
SODIUM BICARBONATE
0.091 g in 100 mL
GLYCERIN
50 mL in 100 mL
WATER
Packaging
#
Item Code
Package Description
1
NDC:54575-476-02
2 mL in 1 VIAL, MULTI-DOSE
2
NDC:54575-476-10
10 mL in 1 VIAL, MULTI-DOSE
3
NDC:54575-476-30
30 mL in 1 VIAL, MULTI-DOSE
4
NDC:54575-476-50
50 mL in 1 VIAL, MULTI-DOSE
Marketing Information

Marketing Category
Application Number or Monograph Citation
Marketing Start Date
Marketing End Date
BLA
BLA102192
08/29/1972
PIMENTO
red bell pepper injection, solution
Product Information
Product Type
HUMAN PRESCRIPTION DRUG LABEL
Item Code (Source)
NDC:54575-439
Route of Administration
PERCUTANEOUS, SUBCUTANEOUS
DEA Schedule
Active Ingredient/Active Moiety
Ingredient Name
Basis of Strength
Strength
RED BELL PEPPER (RED BELL PEPPER)
RED BELL PEPPER
1 g in 20 mL
Inactive Ingredients
Ingredient Name
Strength
SODIUM CHLORIDE
0.166 g in 100 mL
SODIUM BICARBONATE
0.091 g in 100 mL
GLYCERIN
50 mL in 100 mL
WATER
Packaging
#
Item Code
Package Description
1
NDC:54575-439-02
2 mL in 1 VIAL, MULTI-DOSE
2
NDC:54575-439-10
10 mL in 1 VIAL, MULTI-DOSE
3
NDC:54575-439-30
30 mL in 1 VIAL, MULTI-DOSE
4
NDC:54575-439-50
50 mL in 1 VIAL, MULTI-DOSE
Marketing Information

Marketing Category
Application Number or Monograph Citation
Marketing Start Date
Marketing End Date
BLA
BLA102192
08/29/1972
PORK
pork injection, solution
Product Information
Product Type
HUMAN PRESCRIPTION DRUG LABEL
Item Code (Source)
NDC:54575-443
Route of Administration
PERCUTANEOUS, SUBCUTANEOUS
DEA Schedule
Active Ingredient/Active Moiety
Ingredient Name
Basis of Strength
Strength
PORK (PORK)
PORK
1 g in 20 mL
Inactive Ingredients
Ingredient Name
Strength
SODIUM CHLORIDE
0.166 g in 100 mL
SODIUM BICARBONATE
0.091 g in 100 mL
GLYCERIN
50 mL in 100 mL
WATER
Packaging
#
Item Code
Package Description
1
NDC:54575-443-02
2 mL in 1 VIAL, MULTI-DOSE
2
NDC:54575-443-10
10 mL in 1 VIAL, MULTI-DOSE
3
NDC:54575-443-30
30 mL in 1 VIAL, MULTI-DOSE
4
NDC:54575-443-50
50 mL in 1 VIAL, MULTI-DOSE
Marketing Information

Marketing Category
Application Number or Monograph Citation
Marketing Start Date
Marketing End Date
BLA
BLA102192
08/29/1972
PACIFIC SALMON
pink salmon injection, solution
Product Information
Product Type
HUMAN PRESCRIPTION DRUG LABEL
Item Code (Source)
NDC:54575-455
Route of Administration
PERCUTANEOUS, SUBCUTANEOUS
DEA Schedule
Active Ingredient/Active Moiety
Ingredient Name
Basis of Strength
Strength
PINK SALMON (PINK SALMON)
PINK SALMON
1 g in 20 mL
Inactive Ingredients
Ingredient Name
Strength
SODIUM CHLORIDE
0.166 g in 100 mL
SODIUM BICARBONATE
0.091 g in 100 mL
GLYCERIN
50 mL in 100 mL
WATER
Packaging
#
Item Code
Package Description
1
NDC:54575-455-02
2 mL in 1 VIAL, MULTI-DOSE
2
NDC:54575-455-10
10 mL in 1 VIAL, MULTI-DOSE
3
NDC:54575-455-30
30 mL in 1 VIAL, MULTI-DOSE
4
NDC:54575-455-50
50 mL in 1 VIAL, MULTI-DOSE
Marketing Information

Marketing Category
Application Number or Monograph Citation
Marketing Start Date
Marketing End Date
BLA
BLA102192
08/29/1972
PAPAYA
papaya injection, solution
Product Information
Product Type
HUMAN PRESCRIPTION DRUG LABEL
Item Code (Source)
NDC:54575-426
Route of Administration
PERCUTANEOUS, SUBCUTANEOUS
DEA Schedule
Active Ingredient/Active Moiety
Ingredient Name
Basis of Strength
Strength
PAPAYA (PAPAYA)
PAPAYA
1 g in 20 mL
Inactive Ingredients
Ingredient Name
Strength
SODIUM CHLORIDE
0.166 g in 100 mL
SODIUM BICARBONATE
0.091 g in 100 mL
GLYCERIN
50 mL in 100 mL
WATER
Packaging
#
Item Code
Package Description
1
NDC:54575-426-02
2 mL in 1 VIAL, MULTI-DOSE
2
NDC:54575-426-10
10 mL in 1 VIAL, MULTI-DOSE
3
NDC:54575-426-30
30 mL in 1 VIAL, MULTI-DOSE
4
NDC:54575-426-50
50 mL in 1 VIAL, MULTI-DOSE
Marketing Information

Marketing Category
Application Number or Monograph Citation
Marketing Start Date
Marketing End Date
BLA
BLA102192
08/29/1972
SCALLOP
scallop injection, solution
Product Information
Product Type
HUMAN PRESCRIPTION DRUG LABEL
Item Code (Source)
NDC:54575-456
Route of Administration
PERCUTANEOUS, SUBCUTANEOUS
DEA Schedule
Active Ingredient/Active Moiety
Ingredient Name
Basis of Strength
Strength
SCALLOP (SCALLOP)
SCALLOP
1 g in 20 mL
Inactive Ingredients
Ingredient Name
Strength
SODIUM CHLORIDE
0.166 g in 100 mL
SODIUM BICARBONATE
0.091 g in 100 mL
GLYCERIN
50 mL in 100 mL
WATER
Packaging
#
Item Code
Package Description
1
NDC:54575-456-02
2 mL in 1 VIAL, MULTI-DOSE
2
NDC:54575-456-10
10 mL in 1 VIAL, MULTI-DOSE
3
NDC:54575-456-30
30 mL in 1 VIAL, MULTI-DOSE
4
NDC:54575-456-50
50 mL in 1 VIAL, MULTI-DOSE
Marketing Information

Marketing Category
Application Number or Monograph Citation
Marketing Start Date
Marketing End Date
BLA
BLA102192
08/29/1972
SHRIMP
shrimp injection, solution
Product Information
Product Type
HUMAN PRESCRIPTION DRUG LABEL
Item Code (Source)
NDC:54575-458
Route of Administration
PERCUTANEOUS, SUBCUTANEOUS
DEA Schedule
Active Ingredient/Active Moiety
Ingredient Name
Basis of Strength
Strength
SHRIMP (SHRIMP)
SHRIMP
1 g in 20 mL
Inactive Ingredients
Ingredient Name
Strength
SODIUM CHLORIDE
0.166 g in 100 mL
SODIUM BICARBONATE
0.091 g in 100 mL
GLYCERIN
50 mL in 100 mL
WATER
Packaging
#
Item Code
Package Description
1
NDC:54575-458-02
2 mL in 1 VIAL, MULTI-DOSE
2
NDC:54575-458-10
10 mL in 1 VIAL, MULTI-DOSE
3
NDC:54575-458-30
30 mL in 1 VIAL, MULTI-DOSE
4
NDC:54575-458-50
50 mL in 1 VIAL, MULTI-DOSE
Marketing Information

Marketing Category
Application Number or Monograph Citation
Marketing Start Date
Marketing End Date
BLA
BLA102192
08/29/1972
SUNFLOWER SEED
sunflower seed injection, solution
Product Information
Product Type
HUMAN PRESCRIPTION DRUG LABEL
Item Code (Source)
NDC:54575-463
Route of Administration
PERCUTANEOUS, SUBCUTANEOUS
DEA Schedule
Active Ingredient/Active Moiety
Ingredient Name
Basis of Strength
Strength
SUNFLOWER SEED (SUNFLOWER SEED)
SUNFLOWER SEED
1 g in 20 mL
Inactive Ingredients
Ingredient Name
Strength
SODIUM CHLORIDE
0.166 g in 100 mL
SODIUM BICARBONATE
0.091 g in 100 mL
GLYCERIN
50 mL in 100 mL
WATER
Packaging
#
Item Code
Package Description
1
NDC:54575-463-02
2 mL in 1 VIAL, MULTI-DOSE
2
NDC:54575-463-10
10 mL in 1 VIAL, MULTI-DOSE
3
NDC:54575-463-30
30 mL in 1 VIAL, MULTI-DOSE
4
NDC:54575-463-50
50 mL in 1 VIAL, MULTI-DOSE
Marketing Information

Marketing Category
Application Number or Monograph Citation
Marketing Start Date
Marketing End Date
BLA
BLA102192
08/29/1972
BLACKEYED PEA
black-eyed pea injection, solution
Product Information
Product Type
HUMAN PRESCRIPTION DRUG LABEL
Item Code (Source)
NDC:54575-430
Route of Administration
PERCUTANEOUS, SUBCUTANEOUS
DEA Schedule
Active Ingredient/Active Moiety
Ingredient Name
Basis of Strength
Strength
BLACK-EYED PEA (BLACK-EYED PEA)
BLACK-EYED PEA
1 g in 20 mL
Inactive Ingredients
Ingredient Name
Strength
SODIUM CHLORIDE
0.166 g in 100 mL
SODIUM BICARBONATE
0.091 g in 100 mL
GLYCERIN
50 mL in 100 mL
WATER
Packaging
#
Item Code
Package Description
1
NDC:54575-430-02
2 mL in 1 VIAL, MULTI-DOSE
2
NDC:54575-430-10
10 mL in 1 VIAL, MULTI-DOSE
3
NDC:54575-430-30
30 mL in 1 VIAL, MULTI-DOSE
4
NDC:54575-430-50
10 mL in 1 VIAL, MULTI-DOSE
Marketing Information

Marketing Category
Application Number or Monograph Citation
Marketing Start Date
Marketing End Date
BLA
BLA102192
08/29/1972
CORN FOOD
corn injection, solution
Product Information
Product Type
HUMAN PRESCRIPTION DRUG LABEL
Item Code (Source)
NDC:54575-381
Route of Administration
PERCUTANEOUS, SUBCUTANEOUS
DEA Schedule
Active Ingredient/Active Moiety
Ingredient Name
Basis of Strength
Strength
CORN (CORN)
CORN
1 g in 20 mL
Inactive Ingredients
Ingredient Name
Strength
SODIUM CHLORIDE
0.166 g in 100 mL
SODIUM BICARBONATE
0.091 g in 100 mL
GLYCERIN
50 mL in 100 mL
WATER
Packaging
#
Item Code
Package Description
1
NDC:54575-381-02
2 mL in 1 VIAL, MULTI-DOSE
2
NDC:54575-381-10
10 mL in 1 VIAL, MULTI-DOSE
3
NDC:54575-381-30
30 mL in 1 VIAL, MULTI-DOSE
4
NDC:54575-381-50
50 mL in 1 VIAL, MULTI-DOSE
Marketing Information

Marketing Category
Application Number or Monograph Citation
Marketing Start Date
Marketing End Date
BLA
BLA102192
08/29/1972
CACAO BEAN
cocoa injection, solution
Product Information
Product Type
HUMAN PRESCRIPTION DRUG LABEL
Item Code (Source)
NDC:54575-377
Route of Administration
PERCUTANEOUS, SUBCUTANEOUS
DEA Schedule
Active Ingredient/Active Moiety
Ingredient Name
Basis of Strength
Strength
COCOA (COCOA)
COCOA
1 g in 20 mL
Inactive Ingredients
Ingredient Name
Strength
SODIUM CHLORIDE
0.166 g in 100 mL
SODIUM BICARBONATE
0.091 g in 100 mL
GLYCERIN
50 mL in 100 mL
WATER
Packaging
#
Item Code
Package Description
1
NDC:54575-377-02
2 mL in 1 VIAL, MULTI-DOSE
2
NDC:54575-377-10
10 mL in 1 VIAL, MULTI-DOSE
3
NDC:54575-377-30
30 mL in 1 VIAL, MULTI-DOSE
4
NDC:54575-377-50
50 mL in 1 VIAL, MULTI-DOSE
Marketing Information

Marketing Category
Application Number or Monograph Citation
Marketing Start Date
Marketing End Date
BLA
BLA102192
08/29/1972
COFFEE FOR DIAGNOSTIC USE ONLY
coffee bean injection, solution
Product Information
Product Type
HUMAN PRESCRIPTION DRUG LABEL
Item Code (Source)
NDC:54575-380
Route of Administration
PERCUTANEOUS, SUBCUTANEOUS
DEA Schedule
Active Ingredient/Active Moiety
Ingredient Name
Basis of Strength
Strength
COFFEE BEAN (COFFEE BEAN)
COFFEE BEAN
1 g in 20 mL
Inactive Ingredients
Ingredient Name
Strength
SODIUM CHLORIDE
0.166 g in 100 mL
SODIUM BICARBONATE
0.091 g in 100 mL
GLYCERIN
50 mL in 100 mL
WATER
Packaging
#
Item Code
Package Description
1
NDC:54575-380-02
2 mL in 1 VIAL, MULTI-DOSE
2
NDC:54575-380-10
10 mL in 1 VIAL, MULTI-DOSE
3
NDC:54575-380-30
30 mL in 1 VIAL, MULTI-DOSE
4
NDC:54575-380-50
50 mL in 1 VIAL, MULTI-DOSE
Marketing Information

Marketing Category
Application Number or Monograph Citation
Marketing Start Date
Marketing End Date
BLA
BLA102192
08/29/1972
BARLEY MALT
barley malt injection, solution
Product Information
Product Type
HUMAN PRESCRIPTION DRUG LABEL
Item Code (Source)
NDC:54575-410
Route of Administration
PERCUTANEOUS, SUBCUTANEOUS
DEA Schedule
Active Ingredient/Active Moiety
Ingredient Name
Basis of Strength
Strength
BARLEY MALT (BARLEY MALT)
BARLEY MALT
1 g in 20 mL
Inactive Ingredients
Ingredient Name
Strength
SODIUM CHLORIDE
0.166 g in 100 mL
SODIUM BICARBONATE
0.091 g in 100 mL
GLYCERIN
50 mL in 100 mL
WATER
Packaging
#
Item Code
Package Description
1
NDC:54575-410-02
2 mL in 1 VIAL, MULTI-DOSE
2
NDC:54575-410-10
10 mL in 1 VIAL, MULTI-DOSE
3
NDC:54575-410-30
30 mL in 1 VIAL, MULTI-DOSE
4
NDC:54575-410-50
50 mL in 1 VIAL, MULTI-DOSE
Marketing Information

Marketing Category
Application Number or Monograph Citation
Marketing Start Date
Marketing End Date
BLA
BLA102192
08/29/1972
CINNAMON
cinnamon injection, solution
Product Information
Product Type
HUMAN PRESCRIPTION DRUG LABEL
Item Code (Source)
NDC:54575-374
Route of Administration
PERCUTANEOUS, SUBCUTANEOUS
DEA Schedule
Active Ingredient/Active Moiety
Ingredient Name
Basis of Strength
Strength
CINNAMON (CINNAMON)
CINNAMON
1 g in 20 mL
Inactive Ingredients
Ingredient Name
Strength
SODIUM CHLORIDE
0.166 g in 100 mL
SODIUM BICARBONATE
0.091 g in 100 mL
GLYCERIN
50 mL in 100 mL
WATER
Packaging
#
Item Code
Package Description
1
NDC:54575-374-02
2 mL in 1 VIAL, MULTI-DOSE
2
NDC:54575-374-10
10 mL in 1 VIAL, MULTI-DOSE
3
NDC:54575-374-30
30 mL in 1 VIAL, MULTI-DOSE
4
NDC:54575-374-50
50 mL in 1 VIAL, MULTI-DOSE
Marketing Information

Marketing Category
Application Number or Monograph Citation
Marketing Start Date
Marketing End Date
BLA
BLA102192
08/29/1972
DILL SEED
dill injection, solution
Product Information
Product Type
HUMAN PRESCRIPTION DRUG LABEL
Item Code (Source)
NDC:54575-388
Route of Administration
PERCUTANEOUS, SUBCUTANEOUS
DEA Schedule
Active Ingredient/Active Moiety
Ingredient Name
Basis of Strength
Strength
DILL (DILL)
DILL
1 g in 20 mL
Inactive Ingredients
Ingredient Name
Strength
SODIUM CHLORIDE
0.166 g in 100 mL
SODIUM BICARBONATE
0.091 g in 100 mL
GLYCERIN
50 mL in 100 mL
WATER
Packaging
#
Item Code
Package Description
1
NDC:54575-388-02
2 mL in 1 VIAL, MULTI-DOSE
2
NDC:54575-388-10
10 mL in 1 VIAL, MULTI-DOSE
3
NDC:54575-388-30
30 mL in 1 VIAL, MULTI-DOSE
4
NDC:54575-388-50
50 mL in 1 VIAL, MULTI-DOSE
Marketing Information

Marketing Category
Application Number or Monograph Citation
Marketing Start Date
Marketing End Date
BLA
BLA102192
08/29/1972
GARLIC
garlic injection, solution
Product Information
Product Type
HUMAN PRESCRIPTION DRUG LABEL
Item Code (Source)
NDC:54575-395
Route of Administration
PERCUTANEOUS, SUBCUTANEOUS
DEA Schedule
Active Ingredient/Active Moiety
Ingredient Name
Basis of Strength
Strength
GARLIC (GARLIC)
GARLIC
1 g in 20 mL
Inactive Ingredients
Ingredient Name
Strength
SODIUM CHLORIDE
0.166 g in 100 mL
SODIUM BICARBONATE
0.091 g in 100 mL
GLYCERIN
50 mL in 100 mL
WATER
Packaging
#
Item Code
Package Description
1
NDC:54575-395-02
2 mL in 1 VIAL, MULTI-DOSE
2
NDC:54575-395-10
10 mL in 1 VIAL, MULTI-DOSE
3
NDC:54575-395-30
30 mL in 1 VIAL, MULTI-DOSE
4
NDC:54575-395-50
50 mL in 1 VIAL, MULTI-DOSE
Marketing Information

Marketing Category
Application Number or Monograph Citation
Marketing Start Date
Marketing End Date
BLA
BLA102192
08/29/1972
GINGER
ginger injection, solution
Product Information
Product Type
HUMAN PRESCRIPTION DRUG LABEL
Item Code (Source)
NDC:54575-397
Route of Administration
PERCUTANEOUS, SUBCUTANEOUS
DEA Schedule
Active Ingredient/Active Moiety
Ingredient Name
Basis of Strength
Strength
GINGER (GINGER)
GINGER
1 g in 20 mL
Inactive Ingredients
Ingredient Name
Strength
SODIUM CHLORIDE
0.166 g in 100 mL
SODIUM BICARBONATE
0.091 g in 100 mL
GLYCERIN
50 mL in 100 mL
WATER
Packaging
#
Item Code
Package Description
1
NDC:54575-397-02
2 mL in 1 VIAL, MULTI-DOSE
2
NDC:54575-397-10
10 mL in 1 VIAL, MULTI-DOSE
3
NDC:54575-397-30
30 mL in 1 VIAL, MULTI-DOSE
4
NDC:54575-397-50
50 mL in 1 VIAL, MULTI-DOSE
Marketing Information

Marketing Category
Application Number or Monograph Citation
Marketing Start Date
Marketing End Date
BLA
BLA102192
08/29/1972
HORSERADISH
horseradish injection, solution
Product Information
Product Type
HUMAN PRESCRIPTION DRUG LABEL
Item Code (Source)
NDC:54575-405
Route of Administration
PERCUTANEOUS, SUBCUTANEOUS
DEA Schedule
Active Ingredient/Active Moiety
Ingredient Name
Basis of Strength
Strength
HORSERADISH (HORSERADISH)
HORSERADISH
1 g in 20 mL
Inactive Ingredients
Ingredient Name
Strength
SODIUM CHLORIDE
0.166 g in 100 mL
SODIUM BICARBONATE
0.091 g in 100 mL
GLYCERIN
50 mL in 100 mL
WATER
Packaging
#
Item Code
Package Description
1
NDC:54575-405-02
2 mL in 1 VIAL, MULTI-DOSE
2
NDC:54575-405-10
10 mL in 1 VIAL, MULTI-DOSE
3
NDC:54575-405-30
30 mL in 1 VIAL, MULTI-DOSE
4
NDC:54575-405-50
50 mL in 1 VIAL, MULTI-DOSE
Marketing Information

Marketing Category
Application Number or Monograph Citation
Marketing Start Date
Marketing End Date
BLA
BLA102192
08/29/1972
MUSTARD SEED
mustard seed injection, solution
Product Information
Product Type
HUMAN PRESCRIPTION DRUG LABEL
Item Code (Source)
NDC:54575-415
Route of Administration
PERCUTANEOUS, SUBCUTANEOUS
DEA Schedule
Active Ingredient/Active Moiety
Ingredient Name
Basis of Strength
Strength
MUSTARD SEED (MUSTARD SEED)
MUSTARD SEED
1 g in 20 mL
Inactive Ingredients
Ingredient Name
Strength
SODIUM CHLORIDE
0.166 g in 100 mL
SODIUM BICARBONATE
0.091 g in 100 mL
GLYCERIN
50 mL in 100 mL
WATER
Packaging
#
Item Code
Package Description
1
NDC:54575-415-02
2 mL in 1 VIAL, MULTI-DOSE
2
NDC:54575-415-10
10 mL in 1 VIAL, MULTI-DOSE
3
NDC:54575-415-30
30 mL in 1 VIAL, MULTI-DOSE
4
NDC:54575-415-50
50 mL in 1 VIAL, MULTI-DOSE
Marketing Information

Marketing Category
Application Number or Monograph Citation
Marketing Start Date
Marketing End Date
BLA
BLA102192
08/29/1972
OREGANO
oregano injection, solution
Product Information
Product Type
HUMAN PRESCRIPTION DRUG LABEL
Item Code (Source)
NDC:54575-424
Route of Administration
PERCUTANEOUS, SUBCUTANEOUS
DEA Schedule
Active Ingredient/Active Moiety
Ingredient Name
Basis of Strength
Strength
OREGANO (OREGANO)
OREGANO
1 g in 20 mL
Inactive Ingredients
Ingredient Name
Strength
SODIUM CHLORIDE
0.166 g in 100 mL
SODIUM BICARBONATE
0.091 g in 100 mL
GLYCERIN
50 mL in 100 mL
WATER
Packaging
#
Item Code
Package Description
1
NDC:54575-424-02
2 mL in 1 VIAL, MULTI-DOSE
2
NDC:54575-424-10
10 mL in 1 VIAL, MULTI-DOSE
3
NDC:54575-424-30
30 mL in 1 VIAL, MULTI-DOSE
4
NDC:54575-424-50
50 mL in 1 VIAL, MULTI-DOSE
Marketing Information

Marketing Category
Application Number or Monograph Citation
Marketing Start Date
Marketing End Date
BLA
BLA102192
08/29/1972
PEPPERMINT
peppermint injection, solution
Product Information
Product Type
HUMAN PRESCRIPTION DRUG LABEL
Item Code (Source)
NDC:54575-486
Route of Administration
PERCUTANEOUS, SUBCUTANEOUS
DEA Schedule
Active Ingredient/Active Moiety
Ingredient Name
Basis of Strength
Strength
PEPPERMINT (PEPPERMINT)
PEPPERMINT
1 g in 20 mL
Inactive Ingredients
Ingredient Name
Strength
SODIUM CHLORIDE
0.166 g in 100 mL
SODIUM BICARBONATE
0.091 g in 100 mL
GLYCERIN
50 mL in 100 mL
WATER
Packaging
#
Item Code
Package Description
1
NDC:54575-486-02
2 mL in 1 VIAL, MULTI-DOSE
2
NDC:54575-486-10
10 mL in 1 VIAL, MULTI-DOSE
3
NDC:54575-486-30
30 mL in 1 VIAL, MULTI-DOSE
4
NDC:54575-486-50
50 mL in 1 VIAL, MULTI-DOSE
Marketing Information

Marketing Category
Application Number or Monograph Citation
Marketing Start Date
Marketing End Date
BLA
BLA102192
08/29/1972
POPPY SEED
poppy seed injection, solution
Product Information
Product Type
HUMAN PRESCRIPTION DRUG LABEL
Item Code (Source)
NDC:54575-442
Route of Administration
PERCUTANEOUS, SUBCUTANEOUS
DEA Schedule
Active Ingredient/Active Moiety
Ingredient Name
Basis of Strength
Strength
POPPY SEED (POPPY SEED)
POPPY SEED
1 g in 20 mL
Inactive Ingredients
Ingredient Name
Strength
SODIUM CHLORIDE
0.166 g in 100 mL
SODIUM BICARBONATE
0.091 g in 100 mL
GLYCERIN
50 mL in 100 mL
WATER
Packaging
#
Item Code
Package Description
1
NDC:54575-442-02
2 mL in 1 VIAL, MULTI-DOSE
2
NDC:54575-442-10
10 mL in 1 VIAL, MULTI-DOSE
3
NDC:54575-442-30
30 mL in 1 VIAL, MULTI-DOSE
4
NDC:54575-442-50
10 mL in 1 VIAL, MULTI-DOSE
Marketing Information

Marketing Category
Application Number or Monograph Citation
Marketing Start Date
Marketing End Date
BLA
BLA102192
08/29/1972
SAGE FOOD
sage injection, solution
Product Information
Product Type
HUMAN PRESCRIPTION DRUG LABEL
Item Code (Source)
NDC:54575-454
Route of Administration
PERCUTANEOUS, SUBCUTANEOUS
DEA Schedule
Active Ingredient/Active Moiety
Ingredient Name
Basis of Strength
Strength
SAGE (SAGE)
SAGE
1 g in 20 mL
Inactive Ingredients
Ingredient Name
Strength
SODIUM CHLORIDE
0.166 g in 100 mL
SODIUM BICARBONATE
0.091 g in 100 mL
GLYCERIN
50 mL in 100 mL
WATER
Packaging
#
Item Code
Package Description
1
NDC:54575-454-02
2 mL in 1 VIAL, MULTI-DOSE
2
NDC:54575-454-10
10 mL in 1 VIAL, MULTI-DOSE
3
NDC:54575-454-30
30 mL in 1 VIAL, MULTI-DOSE
4
NDC:54575-454-50
50 mL in 1 VIAL, MULTI-DOSE
Marketing Information

Marketing Category
Application Number or Monograph Citation
Marketing Start Date
Marketing End Date
BLA
BLA102192
08/29/1972
SESAME SEED
sesame seed injection, solution
Product Information
Product Type
HUMAN PRESCRIPTION DRUG LABEL
Item Code (Source)
NDC:54575-457
Route of Administration
PERCUTANEOUS, SUBCUTANEOUS
DEA Schedule
Active Ingredient/Active Moiety
Ingredient Name
Basis of Strength
Strength
SESAME SEED (SESAME SEED)
SESAME SEED
1 g in 20 mL
Inactive Ingredients
Ingredient Name
Strength
SODIUM CHLORIDE
0.166 g in 100 mL
SODIUM BICARBONATE
0.091 g in 100 mL
GLYCERIN
50 mL in 100 mL
WATER
Packaging
#
Item Code
Package Description
1
NDC:54575-457-02
2 mL in 1 VIAL, MULTI-DOSE
2
NDC:54575-457-10
10 mL in 1 VIAL, MULTI-DOSE
3
NDC:54575-457-30
30 mL in 1 VIAL, MULTI-DOSE
4
NDC:54575-457-50
50 mL in 1 VIAL, MULTI-DOSE
Marketing Information

Marketing Category
Application Number or Monograph Citation
Marketing Start Date
Marketing End Date
BLA
BLA102192
08/29/1972
SPEARMINT
spearmint injection, solution
Product Information
Product Type
HUMAN PRESCRIPTION DRUG LABEL
Item Code (Source)
NDC:54575-459
Route of Administration
PERCUTANEOUS, SUBCUTANEOUS
DEA Schedule
Active Ingredient/Active Moiety
Ingredient Name
Basis of Strength
Strength
SPEARMINT (SPEARMINT)
SPEARMINT
1 g in 20 mL
Inactive Ingredients
Ingredient Name
Strength
SODIUM CHLORIDE
0.166 g in 100 mL
SODIUM BICARBONATE
0.091 g in 100 mL
GLYCERIN
50 mL in 100 mL
WATER
Packaging
#
Item Code
Package Description
1
NDC:54575-459-02
2 mL in 1 VIAL, MULTI-DOSE
2
NDC:54575-459-10
10 mL in 1 VIAL, MULTI-DOSE
3
NDC:54575-459-30
30 mL in 1 VIAL, MULTI-DOSE
4
NDC:54575-459-50
50 mL in 1 VIAL, MULTI-DOSE
Marketing Information

Marketing Category
Application Number or Monograph Citation
Marketing Start Date
Marketing End Date
BLA
BLA102192
08/29/1972
THYME
thyme injection, solution
Product Information
Product Type
HUMAN PRESCRIPTION DRUG LABEL
Item Code (Source)
NDC:54575-465
Route of Administration
PERCUTANEOUS, SUBCUTANEOUS
DEA Schedule
Active Ingredient/Active Moiety
Ingredient Name
Basis of Strength
Strength
THYME (THYME)
THYME
1 g in 20 mL
Inactive Ingredients
Ingredient Name
Strength
SODIUM CHLORIDE
0.166 g in 100 mL
SODIUM BICARBONATE
0.091 g in 100 mL
GLYCERIN
50 mL in 100 mL
WATER
Packaging
#
Item Code
Package Description
1
NDC:54575-465-02
2 mL in 1 VIAL, MULTI-DOSE
2
NDC:54575-465-10
10 mL in 1 VIAL, MULTI-DOSE
3
NDC:54575-465-30
30 mL in 1 VIAL, MULTI-DOSE
4
NDC:54575-465-50
50 mL in 1 VIAL, MULTI-DOSE
Marketing Information

Marketing Category
Application Number or Monograph Citation
Marketing Start Date
Marketing End Date
BLA
BLA102192
08/29/1972
VANILLA
vanilla injection, solution
Product Information
Product Type
HUMAN PRESCRIPTION DRUG LABEL
Item Code (Source)
NDC:54575-471
Route of Administration
PERCUTANEOUS, SUBCUTANEOUS
DEA Schedule
Active Ingredient/Active Moiety
Ingredient Name
Basis of Strength
Strength
VANILLA (VANILLA)
VANILLA
1 g in 20 mL
Inactive Ingredients
Ingredient Name
Strength
SODIUM CHLORIDE
0.166 g in 100 mL
SODIUM BICARBONATE
0.091 g in 100 mL
GLYCERIN
50 mL in 100 mL
WATER
Packaging
#
Item Code
Package Description
1
NDC:54575-471-02
2 mL in 1 VIAL, MULTI-DOSE
2
NDC:54575-471-10
10 mL in 1 VIAL, MULTI-DOSE
3
NDC:54575-471-30
30 mL in 1 VIAL, MULTI-DOSE
4
NDC:54575-471-50
50 mL in 1 VIAL, MULTI-DOSE
Marketing Information

Marketing Category
Application Number or Monograph Citation
Marketing Start Date
Marketing End Date
BLA
BLA102192
08/29/1972
ALMOND
almond injection, solution
Product Information
Product Type
HUMAN PRESCRIPTION DRUG LABEL
Item Code (Source)
NDC:54575-333
Route of Administration
PERCUTANEOUS, SUBCUTANEOUS
DEA Schedule
Active Ingredient/Active Moiety
Ingredient Name
Basis of Strength
Strength
ALMOND (ALMOND)
ALMOND
1 g in 20 mL
Inactive Ingredients
Ingredient Name
Strength
SODIUM CHLORIDE
0.166 g in 100 mL
SODIUM BICARBONATE
0.091 g in 100 mL
WATER
GLYCERIN
50 mL in 100 mL
Packaging
#
Item Code
Package Description
1
NDC:54575-333-02
2 mL in 1 VIAL, MULTI-DOSE
2
NDC:54575-333-10
10 mL in 1 VIAL, MULTI-DOSE
3
NDC:54575-333-30
30 mL in 1 VIAL, MULTI-DOSE
4
NDC:54575-333-50
50 mL in 1 VIAL, MULTI-DOSE
Marketing Information

Marketing Category
Application Number or Monograph Citation
Marketing Start Date
Marketing End Date
BLA
BLA101376
12/07/1967
ACACIA POLLEN
acacia injection, solution
Product Information
Product Type
HUMAN PRESCRIPTION DRUG LABEL
Item Code (Source)
NDC:54575-901
Route of Administration
PERCUTANEOUS, SUBCUTANEOUS
DEA Schedule
Active Ingredient/Active Moiety
Ingredient Name
Basis of Strength
Strength
ACACIA (ACACIA)
ACACIA
1 g in 20 mL
Inactive Ingredients
Ingredient Name
Strength
SODIUM CHLORIDE
0.166 g in 100 mL
SODIUM BICARBONATE
0.091 g in 100 mL
WATER
GLYCERIN
50 mL in 100 mL
Packaging
#
Item Code
Package Description
1
NDC:54575-901-02
2 mL in 1 VIAL, MULTI-DOSE
2
NDC:54575-901-10
10 mL in 1 VIAL, MULTI-DOSE
3
NDC:54575-901-30
30 mL in 1 VIAL, MULTI-DOSE
4
NDC:54575-901-50
50 mL in 1 VIAL, MULTI-DOSE
Marketing Information

Marketing Category
Application Number or Monograph Citation
Marketing Start Date
Marketing End Date
BLA
BLA101376
12/07/1967
RED ALDER POLLEN
alnus rubra pollen injection, solution
Product Information
Product Type
HUMAN PRESCRIPTION DRUG LABEL
Item Code (Source)
NDC:54575-902
Route of Administration
PERCUTANEOUS, SUBCUTANEOUS
DEA Schedule
Active Ingredient/Active Moiety
Ingredient Name
Basis of Strength
Strength
ALNUS RUBRA POLLEN (ALNUS RUBRA POLLEN)
ALNUS RUBRA POLLEN
1 g in 20 mL
Inactive Ingredients
Ingredient Name
Strength
SODIUM CHLORIDE
0.166 g in 100 mL
SODIUM BICARBONATE
0.091 g in 100 mL
WATER
GLYCERIN
50 mL in 100 mL
Packaging
#
Item Code
Package Description
1
NDC:54575-902-02
2 mL in 1 VIAL, MULTI-DOSE
2
NDC:54575-902-10
10 mL in 1 VIAL, MULTI-DOSE
3
NDC:54575-902-30
30 mL in 1 VIAL, MULTI-DOSE
4
NDC:54575-902-50
50 mL in 1 VIAL, MULTI-DOSE
Marketing Information

Marketing Category
Application Number or Monograph Citation
Marketing Start Date
Marketing End Date
BLA
BLA101376
12/07/1967
SMOOTH ALDER POLLEN
alnus incana subsp. rugosa pollen injection, solution
Product Information
Product Type
HUMAN PRESCRIPTION DRUG LABEL
Item Code (Source)
NDC:54575-903
Route of Administration
PERCUTANEOUS, SUBCUTANEOUS
DEA Schedule
Active Ingredient/Active Moiety
Ingredient Name
Basis of Strength
Strength
ALNUS INCANA SUBSP. RUGOSA POLLEN (ALNUS INCANA SUBSP. RUGOSA POLLEN)
ALNUS INCANA SUBSP. RUGOSA POLLEN
1 g in 20 mL
Inactive Ingredients
Ingredient Name
Strength
SODIUM CHLORIDE
0.166 g in 100 mL
SODIUM BICARBONATE
0.091 g in 100 mL
WATER
GLYCERIN
50 mL in 100 mL
Packaging
#
Item Code
Package Description
1
NDC:54575-903-02
2 mL in 1 VIAL, MULTI-DOSE
2
NDC:54575-903-10
10 mL in 1 VIAL, MULTI-DOSE
3
NDC:54575-903-30
30 mL in 1 VIAL, MULTI-DOSE
4
NDC:54575-903-50
50 mL in 1 VIAL, MULTI-DOSE
Marketing Information

Marketing Category
Application Number or Monograph Citation
Marketing Start Date
Marketing End Date
BLA
BLA101376
12/07/1967
ARIZONA ASH POLLEN
fraxinus velutina pollen injection, solution
Product Information
Product Type
HUMAN PRESCRIPTION DRUG LABEL
Item Code (Source)
NDC:54575-904
Route of Administration
PERCUTANEOUS, SUBCUTANEOUS
DEA Schedule
Active Ingredient/Active Moiety
Ingredient Name
Basis of Strength
Strength
FRAXINUS VELUTINA POLLEN (FRAXINUS VELUTINA POLLEN)
FRAXINUS VELUTINA POLLEN
1 g in 20 mL
Inactive Ingredients
Ingredient Name
Strength
SODIUM CHLORIDE
0.166 g in 100 mL
SODIUM BICARBONATE
0.091 g in 100 mL
WATER
GLYCERIN
50 mL in 100 mL
Packaging
#
Item Code
Package Description
1
NDC:54575-904-02
2 mL in 1 VIAL, MULTI-DOSE
2
NDC:54575-904-10
10 mL in 1 VIAL, MULTI-DOSE
3
NDC:54575-904-30
30 mL in 1 VIAL, MULTI-DOSE
4
NDC:54575-904-50
50 mL in 1 VIAL, MULTI-DOSE
Marketing Information

Marketing Category
Application Number or Monograph Citation
Marketing Start Date
Marketing End Date
BLA
BLA101376
12/07/1967
GREEN RED ASH POLLEN
fraxinus pennsylvanica pollen injection, solution
Product Information
Product Type
HUMAN PRESCRIPTION DRUG LABEL
Item Code (Source)
NDC:54575-905
Route of Administration
PERCUTANEOUS, SUBCUTANEOUS
DEA Schedule
Active Ingredient/Active Moiety
Ingredient Name
Basis of Strength
Strength
FRAXINUS PENNSYLVANICA POLLEN (FRAXINUS PENNSYLVANICA POLLEN)
FRAXINUS PENNSYLVANICA POLLEN
1 g in 20 mL
Inactive Ingredients
Ingredient Name
Strength
SODIUM CHLORIDE
0.166 g in 100 mL
SODIUM BICARBONATE
0.091 g in 100 mL
WATER
GLYCERIN
50 mL in 100 mL
Packaging
#
Item Code
Package Description
1
NDC:54575-905-02
2 mL in 1 VIAL, MULTI-DOSE
2
NDC:54575-905-10
10 mL in 1 VIAL, MULTI-DOSE
3
NDC:54575-905-30
30 mL in 1 VIAL, MULTI-DOSE
4
NDC:54575-905-50
50 mL in 1 VIAL, MULTI-DOSE
Marketing Information

Marketing Category
Application Number or Monograph Citation
Marketing Start Date
Marketing End Date
BLA
BLA101376
12/07/1967
WHITE ASH POLLEN
fraxinus americana pollen injection, solution
Product Information
Product Type
HUMAN PRESCRIPTION DRUG LABEL
Item Code (Source)
NDC:54575-906
Route of Administration
PERCUTANEOUS, SUBCUTANEOUS
DEA Schedule
Active Ingredient/Active Moiety
Ingredient Name
Basis of Strength
Strength
FRAXINUS AMERICANA POLLEN (FRAXINUS AMERICANA POLLEN)
FRAXINUS AMERICANA POLLEN
1 g in 20 mL
Inactive Ingredients
Ingredient Name
Strength
SODIUM CHLORIDE
0.166 g in 100 mL
SODIUM BICARBONATE
0.091 g in 100 mL
WATER
GLYCERIN
50 mL in 100 mL
Packaging
#
Item Code
Package Description
1
NDC:54575-906-02
2 mL in 1 VIAL, MULTI-DOSE
2
NDC:54575-906-10
10 mL in 1 VIAL, MULTI-DOSE
3
NDC:54575-906-30
30 mL in 1 VIAL, MULTI-DOSE
4
NDC:54575-906-50
50 mL in 1 VIAL, MULTI-DOSE
Marketing Information

Marketing Category
Application Number or Monograph Citation
Marketing Start Date
Marketing End Date
BLA
BLA101376
12/07/1967
ASH MIX, GREEN/WHITE POLLEN
fraxinus americana pollen and fraxinus pennsylvanica pollen injection, solution
Product Information
Product Type
HUMAN PRESCRIPTION DRUG LABEL
Item Code (Source)
NDC:54575-907
Route of Administration
PERCUTANEOUS, SUBCUTANEOUS
DEA Schedule
Active Ingredient/Active Moiety
Ingredient Name
Basis of Strength
Strength
FRAXINUS AMERICANA POLLEN (FRAXINUS AMERICANA POLLEN)
FRAXINUS AMERICANA POLLEN
0.5 g in 20 mL
FRAXINUS PENNSYLVANICA POLLEN (FRAXINUS PENNSYLVANICA POLLEN)
FRAXINUS PENNSYLVANICA POLLEN
0.5 g in 20 mL
Inactive Ingredients
Ingredient Name
Strength
SODIUM CHLORIDE
0.166 g in 100 mL
SODIUM BICARBONATE
0.091 g in 100 mL
WATER
GLYCERIN
50 mL in 100 mL
Packaging
#
Item Code
Package Description
1
NDC:54575-907-02
2 mL in 1 VIAL, MULTI-DOSE
2
NDC:54575-907-10
10 mL in 1 VIAL, MULTI-DOSE
3
NDC:54575-907-30
30 mL in 1 VIAL, MULTI-DOSE
4
NDC:54575-907-50
50 mL in 1 VIAL, MULTI-DOSE
Marketing Information

Marketing Category
Application Number or Monograph Citation
Marketing Start Date
Marketing End Date
BLA
BLA101376
12/07/1967
QUAKING ASPEN POLLEN
populus tremuloides pollen injection, solution
Product Information
Product Type
HUMAN PRESCRIPTION DRUG LABEL
Item Code (Source)
NDC:54575-908
Route of Administration
PERCUTANEOUS, SUBCUTANEOUS
DEA Schedule
Active Ingredient/Active Moiety
Ingredient Name
Basis of Strength
Strength
POPULUS TREMULOIDES POLLEN (POPULUS TREMULOIDES POLLEN)
POPULUS TREMULOIDES POLLEN
1 g in 20 mL
Inactive Ingredients
Ingredient Name
Strength
SODIUM CHLORIDE
0.166 g in 100 mL
SODIUM BICARBONATE
0.091 g in 100 mL
WATER
GLYCERIN
50 mL in 100 mL
Packaging
#
Item Code
Package Description
1
NDC:54575-908-02
2 mL in 1 VIAL, MULTI-DOSE
2
NDC:54575-908-10
10 mL in 1 VIAL, MULTI-DOSE
3
NDC:54575-908-30
30 mL in 1 VIAL, MULTI-DOSE
4
NDC:54575-908-50
50 mL in 1 VIAL, MULTI-DOSE
Marketing Information

Marketing Category
Application Number or Monograph Citation
Marketing Start Date
Marketing End Date
BLA
BLA101376
12/07/1967
BAYBERRY POLLEN
morella cerifera pollen injection, solution
Product Information
Product Type
HUMAN PRESCRIPTION DRUG LABEL
Item Code (Source)
NDC:54575-909
Route of Administration
PERCUTANEOUS, SUBCUTANEOUS
DEA Schedule
Active Ingredient/Active Moiety
Ingredient Name
Basis of Strength
Strength
MORELLA CERIFERA POLLEN (MORELLA CERIFERA POLLEN)
MORELLA CERIFERA POLLEN
1 g in 20 mL
Inactive Ingredients
Ingredient Name
Strength
SODIUM CHLORIDE
0.166 g in 100 mL
SODIUM BICARBONATE
0.091 g in 100 mL
WATER
GLYCERIN
50 mL in 100 mL
Packaging
#
Item Code
Package Description
1
NDC:54575-909-02
2 mL in 1 VIAL, MULTI-DOSE
2
NDC:54575-909-10
10 mL in 1 VIAL, MULTI-DOSE
3
NDC:54575-909-30
30 mL in 1 VIAL, MULTI-DOSE
4
NDC:54575-909-50
50 mL in 1 VIAL, MULTI-DOSE
Marketing Information

Marketing Category
Application Number or Monograph Citation
Marketing Start Date
Marketing End Date
BLA
BLA101376
12/07/1967
AMERICAN BEECH POLLEN
fagus grandifolia pollen injection, solution
Product Information
Product Type
HUMAN PRESCRIPTION DRUG LABEL
Item Code (Source)
NDC:54575-910
Route of Administration
PERCUTANEOUS, SUBCUTANEOUS
DEA Schedule
Active Ingredient/Active Moiety
Ingredient Name
Basis of Strength
Strength
FAGUS GRANDIFOLIA POLLEN (FAGUS GRANDIFOLIA POLLEN)
FAGUS GRANDIFOLIA POLLEN
1 g in 20 mL
Inactive Ingredients
Ingredient Name
Strength
SODIUM CHLORIDE
0.166 g in 100 mL
SODIUM BICARBONATE
0.091 g in 100 mL
WATER
GLYCERIN
50 mL in 100 mL
Packaging
#
Item Code
Package Description
1
NDC:54575-910-02
2 mL in 1 VIAL, MULTI-DOSE
2
NDC:54575-910-10
10 mL in 1 VIAL, MULTI-DOSE
3
NDC:54575-910-30
30 mL in 1 VIAL, MULTI-DOSE
4
NDC:54575-910-50
50 mL in 1 VIAL, MULTI-DOSE
Marketing Information

Marketing Category
Application Number or Monograph Citation
Marketing Start Date
Marketing End Date
BLA
BLA101376
12/07/1967
BOX ELDER POLLEN
acer negundo pollen injection, solution
Product Information
Product Type
HUMAN PRESCRIPTION DRUG LABEL
Item Code (Source)
NDC:54575-914
Route of Administration
PERCUTANEOUS, SUBCUTANEOUS
DEA Schedule
Active Ingredient/Active Moiety
Ingredient Name
Basis of Strength
Strength
ACER NEGUNDO POLLEN (ACER NEGUNDO POLLEN)
ACER NEGUNDO POLLEN
1 g in 20 mL
Inactive Ingredients
Ingredient Name
Strength
SODIUM CHLORIDE
0.166 g in 100 mL
SODIUM BICARBONATE
0.091 g in 100 mL
WATER
GLYCERIN
50 mL in 100 mL
Packaging
#
Item Code
Package Description
1
NDC:54575-914-02
2 mL in 1 VIAL, MULTI-DOSE
2
NDC:54575-914-10
10 mL in 1 VIAL, MULTI-DOSE
3
NDC:54575-914-30
30 mL in 1 VIAL, MULTI-DOSE
4
NDC:54575-914-50
50 mL in 1 VIAL, MULTI-DOSE
Marketing Information

Marketing Category
Application Number or Monograph Citation
Marketing Start Date
Marketing End Date
BLA
BLA101376
12/07/1967
MOUNTAIN CEDAR POLLEN
juniperus ashei pollen injection, solution
Product Information
Product Type
HUMAN PRESCRIPTION DRUG LABEL
Item Code (Source)
NDC:54575-915
Route of Administration
PERCUTANEOUS, SUBCUTANEOUS
DEA Schedule
Active Ingredient/Active Moiety
Ingredient Name
Basis of Strength
Strength
JUNIPERUS ASHEI POLLEN (JUNIPERUS ASHEI POLLEN)
JUNIPERUS ASHEI POLLEN
1 g in 20 mL
Inactive Ingredients
Ingredient Name
Strength
SODIUM CHLORIDE
0.166 g in 100 mL
SODIUM BICARBONATE
0.091 g in 100 mL
WATER
GLYCERIN
50 mL in 100 mL
Packaging
#
Item Code
Package Description
1
NDC:54575-915-02
2 mL in 1 VIAL, MULTI-DOSE
2
NDC:54575-915-10
10 mL in 1 VIAL, MULTI-DOSE
3
NDC:54575-915-30
30 mL in 1 VIAL, MULTI-DOSE
4
NDC:54575-915-50
50 mL in 1 VIAL, MULTI-DOSE
Marketing Information

Marketing Category
Application Number or Monograph Citation
Marketing Start Date
Marketing End Date
BLA
BLA101376
12/07/1967
PINCHOT CEDAR POLLEN
juniperus pinchotii pollen injection, solution
Product Information
Product Type
HUMAN PRESCRIPTION DRUG LABEL
Item Code (Source)
NDC:54575-916
Route of Administration
PERCUTANEOUS, SUBCUTANEOUS
DEA Schedule
Active Ingredient/Active Moiety
Ingredient Name
Basis of Strength
Strength
JUNIPERUS PINCHOTII POLLEN (JUNIPERUS PINCHOTII POLLEN)
JUNIPERUS PINCHOTII POLLEN
1 g in 20 mL
Inactive Ingredients
Ingredient Name
Strength
SODIUM CHLORIDE
0.166 g in 100 mL
SODIUM BICARBONATE
0.091 g in 100 mL
WATER
GLYCERIN
50 mL in 100 mL
Packaging
#
Item Code
Package Description
1
NDC:54575-916-02
2 mL in 1 VIAL, MULTI-DOSE
2
NDC:54575-916-10
10 mL in 1 VIAL, MULTI-DOSE
3
NDC:54575-916-30
30 mL in 1 VIAL, MULTI-DOSE
4
NDC:54575-916-50
50 mL in 1 VIAL, MULTI-DOSE
Marketing Information

Marketing Category
Application Number or Monograph Citation
Marketing Start Date
Marketing End Date
BLA
BLA101376
12/07/1967
RED CEDAR POLLEN
juniperus virginiana pollen injection, solution
Product Information
Product Type
HUMAN PRESCRIPTION DRUG LABEL
Item Code (Source)
NDC:54575-917
Route of Administration
PERCUTANEOUS, SUBCUTANEOUS
DEA Schedule
Active Ingredient/Active Moiety
Ingredient Name
Basis of Strength
Strength
JUNIPERUS VIRGINIANA POLLEN (JUNIPERUS VIRGINIANA POLLEN)
JUNIPERUS VIRGINIANA POLLEN
1 g in 20 mL
Inactive Ingredients
Ingredient Name
Strength
SODIUM CHLORIDE
0.166 g in 100 mL
SODIUM BICARBONATE
0.091 g in 100 mL
WATER
GLYCERIN
50 mL in 100 mL
Packaging
#
Item Code
Package Description
1
NDC:54575-917-02
2 mL in 1 VIAL, MULTI-DOSE
2
NDC:54575-917-10
10 mL in 1 VIAL, MULTI-DOSE
3
NDC:54575-917-30
30 mL in 1 VIAL, MULTI-DOSE
4
NDC:54575-917-50
50 mL in 1 VIAL, MULTI-DOSE
Marketing Information

Marketing Category
Application Number or Monograph Citation
Marketing Start Date
Marketing End Date
BLA
BLA101376
12/07/1967
EASTERN COTTONWOOD POLLEN
populus deltoides pollen injection, solution
Product Information
Product Type
HUMAN PRESCRIPTION DRUG LABEL
Item Code (Source)
NDC:54575-919
Route of Administration
PERCUTANEOUS, SUBCUTANEOUS
DEA Schedule
Active Ingredient/Active Moiety
Ingredient Name
Basis of Strength
Strength
POPULUS DELTOIDES POLLEN (POPULUS DELTOIDES POLLEN)
POPULUS DELTOIDES POLLEN
1 g in 20 mL
Inactive Ingredients
Ingredient Name
Strength
SODIUM CHLORIDE
0.166 g in 100 mL
SODIUM BICARBONATE
0.091 g in 100 mL
WATER
GLYCERIN
50 mL in 100 mL
Packaging
#
Item Code
Package Description
1
NDC:54575-919-02
2 mL in 1 VIAL, MULTI-DOSE
2
NDC:54575-919-10
10 mL in 1 VIAL, MULTI-DOSE
3
NDC:54575-919-30
30 mL in 1 VIAL, MULTI-DOSE
4
NDC:54575-919-50
50 mL in 1 VIAL, MULTI-DOSE
Marketing Information

Marketing Category
Application Number or Monograph Citation
Marketing Start Date
Marketing End Date
BLA
BLA101376
12/07/1967
WESTERN COTTONWOOD POLLEN
populus deltoides subsp. monilifera pollen injection, solution
Product Information
Product Type
HUMAN PRESCRIPTION DRUG LABEL
Item Code (Source)
NDC:54575-920
Route of Administration
PERCUTANEOUS, SUBCUTANEOUS
DEA Schedule
Active Ingredient/Active Moiety
Ingredient Name
Basis of Strength
Strength
POPULUS DELTOIDES SUBSP. MONILIFERA POLLEN (POPULUS DELTOIDES SUBSP. MONILIFERA POLLEN)
POPULUS DELTOIDES SUBSP. MONILIFERA POLLEN
1 g in 20 mL
Inactive Ingredients
Ingredient Name
Strength
SODIUM CHLORIDE
0.166 g in 100 mL
SODIUM BICARBONATE
0.091 g in 100 mL
WATER
GLYCERIN
50 mL in 100 mL
Packaging
#
Item Code
Package Description
1
NDC:54575-920-02
2 mL in 1 VIAL, MULTI-DOSE
2
NDC:54575-920-10
10 mL in 1 VIAL, MULTI-DOSE
3
NDC:54575-920-30
30 mL in 1 VIAL, MULTI-DOSE
4
NDC:54575-920-50
50 mL in 1 VIAL, MULTI-DOSE
Marketing Information

Marketing Category
Application Number or Monograph Citation
Marketing Start Date
Marketing End Date
BLA
BLA101376
12/07/1967
COTTONWOOD MIX, EASTERN/WESTERN POLLEN
populus deltoides subsp. monilifera pollen and populus deltoides pollen injection, solution
Product Information
Product Type
HUMAN PRESCRIPTION DRUG LABEL
Item Code (Source)
NDC:54575-921
Route of Administration
PERCUTANEOUS, SUBCUTANEOUS
DEA Schedule
Active Ingredient/Active Moiety
Ingredient Name
Basis of Strength
Strength
POPULUS DELTOIDES SUBSP. MONILIFERA POLLEN (POPULUS DELTOIDES SUBSP. MONILIFERA POLLEN)
POPULUS DELTOIDES SUBSP. MONILIFERA POLLEN
0.5 g in 20 mL
POPULUS DELTOIDES POLLEN (POPULUS DELTOIDES POLLEN)
POPULUS DELTOIDES POLLEN
0.5 g in 20 mL
Inactive Ingredients
Ingredient Name
Strength
SODIUM CHLORIDE
0.166 g in 100 mL
SODIUM BICARBONATE
0.091 g in 100 mL
WATER
GLYCERIN
50 mL in 100 mL
Packaging
#
Item Code
Package Description
1
NDC:54575-921-02
2 mL in 1 VIAL, MULTI-DOSE
2
NDC:54575-921-10
10 mL in 1 VIAL, MULTI-DOSE
3
NDC:54575-921-30
30 mL in 1 VIAL, MULTI-DOSE
4
NDC:54575-921-50
50 mL in 1 VIAL, MULTI-DOSE
Marketing Information

Marketing Category
Application Number or Monograph Citation
Marketing Start Date
Marketing End Date
BLA
BLA101376
12/07/1967
ARIZONA CYPRESS POLLEN
cupressus arizonica pollen injection, solution
Product Information
Product Type
HUMAN PRESCRIPTION DRUG LABEL
Item Code (Source)
NDC:54575-922
Route of Administration
PERCUTANEOUS, SUBCUTANEOUS
DEA Schedule
Active Ingredient/Active Moiety
Ingredient Name
Basis of Strength
Strength
CUPRESSUS ARIZONICA POLLEN (CUPRESSUS ARIZONICA POLLEN)
CUPRESSUS ARIZONICA POLLEN
1 g in 20 mL
Inactive Ingredients
Ingredient Name
Strength
SODIUM CHLORIDE
0.166 g in 100 mL
SODIUM BICARBONATE
0.091 g in 100 mL
WATER
GLYCERIN
50 mL in 100 mL
Packaging
#
Item Code
Package Description
1
NDC:54575-922-02
2 mL in 1 VIAL, MULTI-DOSE
2
NDC:54575-922-10
10 mL in 1 VIAL, MULTI-DOSE
3
NDC:54575-922-30
30 mL in 1 VIAL, MULTI-DOSE
4
NDC:54575-922-50
50 mL in 1 VIAL, MULTI-DOSE
Marketing Information

Marketing Category
Application Number or Monograph Citation
Marketing Start Date
Marketing End Date
BLA
BLA101376
12/07/1967
BALD CYPRESS POLLEN
taxodium distichum pollen injection, solution
Product Information
Product Type
HUMAN PRESCRIPTION DRUG LABEL
Item Code (Source)
NDC:54575-923
Route of Administration
PERCUTANEOUS, SUBCUTANEOUS
DEA Schedule
Active Ingredient/Active Moiety
Ingredient Name
Basis of Strength
Strength
TAXODIUM DISTICHUM POLLEN (TAXODIUM DISTICHUM POLLEN)
TAXODIUM DISTICHUM POLLEN
1 g in 20 mL
Inactive Ingredients
Ingredient Name
Strength
SODIUM CHLORIDE
0.166 g in 100 mL
SODIUM BICARBONATE
0.091 g in 100 mL
WATER
GLYCERIN
50 mL in 100 mL
Packaging
#
Item Code
Package Description
1
NDC:54575-923-02
2 mL in 1 VIAL, MULTI-DOSE
2
NDC:54575-923-10
10 mL in 1 VIAL, MULTI-DOSE
3
NDC:54575-923-30
30 mL in 1 VIAL, MULTI-DOSE
4
NDC:54575-923-50
50 mL in 1 VIAL, MULTI-DOSE
Marketing Information

Marketing Category
Application Number or Monograph Citation
Marketing Start Date
Marketing End Date
BLA
BLA101376
12/07/1967
AMERICAN ELM POLLEN
ulmus americana pollen injection, solution
Product Information
Product Type
HUMAN PRESCRIPTION DRUG LABEL
Item Code (Source)
NDC:54575-924
Route of Administration
PERCUTANEOUS, SUBCUTANEOUS
DEA Schedule
Active Ingredient/Active Moiety
Ingredient Name
Basis of Strength
Strength
ULMUS AMERICANA POLLEN (ULMUS AMERICANA POLLEN)
ULMUS AMERICANA POLLEN
1 g in 20 mL
Inactive Ingredients
Ingredient Name
Strength
SODIUM CHLORIDE
0.166 g in 100 mL
SODIUM BICARBONATE
0.091 g in 100 mL
WATER
GLYCERIN
50 mL in 100 mL
Packaging
#
Item Code
Package Description
1
NDC:54575-924-02
2 mL in 1 VIAL, MULTI-DOSE
2
NDC:54575-924-10
10 mL in 1 VIAL, MULTI-DOSE
3
NDC:54575-924-30
30 mL in 1 VIAL, MULTI-DOSE
4
NDC:54575-924-50
50 mL in 1 VIAL, MULTI-DOSE
Marketing Information

Marketing Category
Application Number or Monograph Citation
Marketing Start Date
Marketing End Date
BLA
BLA101376
12/07/1967
CEDAR FALL BLOOMING ELM POLLEN
ulmus crassifolia pollen injection, solution
Product Information
Product Type
HUMAN PRESCRIPTION DRUG LABEL
Item Code (Source)
NDC:54575-925
Route of Administration
PERCUTANEOUS, SUBCUTANEOUS
DEA Schedule
Active Ingredient/Active Moiety
Ingredient Name
Basis of Strength
Strength
ULMUS CRASSIFOLIA POLLEN (ULMUS CRASSIFOLIA POLLEN)
ULMUS CRASSIFOLIA POLLEN
1 g in 20 mL
Inactive Ingredients
Ingredient Name
Strength
SODIUM CHLORIDE
0.166 g in 100 mL
SODIUM BICARBONATE
0.091 g in 100 mL
WATER
GLYCERIN
50 mL in 100 mL
Packaging
#
Item Code
Package Description
1
NDC:54575-925-02
2 mL in 1 VIAL, MULTI-DOSE
2
NDC:54575-925-10
10 mL in 1 VIAL, MULTI-DOSE
3
NDC:54575-925-30
30 mL in 1 VIAL, MULTI-DOSE
4
NDC:54575-925-50
50 mL in 1 VIAL, MULTI-DOSE
Marketing Information

Marketing Category
Application Number or Monograph Citation
Marketing Start Date
Marketing End Date
BLA
BLA101376
12/07/1967
CHINESE SIBERIAN ELM POLLEN
ulmus pumila pollen injection, solution
Product Information
Product Type
HUMAN PRESCRIPTION DRUG LABEL
Item Code (Source)
NDC:54575-926
Route of Administration
PERCUTANEOUS, SUBCUTANEOUS
DEA Schedule
Active Ingredient/Active Moiety
Ingredient Name
Basis of Strength
Strength
ULMUS PUMILA POLLEN (ULMUS PUMILA POLLEN)
ULMUS PUMILA POLLEN
1 g in 20 mL
Inactive Ingredients
Ingredient Name
Strength
SODIUM CHLORIDE
0.166 g in 100 mL
SODIUM BICARBONATE
0.091 g in 100 mL
WATER
GLYCERIN
50 mL in 100 mL
Packaging
#
Item Code
Package Description
1
NDC:54575-926-02
2 mL in 1 VIAL, MULTI-DOSE
2
NDC:54575-926-10
10 mL in 1 VIAL, MULTI-DOSE
3
NDC:54575-926-30
30 mL in 1 VIAL, MULTI-DOSE
4
NDC:54575-926-50
50 mL in 1 VIAL, MULTI-DOSE
Marketing Information

Marketing Category
Application Number or Monograph Citation
Marketing Start Date
Marketing End Date
BLA
BLA101376
12/07/1967
ELM MIX, AMERICAN/CHINESE/SLIPPERY POLLEN
ulmus pumila pollen and ulmus americana pollen and ulmus rubra pollen injection, solution
Product Information
Product Type
HUMAN PRESCRIPTION DRUG LABEL
Item Code (Source)
NDC:54575-928
Route of Administration
PERCUTANEOUS, SUBCUTANEOUS
DEA Schedule
Active Ingredient/Active Moiety
Ingredient Name
Basis of Strength
Strength
ULMUS PUMILA POLLEN (ULMUS PUMILA POLLEN)
ULMUS PUMILA POLLEN
0.33 g in 20 mL
ULMUS AMERICANA POLLEN (ULMUS AMERICANA POLLEN)
ULMUS AMERICANA POLLEN
0.33 g in 20 mL
ULMUS RUBRA POLLEN (ULMUS RUBRA POLLEN)
ULMUS RUBRA POLLEN
0.34 g in 20 mL
Inactive Ingredients
Ingredient Name
Strength
SODIUM CHLORIDE
0.166 g in 100 mL
SODIUM BICARBONATE
0.091 g in 100 mL
WATER
GLYCERIN
50 mL in 100 mL
Packaging
#
Item Code
Package Description
1
NDC:54575-928-02
2 mL in 1 VIAL, MULTI-DOSE
2
NDC:54575-928-10
10 mL in 1 VIAL, MULTI-DOSE
3
NDC:54575-928-30
30 mL in 1 VIAL, MULTI-DOSE
4
NDC:54575-928-50
50 mL in 1 VIAL, MULTI-DOSE
Marketing Information

Marketing Category
Application Number or Monograph Citation
Marketing Start Date
Marketing End Date
BLA
BLA101376
12/07/1967
EUCALYPTUS BLUE GUM POLLEN
eucalyptus globulus pollen injection, solution
Product Information
Product Type
HUMAN PRESCRIPTION DRUG LABEL
Item Code (Source)
NDC:54575-929
Route of Administration
PERCUTANEOUS, SUBCUTANEOUS
DEA Schedule
Active Ingredient/Active Moiety
Ingredient Name
Basis of Strength
Strength
EUCALYPTUS GLOBULUS POLLEN (EUCALYPTUS GLOBULUS POLLEN)
EUCALYPTUS GLOBULUS POLLEN
1 g in 20 mL
Inactive Ingredients
Ingredient Name
Strength
SODIUM CHLORIDE
0.166 g in 100 mL
SODIUM BICARBONATE
0.091 g in 100 mL
WATER
GLYCERIN
50 mL in 100 mL
Packaging
#
Item Code
Package Description
1
NDC:54575-929-02
2 mL in 1 VIAL, MULTI-DOSE
2
NDC:54575-929-10
10 mL in 1 VIAL, MULTI-DOSE
3
NDC:54575-929-30
30 mL in 1 VIAL, MULTI-DOSE
4
NDC:54575-929-50
50 mL in 1 VIAL, MULTI-DOSE
Marketing Information

Marketing Category
Application Number or Monograph Citation
Marketing Start Date
Marketing End Date
BLA
BLA101376
12/07/1967
DOUGLAS FIR POLLEN
pseudotsuga menziesii pollen injection, solution
Product Information
Product Type
HUMAN PRESCRIPTION DRUG LABEL
Item Code (Source)
NDC:54575-930
Route of Administration
PERCUTANEOUS, SUBCUTANEOUS
DEA Schedule
Active Ingredient/Active Moiety
Ingredient Name
Basis of Strength
Strength
PSEUDOTSUGA MENZIESII POLLEN (PSEUDOTSUGA MENZIESII POLLEN)
PSEUDOTSUGA MENZIESII POLLEN
1 g in 20 mL
Inactive Ingredients
Ingredient Name
Strength
SODIUM CHLORIDE
0.166 g in 100 mL
SODIUM BICARBONATE
0.091 g in 100 mL
WATER
GLYCERIN
50 mL in 100 mL
Packaging
#
Item Code
Package Description
1
NDC:54575-930-02
2 mL in 1 VIAL, MULTI-DOSE
2
NDC:54575-930-10
10 mL in 1 VIAL, MULTI-DOSE
3
NDC:54575-930-30
30 mL in 1 VIAL, MULTI-DOSE
4
NDC:54575-930-50
50 mL in 1 VIAL, MULTI-DOSE
Marketing Information

Marketing Category
Application Number or Monograph Citation
Marketing Start Date
Marketing End Date
BLA
BLA101376
12/07/1967
SWEETGUM POLLEN
liquidambar styraciflua pollen injection, solution
Product Information
Product Type
HUMAN PRESCRIPTION DRUG LABEL
Item Code (Source)
NDC:54575-932
Route of Administration
PERCUTANEOUS, SUBCUTANEOUS
DEA Schedule
Active Ingredient/Active Moiety
Ingredient Name
Basis of Strength
Strength
LIQUIDAMBAR STYRACIFLUA POLLEN (LIQUIDAMBAR STYRACIFLUA POLLEN)
LIQUIDAMBAR STYRACIFLUA POLLEN
1 g in 20 mL
Inactive Ingredients
Ingredient Name
Strength
SODIUM CHLORIDE
0.166 g in 100 mL
SODIUM BICARBONATE
0.091 g in 100 mL
WATER
GLYCERIN
50 mL in 100 mL
Packaging
#
Item Code
Package Description
1
NDC:54575-932-02
2 mL in 1 VIAL, MULTI-DOSE
2
NDC:54575-932-10
10 mL in 1 VIAL, MULTI-DOSE
3
NDC:54575-932-30
30 mL in 1 VIAL, MULTI-DOSE
4
NDC:54575-932-50
50 mL in 1 VIAL, MULTI-DOSE
Marketing Information

Marketing Category
Application Number or Monograph Citation
Marketing Start Date
Marketing End Date
BLA
BLA101376
12/07/1967
HACKBERRY POLLEN
celtis occidentalis pollen injection, solution
Product Information
Product Type
HUMAN PRESCRIPTION DRUG LABEL
Item Code (Source)
NDC:54575-933
Route of Administration
PERCUTANEOUS, SUBCUTANEOUS
DEA Schedule
Active Ingredient/Active Moiety
Ingredient Name
Basis of Strength
Strength
CELTIS OCCIDENTALIS POLLEN (CELTIS OCCIDENTALIS POLLEN)
CELTIS OCCIDENTALIS POLLEN
1 g in 20 mL
Inactive Ingredients
Ingredient Name
Strength
SODIUM CHLORIDE
0.166 g in 100 mL
SODIUM BICARBONATE
0.091 g in 100 mL
WATER
GLYCERIN
50 mL in 100 mL
Packaging
#
Item Code
Package Description
1
NDC:54575-933-02
2 mL in 1 VIAL, MULTI-DOSE
2
NDC:54575-933-10
10 mL in 1 VIAL, MULTI-DOSE
3
NDC:54575-933-30
30 mL in 1 VIAL, MULTI-DOSE
4
NDC:54575-933-50
50 mL in 1 VIAL, MULTI-DOSE
Marketing Information

Marketing Category
Application Number or Monograph Citation
Marketing Start Date
Marketing End Date
BLA
BLA101376
12/07/1967
SHAGBARK HICKORY POLLEN
carya ovata pollen injection, solution
Product Information
Product Type
HUMAN PRESCRIPTION DRUG LABEL
Item Code (Source)
NDC:54575-935
Route of Administration
PERCUTANEOUS, SUBCUTANEOUS
DEA Schedule
Active Ingredient/Active Moiety
Ingredient Name
Basis of Strength
Strength
CARYA OVATA POLLEN (CARYA OVATA POLLEN)
CARYA OVATA POLLEN
1 g in 20 mL
Inactive Ingredients
Ingredient Name
Strength
SODIUM CHLORIDE
0.166 g in 100 mL
SODIUM BICARBONATE
0.091 g in 100 mL
WATER
GLYCERIN
50 mL in 100 mL
Packaging
#
Item Code
Package Description
1
NDC:54575-935-02
2 mL in 1 VIAL, MULTI-DOSE
2
NDC:54575-935-10
10 mL in 1 VIAL, MULTI-DOSE
3
NDC:54575-935-30
30 mL in 1 VIAL, MULTI-DOSE
4
NDC:54575-935-50
50 mL in 1 VIAL, MULTI-DOSE
Marketing Information

Marketing Category
Application Number or Monograph Citation
Marketing Start Date
Marketing End Date
BLA
BLA101376
12/07/1967
WHITE HICKORY POLLEN
carya tomentosa pollen injection, solution
Product Information
Product Type
HUMAN PRESCRIPTION DRUG LABEL
Item Code (Source)
NDC:54575-936
Route of Administration
PERCUTANEOUS, SUBCUTANEOUS
DEA Schedule
Active Ingredient/Active Moiety
Ingredient Name
Basis of Strength
Strength
CARYA TOMENTOSA POLLEN (CARYA TOMENTOSA POLLEN)
CARYA TOMENTOSA POLLEN
1 g in 20 mL
Inactive Ingredients
Ingredient Name
Strength
SODIUM CHLORIDE
0.166 g in 100 mL
SODIUM BICARBONATE
0.091 g in 100 mL
WATER
GLYCERIN
50 mL in 100 mL
Packaging
#
Item Code
Package Description
1
NDC:54575-936-02
2 mL in 1 VIAL, MULTI-DOSE
2
NDC:54575-936-10
10 mL in 1 VIAL, MULTI-DOSE
3
NDC:54575-936-30
30 mL in 1 VIAL, MULTI-DOSE
4
NDC:54575-936-50
50 mL in 1 VIAL, MULTI-DOSE
Marketing Information

Marketing Category
Application Number or Monograph Citation
Marketing Start Date
Marketing End Date
BLA
BLA101376
12/07/1967
HICKORY MIX, PIGNUT/SHAGBARK/SHELLBARK/WHITE POLLEN
carya tomentosa pollen and carya laciniosa pollen and carya ovata pollen and carya glabra pollen injection, solution
Product Information
Product Type
HUMAN PRESCRIPTION DRUG LABEL
Item Code (Source)
NDC:54575-937
Route of Administration
PERCUTANEOUS, SUBCUTANEOUS
DEA Schedule
Active Ingredient/Active Moiety
Ingredient Name
Basis of Strength
Strength
CARYA TOMENTOSA POLLEN (CARYA TOMENTOSA POLLEN)
CARYA TOMENTOSA POLLEN
0.25 g in 20 mL
CARYA LACINIOSA POLLEN (CARYA LACINIOSA POLLEN)
CARYA LACINIOSA POLLEN
0.25 g in 20 mL
CARYA OVATA POLLEN (CARYA OVATA POLLEN)
CARYA OVATA POLLEN
0.25 g in 20 mL
CARYA GLABRA POLLEN (CARYA GLABRA POLLEN)
CARYA GLABRA POLLEN
0.25 g in 20 mL
Inactive Ingredients
Ingredient Name
Strength
SODIUM CHLORIDE
0.166 g in 100 mL
SODIUM BICARBONATE
0.091 g in 100 mL
WATER
GLYCERIN
50 mL in 100 mL
Packaging
#
Item Code
Package Description
1
NDC:54575-937-02
2 mL in 1 VIAL, MULTI-DOSE
2
NDC:54575-937-10
10 mL in 1 VIAL, MULTI-DOSE
3
NDC:54575-937-30
30 mL in 1 VIAL, MULTI-DOSE
4
NDC:54575-937-50
50 mL in 1 VIAL, MULTI-DOSE
Marketing Information

Marketing Category
Application Number or Monograph Citation
Marketing Start Date
Marketing End Date
BLA
BLA101376
12/07/1967
ONE SEED JUNIPER POLLEN
juniperus monosperma pollen injection, solution
Product Information
Product Type
HUMAN PRESCRIPTION DRUG LABEL
Item Code (Source)
NDC:54575-938
Route of Administration
PERCUTANEOUS, SUBCUTANEOUS
DEA Schedule
Active Ingredient/Active Moiety
Ingredient Name
Basis of Strength
Strength
JUNIPERUS MONOSPERMA POLLEN (JUNIPERUS MONOSPERMA POLLEN)
JUNIPERUS MONOSPERMA POLLEN
1 g in 20 mL
Inactive Ingredients
Ingredient Name
Strength
SODIUM CHLORIDE
0.166 g in 100 mL
SODIUM BICARBONATE
0.091 g in 100 mL
WATER
GLYCERIN
50 mL in 100 mL
Packaging
#
Item Code
Package Description
1
NDC:54575-938-02
2 mL in 1 VIAL, MULTI-DOSE
2
NDC:54575-938-10
10 mL in 1 VIAL, MULTI-DOSE
3
NDC:54575-938-30
30 mL in 1 VIAL, MULTI-DOSE
4
NDC:54575-938-50
50 mL in 1 VIAL, MULTI-DOSE
Marketing Information

Marketing Category
Application Number or Monograph Citation
Marketing Start Date
Marketing End Date
BLA
BLA101376
12/07/1967
ROCKY MOUNTAIN JUNIPER POLLEN
juniperus scopulorum pollen injection, solution
Product Information
Product Type
HUMAN PRESCRIPTION DRUG LABEL
Item Code (Source)
NDC:54575-939
Route of Administration
PERCUTANEOUS, SUBCUTANEOUS
DEA Schedule
Active Ingredient/Active Moiety
Ingredient Name
Basis of Strength
Strength
JUNIPERUS SCOPULORUM POLLEN (JUNIPERUS SCOPULORUM POLLEN)
JUNIPERUS SCOPULORUM POLLEN
1 g in 20 mL
Inactive Ingredients
Ingredient Name
Strength
SODIUM CHLORIDE
0.166 g in 100 mL
SODIUM BICARBONATE
0.091 g in 100 mL
WATER
GLYCERIN
50 mL in 100 mL
Packaging
#
Item Code
Package Description
1
NDC:54575-939-02
2 mL in 1 VIAL, MULTI-DOSE
2
NDC:54575-939-10
10 mL in 1 VIAL, MULTI-DOSE
3
NDC:54575-939-30
30 mL in 1 VIAL, MULTI-DOSE
4
NDC:54575-939-50
50 mL in 1 VIAL, MULTI-DOSE
Marketing Information

Marketing Category
Application Number or Monograph Citation
Marketing Start Date
Marketing End Date
BLA
BLA101376
12/07/1967
RIVER BIRCH POLLEN
betula nigra pollen injection, solution
Product Information
Product Type
HUMAN PRESCRIPTION DRUG LABEL
Item Code (Source)
NDC:54575-912
Route of Administration
PERCUTANEOUS, SUBCUTANEOUS
DEA Schedule
Active Ingredient/Active Moiety
Ingredient Name
Basis of Strength
Strength
BETULA NIGRA POLLEN (BETULA NIGRA POLLEN)
BETULA NIGRA POLLEN
1 g in 20 mL
Inactive Ingredients
Ingredient Name
Strength
SODIUM CHLORIDE
0.166 g in 100 mL
SODIUM BICARBONATE
0.091 g in 100 mL
WATER
GLYCERIN
50 mL in 100 mL
Packaging
#
Item Code
Package Description
1
NDC:54575-912-02
2 mL in 1 VIAL, MULTI-DOSE
2
NDC:54575-912-10
10 mL in 1 VIAL, MULTI-DOSE
3
NDC:54575-912-30
30 mL in 1 VIAL, MULTI-DOSE
4
NDC:54575-912-50
50 mL in 1 VIAL, MULTI-DOSE
Marketing Information

Marketing Category
Application Number or Monograph Citation
Marketing Start Date
Marketing End Date
BLA
BLA101376
12/07/1967
BIRCH MIX, RIVER/PAPER/SWEET/WHITE POLLEN
betula nigra pollen and betula papyrifera pollen and betula lenta pollen and betula populifolia pollen injection, solution
Product Information
Product Type
HUMAN PRESCRIPTION DRUG LABEL
Item Code (Source)
NDC:54575-913
Route of Administration
PERCUTANEOUS, SUBCUTANEOUS
DEA Schedule
Active Ingredient/Active Moiety
Ingredient Name
Basis of Strength
Strength
BETULA NIGRA POLLEN (BETULA NIGRA POLLEN)
BETULA NIGRA POLLEN
0.25 g in 20 mL
BETULA PAPYRIFERA POLLEN (BETULA PAPYRIFERA POLLEN)
BETULA PAPYRIFERA POLLEN
0.25 g in 20 mL
BETULA LENTA POLLEN (BETULA LENTA POLLEN)
BETULA LENTA POLLEN
0.25 g in 20 mL
BETULA POPULIFOLIA POLLEN (BETULA POPULIFOLIA POLLEN)
BETULA POPULIFOLIA POLLEN
0.25 g in 20 mL
Inactive Ingredients
Ingredient Name
Strength
SODIUM CHLORIDE
0.166 g in 100 mL
SODIUM BICARBONATE
0.091 g in 100 mL
WATER
GLYCERIN
50 mL in 100 mL
Packaging
#
Item Code
Package Description
1
NDC:54575-913-02
2 mL in 1 VIAL, MULTI-DOSE
2
NDC:54575-913-10
10 mL in 1 VIAL, MULTI-DOSE
3
NDC:54575-913-30
30 mL in 1 VIAL, MULTI-DOSE
4
NDC:54575-913-50
50 mL in 1 VIAL, MULTI-DOSE
Marketing Information

Marketing Category
Application Number or Monograph Citation
Marketing Start Date
Marketing End Date
BLA
BLA101376
12/07/1967
WHITE GRAY BIRCH POLLEN
betula populifolia pollen injection, solution
Product Information
Product Type
HUMAN PRESCRIPTION DRUG LABEL
Item Code (Source)
NDC:54575-940
Route of Administration
PERCUTANEOUS, SUBCUTANEOUS
DEA Schedule
Active Ingredient/Active Moiety
Ingredient Name
Basis of Strength
Strength
BETULA POPULIFOLIA POLLEN (BETULA POPULIFOLIA POLLEN)
BETULA POPULIFOLIA POLLEN
1 g in 20 mL
Inactive Ingredients
Ingredient Name
Strength
SODIUM CHLORIDE
0.166 g in 100 mL
SODIUM BICARBONATE
0.091 g in 100 mL
WATER
GLYCERIN
50 mL in 100 mL
Packaging
#
Item Code
Package Description
1
NDC:54575-940-02
2 mL in 1 VIAL, MULTI-DOSE
2
NDC:54575-940-10
10 mL in 1 VIAL, MULTI-DOSE
3
NDC:54575-940-30
30 mL in 1 VIAL, MULTI-DOSE
4
NDC:54575-940-50
50 mL in 1 VIAL, MULTI-DOSE
Marketing Information

Marketing Category
Application Number or Monograph Citation
Marketing Start Date
Marketing End Date
BLA
BLA101376
12/07/1967
SUGAR HARD MAPLE POLLEN
acer saccharum pollen injection, solution
Product Information
Product Type
HUMAN PRESCRIPTION DRUG LABEL
Item Code (Source)
NDC:54575-941
Route of Administration
PERCUTANEOUS, SUBCUTANEOUS
DEA Schedule
Active Ingredient/Active Moiety
Ingredient Name
Basis of Strength
Strength
ACER SACCHARUM POLLEN (ACER SACCHARUM POLLEN)
ACER SACCHARUM POLLEN
1 g in 20 mL
Inactive Ingredients
Ingredient Name
Strength
SODIUM CHLORIDE
0.166 g in 100 mL
SODIUM BICARBONATE
0.091 g in 100 mL
WATER
GLYCERIN
50 mL in 100 mL
Packaging
#
Item Code
Package Description
1
NDC:54575-941-02
2 mL in 1 VIAL, MULTI-DOSE
2
NDC:54575-941-10
10 mL in 1 VIAL, MULTI-DOSE
3
NDC:54575-941-30
30 mL in 1 VIAL, MULTI-DOSE
4
NDC:54575-941-50
50 mL in 1 VIAL, MULTI-DOSE
Marketing Information

Marketing Category
Application Number or Monograph Citation
Marketing Start Date
Marketing End Date
BLA
BLA101376
12/07/1967
MAPLE MIX, RED/SILVER/SUGAR POLLEN
acer saccharum pollen and acer saccharinum pollen and acer rubrum pollen injection, solution
Product Information
Product Type
HUMAN PRESCRIPTION DRUG LABEL
Item Code (Source)
NDC:54575-943
Route of Administration
PERCUTANEOUS, SUBCUTANEOUS
DEA Schedule
Active Ingredient/Active Moiety
Ingredient Name
Basis of Strength
Strength
ACER SACCHARUM POLLEN (ACER SACCHARUM POLLEN)
ACER SACCHARUM POLLEN
0.33 g in 20 mL
ACER SACCHARINUM POLLEN (ACER SACCHARINUM POLLEN)
ACER SACCHARINUM POLLEN
0.33 g in 20 mL
ACER RUBRUM POLLEN (ACER RUBRUM POLLEN)
ACER RUBRUM POLLEN
0.34 g in 20 mL
Inactive Ingredients
Ingredient Name
Strength
SODIUM CHLORIDE
0.166 g in 100 mL
SODIUM BICARBONATE
0.091 g in 100 mL
WATER
GLYCERIN
50 mL in 100 mL
Packaging
#
Item Code
Package Description
1
NDC:54575-943-02
2 mL in 1 VIAL, MULTI-DOSE
2
NDC:54575-943-10
10 mL in 1 VIAL, MULTI-DOSE
3
NDC:54575-943-30
30 mL in 1 VIAL, MULTI-DOSE
4
NDC:54575-943-50
50 mL in 1 VIAL, MULTI-DOSE
Marketing Information

Marketing Category
Application Number or Monograph Citation
Marketing Start Date
Marketing End Date
BLA
BLA101376
12/07/1967
MESQUITE POLLEN
prosopis juliflora pollen injection, solution
Product Information
Product Type
HUMAN PRESCRIPTION DRUG LABEL
Item Code (Source)
NDC:54575-944
Route of Administration
PERCUTANEOUS, SUBCUTANEOUS
DEA Schedule
Active Ingredient/Active Moiety
Ingredient Name
Basis of Strength
Strength
PROSOPIS JULIFLORA POLLEN (PROSOPIS JULIFLORA POLLEN)
PROSOPIS JULIFLORA POLLEN
1 g in 20 mL
Inactive Ingredients
Ingredient Name
Strength
SODIUM CHLORIDE
0.166 g in 100 mL
SODIUM BICARBONATE
0.091 g in 100 mL
WATER
GLYCERIN
50 mL in 100 mL
Packaging
#
Item Code
Package Description
1
NDC:54575-944-02
2 mL in 1 VIAL, MULTI-DOSE
2
NDC:54575-944-10
10 mL in 1 VIAL, MULTI-DOSE
3
NDC:54575-944-30
30 mL in 1 VIAL, MULTI-DOSE
4
NDC:54575-944-50
50 mL in 1 VIAL, MULTI-DOSE
Marketing Information

Marketing Category
Application Number or Monograph Citation
Marketing Start Date
Marketing End Date
BLA
BLA101376
12/07/1967
PAPER MULBERRY POLLEN
broussonetia papyrifera pollen injection, solution
Product Information
Product Type
HUMAN PRESCRIPTION DRUG LABEL
Item Code (Source)
NDC:54575-945
Route of Administration
PERCUTANEOUS, SUBCUTANEOUS
DEA Schedule
Active Ingredient/Active Moiety
Ingredient Name
Basis of Strength
Strength
BROUSSONETIA PAPYRIFERA POLLEN (BROUSSONETIA PAPYRIFERA POLLEN)
BROUSSONETIA PAPYRIFERA POLLEN
1 g in 20 mL
Inactive Ingredients
Ingredient Name
Strength
SODIUM CHLORIDE
0.166 g in 100 mL
SODIUM BICARBONATE
0.091 g in 100 mL
WATER
GLYCERIN
50 mL in 100 mL
Packaging
#
Item Code
Package Description
1
NDC:54575-945-02
2 mL in 1 VIAL, MULTI-DOSE
2
NDC:54575-945-10
10 mL in 1 VIAL, MULTI-DOSE
3
NDC:54575-945-30
30 mL in 1 VIAL, MULTI-DOSE
4
NDC:54575-945-50
50 mL in 1 VIAL, MULTI-DOSE
Marketing Information

Marketing Category
Application Number or Monograph Citation
Marketing Start Date
Marketing End Date
BLA
BLA101376
12/07/1967
RED MULBERRY POLLEN
morus rubra pollen injection, solution
Product Information
Product Type
HUMAN PRESCRIPTION DRUG LABEL
Item Code (Source)
NDC:54575-946
Route of Administration
PERCUTANEOUS, SUBCUTANEOUS
DEA Schedule
Active Ingredient/Active Moiety
Ingredient Name
Basis of Strength
Strength
MORUS RUBRA POLLEN (MORUS RUBRA POLLEN)
MORUS RUBRA POLLEN
1 g in 20 mL
Inactive Ingredients
Ingredient Name
Strength
SODIUM CHLORIDE
0.166 g in 100 mL
SODIUM BICARBONATE
0.091 g in 100 mL
WATER
GLYCERIN
50 mL in 100 mL
Packaging
#
Item Code
Package Description
1
NDC:54575-946-02
2 mL in 1 VIAL, MULTI-DOSE
2
NDC:54575-946-10
10 mL in 1 VIAL, MULTI-DOSE
3
NDC:54575-946-30
30 mL in 1 VIAL, MULTI-DOSE
4
NDC:54575-946-50
50 mL in 1 VIAL, MULTI-DOSE
Marketing Information

Marketing Category
Application Number or Monograph Citation
Marketing Start Date
Marketing End Date
BLA
BLA101376
12/07/1967
WHITE MULBERRY POLLEN
morus alba pollen injection, solution
Product Information
Product Type
HUMAN PRESCRIPTION DRUG LABEL
Item Code (Source)
NDC:54575-947
Route of Administration
PERCUTANEOUS, SUBCUTANEOUS
DEA Schedule
Active Ingredient/Active Moiety
Ingredient Name
Basis of Strength
Strength
MORUS ALBA POLLEN (MORUS ALBA POLLEN)
MORUS ALBA POLLEN
1 g in 20 mL
Inactive Ingredients
Ingredient Name
Strength
SODIUM CHLORIDE
0.166 g in 100 mL
SODIUM BICARBONATE
0.091 g in 100 mL
WATER
GLYCERIN
50 mL in 100 mL
Packaging
#
Item Code
Package Description
1
NDC:54575-947-02
2 mL in 1 VIAL, MULTI-DOSE
2
NDC:54575-947-10
10 mL in 1 VIAL, MULTI-DOSE
3
NDC:54575-947-30
30 mL in 1 VIAL, MULTI-DOSE
4
NDC:54575-947-50
50 mL in 1 VIAL, MULTI-DOSE
Marketing Information

Marketing Category
Application Number or Monograph Citation
Marketing Start Date
Marketing End Date
BLA
BLA101376
12/07/1967
BLACK OAK POLLEN
quercus velutina pollen injection, solution
Product Information
Product Type
HUMAN PRESCRIPTION DRUG LABEL
Item Code (Source)
NDC:54575-948
Route of Administration
PERCUTANEOUS, SUBCUTANEOUS
DEA Schedule
Active Ingredient/Active Moiety
Ingredient Name
Basis of Strength
Strength
QUERCUS VELUTINA POLLEN (QUERCUS VELUTINA POLLEN)
QUERCUS VELUTINA POLLEN
1 g in 20 mL
Inactive Ingredients
Ingredient Name
Strength
SODIUM CHLORIDE
0.166 g in 100 mL
SODIUM BICARBONATE
0.091 g in 100 mL
WATER
GLYCERIN
50 mL in 100 mL
Packaging
#
Item Code
Package Description
1
NDC:54575-948-02
2 mL in 1 VIAL, MULTI-DOSE
2
NDC:54575-948-10
10 mL in 1 VIAL, MULTI-DOSE
3
NDC:54575-948-30
30 mL in 1 VIAL, MULTI-DOSE
4
NDC:54575-948-50
50 mL in 1 VIAL, MULTI-DOSE
Marketing Information

Marketing Category
Application Number or Monograph Citation
Marketing Start Date
Marketing End Date
BLA
BLA101376
12/07/1967
BLACKJACK OAK POLLEN
quercus nigra pollen injection, solution
Product Information
Product Type
HUMAN PRESCRIPTION DRUG LABEL
Item Code (Source)
NDC:54575-949
Route of Administration
PERCUTANEOUS, SUBCUTANEOUS
DEA Schedule
Active Ingredient/Active Moiety
Ingredient Name
Basis of Strength
Strength
QUERCUS NIGRA POLLEN (QUERCUS NIGRA POLLEN)
QUERCUS NIGRA POLLEN
1 g in 20 mL
Inactive Ingredients
Ingredient Name
Strength
SODIUM CHLORIDE
0.166 g in 100 mL
SODIUM BICARBONATE
0.091 g in 100 mL
WATER
GLYCERIN
50 mL in 100 mL
Packaging
#
Item Code
Package Description
1
NDC:54575-949-02
2 mL in 1 VIAL, MULTI-DOSE
2
NDC:54575-949-10
10 mL in 1 VIAL, MULTI-DOSE
3
NDC:54575-949-30
30 mL in 1 VIAL, MULTI-DOSE
4
NDC:54575-949-50
50 mL in 1 VIAL, MULTI-DOSE
Marketing Information

Marketing Category
Application Number or Monograph Citation
Marketing Start Date
Marketing End Date
BLA
BLA101376
12/07/1967
BUR OAK POLLEN
quercus macrocarpa pollen injection, solution
Product Information
Product Type
HUMAN PRESCRIPTION DRUG LABEL
Item Code (Source)
NDC:54575-950
Route of Administration
PERCUTANEOUS, SUBCUTANEOUS
DEA Schedule
Active Ingredient/Active Moiety
Ingredient Name
Basis of Strength
Strength
QUERCUS MACROCARPA POLLEN (QUERCUS MACROCARPA POLLEN)
QUERCUS MACROCARPA POLLEN
1 g in 20 mL
Inactive Ingredients
Ingredient Name
Strength
SODIUM CHLORIDE
0.166 g in 100 mL
SODIUM BICARBONATE
0.091 g in 100 mL
WATER
GLYCERIN
50 mL in 100 mL
Packaging
#
Item Code
Package Description
1
NDC:54575-950-02
2 mL in 1 VIAL, MULTI-DOSE
2
NDC:54575-950-10
10 mL in 1 VIAL, MULTI-DOSE
3
NDC:54575-950-30
30 mL in 1 VIAL, MULTI-DOSE
4
NDC:54575-950-50
50 mL in 1 VIAL, MULTI-DOSE
Marketing Information

Marketing Category
Application Number or Monograph Citation
Marketing Start Date
Marketing End Date
BLA
BLA101376
12/07/1967
LIVE OAK POLLEN
quercus virginiana pollen injection, solution
Product Information
Product Type
HUMAN PRESCRIPTION DRUG LABEL
Item Code (Source)
NDC:54575-951
Route of Administration
PERCUTANEOUS, SUBCUTANEOUS
DEA Schedule
Active Ingredient/Active Moiety
Ingredient Name
Basis of Strength
Strength
QUERCUS VIRGINIANA POLLEN (QUERCUS VIRGINIANA POLLEN)
QUERCUS VIRGINIANA POLLEN
1 g in 20 mL
Inactive Ingredients
Ingredient Name
Strength
SODIUM CHLORIDE
0.166 g in 100 mL
SODIUM BICARBONATE
0.091 g in 100 mL
WATER
GLYCERIN
50 mL in 100 mL
Packaging
#
Item Code
Package Description
1
NDC:54575-951-02
2 mL in 1 VIAL, MULTI-DOSE
2
NDC:54575-951-10
10 mL in 1 VIAL, MULTI-DOSE
3
NDC:54575-951-30
30 mL in 1 VIAL, MULTI-DOSE
4
NDC:54575-951-50
50 mL in 1 VIAL, MULTI-DOSE
Marketing Information

Marketing Category
Application Number or Monograph Citation
Marketing Start Date
Marketing End Date
BLA
BLA101376
12/07/1967
2-OAK MIX, RED/WHITE POLLEN
quercus rubra pollen and quercus alba pollen injection, solution
Product Information
Product Type
HUMAN PRESCRIPTION DRUG LABEL
Item Code (Source)
NDC:54575-952
Route of Administration
PERCUTANEOUS, SUBCUTANEOUS
DEA Schedule
Active Ingredient/Active Moiety
Ingredient Name
Basis of Strength
Strength
QUERCUS RUBRA POLLEN (QUERCUS RUBRA POLLEN)
QUERCUS RUBRA POLLEN
0.5 g in 20 mL
QUERCUS ALBA POLLEN (QUERCUS ALBA POLLEN)
QUERCUS ALBA POLLEN
0.5 g in 20 mL
Inactive Ingredients
Ingredient Name
Strength
SODIUM CHLORIDE
0.166 g in 100 mL
SODIUM BICARBONATE
0.091 g in 100 mL
WATER
GLYCERIN
50 mL in 100 mL
Packaging
#
Item Code
Package Description
1
NDC:54575-952-02
2 mL in 1 VIAL, MULTI-DOSE
2
NDC:54575-952-10
10 mL in 1 VIAL, MULTI-DOSE
3
NDC:54575-952-30
30 mL in 1 VIAL, MULTI-DOSE
4
NDC:54575-952-50
50 mL in 1 VIAL, MULTI-DOSE
Marketing Information

Marketing Category
Application Number or Monograph Citation
Marketing Start Date
Marketing End Date
BLA
BLA101376
12/07/1967
5-OAK MIX, BLACKJACK/BUR/POST/RED/WHITE POLLEN
quercus nigra pollen and quercus macrocarpa pollen and quercus stellata pollen and quercus rubra pollen and quercus alba pollen injection, solution
Product Information
Product Type
HUMAN PRESCRIPTION DRUG LABEL
Item Code (Source)
NDC:54575-954
Route of Administration
PERCUTANEOUS, SUBCUTANEOUS
DEA Schedule
Active Ingredient/Active Moiety
Ingredient Name
Basis of Strength
Strength
QUERCUS NIGRA POLLEN (QUERCUS NIGRA POLLEN)
QUERCUS NIGRA POLLEN
0.20 g in 20 mL
QUERCUS MACROCARPA POLLEN (QUERCUS MACROCARPA POLLEN)
QUERCUS MACROCARPA POLLEN
0.20 g in 20 mL
QUERCUS STELLATA POLLEN (QUERCUS STELLATA POLLEN)
QUERCUS STELLATA POLLEN
0.20 g in 20 mL
QUERCUS RUBRA POLLEN (QUERCUS RUBRA POLLEN)
QUERCUS RUBRA POLLEN
0.20 g in 20 mL
QUERCUS ALBA POLLEN (QUERCUS ALBA POLLEN)
QUERCUS ALBA POLLEN
0.20 g in 20 mL
Inactive Ingredients
Ingredient Name
Strength
SODIUM CHLORIDE
0.166 g in 100 mL
SODIUM BICARBONATE
0.091 g in 100 mL
WATER
GLYCERIN
50 mL in 100 mL
Packaging
#
Item Code
Package Description
1
NDC:54575-954-02
2 mL in 1 VIAL, MULTI-DOSE
2
NDC:54575-954-10
10 mL in 1 VIAL, MULTI-DOSE
3
NDC:54575-954-30
30 mL in 1 VIAL, MULTI-DOSE
4
NDC:54575-954-50
50 mL in 1 VIAL, MULTI-DOSE
Marketing Information

Marketing Category
Application Number or Monograph Citation
Marketing Start Date
Marketing End Date
BLA
BLA101376
12/07/1967
3-OAK MIX, BLACK/BLACKJACK/POST POLLEN
quercus velutina pollen and quercus nigra pollen and quercus stellata pollen injection, solution
Product Information
Product Type
HUMAN PRESCRIPTION DRUG LABEL
Item Code (Source)
NDC:54575-953
Route of Administration
PERCUTANEOUS, SUBCUTANEOUS
DEA Schedule
Active Ingredient/Active Moiety
Ingredient Name
Basis of Strength
Strength
QUERCUS VELUTINA POLLEN (QUERCUS VELUTINA POLLEN)
QUERCUS VELUTINA POLLEN
0.33 g in 20 mL
QUERCUS NIGRA POLLEN (QUERCUS NIGRA POLLEN)
QUERCUS NIGRA POLLEN
0.33 g in 20 mL
QUERCUS STELLATA POLLEN (QUERCUS STELLATA POLLEN)
QUERCUS STELLATA POLLEN
0.34 g in 20 mL
Inactive Ingredients
Ingredient Name
Strength
SODIUM CHLORIDE
0.166 g in 100 mL
SODIUM BICARBONATE
0.091 g in 100 mL
WATER
GLYCERIN
50 mL in 100 mL
Packaging
#
Item Code
Package Description
1
NDC:54575-953-02
2 mL in 1 VIAL, MULTI-DOSE
2
NDC:54575-953-10
10 mL in 1 VIAL, MULTI-DOSE
3
NDC:54575-953-30
30 mL in 1 VIAL, MULTI-DOSE
4
NDC:54575-953-50
50 mL in 1 VIAL, MULTI-DOSE
Marketing Information

Marketing Category
Application Number or Monograph Citation
Marketing Start Date
Marketing End Date
BLA
BLA101376
12/07/1967
POST OAK POLLEN
quercus stellata pollen injection, solution
Product Information
Product Type
HUMAN PRESCRIPTION DRUG LABEL
Item Code (Source)
NDC:54575-955
Route of Administration
PERCUTANEOUS, SUBCUTANEOUS
DEA Schedule
Active Ingredient/Active Moiety
Ingredient Name
Basis of Strength
Strength
QUERCUS STELLATA POLLEN (QUERCUS STELLATA POLLEN)
QUERCUS STELLATA POLLEN
1 g in 20 mL
Inactive Ingredients
Ingredient Name
Strength
SODIUM CHLORIDE
0.166 g in 100 mL
SODIUM BICARBONATE
0.091 g in 100 mL
WATER
GLYCERIN
50 mL in 100 mL
Packaging
#
Item Code
Package Description
1
NDC:54575-955-02
2 mL in 1 VIAL, MULTI-DOSE
2
NDC:54575-955-10
10 mL in 1 VIAL, MULTI-DOSE
3
NDC:54575-955-30
30 mL in 1 VIAL, MULTI-DOSE
4
NDC:54575-955-50
50 mL in 1 VIAL, MULTI-DOSE
Marketing Information

Marketing Category
Application Number or Monograph Citation
Marketing Start Date
Marketing End Date
BLA
BLA101376
12/07/1967
QUEEN PALM POLLEN
syagrus romanzoffiana pollen injection, solution
Product Information
Product Type
HUMAN PRESCRIPTION DRUG LABEL
Item Code (Source)
NDC:54575-956
Route of Administration
PERCUTANEOUS, SUBCUTANEOUS
DEA Schedule
Active Ingredient/Active Moiety
Ingredient Name
Basis of Strength
Strength
SYAGRUS ROMANZOFFIANA POLLEN (SYAGRUS ROMANZOFFIANA POLLEN)
SYAGRUS ROMANZOFFIANA POLLEN
1 g in 20 mL
Inactive Ingredients
Ingredient Name
Strength
SODIUM CHLORIDE
0.166 g in 100 mL
SODIUM BICARBONATE
0.091 g in 100 mL
WATER
GLYCERIN
50 mL in 100 mL
Packaging
#
Item Code
Package Description
1
NDC:54575-956-02
2 mL in 1 VIAL, MULTI-DOSE
2
NDC:54575-956-10
10 mL in 1 VIAL, MULTI-DOSE
3
NDC:54575-956-30
30 mL in 1 VIAL, MULTI-DOSE
4
NDC:54575-956-50
50 mL in 1 VIAL, MULTI-DOSE
Marketing Information

Marketing Category
Application Number or Monograph Citation
Marketing Start Date
Marketing End Date
BLA
BLA101376
12/07/1967
EUROPEAN OLIVE POLLEN
olea europaea pollen injection, solution
Product Information
Product Type
HUMAN PRESCRIPTION DRUG LABEL
Item Code (Source)
NDC:54575-957
Route of Administration
PERCUTANEOUS, SUBCUTANEOUS
DEA Schedule
Active Ingredient/Active Moiety
Ingredient Name
Basis of Strength
Strength
OLEA EUROPAEA POLLEN (OLEA EUROPAEA POLLEN)
OLEA EUROPAEA POLLEN
1 g in 20 mL
Inactive Ingredients
Ingredient Name
Strength
SODIUM CHLORIDE
0.166 g in 100 mL
SODIUM BICARBONATE
0.091 g in 100 mL
WATER
GLYCERIN
50 mL in 100 mL
Packaging
#
Item Code
Package Description
1
NDC:54575-957-02
2 mL in 1 VIAL, MULTI-DOSE
2
NDC:54575-957-10
10 mL in 1 VIAL, MULTI-DOSE
3
NDC:54575-957-30
30 mL in 1 VIAL, MULTI-DOSE
4
NDC:54575-957-50
50 mL in 1 VIAL, MULTI-DOSE
Marketing Information

Marketing Category
Application Number or Monograph Citation
Marketing Start Date
Marketing End Date
BLA
BLA101376
12/07/1967
DATE PALM POLLEN
phoenix dactylifera pollen injection, solution
Product Information
Product Type
HUMAN PRESCRIPTION DRUG LABEL
Item Code (Source)
NDC:54575-959
Route of Administration
PERCUTANEOUS, SUBCUTANEOUS
DEA Schedule
Active Ingredient/Active Moiety
Ingredient Name
Basis of Strength
Strength
PHOENIX DACTYLIFERA POLLEN (PHOENIX DACTYLIFERA POLLEN)
PHOENIX DACTYLIFERA POLLEN
1 g in 20 mL
Inactive Ingredients
Ingredient Name
Strength
SODIUM CHLORIDE
0.166 g in 100 mL
SODIUM BICARBONATE
0.091 g in 100 mL
WATER
GLYCERIN
50 mL in 100 mL
Packaging
#
Item Code
Package Description
1
NDC:54575-959-02
2 mL in 1 VIAL, MULTI-DOSE
2
NDC:54575-959-10
10 mL in 1 VIAL, MULTI-DOSE
3
NDC:54575-959-30
30 mL in 1 VIAL, MULTI-DOSE
4
NDC:54575-959-50
50 mL in 1 VIAL, MULTI-DOSE
Marketing Information

Marketing Category
Application Number or Monograph Citation
Marketing Start Date
Marketing End Date
BLA
BLA101376
12/07/1967
PECAN POLLEN
carya illinoinensis pollen injection, solution
Product Information
Product Type
HUMAN PRESCRIPTION DRUG LABEL
Item Code (Source)
NDC:54575-960
Route of Administration
PERCUTANEOUS, SUBCUTANEOUS
DEA Schedule
Active Ingredient/Active Moiety
Ingredient Name
Basis of Strength
Strength
CARYA ILLINOINENSIS POLLEN (CARYA ILLINOINENSIS POLLEN)
CARYA ILLINOINENSIS POLLEN
1 g in 20 mL
Inactive Ingredients
Ingredient Name
Strength
SODIUM CHLORIDE
0.166 g in 100 mL
SODIUM BICARBONATE
0.091 g in 100 mL
WATER
GLYCERIN
50 mL in 100 mL
Packaging
#
Item Code
Package Description
1
NDC:54575-960-02
2 mL in 1 VIAL, MULTI-DOSE
2
NDC:54575-960-10
10 mL in 1 VIAL, MULTI-DOSE
3
NDC:54575-960-30
30 mL in 1 VIAL, MULTI-DOSE
4
NDC:54575-960-50
50 mL in 1 VIAL, MULTI-DOSE
Marketing Information

Marketing Category
Application Number or Monograph Citation
Marketing Start Date
Marketing End Date
BLA
BLA101376
12/07/1967
WHITE PINE POLLEN
pinus strobus pollen injection, solution
Product Information
Product Type
HUMAN PRESCRIPTION DRUG LABEL
Item Code (Source)
NDC:54575-962
Route of Administration
PERCUTANEOUS, SUBCUTANEOUS
DEA Schedule
Active Ingredient/Active Moiety
Ingredient Name
Basis of Strength
Strength
PINUS STROBUS POLLEN (PINUS STROBUS POLLEN)
PINUS STROBUS POLLEN
1 g in 20 mL
Inactive Ingredients
Ingredient Name
Strength
SODIUM CHLORIDE
0.166 g in 100 mL
SODIUM BICARBONATE
0.091 g in 100 mL
WATER
GLYCERIN
50 mL in 100 mL
Packaging
#
Item Code
Package Description
1
NDC:54575-962-02
2 mL in 1 VIAL, MULTI-DOSE
2
NDC:54575-962-10
10 mL in 1 VIAL, MULTI-DOSE
3
NDC:54575-962-30
30 mL in 1 VIAL, MULTI-DOSE
4
NDC:54575-962-50
50 mL in 1 VIAL, MULTI-DOSE
Marketing Information

Marketing Category
Application Number or Monograph Citation
Marketing Start Date
Marketing End Date
BLA
BLA101376
12/07/1967
4-PINE MIX, AUSTRIAN/LOBLOLLY/SCOTCH/WHITE POLLEN
pinus strobus pollen and pinus sylvestris pollen and pinus taeda pollen and pinus nigra pollen injection, solution
Product Information
Product Type
HUMAN PRESCRIPTION DRUG LABEL
Item Code (Source)
NDC:54575-963
Route of Administration
PERCUTANEOUS, SUBCUTANEOUS
DEA Schedule
Active Ingredient/Active Moiety
Ingredient Name
Basis of Strength
Strength
PINUS STROBUS POLLEN (PINUS STROBUS POLLEN)
PINUS STROBUS POLLEN
0.25 g in 20 mL
PINUS SYLVESTRIS POLLEN (PINUS SYLVESTRIS POLLEN)
PINUS SYLVESTRIS POLLEN
0.25 g in 20 mL
PINUS TAEDA POLLEN (PINUS TAEDA POLLEN)
PINUS TAEDA POLLEN
0.25 g in 20 mL
PINUS NIGRA POLLEN (PINUS NIGRA POLLEN)
PINUS NIGRA POLLEN
0.25 g in 20 mL
Inactive Ingredients
Ingredient Name
Strength
SODIUM CHLORIDE
0.166 g in 100 mL
SODIUM BICARBONATE
0.091 g in 100 mL
WATER
GLYCERIN
50 mL in 100 mL
Packaging
#
Item Code
Package Description
1
NDC:54575-963-02
2 mL in 1 VIAL, MULTI-DOSE
2
NDC:54575-963-10
10 mL in 1 VIAL, MULTI-DOSE
3
NDC:54575-963-30
30 mL in 1 VIAL, MULTI-DOSE
4
NDC:54575-963-50
50 mL in 1 VIAL, MULTI-DOSE
Marketing Information

Marketing Category
Application Number or Monograph Citation
Marketing Start Date
Marketing End Date
BLA
BLA101376
12/07/1967
LOMBARDY POPLAR POLLEN
populus nigra pollen injection, solution
Product Information
Product Type
HUMAN PRESCRIPTION DRUG LABEL
Item Code (Source)
NDC:54575-964
Route of Administration
PERCUTANEOUS, SUBCUTANEOUS
DEA Schedule
Active Ingredient/Active Moiety
Ingredient Name
Basis of Strength
Strength
POPULUS NIGRA POLLEN (POPULUS NIGRA POLLEN)
POPULUS NIGRA POLLEN
1 g in 20 mL
Inactive Ingredients
Ingredient Name
Strength
SODIUM CHLORIDE
0.166 g in 100 mL
SODIUM BICARBONATE
0.091 g in 100 mL
WATER
GLYCERIN
50 mL in 100 mL
Packaging
#
Item Code
Package Description
1
NDC:54575-964-02
2 mL in 1 VIAL, MULTI-DOSE
2
NDC:54575-964-10
10 mL in 1 VIAL, MULTI-DOSE
3
NDC:54575-964-30
30 mL in 1 VIAL, MULTI-DOSE
4
NDC:54575-964-50
50 mL in 1 VIAL, MULTI-DOSE
Marketing Information

Marketing Category
Application Number or Monograph Citation
Marketing Start Date
Marketing End Date
BLA
BLA101376
12/07/1967
WHITE POPLAR POLLEN
populus alba pollen injection, solution
Product Information
Product Type
HUMAN PRESCRIPTION DRUG LABEL
Item Code (Source)
NDC:54575-965
Route of Administration
PERCUTANEOUS, SUBCUTANEOUS
DEA Schedule
Active Ingredient/Active Moiety
Ingredient Name
Basis of Strength
Strength
POPULUS ALBA POLLEN (POPULUS NIGRA POLLEN)
POPULUS ALBA POLLEN
1 g in 20 mL
Inactive Ingredients
Ingredient Name
Strength
SODIUM CHLORIDE
0.166 g in 100 mL
SODIUM BICARBONATE
0.091 g in 100 mL
WATER
GLYCERIN
50 mL in 100 mL
Packaging
#
Item Code
Package Description
1
NDC:54575-965-02
2 mL in 1 VIAL, MULTI-DOSE
2
NDC:54575-965-10
10 mL in 1 VIAL, MULTI-DOSE
3
NDC:54575-965-30
30 mL in 1 VIAL, MULTI-DOSE
4
NDC:54575-965-50
50 mL in 1 VIAL, MULTI-DOSE
Marketing Information

Marketing Category
Application Number or Monograph Citation
Marketing Start Date
Marketing End Date
BLA
BLA101376
12/07/1967
PRIVET POLLEN
ligustrum vulgare pollen injection, solution
Product Information
Product Type
HUMAN PRESCRIPTION DRUG LABEL
Item Code (Source)
NDC:54575-966
Route of Administration
PERCUTANEOUS, SUBCUTANEOUS
DEA Schedule
Active Ingredient/Active Moiety
Ingredient Name
Basis of Strength
Strength
LIGUSTRUM VULGARE POLLEN (LIGUSTRUM VULGARE POLLEN)
LIGUSTRUM VULGARE POLLEN
1 g in 20 mL
Inactive Ingredients
Ingredient Name
Strength
SODIUM CHLORIDE
0.166 g in 100 mL
SODIUM BICARBONATE
0.091 g in 100 mL
WATER
GLYCERIN
50 mL in 100 mL
Packaging
#
Item Code
Package Description
1
NDC:54575-966-02
2 mL in 1 VIAL, MULTI-DOSE
2
NDC:54575-966-10
10 mL in 1 VIAL, MULTI-DOSE
3
NDC:54575-966-30
30 mL in 1 VIAL, MULTI-DOSE
4
NDC:54575-966-50
50 mL in 1 VIAL, MULTI-DOSE
Marketing Information

Marketing Category
Application Number or Monograph Citation
Marketing Start Date
Marketing End Date
BLA
BLA101376
12/07/1967
BLUE SPRUCE POLLEN
picea pungens pollen injection, solution
Product Information
Product Type
HUMAN PRESCRIPTION DRUG LABEL
Item Code (Source)
NDC:54575-967
Route of Administration
PERCUTANEOUS, SUBCUTANEOUS
DEA Schedule
Active Ingredient/Active Moiety
Ingredient Name
Basis of Strength
Strength
PICEA PUNGENS POLLEN (PICEA PUNGENS POLLEN)
PICEA PUNGENS POLLEN
1 g in 20 mL
Inactive Ingredients
Ingredient Name
Strength
SODIUM CHLORIDE
0.166 g in 100 mL
SODIUM BICARBONATE
0.091 g in 100 mL
WATER
GLYCERIN
50 mL in 100 mL
Packaging
#
Item Code
Package Description
1
NDC:54575-967-02
2 mL in 1 VIAL, MULTI-DOSE
2
NDC:54575-967-10
10 mL in 1 VIAL, MULTI-DOSE
3
NDC:54575-967-30
30 mL in 1 VIAL, MULTI-DOSE
4
NDC:54575-967-50
50 mL in 1 VIAL, MULTI-DOSE
Marketing Information

Marketing Category
Application Number or Monograph Citation
Marketing Start Date
Marketing End Date
BLA
BLA101376
12/07/1967
UPLAND SUMAC POLLEN
rhus glabra pollen injection, solution
Product Information
Product Type
HUMAN PRESCRIPTION DRUG LABEL
Item Code (Source)
NDC:54575-968
Route of Administration
PERCUTANEOUS, SUBCUTANEOUS
DEA Schedule
Active Ingredient/Active Moiety
Ingredient Name
Basis of Strength
Strength
RHUS GLABRA POLLEN (RHUS GLABRA POLLEN)
RHUS GLABRA POLLEN
1 g in 20 mL
Inactive Ingredients
Ingredient Name
Strength
SODIUM CHLORIDE
0.166 g in 100 mL
SODIUM BICARBONATE
0.091 g in 100 mL
WATER
GLYCERIN
50 mL in 100 mL
Packaging
#
Item Code
Package Description
1
NDC:54575-968-02
2 mL in 1 VIAL, MULTI-DOSE
2
NDC:54575-968-10
10 mL in 1 VIAL, MULTI-DOSE
3
NDC:54575-968-30
30 mL in 1 VIAL, MULTI-DOSE
4
NDC:54575-968-50
50 mL in 1 VIAL, MULTI-DOSE
Marketing Information

Marketing Category
Application Number or Monograph Citation
Marketing Start Date
Marketing End Date
BLA
BLA101376
12/07/1967
SYCAMORE POLLEN
platanus occidentalis pollen injection, solution
Product Information
Product Type
HUMAN PRESCRIPTION DRUG LABEL
Item Code (Source)
NDC:54575-969
Route of Administration
PERCUTANEOUS, SUBCUTANEOUS
DEA Schedule
Active Ingredient/Active Moiety
Ingredient Name
Basis of Strength
Strength
PLATANUS OCCIDENTALIS POLLEN (PLATANUS OCCIDENTALIS POLLEN)
PLATANUS OCCIDENTALIS POLLEN
1 g in 20 mL
Inactive Ingredients
Ingredient Name
Strength
SODIUM CHLORIDE
0.166 g in 100 mL
SODIUM BICARBONATE
0.091 g in 100 mL
WATER
GLYCERIN
50 mL in 100 mL
Packaging
#
Item Code
Package Description
1
NDC:54575-969-02
2 mL in 1 VIAL, MULTI-DOSE
2
NDC:54575-969-10
10 mL in 1 VIAL, MULTI-DOSE
3
NDC:54575-969-30
30 mL in 1 VIAL, MULTI-DOSE
4
NDC:54575-969-50
50 mL in 1 VIAL, MULTI-DOSE
Marketing Information

Marketing Category
Application Number or Monograph Citation
Marketing Start Date
Marketing End Date
BLA
BLA101376
12/07/1967
TREE OF HEAVEN POLLEN
ailanthus altissima pollen injection, solution
Product Information
Product Type
HUMAN PRESCRIPTION DRUG LABEL
Item Code (Source)
NDC:54575-970
Route of Administration
PERCUTANEOUS, SUBCUTANEOUS
DEA Schedule
Active Ingredient/Active Moiety
Ingredient Name
Basis of Strength
Strength
AILANTHUS ALTISSIMA POLLEN (AILANTHUS ALTISSIMA POLLEN)
AILANTHUS ALTISSIMA POLLEN
1 g in 20 mL
Inactive Ingredients
Ingredient Name
Strength
SODIUM CHLORIDE
0.166 g in 100 mL
SODIUM BICARBONATE
0.091 g in 100 mL
WATER
GLYCERIN
50 mL in 100 mL
Packaging
#
Item Code
Package Description
1
NDC:54575-970-02
2 mL in 1 VIAL, MULTI-DOSE
2
NDC:54575-970-10
10 mL in 1 VIAL, MULTI-DOSE
3
NDC:54575-970-30
30 mL in 1 VIAL, MULTI-DOSE
4
NDC:54575-970-50
50 mL in 1 VIAL, MULTI-DOSE
Marketing Information

Marketing Category
Application Number or Monograph Citation
Marketing Start Date
Marketing End Date
BLA
BLA101376
12/07/1967
BLACK WALNUT POLLEN
juglans nigra pollen injection, solution
Product Information
Product Type
HUMAN PRESCRIPTION DRUG LABEL
Item Code (Source)
NDC:54575-971
Route of Administration
PERCUTANEOUS, SUBCUTANEOUS
DEA Schedule
Active Ingredient/Active Moiety
Ingredient Name
Basis of Strength
Strength
JUGLANS NIGRA POLLEN (JUGLANS NIGRA POLLEN)
JUGLANS NIGRA POLLEN
1 g in 20 mL
Inactive Ingredients
Ingredient Name
Strength
SODIUM CHLORIDE
0.166 g in 100 mL
SODIUM BICARBONATE
0.091 g in 100 mL
WATER
GLYCERIN
50 mL in 100 mL
Packaging
#
Item Code
Package Description
1
NDC:54575-971-02
2 mL in 1 VIAL, MULTI-DOSE
2
NDC:54575-971-10
10 mL in 1 VIAL, MULTI-DOSE
3
NDC:54575-971-30
30 mL in 1 VIAL, MULTI-DOSE
4
NDC:54575-971-50
50 mL in 1 VIAL, MULTI-DOSE
Marketing Information

Marketing Category
Application Number or Monograph Citation
Marketing Start Date
Marketing End Date
BLA
BLA101376
12/07/1967
BLACK WILLOW POLLEN
salix nigra pollen injection, solution
Product Information
Product Type
HUMAN PRESCRIPTION DRUG LABEL
Item Code (Source)
NDC:54575-972
Route of Administration
PERCUTANEOUS, SUBCUTANEOUS
DEA Schedule
Active Ingredient/Active Moiety
Ingredient Name
Basis of Strength
Strength
SALIX NIGRA POLLEN (SALIX NIGRA POLLEN)
SALIX NIGRA POLLEN
1 g in 20 mL
Inactive Ingredients
Ingredient Name
Strength
SODIUM CHLORIDE
0.166 g in 100 mL
SODIUM BICARBONATE
0.091 g in 100 mL
WATER
GLYCERIN
50 mL in 100 mL
Packaging
#
Item Code
Package Description
1
NDC:54575-972-02
2 mL in 1 VIAL, MULTI-DOSE
2
NDC:54575-972-10
10 mL in 1 VIAL, MULTI-DOSE
3
NDC:54575-972-30
30 mL in 1 VIAL, MULTI-DOSE
4
NDC:54575-972-50
50 mL in 1 VIAL, MULTI-DOSE
Marketing Information

Marketing Category
Application Number or Monograph Citation
Marketing Start Date
Marketing End Date
BLA
BLA101376
12/07/1967
PUSSY WILLOW POLLEN
salix discolor pollen injection, solution
Product Information
Product Type
HUMAN PRESCRIPTION DRUG LABEL
Item Code (Source)
NDC:54575-973
Route of Administration
PERCUTANEOUS, SUBCUTANEOUS
DEA Schedule
Active Ingredient/Active Moiety
Ingredient Name
Basis of Strength
Strength
SALIX DISCOLOR POLLEN (SALIX DISCOLOR POLLEN)
SALIX DISCOLOR POLLEN
1 g in 20 mL
Inactive Ingredients
Ingredient Name
Strength
SODIUM CHLORIDE
0.166 g in 100 mL
SODIUM BICARBONATE
0.091 g in 100 mL
WATER
GLYCERIN
50 mL in 100 mL
Packaging
#
Item Code
Package Description
1
NDC:54575-973-02
2 mL in 1 VIAL, MULTI-DOSE
2
NDC:54575-973-10
10 mL in 1 VIAL, MULTI-DOSE
3
NDC:54575-973-30
30 mL in 1 VIAL, MULTI-DOSE
4
NDC:54575-973-50
50 mL in 1 VIAL, MULTI-DOSE
Marketing Information

Marketing Category
Application Number or Monograph Citation
Marketing Start Date
Marketing End Date
BLA
BLA101376
12/07/1967
BLACK LOCUST POLLEN
robinia pseudoacacia pollen injection, solution
Product Information
Product Type
HUMAN PRESCRIPTION DRUG LABEL
Item Code (Source)
NDC:54575-974
Route of Administration
PERCUTANEOUS, SUBCUTANEOUS
DEA Schedule
Active Ingredient/Active Moiety
Ingredient Name
Basis of Strength
Strength
ROBINIA PSEUDOACACIA POLLEN (ROBINIA PSEUDOACACIA POLLEN)
ROBINIA PSEUDOACACIA POLLEN
1 g in 20 mL
Inactive Ingredients
Ingredient Name
Strength
SODIUM CHLORIDE
0.166 g in 100 mL
SODIUM BICARBONATE
0.091 g in 100 mL
WATER
GLYCERIN
50 mL in 100 mL
Packaging
#
Item Code
Package Description
1
NDC:54575-974-02
2 mL in 1 VIAL, MULTI-DOSE
2
NDC:54575-974-10
10 mL in 1 VIAL, MULTI-DOSE
3
NDC:54575-974-30
30 mL in 1 VIAL, MULTI-DOSE
4
NDC:54575-974-50
50 mL in 1 VIAL, MULTI-DOSE
Marketing Information

Marketing Category
Application Number or Monograph Citation
Marketing Start Date
Marketing End Date
BLA
BLA101376
12/07/1967
WHITE OAK POLLEN
quercus alba pollen injection, solution
Product Information
Product Type
HUMAN PRESCRIPTION DRUG LABEL
Item Code (Source)
NDC:54575-978
Route of Administration
PERCUTANEOUS, SUBCUTANEOUS
DEA Schedule
Active Ingredient/Active Moiety
Ingredient Name
Basis of Strength
Strength
QUERCUS ALBA POLLEN (QUERCUS ALBA POLLEN)
QUERCUS ALBA POLLEN
1 g in 20 mL
Inactive Ingredients
Ingredient Name
Strength
SODIUM CHLORIDE
0.166 g in 100 mL
SODIUM BICARBONATE
0.091 g in 100 mL
WATER
GLYCERIN
50 mL in 100 mL
Packaging
#
Item Code
Package Description
1
NDC:54575-978-02
2 mL in 1 VIAL, MULTI-DOSE
2
NDC:54575-978-10
10 mL in 1 VIAL, MULTI-DOSE
3
NDC:54575-978-30
30 mL in 1 VIAL, MULTI-DOSE
4
NDC:54575-978-50
50 mL in 1 VIAL, MULTI-DOSE
Marketing Information

Marketing Category
Application Number or Monograph Citation
Marketing Start Date
Marketing End Date
BLA
BLA101376
12/07/1967
BAHIA GRASS POLLEN
paspalum notatum pollen injection, solution
Product Information
Product Type
HUMAN PRESCRIPTION DRUG LABEL
Item Code (Source)
NDC:54575-081
Route of Administration
PERCUTANEOUS, SUBCUTANEOUS
DEA Schedule
Active Ingredient/Active Moiety
Ingredient Name
Basis of Strength
Strength
PASPALUM NOTATUM POLLEN (PASPALUM NOTATUM POLLEN)
PASPALUM NOTATUM POLLEN
1 g in 20 mL
Inactive Ingredients
Ingredient Name
Strength
SODIUM CHLORIDE
0.166 g in 100 mL
SODIUM BICARBONATE
0.091 g in 100 mL
WATER
GLYCERIN
50 mL in 100 mL
Packaging
#
Item Code
Package Description
1
NDC:54575-081-02
2 mL in 1 VIAL, MULTI-DOSE
2
NDC:54575-081-10
10 mL in 1 VIAL, MULTI-DOSE
3
NDC:54575-081-30
30 mL in 1 VIAL, MULTI-DOSE
4
NDC:54575-081-50
50 mL in 1 VIAL, MULTI-DOSE
Marketing Information

Marketing Category
Application Number or Monograph Citation
Marketing Start Date
Marketing End Date
BLA
BLA101376
12/07/1967
CULTIVATED BARLEY POLLEN
hordeum vulgare pollen injection, solution
Product Information
Product Type
HUMAN PRESCRIPTION DRUG LABEL
Item Code (Source)
NDC:54575-082
Route of Administration
PERCUTANEOUS, SUBCUTANEOUS
DEA Schedule
Active Ingredient/Active Moiety
Ingredient Name
Basis of Strength
Strength
HORDEUM VULGARE POLLEN (HORDEUM VULGARE POLLEN)
HORDEUM VULGARE POLLEN
1 g in 20 mL
Inactive Ingredients
Ingredient Name
Strength
SODIUM CHLORIDE
0.166 g in 100 mL
SODIUM BICARBONATE
0.091 g in 100 mL
WATER
GLYCERIN
50 mL in 100 mL
Packaging
#
Item Code
Package Description
1
NDC:54575-082-02
2 mL in 1 VIAL, MULTI-DOSE
2
NDC:54575-082-10
10 mL in 1 VIAL, MULTI-DOSE
3
NDC:54575-082-30
30 mL in 1 VIAL, MULTI-DOSE
4
NDC:54575-082-50
50 mL in 1 VIAL, MULTI-DOSE
Marketing Information

Marketing Category
Application Number or Monograph Citation
Marketing Start Date
Marketing End Date
BLA
BLA101376
12/07/1967
CREEPING BENT GRASS POLLEN
agrostis stolonifera pollen injection, solution
Product Information
Product Type
HUMAN PRESCRIPTION DRUG LABEL
Item Code (Source)
NDC:54575-083
Route of Administration
PERCUTANEOUS, SUBCUTANEOUS
DEA Schedule
Active Ingredient/Active Moiety
Ingredient Name
Basis of Strength
Strength
AGROSTIS STOLONIFERA POLLEN (AGROSTIS STOLONIFERA POLLEN)
AGROSTIS STOLONIFERA POLLEN
1 g in 20 mL
Inactive Ingredients
Ingredient Name
Strength
SODIUM CHLORIDE
0.166 g in 100 mL
SODIUM BICARBONATE
0.091 g in 100 mL
WATER
GLYCERIN
50 mL in 100 mL
Packaging
#
Item Code
Package Description
1
NDC:54575-083-02
2 mL in 1 VIAL, MULTI-DOSE
2
NDC:54575-083-10
10 mL in 1 VIAL, MULTI-DOSE
3
NDC:54575-083-30
30 mL in 1 VIAL, MULTI-DOSE
4
NDC:54575-083-50
50 mL in 1 VIAL, MULTI-DOSE
Marketing Information

Marketing Category
Application Number or Monograph Citation
Marketing Start Date
Marketing End Date
BLA
BLA101376
12/07/1967
ANNUAL BLUEGRASS POLLEN
poa annua pollen injection, solution
Product Information
Product Type
HUMAN PRESCRIPTION DRUG LABEL
Item Code (Source)
NDC:54575-085
Route of Administration
PERCUTANEOUS, SUBCUTANEOUS
DEA Schedule
Active Ingredient/Active Moiety
Ingredient Name
Basis of Strength
Strength
POA ANNUA POLLEN (POA ANNUA POLLEN)
POA ANNUA POLLEN
1 g in 20 mL
Inactive Ingredients
Ingredient Name
Strength
SODIUM CHLORIDE
0.166 g in 100 mL
SODIUM BICARBONATE
0.091 g in 100 mL
WATER
GLYCERIN
50 mL in 100 mL
Packaging
#
Item Code
Package Description
1
NDC:54575-085-02
2 mL in 1 VIAL, MULTI-DOSE
2
NDC:54575-085-10
10 mL in 1 VIAL, MULTI-DOSE
3
NDC:54575-085-30
30 mL in 1 VIAL, MULTI-DOSE
4
NDC:54575-085-50
50 mL in 1 VIAL, MULTI-DOSE
Marketing Information

Marketing Category
Application Number or Monograph Citation
Marketing Start Date
Marketing End Date
BLA
BLA101376
12/07/1967
HUNGARIAN SMOOTH BROME POLLEN
bromus inermis pollen injection, solution
Product Information
Product Type
HUMAN PRESCRIPTION DRUG LABEL
Item Code (Source)
NDC:54575-088
Route of Administration
PERCUTANEOUS, SUBCUTANEOUS
DEA Schedule
Active Ingredient/Active Moiety
Ingredient Name
Basis of Strength
Strength
BROMUS INERMIS POLLEN (BROMUS INERMIS POLLEN)
BROMUS INERMIS POLLEN
1 g in 20 mL
Inactive Ingredients
Ingredient Name
Strength
SODIUM CHLORIDE
0.166 g in 100 mL
SODIUM BICARBONATE
0.091 g in 100 mL
WATER
GLYCERIN
50 mL in 100 mL
Packaging
#
Item Code
Package Description
1
NDC:54575-088-02
2 mL in 1 VIAL, MULTI-DOSE
2
NDC:54575-088-10
10 mL in 1 VIAL, MULTI-DOSE
3
NDC:54575-088-30
30 mL in 1 VIAL, MULTI-DOSE
4
NDC:54575-088-50
50 mL in 1 VIAL, MULTI-DOSE
Marketing Information

Marketing Category
Application Number or Monograph Citation
Marketing Start Date
Marketing End Date
BLA
BLA101376
12/07/1967
CANARY GRASS POLLEN
phalaris minor pollen injection, solution
Product Information
Product Type
HUMAN PRESCRIPTION DRUG LABEL
Item Code (Source)
NDC:54575-089
Route of Administration
PERCUTANEOUS, SUBCUTANEOUS
DEA Schedule
Active Ingredient/Active Moiety
Ingredient Name
Basis of Strength
Strength
PHALARIS MINOR POLLEN (PHALARIS MINOR POLLEN)
PHALARIS MINOR POLLEN
1 g in 20 mL
Inactive Ingredients
Ingredient Name
Strength
SODIUM CHLORIDE
0.166 g in 100 mL
SODIUM BICARBONATE
0.091 g in 100 mL
WATER
GLYCERIN
50 mL in 100 mL
Packaging
#
Item Code
Package Description
1
NDC:54575-089-02
2 mL in 1 VIAL, MULTI-DOSE
2
NDC:54575-089-10
10 mL in 1 VIAL, MULTI-DOSE
3
NDC:54575-089-30
30 mL in 1 VIAL, MULTI-DOSE
4
NDC:54575-089-50
50 mL in 1 VIAL, MULTI-DOSE
Marketing Information

Marketing Category
Application Number or Monograph Citation
Marketing Start Date
Marketing End Date
BLA
BLA101376
12/07/1967
SOUTHERN CHEAT CHESS POLLEN
bromus secalinus pollen injection, solution
Product Information
Product Type
HUMAN PRESCRIPTION DRUG LABEL
Item Code (Source)
NDC:54575-090
Route of Administration
PERCUTANEOUS, SUBCUTANEOUS
DEA Schedule
Active Ingredient/Active Moiety
Ingredient Name
Basis of Strength
Strength
BROMUS SECALINUS POLLEN (BROMUS SECALINUS POLLEN)
BROMUS SECALINUS POLLEN
1 g in 20 mL
Inactive Ingredients
Ingredient Name
Strength
SODIUM CHLORIDE
0.166 g in 100 mL
SODIUM BICARBONATE
0.091 g in 100 mL
WATER
GLYCERIN
50 mL in 100 mL
Packaging
#
Item Code
Package Description
1
NDC:54575-090-02
2 mL in 1 VIAL, MULTI-DOSE
2
NDC:54575-090-10
10 mL in 1 VIAL, MULTI-DOSE
3
NDC:54575-090-30
30 mL in 1 VIAL, MULTI-DOSE
4
NDC:54575-090-50
50 mL in 1 VIAL, MULTI-DOSE
Marketing Information

Marketing Category
Application Number or Monograph Citation
Marketing Start Date
Marketing End Date
BLA
BLA101376
12/07/1967
CULTIVATED CORN POLLEN
zea mays pollen injection, solution
Product Information
Product Type
HUMAN PRESCRIPTION DRUG LABEL
Item Code (Source)
NDC:54575-091
Route of Administration
PERCUTANEOUS, SUBCUTANEOUS
DEA Schedule
Active Ingredient/Active Moiety
Ingredient Name
Basis of Strength
Strength
ZEA MAYS POLLEN (ZEA MAYS POLLEN)
ZEA MAYS POLLEN
1 g in 20 mL
Inactive Ingredients
Ingredient Name
Strength
SODIUM CHLORIDE
0.166 g in 100 mL
SODIUM BICARBONATE
0.091 g in 100 mL
WATER
GLYCERIN
50 mL in 100 mL
Packaging
#
Item Code
Package Description
1
NDC:54575-091-02
2 mL in 1 VIAL, MULTI-DOSE
2
NDC:54575-091-10
10 mL in 1 VIAL, MULTI-DOSE
3
NDC:54575-091-30
30 mL in 1 VIAL, MULTI-DOSE
4
NDC:54575-091-50
50 mL in 1 VIAL, MULTI-DOSE
Marketing Information

Marketing Category
Application Number or Monograph Citation
Marketing Start Date
Marketing End Date
BLA
BLA101376
12/07/1967
BLUE GRAMA GRASS
bouteloua gracilis pollen injection, solution
Product Information
Product Type
HUMAN PRESCRIPTION DRUG LABEL
Item Code (Source)
NDC:54575-093
Route of Administration
PERCUTANEOUS, SUBCUTANEOUS
DEA Schedule
Active Ingredient/Active Moiety
Ingredient Name
Basis of Strength
Strength
BOUTELOUA GRACILIS POLLEN (BOUTELOUA GRACILIS POLLEN)
BOUTELOUA GRACILIS POLLEN
1 g in 20 mL
Inactive Ingredients
Ingredient Name
Strength
SODIUM CHLORIDE
0.166 g in 100 mL
SODIUM BICARBONATE
0.091 g in 100 mL
WATER
GLYCERIN
50 mL in 100 mL
Packaging
#
Item Code
Package Description
1
NDC:54575-093-02
2 mL in 1 VIAL, MULTI-DOSE
2
NDC:54575-093-10
10 mL in 1 VIAL, MULTI-DOSE
3
NDC:54575-093-30
30 mL in 1 VIAL, MULTI-DOSE
4
NDC:54575-093-50
50 mL in 1 VIAL, MULTI-DOSE
Marketing Information

Marketing Category
Application Number or Monograph Citation
Marketing Start Date
Marketing End Date
BLA
BLA101376
12/07/1967
JOHNSON GRASS POLLEN
sorghum halepense pollen injection, solution
Product Information
Product Type
HUMAN PRESCRIPTION DRUG LABEL
Item Code (Source)
NDC:54575-094
Route of Administration
PERCUTANEOUS, SUBCUTANEOUS
DEA Schedule
Active Ingredient/Active Moiety
Ingredient Name
Basis of Strength
Strength
SORGHUM HALEPENSE POLLEN (SORGHUM HALEPENSE POLLEN)
SORGHUM HALEPENSE POLLEN
1 g in 20 mL
Inactive Ingredients
Ingredient Name
Strength
SODIUM CHLORIDE
0.166 g in 100 mL
SODIUM BICARBONATE
0.091 g in 100 mL
WATER
GLYCERIN
50 mL in 100 mL
Packaging
#
Item Code
Package Description
1
NDC:54575-094-02
2 mL in 1 VIAL, MULTI-DOSE
2
NDC:54575-094-10
10 mL in 1 VIAL, MULTI-DOSE
3
NDC:54575-094-30
30 mL in 1 VIAL, MULTI-DOSE
4
NDC:54575-094-50
50 mL in 1 VIAL, MULTI-DOSE
Marketing Information

Marketing Category
Application Number or Monograph Citation
Marketing Start Date
Marketing End Date
BLA
BLA101376
12/07/1967
TALL OAT GRASS POLLEN
arrhenatherum elatius pollen injection, solution
Product Information
Product Type
HUMAN PRESCRIPTION DRUG LABEL
Item Code (Source)
NDC:54575-095
Route of Administration
PERCUTANEOUS, SUBCUTANEOUS
DEA Schedule
Active Ingredient/Active Moiety
Ingredient Name
Basis of Strength
Strength
ARRHENATHERUM ELATIUS POLLEN (ARRHENATHERUM ELATIUS POLLEN)
ARRHENATHERUM ELATIUS POLLEN
1 g in 20 mL
Inactive Ingredients
Ingredient Name
Strength
SODIUM CHLORIDE
0.166 g in 100 mL
SODIUM BICARBONATE
0.091 g in 100 mL
WATER
GLYCERIN
50 mL in 100 mL
Packaging
#
Item Code
Package Description
1
NDC:54575-095-02
2 mL in 1 VIAL, MULTI-DOSE
2
NDC:54575-095-10
10 mL in 1 VIAL, MULTI-DOSE
3
NDC:54575-095-30
30 mL in 1 VIAL, MULTI-DOSE
4
NDC:54575-095-50
50 mL in 1 VIAL, MULTI-DOSE
Marketing Information

Marketing Category
Application Number or Monograph Citation
Marketing Start Date
Marketing End Date
BLA
BLA101376
12/07/1967
CULTIVATED OATS POLLEN
avena sativa pollen injection, solution
Product Information
Product Type
HUMAN PRESCRIPTION DRUG LABEL
Item Code (Source)
NDC:54575-096
Route of Administration
PERCUTANEOUS, SUBCUTANEOUS
DEA Schedule
Active Ingredient/Active Moiety
Ingredient Name
Basis of Strength
Strength
AVENA SATIVA POLLEN (AVENA SATIVA POLLEN)
AVENA SATIVA POLLEN
1 g in 20 mL
Inactive Ingredients
Ingredient Name
Strength
SODIUM CHLORIDE
0.166 g in 100 mL
SODIUM BICARBONATE
0.091 g in 100 mL
WATER
GLYCERIN
50 mL in 100 mL
Packaging
#
Item Code
Package Description
1
NDC:54575-096-02
2 mL in 1 VIAL, MULTI-DOSE
2
NDC:54575-096-10
10 mL in 1 VIAL, MULTI-DOSE
3
NDC:54575-096-30
30 mL in 1 VIAL, MULTI-DOSE
4
NDC:54575-096-50
50 mL in 1 VIAL, MULTI-DOSE
Marketing Information

Marketing Category
Application Number or Monograph Citation
Marketing Start Date
Marketing End Date
BLA
BLA101376
12/07/1967
QUACK GRASS POLLEN
elymus repens pollen injection, solution
Product Information
Product Type
HUMAN PRESCRIPTION DRUG LABEL
Item Code (Source)
NDC:54575-098
Route of Administration
PERCUTANEOUS, SUBCUTANEOUS
DEA Schedule
Active Ingredient/Active Moiety
Ingredient Name
Basis of Strength
Strength
ELYMUS REPENS POLLEN (ELYMUS REPENS POLLEN)
ELYMUS REPENS POLLEN
1 g in 20 mL
Inactive Ingredients
Ingredient Name
Strength
SODIUM CHLORIDE
0.166 g in 100 mL
SODIUM BICARBONATE
0.091 g in 100 mL
WATER
GLYCERIN
50 mL in 100 mL
Packaging
#
Item Code
Package Description
1
NDC:54575-098-02
2 mL in 1 VIAL, MULTI-DOSE
2
NDC:54575-098-10
10 mL in 1 VIAL, MULTI-DOSE
3
NDC:54575-098-30
30 mL in 1 VIAL, MULTI-DOSE
4
NDC:54575-098-50
50 mL in 1 VIAL, MULTI-DOSE
Marketing Information

Marketing Category
Application Number or Monograph Citation
Marketing Start Date
Marketing End Date
BLA
BLA101376
12/07/1967
ITALIAN RYEGRASS POLLEN
lolium perenne subsp. multiflorum pollen injection, solution
Product Information
Product Type
HUMAN PRESCRIPTION DRUG LABEL
Item Code (Source)
NDC:54575-101
Route of Administration
PERCUTANEOUS, SUBCUTANEOUS
DEA Schedule
Active Ingredient/Active Moiety
Ingredient Name
Basis of Strength
Strength
LOLIUM PERENNE SUBSP. MULTIFLORUM POLLEN (LOLIUM PERENNE SUBSP. MULTIFLORUM POLLEN)
LOLIUM PERENNE SUBSP. MULTIFLORUM POLLEN
1 g in 20 mL
Inactive Ingredients
Ingredient Name
Strength
SODIUM CHLORIDE
0.166 g in 100 mL
SODIUM BICARBONATE
0.091 g in 100 mL
WATER
GLYCERIN
50 mL in 100 mL
Packaging
#
Item Code
Package Description
1
NDC:54575-101-02
2 mL in 1 VIAL, MULTI-DOSE
2
NDC:54575-101-10
10 mL in 1 VIAL, MULTI-DOSE
3
NDC:54575-101-30
30 mL in 1 VIAL, MULTI-DOSE
4
NDC:54575-101-50
50 mL in 1 VIAL, MULTI-DOSE
Marketing Information

Marketing Category
Application Number or Monograph Citation
Marketing Start Date
Marketing End Date
BLA
BLA101376
12/07/1967
GRAIN SORGHUM POLLEN
sorghum bicolor subsp. bicolor pollen injection, solution
Product Information
Product Type
HUMAN PRESCRIPTION DRUG LABEL
Item Code (Source)
NDC:54575-104
Route of Administration
PERCUTANEOUS, SUBCUTANEOUS
DEA Schedule
Active Ingredient/Active Moiety
Ingredient Name
Basis of Strength
Strength
SORGHUM BICOLOR SUBSP. BICOLOR POLLEN (SORGHUM BICOLOR SUBSP. BICOLOR POLLEN)
SORGHUM BICOLOR SUBSP. BICOLOR POLLEN
1 g in 20 mL
Inactive Ingredients
Ingredient Name
Strength
SODIUM CHLORIDE
0.166 g in 100 mL
SODIUM BICARBONATE
0.091 g in 100 mL
WATER
GLYCERIN
50 mL in 100 mL
Packaging
#
Item Code
Package Description
1
NDC:54575-104-02
2 mL in 1 VIAL, MULTI-DOSE
2
NDC:54575-104-10
10 mL in 1 VIAL, MULTI-DOSE
3
NDC:54575-104-30
30 mL in 1 VIAL, MULTI-DOSE
4
NDC:54575-104-50
50 mL in 1 VIAL, MULTI-DOSE
Marketing Information

Marketing Category
Application Number or Monograph Citation
Marketing Start Date
Marketing End Date
BLA
BLA101376
12/07/1967
SUDAN GRASS POLLEN
sorghum bicolor subsp. drummondii pollen injection, solution
Product Information
Product Type
HUMAN PRESCRIPTION DRUG LABEL
Item Code (Source)
NDC:54575-105
Route of Administration
PERCUTANEOUS, SUBCUTANEOUS
DEA Schedule
Active Ingredient/Active Moiety
Ingredient Name
Basis of Strength
Strength
SORGHUM BICOLOR SUBSP. DRUMMONDII POLLEN (SORGHUM BICOLOR SUBSP. DRUMMONDII POLLEN)
SORGHUM BICOLOR SUBSP. DRUMMONDII POLLEN
1 g in 20 mL
Inactive Ingredients
Ingredient Name
Strength
SODIUM CHLORIDE
0.166 g in 100 mL
SODIUM BICARBONATE
0.091 g in 100 mL
WATER
GLYCERIN
50 mL in 100 mL
Packaging
#
Item Code
Package Description
1
NDC:54575-105-02
2 mL in 1 VIAL, MULTI-DOSE
2
NDC:54575-105-10
10 mL in 1 VIAL, MULTI-DOSE
3
NDC:54575-105-30
30 mL in 1 VIAL, MULTI-DOSE
4
NDC:54575-105-50
50 mL in 1 VIAL, MULTI-DOSE
Marketing Information

Marketing Category
Application Number or Monograph Citation
Marketing Start Date
Marketing End Date
BLA
BLA101376
12/07/1967
CULTIVATED WHEAT POLLEN
triticum aestivum pollen injection, solution
Product Information
Product Type
HUMAN PRESCRIPTION DRUG LABEL
Item Code (Source)
NDC:54575-109
Route of Administration
PERCUTANEOUS, SUBCUTANEOUS
DEA Schedule
Active Ingredient/Active Moiety
Ingredient Name
Basis of Strength
Strength
TRITICUM AESTIVUM POLLEN (TRITICUM AESTIVUM POLLEN)
TRITICUM AESTIVUM POLLEN
1 g in 20 mL
Inactive Ingredients
Ingredient Name
Strength
SODIUM CHLORIDE
0.166 g in 100 mL
SODIUM BICARBONATE
0.091 g in 100 mL
WATER
GLYCERIN
50 mL in 100 mL
Packaging
#
Item Code
Package Description
1
NDC:54575-109-02
2 mL in 1 VIAL, MULTI-DOSE
2
NDC:54575-109-10
10 mL in 1 VIAL, MULTI-DOSE
3
NDC:54575-109-30
30 mL in 1 VIAL, MULTI-DOSE
4
NDC:54575-109-50
50 mL in 1 VIAL, MULTI-DOSE
Marketing Information

Marketing Category
Application Number or Monograph Citation
Marketing Start Date
Marketing End Date
BLA
BLA101376
12/07/1967
WESTERN WHEAT POLLEN
pascopyrum smithii pollen injection, solution
Product Information
Product Type
HUMAN PRESCRIPTION DRUG LABEL
Item Code (Source)
NDC:54575-110
Route of Administration
PERCUTANEOUS, SUBCUTANEOUS
DEA Schedule
Active Ingredient/Active Moiety
Ingredient Name
Basis of Strength
Strength
PASCOPYRUM SMITHII POLLEN (PASCOPYRUM SMITHII POLLEN)
PASCOPYRUM SMITHII POLLEN
1 g in 20 mL
Inactive Ingredients
Ingredient Name
Strength
SODIUM CHLORIDE
0.166 g in 100 mL
SODIUM BICARBONATE
0.091 g in 100 mL
WATER
GLYCERIN
50 mL in 100 mL
Packaging
#
Item Code
Package Description
1
NDC:54575-110-02
2 mL in 1 VIAL, MULTI-DOSE
2
NDC:54575-110-10
10 mL in 1 VIAL, MULTI-DOSE
3
NDC:54575-110-30
30 mL in 1 VIAL, MULTI-DOSE
4
NDC:54575-110-50
50 mL in 1 VIAL, MULTI-DOSE
Marketing Information

Marketing Category
Application Number or Monograph Citation
Marketing Start Date
Marketing End Date
BLA
BLA101376
12/07/1967
ALFALFA POLLEN
medicago sativa pollen injection, solution
Product Information
Product Type
HUMAN PRESCRIPTION DRUG LABEL
Item Code (Source)
NDC:54575-113
Route of Administration
PERCUTANEOUS, SUBCUTANEOUS
DEA Schedule
Active Ingredient/Active Moiety
Ingredient Name
Basis of Strength
Strength
MEDICAGO SATIVA POLLEN (MEDICAGO SATIVA POLLEN)
MEDICAGO SATIVA POLLEN
1 g in 20 mL
Inactive Ingredients
Ingredient Name
Strength
SODIUM CHLORIDE
0.166 g in 100 mL
SODIUM BICARBONATE
0.091 g in 100 mL
WATER
GLYCERIN
50 mL in 100 mL
Packaging
#
Item Code
Package Description
1
NDC:54575-113-02
2 mL in 1 VIAL, MULTI-DOSE
2
NDC:54575-113-10
10 mL in 1 VIAL, MULTI-DOSE
3
NDC:54575-113-30
30 mL in 1 VIAL, MULTI-DOSE
4
NDC:54575-113-50
50 mL in 1 VIAL, MULTI-DOSE
Marketing Information

Marketing Category
Application Number or Monograph Citation
Marketing Start Date
Marketing End Date
BLA
BLA101376
12/07/1967
SWEET CLOVER POLLEN
melilotus albus pollen injection, solution
Product Information
Product Type
HUMAN PRESCRIPTION DRUG LABEL
Item Code (Source)
NDC:54575-114
Route of Administration
PERCUTANEOUS, SUBCUTANEOUS
DEA Schedule
Active Ingredient/Active Moiety
Ingredient Name
Basis of Strength
Strength
MELILOTUS ALBUS POLLEN (MELILOTUS ALBUS POLLEN)
MELILOTUS ALBUS POLLEN
1 g in 20 mL
Inactive Ingredients
Ingredient Name
Strength
SODIUM CHLORIDE
0.166 g in 100 mL
SODIUM BICARBONATE
0.091 g in 100 mL
WATER
GLYCERIN
50 mL in 100 mL
Packaging
#
Item Code
Package Description
1
NDC:54575-114-02
2 mL in 1 VIAL, MULTI-DOSE
2
NDC:54575-114-10
10 mL in 1 VIAL, MULTI-DOSE
3
NDC:54575-114-30
30 mL in 1 VIAL, MULTI-DOSE
4
NDC:54575-114-50
50 mL in 1 VIAL, MULTI-DOSE
Marketing Information

Marketing Category
Application Number or Monograph Citation
Marketing Start Date
Marketing End Date
BLA
BLA101376
12/07/1967
SUGAR BEET POLLEN
beta vulgaris pollen injection, solution
Product Information
Product Type
HUMAN PRESCRIPTION DRUG LABEL
Item Code (Source)
NDC:54575-115
Route of Administration
PERCUTANEOUS, SUBCUTANEOUS
DEA Schedule
Active Ingredient/Active Moiety
Ingredient Name
Basis of Strength
Strength
BETA VULGARIS POLLEN (BETA VULGARIS POLLEN)
BETA VULGARIS POLLEN
1 g in 20 mL
Inactive Ingredients
Ingredient Name
Strength
SODIUM CHLORIDE
0.166 g in 100 mL
SODIUM BICARBONATE
0.091 g in 100 mL
WATER
GLYCERIN
50 mL in 100 mL
Packaging
#
Item Code
Package Description
1
NDC:54575-115-02
2 mL in 1 VIAL, MULTI-DOSE
2
NDC:54575-115-10
10 mL in 1 VIAL, MULTI-DOSE
3
NDC:54575-115-30
30 mL in 1 VIAL, MULTI-DOSE
4
NDC:54575-115-50
50 mL in 1 VIAL, MULTI-DOSE
Marketing Information

Marketing Category
Application Number or Monograph Citation
Marketing Start Date
Marketing End Date
BLA
BLA101376
12/07/1967
WESTERN JUNE GRASS POLLEN
koeleria macrantha pollen injection, solution
Product Information
Product Type
HUMAN PRESCRIPTION DRUG LABEL
Item Code (Source)
NDC:54575-116
Route of Administration
PERCUTANEOUS, SUBCUTANEOUS
DEA Schedule
Active Ingredient/Active Moiety
Ingredient Name
Basis of Strength
Strength
KOELERIA MACRANTHA POLLEN (KOELERIA MACRANTHA POLLEN)
KOELERIA MACRANTHA POLLEN
1 g in 20 mL
Inactive Ingredients
Ingredient Name
Strength
SODIUM CHLORIDE
0.166 g in 100 mL
SODIUM BICARBONATE
0.091 g in 100 mL
WATER
GLYCERIN
50 mL in 100 mL
Packaging
#
Item Code
Package Description
1
NDC:54575-116-02
2 mL in 1 VIAL, MULTI-DOSE
2
NDC:54575-116-10
10 mL in 1 VIAL, MULTI-DOSE
3
NDC:54575-116-30
30 mL in 1 VIAL, MULTI-DOSE
4
NDC:54575-116-50
50 mL in 1 VIAL, MULTI-DOSE
Marketing Information

Marketing Category
Application Number or Monograph Citation
Marketing Start Date
Marketing End Date
BLA
BLA101376
12/07/1967
BROOMWEED POLLEN
amphiachyris dracunculoides pollen injection, solution
Product Information
Product Type
HUMAN PRESCRIPTION DRUG LABEL
Item Code (Source)
NDC:54575-121
Route of Administration
PERCUTANEOUS, SUBCUTANEOUS
DEA Schedule
Active Ingredient/Active Moiety
Ingredient Name
Basis of Strength
Strength
AMPHIACHYRIS DRACUNCULOIDES POLLEN (AMPHIACHYRIS DRACUNCULOIDES POLLEN)
AMPHIACHYRIS DRACUNCULOIDES POLLEN
1 g in 20 mL
Inactive Ingredients
Ingredient Name
Strength
SODIUM CHLORIDE
0.166 g in 100 mL
SODIUM BICARBONATE
0.091 g in 100 mL
WATER
GLYCERIN
50 mL in 100 mL
Packaging
#
Item Code
Package Description
1
NDC:54575-121-02
2 mL in 1 VIAL, MULTI-DOSE
2
NDC:54575-121-10
10 mL in 1 VIAL, MULTI-DOSE
3
NDC:54575-121-30
30 mL in 1 VIAL, MULTI-DOSE
4
NDC:54575-121-50
50 mL in 1 VIAL, MULTI-DOSE
Marketing Information

Marketing Category
Application Number or Monograph Citation
Marketing Start Date
Marketing End Date
BLA
BLA101376
12/07/1967
CARELESS WEED POLLEN
amaranthus palmeri pollen injection, solution
Product Information
Product Type
HUMAN PRESCRIPTION DRUG LABEL
Item Code (Source)
NDC:54575-122
Route of Administration
PERCUTANEOUS, SUBCUTANEOUS
DEA Schedule
Active Ingredient/Active Moiety
Ingredient Name
Basis of Strength
Strength
AMARANTHUS PALMERI POLLEN (AMARANTHUS PALMERI POLLEN)
AMARANTHUS PALMERI POLLEN
1 g in 20 mL
Inactive Ingredients
Ingredient Name
Strength
SODIUM CHLORIDE
0.166 g in 100 mL
SODIUM BICARBONATE
0.091 g in 100 mL
WATER
GLYCERIN
50 mL in 100 mL
Packaging
#
Item Code
Package Description
1
NDC:54575-122-02
2 mL in 1 VIAL, MULTI-DOSE
2
NDC:54575-122-10
10 mL in 1 VIAL, MULTI-DOSE
3
NDC:54575-122-30
30 mL in 1 VIAL, MULTI-DOSE
4
NDC:54575-122-50
50 mL in 1 VIAL, MULTI-DOSE
Marketing Information

Marketing Category
Application Number or Monograph Citation
Marketing Start Date
Marketing End Date
BLA
BLA101376
12/07/1967
COCKLEBUR POLLEN
xanthium strumarium pollen injection, solution
Product Information
Product Type
HUMAN PRESCRIPTION DRUG LABEL
Item Code (Source)
NDC:54575-123
Route of Administration
PERCUTANEOUS, SUBCUTANEOUS
DEA Schedule
Active Ingredient/Active Moiety
Ingredient Name
Basis of Strength
Strength
XANTHIUM STRUMARIUM POLLEN (XANTHIUM STRUMARIUM POLLEN)
XANTHIUM STRUMARIUM POLLEN
1 g in 20 mL
Inactive Ingredients
Ingredient Name
Strength
SODIUM CHLORIDE
0.166 g in 100 mL
SODIUM BICARBONATE
0.091 g in 100 mL
WATER
GLYCERIN
50 mL in 100 mL
Packaging
#
Item Code
Package Description
1
NDC:54575-123-02
2 mL in 1 VIAL, MULTI-DOSE
2
NDC:54575-123-10
10 mL in 1 VIAL, MULTI-DOSE
3
NDC:54575-123-30
30 mL in 1 VIAL, MULTI-DOSE
4
NDC:54575-123-50
50 mL in 1 VIAL, MULTI-DOSE
Marketing Information

Marketing Category
Application Number or Monograph Citation
Marketing Start Date
Marketing End Date
BLA
BLA101376
12/07/1967
YELLOW CURLY DOCK POLLEN
rumex crispus pollen injection, solution
Product Information
Product Type
HUMAN PRESCRIPTION DRUG LABEL
Item Code (Source)
NDC:54575-126
Route of Administration
PERCUTANEOUS, SUBCUTANEOUS
DEA Schedule
Active Ingredient/Active Moiety
Ingredient Name
Basis of Strength
Strength
RUMEX CRISPUS POLLEN (RUMEX CRISPUS POLLEN)
RUMEX CRISPUS POLLEN
1 g in 20 mL
Inactive Ingredients
Ingredient Name
Strength
SODIUM CHLORIDE
0.166 g in 100 mL
SODIUM BICARBONATE
0.091 g in 100 mL
WATER
GLYCERIN
50 mL in 100 mL
Packaging
#
Item Code
Package Description
1
NDC:54575-126-02
2 mL in 1 VIAL, MULTI-DOSE
2
NDC:54575-126-10
10 mL in 1 VIAL, MULTI-DOSE
3
NDC:54575-126-30
30 mL in 1 VIAL, MULTI-DOSE
4
NDC:54575-126-50
50 mL in 1 VIAL, MULTI-DOSE
Marketing Information

Marketing Category
Application Number or Monograph Citation
Marketing Start Date
Marketing End Date
BLA
BLA101376
12/07/1967
FIREBUSH KOCHIA POLLEN
kochia scoparia pollen injection, solution
Product Information
Product Type
HUMAN PRESCRIPTION DRUG LABEL
Item Code (Source)
NDC:54575-127
Route of Administration
PERCUTANEOUS, SUBCUTANEOUS
DEA Schedule
Active Ingredient/Active Moiety
Ingredient Name
Basis of Strength
Strength
KOCHIA SCOPARIA POLLEN (KOCHIA SCOPARIA POLLEN)
KOCHIA SCOPARIA POLLEN
1 g in 20 mL
Inactive Ingredients
Ingredient Name
Strength
SODIUM CHLORIDE
0.166 g in 100 mL
SODIUM BICARBONATE
0.091 g in 100 mL
WATER
GLYCERIN
50 mL in 100 mL
Packaging
#
Item Code
Package Description
1
NDC:54575-127-02
2 mL in 1 VIAL, MULTI-DOSE
2
NDC:54575-127-10
10 mL in 1 VIAL, MULTI-DOSE
3
NDC:54575-127-30
30 mL in 1 VIAL, MULTI-DOSE
4
NDC:54575-127-50
50 mL in 1 VIAL, MULTI-DOSE
Marketing Information

Marketing Category
Application Number or Monograph Citation
Marketing Start Date
Marketing End Date
BLA
BLA101376
12/07/1967
GOLDENROD POLLEN
solidago canadensis pollen injection, solution
Product Information
Product Type
HUMAN PRESCRIPTION DRUG LABEL
Item Code (Source)
NDC:54575-128
Route of Administration
PERCUTANEOUS, SUBCUTANEOUS
DEA Schedule
Active Ingredient/Active Moiety
Ingredient Name
Basis of Strength
Strength
SOLIDAGO CANADENSIS POLLEN (SOLIDAGO CANADENSIS POLLEN)
SOLIDAGO CANADENSIS POLLEN
1 g in 20 mL
Inactive Ingredients
Ingredient Name
Strength
SODIUM CHLORIDE
0.166 g in 100 mL
SODIUM BICARBONATE
0.091 g in 100 mL
WATER
GLYCERIN
50 mL in 100 mL
Packaging
#
Item Code
Package Description
1
NDC:54575-128-02
2 mL in 1 VIAL, MULTI-DOSE
2
NDC:54575-128-10
10 mL in 1 VIAL, MULTI-DOSE
3
NDC:54575-128-30
30 mL in 1 VIAL, MULTI-DOSE
4
NDC:54575-128-50
50 mL in 1 VIAL, MULTI-DOSE
Marketing Information

Marketing Category
Application Number or Monograph Citation
Marketing Start Date
Marketing End Date
BLA
BLA101376
12/07/1967
GREASEWOOD POLLEN
sarcobatus vermiculatus pollen injection, solution
Product Information
Product Type
HUMAN PRESCRIPTION DRUG LABEL
Item Code (Source)
NDC:54575-129
Route of Administration
PERCUTANEOUS, SUBCUTANEOUS
DEA Schedule
Active Ingredient/Active Moiety
Ingredient Name
Basis of Strength
Strength
SARCOBATUS VERMICULATUS POLLEN (SARCOBATUS VERMICULATUS POLLEN)
SARCOBATUS VERMICULATUS POLLEN
1 g in 20 mL
Inactive Ingredients
Ingredient Name
Strength
SODIUM CHLORIDE
0.166 g in 100 mL
SODIUM BICARBONATE
0.091 g in 100 mL
WATER
GLYCERIN
50 mL in 100 mL
Packaging
#
Item Code
Package Description
1
NDC:54575-129-02
2 mL in 1 VIAL, MULTI-DOSE
2
NDC:54575-129-10
10 mL in 1 VIAL, MULTI-DOSE
3
NDC:54575-129-30
30 mL in 1 VIAL, MULTI-DOSE
4
NDC:54575-129-50
50 mL in 1 VIAL, MULTI-DOSE
Marketing Information

Marketing Category
Application Number or Monograph Citation
Marketing Start Date
Marketing End Date
BLA
BLA101376
12/07/1967
GROUNDSEL TREE POLLEN
baccharis halimifolia pollen injection, solution
Product Information
Product Type
HUMAN PRESCRIPTION DRUG LABEL
Item Code (Source)
NDC:54575-130
Route of Administration
PERCUTANEOUS, SUBCUTANEOUS
DEA Schedule
Active Ingredient/Active Moiety
Ingredient Name
Basis of Strength
Strength
BACCHARIS HALIMIFOLIA POLLEN (BACCHARIS HALIMIFOLIA POLLEN)
BACCHARIS HALIMIFOLIA POLLEN
1 g in 20 mL
Inactive Ingredients
Ingredient Name
Strength
SODIUM CHLORIDE
0.166 g in 100 mL
SODIUM BICARBONATE
0.091 g in 100 mL
WATER
GLYCERIN
50 mL in 100 mL
Packaging
#
Item Code
Package Description
1
NDC:54575-130-02
2 mL in 1 VIAL, MULTI-DOSE
2
NDC:54575-130-10
10 mL in 1 VIAL, MULTI-DOSE
3
NDC:54575-130-30
30 mL in 1 VIAL, MULTI-DOSE
4
NDC:54575-130-50
50 mL in 1 VIAL, MULTI-DOSE
Marketing Information

Marketing Category
Application Number or Monograph Citation
Marketing Start Date
Marketing End Date
BLA
BLA101376
12/07/1967
NETTLE POLLEN
urtica dioica pollen injection, solution
Product Information
Product Type
HUMAN PRESCRIPTION DRUG LABEL
Item Code (Source)
NDC:54575-131
Route of Administration
PERCUTANEOUS, SUBCUTANEOUS
DEA Schedule
Active Ingredient/Active Moiety
Ingredient Name
Basis of Strength
Strength
URTICA DIOICA POLLEN (URTICA DIOICA POLLEN)
URTICA DIOICA POLLEN
1 g in 20 mL
Inactive Ingredients
Ingredient Name
Strength
SODIUM CHLORIDE
0.166 g in 100 mL
SODIUM BICARBONATE
0.091 g in 100 mL
WATER
GLYCERIN
50 mL in 100 mL
Packaging
#
Item Code
Package Description
1
NDC:54575-131-02
2 mL in 1 VIAL, MULTI-DOSE
2
NDC:54575-131-10
10 mL in 1 VIAL, MULTI-DOSE
3
NDC:54575-131-30
30 mL in 1 VIAL, MULTI-DOSE
4
NDC:54575-131-50
50 mL in 1 VIAL, MULTI-DOSE
Marketing Information

Marketing Category
Application Number or Monograph Citation
Marketing Start Date
Marketing End Date
BLA
BLA101376
12/07/1967
LAMBS QUARTERS POLLEN
chenopodium album pollen injection, solution
Product Information
Product Type
HUMAN PRESCRIPTION DRUG LABEL
Item Code (Source)
NDC:54575-132
Route of Administration
PERCUTANEOUS, SUBCUTANEOUS
DEA Schedule
Active Ingredient/Active Moiety
Ingredient Name
Basis of Strength
Strength
CHENOPODIUM ALBUM POLLEN (CHENOPODIUM ALBUM POLLEN)
CHENOPODIUM ALBUM POLLEN
1 g in 20 mL
Inactive Ingredients
Ingredient Name
Strength
SODIUM CHLORIDE
0.166 g in 100 mL
SODIUM BICARBONATE
0.091 g in 100 mL
WATER
GLYCERIN
50 mL in 100 mL
Packaging
#
Item Code
Package Description
1
NDC:54575-132-02
2 mL in 1 VIAL, MULTI-DOSE
2
NDC:54575-132-10
10 mL in 1 VIAL, MULTI-DOSE
3
NDC:54575-132-30
30 mL in 1 VIAL, MULTI-DOSE
4
NDC:54575-132-50
50 mL in 1 VIAL, MULTI-DOSE
Marketing Information

Marketing Category
Application Number or Monograph Citation
Marketing Start Date
Marketing End Date
BLA
BLA101376
12/07/1967
BURWEED MARSHELDER POLLEN
iva xanthifolia pollen injection, solution
Product Information
Product Type
HUMAN PRESCRIPTION DRUG LABEL
Item Code (Source)
NDC:54575-133
Route of Administration
PERCUTANEOUS, SUBCUTANEOUS
DEA Schedule
Active Ingredient/Active Moiety
Ingredient Name
Basis of Strength
Strength
IVA XANTHIFOLIA POLLEN (IVA XANTHIFOLIA POLLEN)
IVA XANTHIFOLIA POLLEN
1 g in 20 mL
Inactive Ingredients
Ingredient Name
Strength
SODIUM CHLORIDE
0.166 g in 100 mL
SODIUM BICARBONATE
0.091 g in 100 mL
WATER
GLYCERIN
50 mL in 100 mL
Packaging
#
Item Code
Package Description
1
NDC:54575-133-02
2 mL in 1 VIAL, MULTI-DOSE
2
NDC:54575-133-10
10 mL in 1 VIAL, MULTI-DOSE
3
NDC:54575-133-30
30 mL in 1 VIAL, MULTI-DOSE
4
NDC:54575-133-50
50 mL in 1 VIAL, MULTI-DOSE
Marketing Information

Marketing Category
Application Number or Monograph Citation
Marketing Start Date
Marketing End Date
BLA
BLA101376
12/07/1967
NARROWLEAF MARSHELDER POLLEN
iva angustifolia pollen injection, solution
Product Information
Product Type
HUMAN PRESCRIPTION DRUG LABEL
Item Code (Source)
NDC:54575-134
Route of Administration
PERCUTANEOUS, SUBCUTANEOUS
DEA Schedule
Active Ingredient/Active Moiety
Ingredient Name
Basis of Strength
Strength
IVA ANGUSTIFOLIA POLLEN (IVA ANGUSTIFOLIA POLLEN)
IVA ANGUSTIFOLIA POLLEN
1 g in 20 mL
Inactive Ingredients
Ingredient Name
Strength
SODIUM CHLORIDE
0.166 g in 100 mL
SODIUM BICARBONATE
0.091 g in 100 mL
WATER
GLYCERIN
50 mL in 100 mL
Packaging
#
Item Code
Package Description
1
NDC:54575-134-02
2 mL in 1 VIAL, MULTI-DOSE
2
NDC:54575-134-10
10 mL in 1 VIAL, MULTI-DOSE
3
NDC:54575-134-30
30 mL in 1 VIAL, MULTI-DOSE
4
NDC:54575-134-50
50 mL in 1 VIAL, MULTI-DOSE
Marketing Information

Marketing Category
Application Number or Monograph Citation
Marketing Start Date
Marketing End Date
BLA
BLA101376
12/07/1967
COMMON MUGWORT POLLEN
artemisia vulgaris pollen injection, solution
Product Information
Product Type
HUMAN PRESCRIPTION DRUG LABEL
Item Code (Source)
NDC:54575-136
Route of Administration
PERCUTANEOUS, SUBCUTANEOUS
DEA Schedule
Active Ingredient/Active Moiety
Ingredient Name
Basis of Strength
Strength
ARTEMISIA VULGARIS POLLEN (ARTEMISIA VULGARIS POLLEN)
ARTEMISIA VULGARIS POLLEN
1 g in 20 mL
Inactive Ingredients
Ingredient Name
Strength
SODIUM CHLORIDE
0.166 g in 100 mL
SODIUM BICARBONATE
0.091 g in 100 mL
WATER
GLYCERIN
50 mL in 100 mL
Packaging
#
Item Code
Package Description
1
NDC:54575-136-02
2 mL in 1 VIAL, MULTI-DOSE
2
NDC:54575-136-10
10 mL in 1 VIAL, MULTI-DOSE
3
NDC:54575-136-30
30 mL in 1 VIAL, MULTI-DOSE
4
NDC:54575-136-50
50 mL in 1 VIAL, MULTI-DOSE
Marketing Information

Marketing Category
Application Number or Monograph Citation
Marketing Start Date
Marketing End Date
BLA
BLA101376
12/07/1967
ROUGH MARSHELDER POLLEN
iva annua var. annua pollen injection, solution
Product Information
Product Type
HUMAN PRESCRIPTION DRUG LABEL
Item Code (Source)
NDC:54575-135
Route of Administration
PERCUTANEOUS, SUBCUTANEOUS
DEA Schedule
Active Ingredient/Active Moiety
Ingredient Name
Basis of Strength
Strength
IVA ANNUA VAR. ANNUA POLLEN (IVA ANNUA VAR. ANNUA POLLEN)
IVA ANNUA VAR. ANNUA POLLEN
1 g in 20 mL
Inactive Ingredients
Ingredient Name
Strength
SODIUM CHLORIDE
0.166 g in 100 mL
SODIUM BICARBONATE
0.091 g in 100 mL
WATER
GLYCERIN
50 mL in 100 mL
Packaging
#
Item Code
Package Description
1
NDC:54575-135-02
2 mL in 1 VIAL, MULTI-DOSE
2
NDC:54575-135-10
10 mL in 1 VIAL, MULTI-DOSE
3
NDC:54575-135-30
30 mL in 1 VIAL, MULTI-DOSE
4
NDC:54575-135-50
50 mL in 1 VIAL, MULTI-DOSE
Marketing Information

Marketing Category
Application Number or Monograph Citation
Marketing Start Date
Marketing End Date
BLA
BLA101376
12/07/1967
SPINY PIGWEED POLLEN
amaranthus spinosus pollen injection, solution
Product Information
Product Type
HUMAN PRESCRIPTION DRUG LABEL
Item Code (Source)
NDC:54575-137
Route of Administration
PERCUTANEOUS, SUBCUTANEOUS
DEA Schedule
Active Ingredient/Active Moiety
Ingredient Name
Basis of Strength
Strength
AMARANTHUS SPINOSUS POLLEN (AMARANTHUS SPINOSUS POLLEN)
AMARANTHUS SPINOSUS POLLEN
1 g in 20 mL
Inactive Ingredients
Ingredient Name
Strength
SODIUM CHLORIDE
0.166 g in 100 mL
SODIUM BICARBONATE
0.091 g in 100 mL
WATER
GLYCERIN
50 mL in 100 mL
Packaging
#
Item Code
Package Description
1
NDC:54575-137-02
2 mL in 1 VIAL, MULTI-DOSE
2
NDC:54575-137-10
10 mL in 1 VIAL, MULTI-DOSE
3
NDC:54575-137-30
30 mL in 1 VIAL, MULTI-DOSE
4
NDC:54575-137-50
50 mL in 1 VIAL, MULTI-DOSE
Marketing Information

Marketing Category
Application Number or Monograph Citation
Marketing Start Date
Marketing End Date
BLA
BLA101376
12/07/1967
ROUGH REDROOT PIGWEED POLLEN
amaranthus retroflexus pollen injection, solution
Product Information
Product Type
HUMAN PRESCRIPTION DRUG LABEL
Item Code (Source)
NDC:54575-138
Route of Administration
PERCUTANEOUS, SUBCUTANEOUS
DEA Schedule
Active Ingredient/Active Moiety
Ingredient Name
Basis of Strength
Strength
AMARANTHUS RETROFLEXUS POLLEN (AMARANTHUS RETROFLEXUS POLLEN)
AMARANTHUS RETROFLEXUS POLLEN
1 g in 20 mL
Inactive Ingredients
Ingredient Name
Strength
SODIUM CHLORIDE
0.166 g in 100 mL
SODIUM BICARBONATE
0.091 g in 100 mL
WATER
GLYCERIN
50 mL in 100 mL
Packaging
#
Item Code
Package Description
1
NDC:54575-138-02
2 mL in 1 VIAL, MULTI-DOSE
2
NDC:54575-138-10
10 mL in 1 VIAL, MULTI-DOSE
3
NDC:54575-138-30
30 mL in 1 VIAL, MULTI-DOSE
4
NDC:54575-138-50
50 mL in 1 VIAL, MULTI-DOSE
Marketing Information

Marketing Category
Application Number or Monograph Citation
Marketing Start Date
Marketing End Date
BLA
BLA101376
12/07/1967
PIGWEED MIX, ROUGH/SPINY POLLEN
amaranthus retroflexus pollen and amaranthus spinosus pollen injection, solution
Product Information
Product Type
HUMAN PRESCRIPTION DRUG LABEL
Item Code (Source)
NDC:54575-139
Route of Administration
PERCUTANEOUS, SUBCUTANEOUS
DEA Schedule
Active Ingredient/Active Moiety
Ingredient Name
Basis of Strength
Strength
AMARANTHUS RETROFLEXUS POLLEN (AMARANTHUS RETROFLEXUS POLLEN)
AMARANTHUS RETROFLEXUS POLLEN
0.5 g in 20 mL
AMARANTHUS SPINOSUS POLLEN (AMARANTHUS SPINOSUS POLLEN)
AMARANTHUS SPINOSUS POLLEN
0.5 g in 20 mL
Inactive Ingredients
Ingredient Name
Strength
SODIUM CHLORIDE
0.166 g in 100 mL
SODIUM BICARBONATE
0.091 g in 100 mL
WATER
GLYCERIN
50 mL in 100 mL
Packaging
#
Item Code
Package Description
1
NDC:54575-139-02
2 mL in 1 VIAL, MULTI-DOSE
2
NDC:54575-139-10
10 mL in 1 VIAL, MULTI-DOSE
3
NDC:54575-139-30
30 mL in 1 VIAL, MULTI-DOSE
4
NDC:54575-139-50
50 mL in 1 VIAL, MULTI-DOSE
Marketing Information

Marketing Category
Application Number or Monograph Citation
Marketing Start Date
Marketing End Date
BLA
BLA101376
12/07/1967
ENGLISH PLANTAIN POLLEN
plantago lanceolata pollen injection, solution
Product Information
Product Type
HUMAN PRESCRIPTION DRUG LABEL
Item Code (Source)
NDC:54575-140
Route of Administration
PERCUTANEOUS, SUBCUTANEOUS
DEA Schedule
Active Ingredient/Active Moiety
Ingredient Name
Basis of Strength
Strength
PLANTAGO LANCEOLATA POLLEN (PLANTAGO LANCEOLATA POLLEN)
PLANTAGO LANCEOLATA POLLEN
1 g in 20 mL
Inactive Ingredients
Ingredient Name
Strength
SODIUM CHLORIDE
0.166 g in 100 mL
SODIUM BICARBONATE
0.091 g in 100 mL
WATER
GLYCERIN
50 mL in 100 mL
Packaging
#
Item Code
Package Description
1
NDC:54575-140-02
2 mL in 1 VIAL, MULTI-DOSE
2
NDC:54575-140-10
10 mL in 1 VIAL, MULTI-DOSE
3
NDC:54575-140-30
30 mL in 1 VIAL, MULTI-DOSE
4
NDC:54575-140-50
50 mL in 1 VIAL, MULTI-DOSE
Marketing Information

Marketing Category
Application Number or Monograph Citation
Marketing Start Date
Marketing End Date
BLA
BLA101376
12/07/1967
FALSE BUR RAGWEED POLLEN
ambrosia acanthicarpa pollen injection, solution
Product Information
Product Type
HUMAN PRESCRIPTION DRUG LABEL
Item Code (Source)
NDC:54575-145
Route of Administration
PERCUTANEOUS, SUBCUTANEOUS
DEA Schedule
Active Ingredient/Active Moiety
Ingredient Name
Basis of Strength
Strength
AMBROSIA ACANTHICARPA POLLEN (AMBROSIA ACANTHICARPA POLLEN)
AMBROSIA ACANTHICARPA POLLEN
1 g in 20 mL
Inactive Ingredients
Ingredient Name
Strength
SODIUM CHLORIDE
0.166 g in 100 mL
SODIUM BICARBONATE
0.091 g in 100 mL
WATER
GLYCERIN
50 mL in 100 mL
Packaging
#
Item Code
Package Description
1
NDC:54575-145-02
2 mL in 1 VIAL, MULTI-DOSE
2
NDC:54575-145-10
10 mL in 1 VIAL, MULTI-DOSE
3
NDC:54575-145-30
30 mL in 1 VIAL, MULTI-DOSE
4
NDC:54575-145-50
50 mL in 1 VIAL, MULTI-DOSE
Marketing Information

Marketing Category
Application Number or Monograph Citation
Marketing Start Date
Marketing End Date
BLA
BLA101376
12/07/1967
GIANT RAGWEED POLLEN
ambrosia trifida pollen injection, solution
Product Information
Product Type
HUMAN PRESCRIPTION DRUG LABEL
Item Code (Source)
NDC:54575-146
Route of Administration
PERCUTANEOUS, SUBCUTANEOUS
DEA Schedule
Active Ingredient/Active Moiety
Ingredient Name
Basis of Strength
Strength
AMBROSIA TRIFIDA POLLEN (AMBROSIA TRIFIDA POLLEN)
AMBROSIA TRIFIDA POLLEN
1 g in 20 mL
Inactive Ingredients
Ingredient Name
Strength
SODIUM CHLORIDE
0.166 g in 100 mL
SODIUM BICARBONATE
0.091 g in 100 mL
WATER
GLYCERIN
50 mL in 100 mL
Packaging
#
Item Code
Package Description
1
NDC:54575-146-02
2 mL in 1 VIAL, MULTI-DOSE
2
NDC:54575-146-10
10 mL in 1 VIAL, MULTI-DOSE
3
NDC:54575-146-30
30 mL in 1 VIAL, MULTI-DOSE
4
NDC:54575-146-50
50 mL in 1 VIAL, MULTI-DOSE
Marketing Information

Marketing Category
Application Number or Monograph Citation
Marketing Start Date
Marketing End Date
BLA
BLA101376
12/07/1967
STANDARDIZED SHORT RAGWEED POLLEN
ambrosia artemisiifolia pollen injection, solution
Product Information
Product Type
HUMAN PRESCRIPTION DRUG LABEL
Item Code (Source)
NDC:54575-147
Route of Administration
PERCUTANEOUS, SUBCUTANEOUS
DEA Schedule
Active Ingredient/Active Moiety
Ingredient Name
Basis of Strength
Strength
AMBROSIA ARTEMISIIFOLIA POLLEN (AMBROSIA ARTEMISIIFOLIA POLLEN)
AMBROSIA ARTEMISIIFOLIA POLLEN
1 g in 10 mL
Inactive Ingredients
Ingredient Name
Strength
SODIUM CHLORIDE
0.166 g in 100 mL
SODIUM BICARBONATE
0.091 g in 100 mL
WATER
GLYCERIN
50 mL in 100 mL
Packaging
#
Item Code
Package Description
1
NDC:54575-147-02
2 mL in 1 VIAL, MULTI-DOSE
2
NDC:54575-147-10
10 mL in 1 VIAL, MULTI-DOSE
3
NDC:54575-147-30
30 mL in 1 VIAL, MULTI-DOSE
4
NDC:54575-147-50
50 mL in 1 VIAL, MULTI-DOSE
Marketing Information

Marketing Category
Application Number or Monograph Citation
Marketing Start Date
Marketing End Date
BLA
BLA101387
01/26/1982
WESTERN RAGWEED POLLEN
ambrosia psilostachya pollen injection, solution
Product Information
Product Type
HUMAN PRESCRIPTION DRUG LABEL
Item Code (Source)
NDC:54575-150
Route of Administration
PERCUTANEOUS, SUBCUTANEOUS
DEA Schedule
Active Ingredient/Active Moiety
Ingredient Name
Basis of Strength
Strength
AMBROSIA PSILOSTACHYA POLLEN (AMBROSIA PSILOSTACHYA POLLEN)
AMBROSIA PSILOSTACHYA POLLEN
1 g in 20 mL
Inactive Ingredients
Ingredient Name
Strength
SODIUM CHLORIDE
0.166 g in 100 mL
SODIUM BICARBONATE
0.091 g in 100 mL
WATER
GLYCERIN
50 mL in 100 mL
Packaging
#
Item Code
Package Description
1
NDC:54575-150-02
2 mL in 1 VIAL, MULTI-DOSE
2
NDC:54575-150-10
10 mL in 1 VIAL, MULTI-DOSE
3
NDC:54575-150-30
30 mL in 1 VIAL, MULTI-DOSE
4
NDC:54575-150-50
50 mL in 1 VIAL, MULTI-DOSE
Marketing Information

Marketing Category
Application Number or Monograph Citation
Marketing Start Date
Marketing End Date
BLA
BLA101376
12/07/1967
3-RAGWEED MIX, GIANT/SHORT/WESTERN POLLEN
ambrosia psilostachya pollen and ambrosia trifida pollen and ambrosia artemisiifolia pollen injection, solution
Product Information
Product Type
HUMAN PRESCRIPTION DRUG LABEL
Item Code (Source)
NDC:54575-153
Route of Administration
PERCUTANEOUS, SUBCUTANEOUS
DEA Schedule
Active Ingredient/Active Moiety
Ingredient Name
Basis of Strength
Strength
AMBROSIA PSILOSTACHYA POLLEN (AMBROSIA PSILOSTACHYA POLLEN)
AMBROSIA PSILOSTACHYA POLLEN
0.33 g in 20 mL
AMBROSIA TRIFIDA POLLEN (AMBROSIA TRIFIDA POLLEN)
AMBROSIA TRIFIDA POLLEN
0.33 g in 20 mL
AMBROSIA ARTEMISIIFOLIA POLLEN (AMBROSIA ARTEMISIIFOLIA POLLEN)
AMBROSIA ARTEMISIIFOLIA POLLEN
0.34 g in 20 mL
Inactive Ingredients
Ingredient Name
Strength
SODIUM CHLORIDE
0.166 g in 100 mL
SODIUM BICARBONATE
0.091 g in 100 mL
WATER
GLYCERIN
50 mL in 100 mL
Packaging
#
Item Code
Package Description
1
NDC:54575-153-02
2 mL in 1 VIAL, MULTI-DOSE
2
NDC:54575-153-10
10 mL in 1 VIAL, MULTI-DOSE
3
NDC:54575-153-30
30 mL in 1 VIAL, MULTI-DOSE
4
NDC:54575-153-50
50 mL in 1 VIAL, MULTI-DOSE
Marketing Information

Marketing Category
Application Number or Monograph Citation
Marketing Start Date
Marketing End Date
BLA
BLA101376
12/07/1967
RUSSIAN THISTLE POLLEN
salsola kali pollen injection, solution
Product Information
Product Type
HUMAN PRESCRIPTION DRUG LABEL
Item Code (Source)
NDC:54575-154
Route of Administration
PERCUTANEOUS, SUBCUTANEOUS
DEA Schedule
Active Ingredient/Active Moiety
Ingredient Name
Basis of Strength
Strength
SALSOLA KALI POLLEN (SALSOLA KALI POLLEN)
SALSOLA KALI POLLEN
1 g in 20 mL
Inactive Ingredients
Ingredient Name
Strength
SODIUM CHLORIDE
0.166 g in 100 mL
SODIUM BICARBONATE
0.091 g in 100 mL
WATER
GLYCERIN
50 mL in 100 mL
Packaging
#
Item Code
Package Description
1
NDC:54575-154-02
2 mL in 1 VIAL, MULTI-DOSE
2
NDC:54575-154-10
10 mL in 1 VIAL, MULTI-DOSE
3
NDC:54575-154-30
30 mL in 1 VIAL, MULTI-DOSE
4
NDC:54575-154-50
50 mL in 1 VIAL, MULTI-DOSE
Marketing Information

Marketing Category
Application Number or Monograph Citation
Marketing Start Date
Marketing End Date
BLA
BLA101376
12/07/1967
COMMON BIG SAGEBRUSH POLLEN
artemisia tridentata pollen injection, solution
Product Information
Product Type
HUMAN PRESCRIPTION DRUG LABEL
Item Code (Source)
NDC:54575-155
Route of Administration
PERCUTANEOUS, SUBCUTANEOUS
DEA Schedule
Active Ingredient/Active Moiety
Ingredient Name
Basis of Strength
Strength
ARTEMISIA TRIDENTATA POLLEN (ARTEMISIA TRIDENTATA POLLEN)
ARTEMISIA TRIDENTATA POLLEN
1 g in 20 mL
Inactive Ingredients
Ingredient Name
Strength
SODIUM CHLORIDE
0.166 g in 100 mL
SODIUM BICARBONATE
0.091 g in 100 mL
WATER
GLYCERIN
50 mL in 100 mL
Packaging
#
Item Code
Package Description
1
NDC:54575-155-02
2 mL in 1 VIAL, MULTI-DOSE
2
NDC:54575-155-10
10 mL in 1 VIAL, MULTI-DOSE
3
NDC:54575-155-30
30 mL in 1 VIAL, MULTI-DOSE
4
NDC:54575-155-50
50 mL in 1 VIAL, MULTI-DOSE
Marketing Information

Marketing Category
Application Number or Monograph Citation
Marketing Start Date
Marketing End Date
BLA
BLA101376
12/07/1967
SAGE MIX, COMMON/DARK-LEAVED/DRAGON/PASTURE POLLEN
artemisia ludoviciana pollen and artemisia tridentata pollen and artemisia dracunculus pollen and artemisia frigida pollen injection, solution
Product Information
Product Type
HUMAN PRESCRIPTION DRUG LABEL
Item Code (Source)
NDC:54575-159
Route of Administration
PERCUTANEOUS, SUBCUTANEOUS
DEA Schedule
Active Ingredient/Active Moiety
Ingredient Name
Basis of Strength
Strength
ARTEMISIA LUDOVICIANA POLLEN (ARTEMISIA LUDOVICIANA POLLEN)
ARTEMISIA LUDOVICIANA POLLEN
0.25 g in 20 mL
ARTEMISIA TRIDENTATA POLLEN (ARTEMISIA TRIDENTATA POLLEN)
ARTEMISIA TRIDENTATA POLLEN
0.25 g in 20 mL
ARTEMISIA DRACUNCULUS POLLEN (ARTEMISIA DRACUNCULUS POLLEN)
ARTEMISIA DRACUNCULUS POLLEN
0.25 g in 20 mL
ARTEMISIA FRIGIDA POLLEN (ARTEMISIA FRIGIDA POLLEN)
ARTEMISIA FRIGIDA POLLEN
0.25 g in 20 mL
Inactive Ingredients
Ingredient Name
Strength
SODIUM CHLORIDE
0.166 g in 100 mL
SODIUM BICARBONATE
0.091 g in 100 mL
WATER
GLYCERIN
50 mL in 100 mL
Packaging
#
Item Code
Package Description
1
NDC:54575-159-02
2 mL in 1 VIAL, MULTI-DOSE
2
NDC:54575-159-10
10 mL in 1 VIAL, MULTI-DOSE
3
NDC:54575-159-30
30 mL in 1 VIAL, MULTI-DOSE
4
NDC:54575-159-50
50 mL in 1 VIAL, MULTI-DOSE
Marketing Information

Marketing Category
Application Number or Monograph Citation
Marketing Start Date
Marketing End Date
BLA
BLA101376
12/07/1967
PRAIRIE SAGE POLLEN
artemisia frigida pollen injection, solution
Product Information
Product Type
HUMAN PRESCRIPTION DRUG LABEL
Item Code (Source)
NDC:54575-158
Route of Administration
PERCUTANEOUS, SUBCUTANEOUS
DEA Schedule
Active Ingredient/Active Moiety
Ingredient Name
Basis of Strength
Strength
ARTEMISIA FRIGIDA POLLEN (ARTEMISIA FRIGIDA POLLEN)
ARTEMISIA FRIGIDA POLLEN
1 g in 20 mL
Inactive Ingredients
Ingredient Name
Strength
SODIUM CHLORIDE
0.166 g in 100 mL
SODIUM BICARBONATE
0.091 g in 100 mL
WATER
GLYCERIN
50 mL in 100 mL
Packaging
#
Item Code
Package Description
1
NDC:54575-158-02
2 mL in 1 VIAL, MULTI-DOSE
2
NDC:54575-158-10
10 mL in 1 VIAL, MULTI-DOSE
3
NDC:54575-158-30
30 mL in 1 VIAL, MULTI-DOSE
4
NDC:54575-158-50
50 mL in 1 VIAL, MULTI-DOSE
Marketing Information

Marketing Category
Application Number or Monograph Citation
Marketing Start Date
Marketing End Date
BLA
BLA101376
12/07/1967
ANNUAL SALTBUSH POLLEN
atriplex wrightii pollen injection, solution
Product Information
Product Type
HUMAN PRESCRIPTION DRUG LABEL
Item Code (Source)
NDC:54575-160
Route of Administration
PERCUTANEOUS, SUBCUTANEOUS
DEA Schedule
Active Ingredient/Active Moiety
Ingredient Name
Basis of Strength
Strength
ATRIPLEX WRIGHTII POLLEN (ATRIPLEX WRIGHTII POLLEN)
ATRIPLEX WRIGHTII POLLEN
1 g in 20 mL
Inactive Ingredients
Ingredient Name
Strength
SODIUM CHLORIDE
0.166 g in 100 mL
SODIUM BICARBONATE
0.091 g in 100 mL
WATER
GLYCERIN
50 mL in 100 mL
Packaging
#
Item Code
Package Description
1
NDC:54575-160-02
2 mL in 1 VIAL, MULTI-DOSE
2
NDC:54575-160-10
10 mL in 1 VIAL, MULTI-DOSE
3
NDC:54575-160-30
30 mL in 1 VIAL, MULTI-DOSE
4
NDC:54575-160-50
50 mL in 1 VIAL, MULTI-DOSE
Marketing Information

Marketing Category
Application Number or Monograph Citation
Marketing Start Date
Marketing End Date
BLA
BLA101376
12/07/1967
SHADSCALE POLLEN
atriplex confertifolia pollen injection, solution
Product Information
Product Type
HUMAN PRESCRIPTION DRUG LABEL
Item Code (Source)
NDC:54575-161
Route of Administration
PERCUTANEOUS, SUBCUTANEOUS
DEA Schedule
Active Ingredient/Active Moiety
Ingredient Name
Basis of Strength
Strength
ATRIPLEX CONFERTIFOLIA POLLEN (ATRIPLEX CONFERTIFOLIA POLLEN)
ATRIPLEX CONFERTIFOLIA POLLEN
1 g in 20 mL
Inactive Ingredients
Ingredient Name
Strength
SODIUM CHLORIDE
0.166 g in 100 mL
SODIUM BICARBONATE
0.091 g in 100 mL
WATER
GLYCERIN
50 mL in 100 mL
Packaging
#
Item Code
Package Description
1
NDC:54575-161-02
2 mL in 1 VIAL, MULTI-DOSE
2
NDC:54575-161-10
10 mL in 1 VIAL, MULTI-DOSE
3
NDC:54575-161-30
30 mL in 1 VIAL, MULTI-DOSE
4
NDC:54575-161-50
50 mL in 1 VIAL, MULTI-DOSE
Marketing Information

Marketing Category
Application Number or Monograph Citation
Marketing Start Date
Marketing End Date
BLA
BLA101376
12/07/1967
SOUR DOCK SHEEP SORREL POLLEN
rumex acetosella pollen injection, solution
Product Information
Product Type
HUMAN PRESCRIPTION DRUG LABEL
Item Code (Source)
NDC:54575-162
Route of Administration
PERCUTANEOUS, SUBCUTANEOUS
DEA Schedule
Active Ingredient/Active Moiety
Ingredient Name
Basis of Strength
Strength
RUMEX ACETOSELLA POLLEN (RUMEX ACETOSELLA POLLEN)
RUMEX ACETOSELLA POLLEN
1 g in 20 mL
Inactive Ingredients
Ingredient Name
Strength
SODIUM CHLORIDE
0.166 g in 100 mL
SODIUM BICARBONATE
0.091 g in 100 mL
WATER
GLYCERIN
50 mL in 100 mL
Packaging
#
Item Code
Package Description
1
NDC:54575-162-02
2 mL in 1 VIAL, MULTI-DOSE
2
NDC:54575-162-10
10 mL in 1 VIAL, MULTI-DOSE
3
NDC:54575-162-30
30 mL in 1 VIAL, MULTI-DOSE
4
NDC:54575-162-50
50 mL in 1 VIAL, MULTI-DOSE
Marketing Information

Marketing Category
Application Number or Monograph Citation
Marketing Start Date
Marketing End Date
BLA
BLA101376
12/07/1967
WATER HEMP POLLEN
amaranthus tuberculatus pollen injection, solution
Product Information
Product Type
HUMAN PRESCRIPTION DRUG LABEL
Item Code (Source)
NDC:54575-163
Route of Administration
PERCUTANEOUS, SUBCUTANEOUS
DEA Schedule
Active Ingredient/Active Moiety
Ingredient Name
Basis of Strength
Strength
AMARANTHUS TUBERCULATUS POLLEN (AMARANTHUS TUBERCULATUS POLLEN)
AMARANTHUS TUBERCULATUS POLLEN
1 g in 20 mL
Inactive Ingredients
Ingredient Name
Strength
SODIUM CHLORIDE
0.166 g in 100 mL
SODIUM BICARBONATE
0.091 g in 100 mL
WATER
GLYCERIN
50 mL in 100 mL
Packaging
#
Item Code
Package Description
1
NDC:54575-163-02
2 mL in 1 VIAL, MULTI-DOSE
2
NDC:54575-163-10
10 mL in 1 VIAL, MULTI-DOSE
3
NDC:54575-163-30
30 mL in 1 VIAL, MULTI-DOSE
4
NDC:54575-163-50
50 mL in 1 VIAL, MULTI-DOSE
Marketing Information

Marketing Category
Application Number or Monograph Citation
Marketing Start Date
Marketing End Date
BLA
BLA101376
12/07/1967
WINGSCALE POLLEN
atriplex canescens pollen injection, solution
Product Information
Product Type
HUMAN PRESCRIPTION DRUG LABEL
Item Code (Source)
NDC:54575-164
Route of Administration
PERCUTANEOUS, SUBCUTANEOUS
DEA Schedule
Active Ingredient/Active Moiety
Ingredient Name
Basis of Strength
Strength
ATRIPLEX CANESCENS POLLEN (ATRIPLEX CANESCENS POLLEN)
ATRIPLEX CANESCENS POLLEN
1 g in 20 mL
Inactive Ingredients
Ingredient Name
Strength
SODIUM CHLORIDE
0.166 g in 100 mL
SODIUM BICARBONATE
0.091 g in 100 mL
WATER
GLYCERIN
50 mL in 100 mL
Packaging
#
Item Code
Package Description
1
NDC:54575-164-02
2 mL in 1 VIAL, MULTI-DOSE
2
NDC:54575-164-10
10 mL in 1 VIAL, MULTI-DOSE
3
NDC:54575-164-30
30 mL in 1 VIAL, MULTI-DOSE
4
NDC:54575-164-50
50 mL in 1 VIAL, MULTI-DOSE
Marketing Information

Marketing Category
Application Number or Monograph Citation
Marketing Start Date
Marketing End Date
BLA
BLA101376
12/07/1967
ANNUAL WORMWOOD POLLEN
artemisia annua pollen injection, solution
Product Information
Product Type
HUMAN PRESCRIPTION DRUG LABEL
Item Code (Source)
NDC:54575-166
Route of Administration
PERCUTANEOUS, SUBCUTANEOUS
DEA Schedule
Active Ingredient/Active Moiety
Ingredient Name
Basis of Strength
Strength
ARTEMISIA ANNUA POLLEN (ARTEMISIA ANNUA POLLEN)
ARTEMISIA ANNUA POLLEN
1 g in 20 mL
Inactive Ingredients
Ingredient Name
Strength
SODIUM CHLORIDE
0.166 g in 100 mL
SODIUM BICARBONATE
0.091 g in 100 mL
WATER
GLYCERIN
50 mL in 100 mL
Packaging
#
Item Code
Package Description
1
NDC:54575-166-02
2 mL in 1 VIAL, MULTI-DOSE
2
NDC:54575-166-10
10 mL in 1 VIAL, MULTI-DOSE
3
NDC:54575-166-30
30 mL in 1 VIAL, MULTI-DOSE
4
NDC:54575-166-50
50 mL in 1 VIAL, MULTI-DOSE
Marketing Information

Marketing Category
Application Number or Monograph Citation
Marketing Start Date
Marketing End Date
BLA
BLA101376
12/07/1967
COMMON WORMWOOD POLLEN
artemisia absinthium pollen injection, solution
Product Information
Product Type
HUMAN PRESCRIPTION DRUG LABEL
Item Code (Source)
NDC:54575-167
Route of Administration
PERCUTANEOUS, SUBCUTANEOUS
DEA Schedule
Active Ingredient/Active Moiety
Ingredient Name
Basis of Strength
Strength
ARTEMISIA ABSINTHIUM POLLEN (ARTEMISIA ABSINTHIUM POLLEN)
ARTEMISIA ABSINTHIUM POLLEN
1 g in 20 mL
Inactive Ingredients
Ingredient Name
Strength
SODIUM CHLORIDE
0.166 g in 100 mL
SODIUM BICARBONATE
0.091 g in 100 mL
WATER
GLYCERIN
50 mL in 100 mL
Packaging
#
Item Code
Package Description
1
NDC:54575-167-02
2 mL in 1 VIAL, MULTI-DOSE
2
NDC:54575-167-10
10 mL in 1 VIAL, MULTI-DOSE
3
NDC:54575-167-30
30 mL in 1 VIAL, MULTI-DOSE
4
NDC:54575-167-50
50 mL in 1 VIAL, MULTI-DOSE
Marketing Information

Marketing Category
Application Number or Monograph Citation
Marketing Start Date
Marketing End Date
BLA
BLA101376
12/07/1967
MEXICAN TEA POLLEN
chenopodium ambrosioides pollen injection, solution
Product Information
Product Type
HUMAN PRESCRIPTION DRUG LABEL
Item Code (Source)
NDC:54575-168
Route of Administration
PERCUTANEOUS, SUBCUTANEOUS
DEA Schedule
Active Ingredient/Active Moiety
Ingredient Name
Basis of Strength
Strength
CHENOPODIUM AMBROSIOIDES POLLEN (CHENOPODIUM AMBROSIOIDES POLLEN)
CHENOPODIUM AMBROSIOIDES POLLEN
1 g in 20 mL
Inactive Ingredients
Ingredient Name
Strength
SODIUM CHLORIDE
0.166 g in 100 mL
SODIUM BICARBONATE
0.091 g in 100 mL
WATER
GLYCERIN
50 mL in 100 mL
Packaging
#
Item Code
Package Description
1
NDC:54575-168-02
2 mL in 1 VIAL, MULTI-DOSE
2
NDC:54575-168-10
10 mL in 1 VIAL, MULTI-DOSE
3
NDC:54575-168-30
30 mL in 1 VIAL, MULTI-DOSE
4
NDC:54575-168-50
50 mL in 1 VIAL, MULTI-DOSE
Marketing Information

Marketing Category
Application Number or Monograph Citation
Marketing Start Date
Marketing End Date
BLA
BLA101376
12/07/1967
DOCK MIX, SOUR SHEEP SORREL/YELLOW POLLEN
rumex acetosella pollen and rumex crispus pollen injection, solution
Product Information
Product Type
HUMAN PRESCRIPTION DRUG LABEL
Item Code (Source)
NDC:54575-169
Route of Administration
PERCUTANEOUS, SUBCUTANEOUS
DEA Schedule
Active Ingredient/Active Moiety
Ingredient Name
Basis of Strength
Strength
RUMEX ACETOSELLA POLLEN (RUMEX ACETOSELLA POLLEN)
RUMEX ACETOSELLA POLLEN
0.5 g in 20 mL
RUMEX CRISPUS POLLEN (RUMEX CRISPUS POLLEN)
RUMEX CRISPUS POLLEN
0.5 g in 20 mL
Inactive Ingredients
Ingredient Name
Strength
SODIUM CHLORIDE
0.166 g in 100 mL
SODIUM BICARBONATE
0.091 g in 100 mL
WATER
GLYCERIN
50 mL in 100 mL
Packaging
#
Item Code
Package Description
1
NDC:54575-169-02
2 mL in 1 VIAL, MULTI-DOSE
2
NDC:54575-169-10
10 mL in 1 VIAL, MULTI-DOSE
3
NDC:54575-169-30
30 mL in 1 VIAL, MULTI-DOSE
4
NDC:54575-169-50
50 mL in 1 VIAL, MULTI-DOSE
Marketing Information

Marketing Category
Application Number or Monograph Citation
Marketing Start Date
Marketing End Date
BLA
BLA101376
12/07/1967
STANDARDIZED RAGWEED MIX, GIANT/SHORT
ambrosia trifida pollen and ambrosia artemisiifolia pollen injection, solution
Product Information
Product Type
HUMAN PRESCRIPTION DRUG LABEL
Item Code (Source)
NDC:54575-170
Route of Administration
PERCUTANEOUS, SUBCUTANEOUS
DEA Schedule
Active Ingredient/Active Moiety
Ingredient Name
Basis of Strength
Strength
AMBROSIA TRIFIDA POLLEN (AMBROSIA TRIFIDA POLLEN)
AMBROSIA TRIFIDA POLLEN
0.5 g in 20 mL
AMBROSIA ARTEMISIIFOLIA POLLEN (AMBROSIA ARTEMISIIFOLIA POLLEN)
AMBROSIA ARTEMISIIFOLIA POLLEN
0.5 g in 20 mL
Inactive Ingredients
Ingredient Name
Strength
SODIUM CHLORIDE
0.166 g in 100 mL
SODIUM BICARBONATE
0.091 g in 100 mL
WATER
GLYCERIN
50 mL in 100 mL
Packaging
#
Item Code
Package Description
1
NDC:54575-170-02
2 mL in 1 VIAL, MULTI-DOSE
2
NDC:54575-170-10
10 mL in 1 VIAL, MULTI-DOSE
3
NDC:54575-170-30
30 mL in 1 VIAL, MULTI-DOSE
4
NDC:54575-170-50
50 mL in 1 VIAL, MULTI-DOSE
Marketing Information

Marketing Category
Application Number or Monograph Citation
Marketing Start Date
Marketing End Date
BLA
BLA101376
12/07/1967
DANDELION POLLEN
taraxacum officinale pollen injection, solution
Product Information
Product Type
HUMAN PRESCRIPTION DRUG LABEL
Item Code (Source)
NDC:54575-175
Route of Administration
PERCUTANEOUS, SUBCUTANEOUS
DEA Schedule
Active Ingredient/Active Moiety
Ingredient Name
Basis of Strength
Strength
TARAXACUM OFFICINALE POLLEN (TARAXACUM OFFICINALE POLLEN)
TARAXACUM OFFICINALE POLLEN
1 g in 20 mL
Inactive Ingredients
Ingredient Name
Strength
SODIUM CHLORIDE
0.166 g in 100 mL
SODIUM BICARBONATE
0.091 g in 100 mL
WATER
GLYCERIN
50 mL in 100 mL
Packaging
#
Item Code
Package Description
1
NDC:54575-175-02
2 mL in 1 VIAL, MULTI-DOSE
2
NDC:54575-175-10
10 mL in 1 VIAL, MULTI-DOSE
3
NDC:54575-175-30
30 mL in 1 VIAL, MULTI-DOSE
4
NDC:54575-175-50
50 mL in 1 VIAL, MULTI-DOSE
Marketing Information

Marketing Category
Application Number or Monograph Citation
Marketing Start Date
Marketing End Date
BLA
BLA101376
12/07/1967
SUNFLOWER POLLEN
helianthus annuus pollen injection, solution
Product Information
Product Type
HUMAN PRESCRIPTION DRUG LABEL
Item Code (Source)
NDC:54575-179
Route of Administration
PERCUTANEOUS, SUBCUTANEOUS
DEA Schedule
Active Ingredient/Active Moiety
Ingredient Name
Basis of Strength
Strength
HELIANTHUS ANNUUS POLLEN (HELIANTHUS ANNUUS POLLEN)
HELIANTHUS ANNUUS POLLEN
1 g in 20 mL
Inactive Ingredients
Ingredient Name
Strength
SODIUM CHLORIDE
0.166 g in 100 mL
SODIUM BICARBONATE
0.091 g in 100 mL
WATER
GLYCERIN
50 mL in 100 mL
Packaging
#
Item Code
Package Description
1
NDC:54575-179-02
2 mL in 1 VIAL, MULTI-DOSE
2
NDC:54575-179-10
10 mL in 1 VIAL, MULTI-DOSE
3
NDC:54575-179-30
30 mL in 1 VIAL, MULTI-DOSE
4
NDC:54575-179-50
50 mL in 1 VIAL, MULTI-DOSE
Marketing Information

Marketing Category
Application Number or Monograph Citation
Marketing Start Date
Marketing End Date
BLA
BLA101376
12/07/1967
ALTERNARIA TENUIS ALTERNATA
alternaria alternata injection, solution
Product Information
Product Type
HUMAN PRESCRIPTION DRUG LABEL
Item Code (Source)
NDC:54575-181
Route of Administration
PERCUTANEOUS, SUBCUTANEOUS
DEA Schedule
Active Ingredient/Active Moiety
Ingredient Name
Basis of Strength
Strength
ALTERNARIA ALTERNATA (ALTERNARIA ALTERNATA)
ALTERNARIA ALTERNATA
1 g in 20 mL
Inactive Ingredients
Ingredient Name
Strength
SODIUM CHLORIDE
0.166 g in 100 mL
SODIUM BICARBONATE
0.091 g in 100 mL
WATER
GLYCERIN
50 mL in 100 mL
Packaging
#
Item Code
Package Description
1
NDC:54575-181-02
2 mL in 1 VIAL, MULTI-DOSE
2
NDC:54575-181-10
10 mL in 1 VIAL, MULTI-DOSE
3
NDC:54575-181-30
30 mL in 1 VIAL, MULTI-DOSE
4
NDC:54575-181-50
50 mL in 1 VIAL, MULTI-DOSE
Marketing Information

Marketing Category
Application Number or Monograph Citation
Marketing Start Date
Marketing End Date
BLA
BLA101376
12/07/1967
ASPERGILLUS FUMIGATUS
aspergillus fumigatus injection, solution
Product Information
Product Type
HUMAN PRESCRIPTION DRUG LABEL
Item Code (Source)
NDC:54575-182
Route of Administration
PERCUTANEOUS, SUBCUTANEOUS
DEA Schedule
Active Ingredient/Active Moiety
Ingredient Name
Basis of Strength
Strength
ASPERGILLUS FUMIGATUS (ASPERGILLUS FUMIGATUS)
ASPERGILLUS FUMIGATUS
1 g in 20 mL
Inactive Ingredients
Ingredient Name
Strength
SODIUM CHLORIDE
0.166 g in 100 mL
SODIUM BICARBONATE
0.091 g in 100 mL
WATER
GLYCERIN
50 mL in 100 mL
Packaging
#
Item Code
Package Description
1
NDC:54575-182-02
2 mL in 1 VIAL, MULTI-DOSE
2
NDC:54575-182-10
10 mL in 1 VIAL, MULTI-DOSE
3
NDC:54575-182-30
30 mL in 1 VIAL, MULTI-DOSE
4
NDC:54575-182-50
50 mL in 1 VIAL, MULTI-DOSE
Marketing Information

Marketing Category
Application Number or Monograph Citation
Marketing Start Date
Marketing End Date
BLA
BLA101376
12/07/1967
ASPERGILLUS GLAUCUS
eurotium herbariorum injection, solution
Product Information
Product Type
HUMAN PRESCRIPTION DRUG LABEL
Item Code (Source)
NDC:54575-183
Route of Administration
PERCUTANEOUS, SUBCUTANEOUS
DEA Schedule
Active Ingredient/Active Moiety
Ingredient Name
Basis of Strength
Strength
EUROTIUM HERBARIORUM (EUROTIUM HERBARIORUM)
EUROTIUM HERBARIORUM
1 g in 20 mL
Inactive Ingredients
Ingredient Name
Strength
SODIUM CHLORIDE
0.166 g in 100 mL
SODIUM BICARBONATE
0.091 g in 100 mL
WATER
GLYCERIN
50 mL in 100 mL
Packaging
#
Item Code
Package Description
1
NDC:54575-183-02
2 mL in 1 VIAL, MULTI-DOSE
2
NDC:54575-183-10
10 mL in 1 VIAL, MULTI-DOSE
3
NDC:54575-183-30
30 mL in 1 VIAL, MULTI-DOSE
4
NDC:54575-183-50
50 mL in 1 VIAL, MULTI-DOSE
Marketing Information

Marketing Category
Application Number or Monograph Citation
Marketing Start Date
Marketing End Date
BLA
BLA101376
12/07/1967
ASPERGILLUS NIGER
aspergillus niger var. niger injection, solution
Product Information
Product Type
HUMAN PRESCRIPTION DRUG LABEL
Item Code (Source)
NDC:54575-184
Route of Administration
PERCUTANEOUS, SUBCUTANEOUS
DEA Schedule
Active Ingredient/Active Moiety
Ingredient Name
Basis of Strength
Strength
ASPERGILLUS NIGER VAR. NIGER (ASPERGILLUS NIGER VAR. NIGER)
ASPERGILLUS NIGER VAR. NIGER
1 g in 20 mL
Inactive Ingredients
Ingredient Name
Strength
SODIUM CHLORIDE
0.166 g in 100 mL
SODIUM BICARBONATE
0.091 g in 100 mL
WATER
GLYCERIN
50 mL in 100 mL
Packaging
#
Item Code
Package Description
1
NDC:54575-184-02
2 mL in 1 VIAL, MULTI-DOSE
2
NDC:54575-184-10
10 mL in 1 VIAL, MULTI-DOSE
3
NDC:54575-184-30
30 mL in 1 VIAL, MULTI-DOSE
4
NDC:54575-184-50
50 mL in 1 VIAL, MULTI-DOSE
Marketing Information

Marketing Category
Application Number or Monograph Citation
Marketing Start Date
Marketing End Date
BLA
BLA101376
12/07/1967
ASPERGILLUS TERREUS
aspergillus terreus injection, solution
Product Information
Product Type
HUMAN PRESCRIPTION DRUG LABEL
Item Code (Source)
NDC:54575-185
Route of Administration
PERCUTANEOUS, SUBCUTANEOUS
DEA Schedule
Active Ingredient/Active Moiety
Ingredient Name
Basis of Strength
Strength
ASPERGILLUS TERREUS (ASPERGILLUS TERREUS)
ASPERGILLUS TERREUS
1 g in 20 mL
Inactive Ingredients
Ingredient Name
Strength
SODIUM CHLORIDE
0.166 g in 100 mL
SODIUM BICARBONATE
0.091 g in 100 mL
WATER
GLYCERIN
50 mL in 100 mL
Packaging
#
Item Code
Package Description
1
NDC:54575-185-02
2 mL in 1 VIAL, MULTI-DOSE
2
NDC:54575-185-10
10 mL in 1 VIAL, MULTI-DOSE
3
NDC:54575-185-30
30 mL in 1 VIAL, MULTI-DOSE
4
NDC:54575-185-50
50 mL in 1 VIAL, MULTI-DOSE
Marketing Information

Marketing Category
Application Number or Monograph Citation
Marketing Start Date
Marketing End Date
BLA
BLA101376
12/07/1967
PULLULARIA PULLULANS
aureobasidium pullulans var. pullutans injection, solution
Product Information
Product Type
HUMAN PRESCRIPTION DRUG LABEL
Item Code (Source)
NDC:54575-186
Route of Administration
PERCUTANEOUS, SUBCUTANEOUS
DEA Schedule
Active Ingredient/Active Moiety
Ingredient Name
Basis of Strength
Strength
AUREOBASIDIUM PULLULANS VAR. PULLUTANS (AUREOBASIDIUM PULLULANS VAR. PULLUTANS)
AUREOBASIDIUM PULLULANS VAR. PULLUTANS
1 g in 20 mL
Inactive Ingredients
Ingredient Name
Strength
SODIUM CHLORIDE
0.166 g in 100 mL
SODIUM BICARBONATE
0.091 g in 100 mL
WATER
GLYCERIN
50 mL in 100 mL
Packaging
#
Item Code
Package Description
1
NDC:54575-186-02
2 mL in 1 VIAL, MULTI-DOSE
2
NDC:54575-186-10
10 mL in 1 VIAL, MULTI-DOSE
3
NDC:54575-186-30
30 mL in 1 VIAL, MULTI-DOSE
4
NDC:54575-186-50
50 mL in 1 VIAL, MULTI-DOSE
Marketing Information

Marketing Category
Application Number or Monograph Citation
Marketing Start Date
Marketing End Date
BLA
BLA101376
12/07/1967
BOTRYTIS CINEREA
botrytis cinerea injection, solution
Product Information
Product Type
HUMAN PRESCRIPTION DRUG LABEL
Item Code (Source)
NDC:54575-187
Route of Administration
PERCUTANEOUS, SUBCUTANEOUS
DEA Schedule
Active Ingredient/Active Moiety
Ingredient Name
Basis of Strength
Strength
BOTRYTIS CINEREA (BOTRYTIS CINEREA)
BOTRYTIS CINEREA
1 g in 20 mL
Inactive Ingredients
Ingredient Name
Strength
SODIUM CHLORIDE
0.166 g in 100 mL
SODIUM BICARBONATE
0.091 g in 100 mL
WATER
GLYCERIN
50 mL in 100 mL
Packaging
#
Item Code
Package Description
1
NDC:54575-187-02
2 mL in 1 VIAL, MULTI-DOSE
2
NDC:54575-187-10
10 mL in 1 VIAL, MULTI-DOSE
3
NDC:54575-187-30
30 mL in 1 VIAL, MULTI-DOSE
4
NDC:54575-187-50
50 mL in 1 VIAL, MULTI-DOSE
Marketing Information

Marketing Category
Application Number or Monograph Citation
Marketing Start Date
Marketing End Date
BLA
BLA101376
12/07/1967
CANDIDA MONILA ALBICANS
candida albicans injection, solution
Product Information
Product Type
HUMAN PRESCRIPTION DRUG LABEL
Item Code (Source)
NDC:54575-188
Route of Administration
PERCUTANEOUS, SUBCUTANEOUS
DEA Schedule
Active Ingredient/Active Moiety
Ingredient Name
Basis of Strength
Strength
CANDIDA ALBICANS (CANDIDA ALBICANS)
CANDIDA ALBICANS
1 g in 20 mL
Inactive Ingredients
Ingredient Name
Strength
SODIUM CHLORIDE
0.166 g in 100 mL
SODIUM BICARBONATE
0.091 g in 100 mL
WATER
GLYCERIN
50 mL in 100 mL
Packaging
#
Item Code
Package Description
1
NDC:54575-188-02
2 mL in 1 VIAL, MULTI-DOSE
2
NDC:54575-188-10
10 mL in 1 VIAL, MULTI-DOSE
3
NDC:54575-188-30
30 mL in 1 VIAL, MULTI-DOSE
4
NDC:54575-188-50
50 mL in 1 VIAL, MULTI-DOSE
Marketing Information

Marketing Category
Application Number or Monograph Citation
Marketing Start Date
Marketing End Date
BLA
BLA101376
12/07/1967
CEPHALOSPORIUM ACREMONIUM
acremonium strictum injection, solution
Product Information
Product Type
HUMAN PRESCRIPTION DRUG LABEL
Item Code (Source)
NDC:54575-189
Route of Administration
PERCUTANEOUS, SUBCUTANEOUS
DEA Schedule
Active Ingredient/Active Moiety
Ingredient Name
Basis of Strength
Strength
ACREMONIUM STRICTUM (ACREMONIUM STRICTUM)
ACREMONIUM STRICTUM
1 g in 20 mL
Inactive Ingredients
Ingredient Name
Strength
SODIUM CHLORIDE
0.166 g in 100 mL
SODIUM BICARBONATE
0.091 g in 100 mL
WATER
GLYCERIN
50 mL in 100 mL
Packaging
#
Item Code
Package Description
1
NDC:54575-189-02
2 mL in 1 VIAL, MULTI-DOSE
2
NDC:54575-189-10
10 mL in 1 VIAL, MULTI-DOSE
3
NDC:54575-189-30
30 mL in 1 VIAL, MULTI-DOSE
4
NDC:54575-189-50
50 mL in 1 VIAL, MULTI-DOSE
Marketing Information

Marketing Category
Application Number or Monograph Citation
Marketing Start Date
Marketing End Date
BLA
BLA101376
12/07/1967
CEPHALOTHECIUM ROSEUM
trichothecium roseum injection, solution
Product Information
Product Type
HUMAN PRESCRIPTION DRUG LABEL
Item Code (Source)
NDC:54575-190
Route of Administration
PERCUTANEOUS, SUBCUTANEOUS
DEA Schedule
Active Ingredient/Active Moiety
Ingredient Name
Basis of Strength
Strength
TRICHOTHECIUM ROSEUM (TRICHOTHECIUM ROSEUM)
TRICHOTHECIUM ROSEUM
1 g in 20 mL
Inactive Ingredients
Ingredient Name
Strength
SODIUM CHLORIDE
0.166 g in 100 mL
SODIUM BICARBONATE
0.091 g in 100 mL
WATER
GLYCERIN
50 mL in 100 mL
Packaging
#
Item Code
Package Description
1
NDC:54575-190-02
2 mL in 1 VIAL, MULTI-DOSE
2
NDC:54575-190-10
10 mL in 1 VIAL, MULTI-DOSE
3
NDC:54575-190-30
30 mL in 1 VIAL, MULTI-DOSE
4
NDC:54575-190-50
50 mL in 1 VIAL, MULTI-DOSE
Marketing Information

Marketing Category
Application Number or Monograph Citation
Marketing Start Date
Marketing End Date
BLA
BLA101376
12/07/1967
CHAETOMIUM GLOBOSUM
chaetomium globosum injection, solution
Product Information
Product Type
HUMAN PRESCRIPTION DRUG LABEL
Item Code (Source)
NDC:54575-191
Route of Administration
PERCUTANEOUS, SUBCUTANEOUS
DEA Schedule
Active Ingredient/Active Moiety
Ingredient Name
Basis of Strength
Strength
CHAETOMIUM GLOBOSUM (CHAETOMIUM GLOBOSUM)
CHAETOMIUM GLOBOSUM
1 g in 20 mL
Inactive Ingredients
Ingredient Name
Strength
SODIUM CHLORIDE
0.166 g in 100 mL
SODIUM BICARBONATE
0.091 g in 100 mL
WATER
GLYCERIN
50 mL in 100 mL
Packaging
#
Item Code
Package Description
1
NDC:54575-191-02
2 mL in 1 VIAL, MULTI-DOSE
2
NDC:54575-191-10
10 mL in 1 VIAL, MULTI-DOSE
3
NDC:54575-191-30
30 mL in 1 VIAL, MULTI-DOSE
4
NDC:54575-191-50
50 mL in 1 VIAL, MULTI-DOSE
Marketing Information

Marketing Category
Application Number or Monograph Citation
Marketing Start Date
Marketing End Date
BLA
BLA101376
12/07/1967
CLADOSPORIUM FULVUM
passalora fulva injection, solution
Product Information
Product Type
HUMAN PRESCRIPTION DRUG LABEL
Item Code (Source)
NDC:54575-192
Route of Administration
PERCUTANEOUS, SUBCUTANEOUS
DEA Schedule
Active Ingredient/Active Moiety
Ingredient Name
Basis of Strength
Strength
PASSALORA FULVA (PASSALORA FULVA)
PASSALORA FULVA
1 g in 20 mL
Inactive Ingredients
Ingredient Name
Strength
SODIUM CHLORIDE
0.166 g in 100 mL
SODIUM BICARBONATE
0.091 g in 100 mL
WATER
GLYCERIN
50 mL in 100 mL
Packaging
#
Item Code
Package Description
1
NDC:54575-192-02
2 mL in 1 VIAL, MULTI-DOSE
2
NDC:54575-192-10
10 mL in 1 VIAL, MULTI-DOSE
3
NDC:54575-192-30
30 mL in 1 VIAL, MULTI-DOSE
4
NDC:54575-192-50
50 mL in 1 VIAL, MULTI-DOSE
Marketing Information

Marketing Category
Application Number or Monograph Citation
Marketing Start Date
Marketing End Date
BLA
BLA101376
12/07/1967
CURVULARIA SPICIFERA
cochliobolus spicifer injection, solution
Product Information
Product Type
HUMAN PRESCRIPTION DRUG LABEL
Item Code (Source)
NDC:54575-193
Route of Administration
PERCUTANEOUS, SUBCUTANEOUS
DEA Schedule
Active Ingredient/Active Moiety
Ingredient Name
Basis of Strength
Strength
COCHLIOBOLUS SPICIFER (COCHLIOBOLUS SPICIFER)
COCHLIOBOLUS SPICIFER
1 g in 20 mL
Inactive Ingredients
Ingredient Name
Strength
SODIUM CHLORIDE
0.166 g in 100 mL
SODIUM BICARBONATE
0.091 g in 100 mL
WATER
GLYCERIN
50 mL in 100 mL
Packaging
#
Item Code
Package Description
1
NDC:54575-193-02
2 mL in 1 VIAL, MULTI-DOSE
2
NDC:54575-193-10
10 mL in 1 VIAL, MULTI-DOSE
3
NDC:54575-193-30
30 mL in 1 VIAL, MULTI-DOSE
4
NDC:54575-193-50
50 mL in 1 VIAL, MULTI-DOSE
Marketing Information

Marketing Category
Application Number or Monograph Citation
Marketing Start Date
Marketing End Date
BLA
BLA101376
12/07/1967
EPICOCCUM NIGRUM
epicoccum nigrum injection, solution
Product Information
Product Type
HUMAN PRESCRIPTION DRUG LABEL
Item Code (Source)
NDC:54575-194
Route of Administration
PERCUTANEOUS, SUBCUTANEOUS
DEA Schedule
Active Ingredient/Active Moiety
Ingredient Name
Basis of Strength
Strength
EPICOCCUM NIGRUM (EPICOCCUM NIGRUM)
EPICOCCUM NIGRUM
1 g in 20 mL
Inactive Ingredients
Ingredient Name
Strength
SODIUM CHLORIDE
0.166 g in 100 mL
SODIUM BICARBONATE
0.091 g in 100 mL
WATER
GLYCERIN
50 mL in 100 mL
Packaging
#
Item Code
Package Description
1
NDC:54575-194-02
2 mL in 1 VIAL, MULTI-DOSE
2
NDC:54575-194-10
10 mL in 1 VIAL, MULTI-DOSE
3
NDC:54575-194-30
30 mL in 1 VIAL, MULTI-DOSE
4
NDC:54575-194-50
50 mL in 1 VIAL, MULTI-DOSE
Marketing Information

Marketing Category
Application Number or Monograph Citation
Marketing Start Date
Marketing End Date
BLA
BLA101376
12/07/1967
EPIDERMOPHYTON FLOCCOSUM
epidermophyton floccosum injection, solution
Product Information
Product Type
HUMAN PRESCRIPTION DRUG LABEL
Item Code (Source)
NDC:54575-195
Route of Administration
PERCUTANEOUS, SUBCUTANEOUS
DEA Schedule
Active Ingredient/Active Moiety
Ingredient Name
Basis of Strength
Strength
EPIDERMOPHYTON FLOCCOSUM (EPIDERMOPHYTON FLOCCOSUM)
EPIDERMOPHYTON FLOCCOSUM
1 g in 20 mL
Inactive Ingredients
Ingredient Name
Strength
SODIUM CHLORIDE
0.166 g in 100 mL
SODIUM BICARBONATE
0.091 g in 100 mL
WATER
GLYCERIN
50 mL in 100 mL