Colirio Ocusan Brands
We have 2 labels with the same name. Please choose the one you want:
Filter by labeler: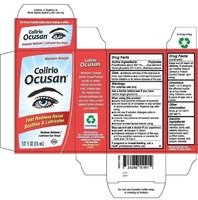 DLC Laboratories, Inc.
Name: Colirio Ocusan
Form: liquid
Ingredients: POLYETHYLENE GLYCOL 400 10mg in 1mL, TETRAHYDROZOLINE HYDROCHLORIDE 0.5mg in 1mL
Date: 2011-08-31
Labeler: DLC Laboratories, Inc.
NDC code: 24286-5191

View Details
Samchundang Pharm. Co., Ltd.
Name: Colirio Ocusan
Form: liquid
Ingredients: POLYETHYLENE GLYCOL 400 0.15mL in 15mL, TETRAHYDROZOLINE HYDROCHLORIDE 0.0075mL in 15mL
Date: 2010-07-08
Labeler: Samchundang Pharm. Co., Ltd.
NDC code: 51134-5191

View Details