Why Cancer in One Breast May Affect the Other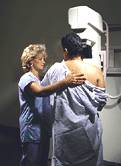 MONDAY, Jan. 26 -- Researchers say they have found a way to better calculate the risk a woman with cancer in one breast has of developing tumors in the other breast.
The chances of developing cancer in a second breast, known as contralateral breast cancer, increases once a tumor has been found in one breast. And certain factors, such as a family history of breast cancer, further increase this risk, prompting some women to opt for preventative surgery.
However, there are no foolproof predictors.
But in a study by researchers at the University of Texas M.D. Anderson Cancer Center in Houston, three independent risk factors were found in women who had cancer in both breasts:
Having cancer cells with certain invasive characteristics.
Having cancer in more than one quadrant of the breast.
Having a five-year risk of 1.67 percent or greater on a standardized breast cancer risk assessment tool that's based on what is known as the "Gail model." Designed for women without breast cancer, the model incorporates a woman's medical history, age, race and other characteristics.
The study, published in the March 1 issue of Cancer, also found a greater risk for women who are initially diagnosed with breast cancer at age 50 or older or who have additional moderate- to high-risk cells in their affected breast.
More information
The U.S. National Cancer Institute has more about breast cancer.
© 2018 HealthDay. All rights reserved.
Posted: January 2009