Vets Who Repress Traumatic Memories May Not Be Worse Off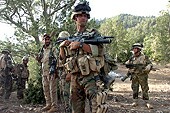 FRIDAY, June 19 -- Veterans suffering from post-traumatic stress disorder (PTSD) may not be plagued by poor health and shortened lives if they repress their combat experiences, new research suggests.
"The finding goes against the grain," acknowledged study author and Vietnam army veteran Joseph Boscarino, a senior investigator at the Geisinger Center for Health Research in Danvillle, Pa. "Because the concept that talking about your trauma and analyzing your fears and emotions is always the best policy goes back to Sigmund Freud, and for decades it's kind of been taken as a given."
"But this has never really been truly validated," Boscarino noted, "and it may be an overgeneralization. And we found that in some cases not talking about it and actually repressing traumatic thoughts and experiences may not translate into a more adverse outcome."
Boscarino -- who was stationed with a combat artillery unit in the central highlands of Vietnam in 1965 -- conducted his work in collaboration with fellow Vietnam Marine vet Charles Figley, of Tulane University's School of Social Work, in New Orleans.
Together, they report their findings in the June issue of the Journal of Nervous & Mental Diseases.
The authors observe that prior research indicates that it is not uncommon for PTSD patients to instinctively suppress traumatic memories. However, this kind of defensive reaction has often been characterized as a risk factor for anxiety and depression, and as a long-term threat to the emotional and physical well-being of the patient.
This widely held view has led many in the mental health field to encourage PTSD patients to openly confront the emotional turmoil of their traumatic past in a therapeutic setting.
To test the validity of this assumption, Boscarino and Figley relied on data from telephone and in-person interviews, as well as physical exams, involving a random sample of more than 4,400 American veterans -- all men -- initially collected in 1985 by the U.S. Centers for Disease Control and Prevention.
A little more than half of the men had served in Vietnam, while the remainder had served elsewhere during the Vietnam era. A little over 7 percent of them were determined to have had PTSD.
The authors then used a psychological scale to determine that about 4 percent of the men had a so-called "repressive personality trait," and had coped with their PTSD by internalizing their emotions and repressing their traumatic memories.
Boscarino and Figley found no evidence to indicate any particularly acute threat to the health of those afflicted with PTSD who had engaged in this repressed coping style.
They drew on the fact that between 1985 and 2000, 250 men had died as a result of cancer, cardiovascular disease, infectious disease, gastrointestinal issues, suicides, homicides, and/or accidents. While nearly 18 percent of the deceased had PTSD, those who handled their PTSD in a repressive manner were no more likely to be among the dead than those who did not have a repressive personality.
The authors called for more research, while noting that their exclusive focus on male patients as well as their use of older PTSD and repression measures (which had been in effect during the initial CDC study) could limit the accuracy of their findings.
The finding, they said, is important because "exposure therapy" techniques designed to get patients to heal by reliving their trauma can, in certain cases, actually aggravate PTSD symptoms and bring about renewed emotional distress.
"The urban legend, if you will, has emerged, that you have to get this out and talk about it," noted Boscarino. "There is this bias to bring it out. But that may not the best situation in all cases. Managing these issues may be different by patient. So, of course, you don't want to say to avoid therapy. But we need more research. And meanwhile, I'm saying we've got to stand back and take a look at this, and have a more patient-focused approach."
Dr. Matthew J. Friedman, executive director of the department of Veterans Affairs National Center for PTSD, took a cautious view of the findings.
"Over the last 10 to 15 years, we've found how complex memory really is," he said. "And I don't think that there is any longer a widely held belief in the classic psychoanalytic theory that suggests that somehow if you suppress your stress and angst that the distress will manifest itself in negative symptoms."
"Certainly, difficulty in retrieving memories can be adaptive and promote good health and longer life in some cases, and can be maladaptive in others," noted Friedman, who is also a professor in Dartmouth Medical School's department of psychiatry and department of pharmacology and toxicology. "But this paper suffers from a lack of conceptual clarity. The notion of 'repression' connotes different things to different people. The concept is fuzzy. So the authors should be commended for opening up a very interesting line of inquiry. But at the same time I think we need to be very, very careful about how we interpret these results."
More information
For more on PTSD, visit the U.S. Department of Veterans Affairs.
© 2018 HealthDay. All rights reserved.
Posted: June 2009