Unneeded Antibiotics May Lead to Diarrheal Illness, Study Finds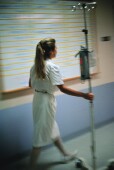 TUESDAY, Jan. 15 -- Medical officials have long warned about the overuse of antibiotics, whose germ-killing powers have boosted the prevalence of deadly infections by eliminating good bacteria and allowing stronger bugs to prosper.
Now, a new study suggests that many patients with a diarrhea-causing infection are prescribed antibiotics that lead to repeated bouts of illness.
At issue is the Clostridium difficile infection, also known as C. difficile. It usually affects people who have used antibiotics or been hospitalized, and can lead to mild to severe diarrhea and even death in more vulnerable people. It's one of the most common infections people get from health care, and patients often suffer from it repeatedly, especially if they take antibiotics again.
Researchers at the Minneapolis Veterans Affairs Medical Center looked at cases of patients with the infection and found that 57 percent received antibiotics within a month of treatment. Of those who received antibiotics, 77 percent got at least one dose of an antibiotic that wasn't needed, and 26 percent of patients were treated only with unnecessary antibiotics.
Among other things, the researchers said antibiotics are regularly prescribed unnecessarily to prevent infections from surgery and to treat urinary tract infections and pneumonia, despite little evidence that the infections are present in the patients.
The study appears in the February issue of the journal Infection Control and Hospital Epidemiology.
"Our findings serve as a reminder to both doctors and patients to use antibiotics only when absolutely necessary, particularly in patients with a history of C. difficile," lead researcher Dr. Megan Shaughnessy said in a journal news release. "Patients with C. difficile are at high risk for recurrence, especially with additional antibiotic use. Because of this heightened risk, clinicians should be exercising increased caution with antimicrobial therapy."
More information
The U.S. National Library of Medicine has details on Clostridium difficile infections.
© 2018 HealthDay. All rights reserved.
Posted: January 2013