Two Treatments Equally Effective for Chronic Pelvic Pain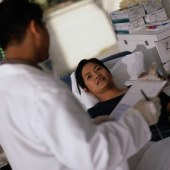 TUESDAY, Sept. 1 -- A surgical procedure that treats chronic pelvic pain by disrupting nerve connections failed to improve upon regular laparoscopic surgery for easing the condition, British researchers say.
The nerve-disruption procedure "did not alleviate any type of pain…or improve the quality of life, irrespective of the presence or absence of mild endometriosis," according to the authors of the study published in the Sept. 2 issue of the Journal of the American Medical Association.
Chronic pelvic pain is as common in women as asthma and chronic back pain, but extremely difficult to treat, the study authors noted. The condition "has a major effect on health-related quality of life, work attendance and productivity, and health-care use, accounting for 40 percent of referrals for diagnostic laparoscopy," Jane Daniels, of Birmingham Women's Hospital, University of Birmingham, U.K., and colleagues wrote in their report.
Some doctors chose to treat patients by disrupting nerves that were thought to contribute to perceived pain. To find if the procedure works, the researchers studied 487 women with chronic pelvic pain at 18 U.K. hospitals between 1998 and 2005.
The researchers found that women who received the nerve-interruption procedure did about as well as those who underwent laparoscopy alone. The groups had similar levels of pain, painful menstruation and painful sexual intercourse; they also reported the same levels of quality of life.
More information
The U.S. National Library of Medicine has more about diagnostic laparoscopy.
© 2018 HealthDay. All rights reserved.
Posted: September 2009