Thank Neanderthals for That Healthy Immune System, Scientists Say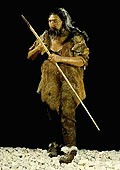 THURSDAY, Aug. 25 -- Interbreeding between modern humans, Neanderthals and another close relative may have passed on genes that boost peoples' immune systems today, researchers report.
Modern humans, Neanderthals and a recently discovered relative called Denisovans share a common African ancestor, the team of scientists explained in the Aug. 25 online issue of Science. However, the groups diverged into separate, distinct populations about 400,000 years ago, noted the Stanford University School of Medicine researchers.
Neanderthals moved into Europe and West Asia, Denisovans migrated into East Asia, and modern humans remained in Africa until about 65,000 years ago. But as modern humans expanded their range out of Africa they came into contact with the two other groups and interbreeding is thought to have occurred.
The last Neanderthals died about 30,000 years ago, but research has shown that some modern humans have as much as 4 percent Neanderthal DNA. People living today also have up to 6 percent of their DNA from Denisovans, a species which has only recently been identified.
The authors of this new study have found that this crossbreeding gave modern humans new variants of immune system genes called HLA class I genes. This DNA plays a crucial role in people's ability to identify and kill pathogens.
"The cross breeding wasn't just a random event that happened, it gave something useful to the gene pool of the modern human," senior author Peter Parham, a professor of structural biology and of microbiology and immunology, said in a Stanford news release.
The amount of people's HLA class I genes attributed to now-extinct Neanderthals or Denisovans varies widely depending on geography, his team added. For example, people from Papua New Guinea owe up to 95 percent of their gene variants from one class of HLA to this intermixing with the two other species, compared to 80 percent for Asians and 50 percent for Europeans.
© 2018 HealthDay. All rights reserved.
Posted: August 2011