Teen Birth-Rate Disparities Persist Among States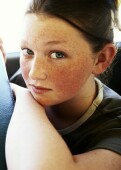 WEDNESDAY, Oct. 20 -- Teen birth rates in the United States have declined over the past two decades, but there are still significant variations in state rates, ranging from less than 2.5 percent to more than 6 percent, according to a federal study released Wednesday.
Babies born to teens have a higher risk of low birth weight, preterm birth and death in infancy than babies born to women in their 20s and older, the report said.
The overall birth rate for U.S. teens aged 15 to 19 was 41.5 per 1,000 in 2008, according to U.S. Centers for Disease Control and Prevention researchers who analyzed data from the National Vital Statistics System.
But teen birth rates ranged from less than 25 per 1,000 in Connecticut, Massachusetts, New Hampshire and Vermont to more than 60 per 1,000 in Arkansas, Mississippi, New Mexico, Oklahoma and Texas. In general, the lowest rates were in the Northeast and upper Midwest while the highest rates were in the South.
Rates of births among white and Hispanic teens were highest in the Southeast and lowest in the Northeast and California, while rates for black teens were highest in the upper Midwest and in the Southeast.
In 2007, the birth rate for Hispanic teenagers (81.8 per 1,000 aged 15 to 19 years) was nearly three times the rate for non-Hispanic white teenagers (27.2), and the rate for non-Hispanic black teenagers (64.2) was more than twice the rate for non-Hispanic white teenagers, the study found.
Rates in 2007 for non-Hispanic white teenagers ranged from 4.3 per 1,000 for 15 to 19 year olds in the District of Columbia to 54.8 in Mississippi; for non-Hispanic black teenagers, rates ranged from 17.4 per 1,000 in Hawaii to 95.1 in Wisconsin; and for Hispanic teenagers, rates ranged from 31.1 in Maine to 188.3 in Alabama.
"In 2008, as in previous years, teenage birth rates were consistently highest in states across the South and Southwest, and lowest in the Northeast and upper Midwest," the researchers wrote.
"The race and Hispanic origin-specific birth rates by state as well as the population composition of states by race and Hispanic origin both contribute to state variations in the teenage birth rate," they continued.
"Although teenage birth rates fell nationally and in 14 states from 2007 to 2008, the birth rate for the United States remains substantially higher than for other Western countries," the study authors added. "There has been a broad consensus on the goal of preventing teenage pregnancy, and a wide variety of public and private programs have been developed to meet this challenge. Variations in teenage birth rates reflect differences in many factors, including differences in socioeconomic factors such as education and income, risk behaviors such as sexual activity and contraceptive use, and attitudes among teenagers toward pregnancy and childbearing."
More information
The National Campaign to Prevent Teen and Unplanned Pregnancy has more about teen pregnancy.
© 2018 HealthDay. All rights reserved.
Posted: October 2010