Teen Abstinence May Not Stop Later Risky Sex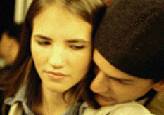 FRIDAY, May 20 -- Teens who choose to practice abstinence or delay having sex may still engage in sexual risk-taking as adults, according to a new study.
The researchers found that a combination of other factors, including genetics and environment, are stronger contributing factors than being sexually promiscuous in young adulthood -- which they described as associated with but not causing later sexual risk-taking.
When it comes to causal factors for sexual risk-taking, "it doesn't really matter whether you delay sex or not," the researchers said in a news release from the Association for Psychological Science. They cited having multiple partners, drug and alcohol use during sexual encounters and unprotected sex as examples of sexual risk-taking.
The findings are scheduled for publication in a future issue of Psychological Science.
For the study, Marina A. Bornovalova, a University of South Florida psychologist, and her colleagues examined more than 1,000 pairs of identical and fraternal twins who'd been enrolled in the Minnesota Twin Family Study since age 11. They were questioned on various factors related to biology, including age at puberty, as well as on psychological and social issues, such as friendships. At age 24, the participants were asked about their sex lives and any related risk-taking behaviors.
In twin pairs where one sibling had sex at age 16 or younger and the other did not, the researchers found that their sexual risk-taking was identical -- regardless of the age at which the twins initiated sex.
This suggests, they said, that a combination of genetic factors, such as a tendency to act impulsively, and environmental ones, such as having an unstable family life or living in poverty, are associated with sexual risk-taking in adulthood.
In short, they explained, a person's genes and life experiences both contribute to the decision to have sex at a young age and also to take sexual risks later on.
The researchers stressed that they do not advocate early sexual activity, warning that it can lead to depression and negatively affect school performance, among other things. But if our goal is to reduce sexual risk-taking, we need to be focusing on something else," Bornovalova said, adding that it will take more study to determine just what that should be.
Whatever is causing sexual risk-taking, it is not early sexual initiation," she said.
More information
The American Academy of Pediatrics provides information on teens and sex.
© 2018 HealthDay. All rights reserved.
Posted: May 2011