Suicides Higher in Rural Areas With Bars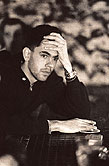 FRIDAY, Sept. 18 -- A new study suggests there's a link between suicide and rural communities that have higher numbers of bars.
However, the research doesn't confirm that more bars mean more suicides because it does not show cause and effect.
Of those who commit suicide, about 20 percent are alcoholics, according to background information in a news release on the study from the Prevention Research Center at Texas A&M University. Almost all are men, and most are white.
Researchers from the center examined suicide statistics from California for 1995 to 2000, comparing them with the density of bars in rural areas.
Suicides occurred more often in less populous areas, such as rural communities, and in areas with older, lower-income white residents, the study found. Attempted suicide also was more common in rural areas. People who attempted suicide, however, were younger and not from a particular race.
The study findings were released this month online and will appear in the December issue of Alcoholism: Clinical & Experimental Research.
"Although one cannot make the strong statement that more bars cause more suicides, our findings are at least consistent with what we would expect if patronizing bars or other alcohol outlets were in fact causally related to suicide," Fred W. Johnson, associate research scientist and corresponding author for the study, said in the news release.
It's possible that a factor other than the presence of bars could be at work, Dennis M. Gorman, interim director of the Health Science Center at Texas A&M University, said in the release.
"For example, rural places with lots of bars might be depressing places to live in due to isolation, lack of social ties, etc.," Gorman said. "This 'depressing' context would affect all who live there, both drinkers and non-drinkers."
© 2018 HealthDay. All rights reserved.
Posted: September 2009