Study Finds Third of Cancer Patients on Opioids Are Confused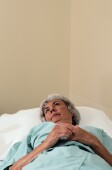 THURSDAY, March 3 -- About a third of cancer patients taking opioid painkillers experience cognitive problems such as confusion, disorientation and forgetfulness, a new study finds.
Research analyzing 1,915 cancer patients from 17 health-care centers around Europe indicated that 32.9 percent on high-strength opioid drugs such as morphine scored lower on observer-rated mental tests measuring orientation to time and place, attention and word recall, among other skills.
Patients with lung cancer were nearly 50 percent more likely to experience cognitive problems, which researchers attributed to the symptom load involved in their diagnosis. But study author Geana P. Kurita cautioned that the association between opioid use and poor mental function does not prove that painkillers cause the problem.
"The design allows us to analyze the potential factors that can interfere with cognitive function, but not definite causes or specific doses of opioids," said Kurita, a researcher at National Hospital, Copenhagen University, in Denmark. "However, the results may indicate that cognitive dysfunction worsens with higher doses of opioids. Being aware of factors . . . [can] enable clinicians to improve therapeutic planning."
The study was published online Feb. 28 in the Journal of Clinical Oncology.
Between 10 percent and 90 percent of patients with advanced cancer suffer from cognitive dysfunction, the study noted, which may or may not be related to their disease or treatment. Such mental deterioration impacts patients and their families, making it difficult to make treatment decisions, maintain relationships and perform basic daily activities, Kurita said.
"It certainly can have a profound influence on patients' quality of life," said Dr. R. Sean Morrison, director of the National Palliative Care Research Center and a professor of palliative care at Mount Sinai School of Medicine in New York City.
"If opioids are the causative agent, then we absolutely need better approaches to the management of pain in cancer. We need better drugs," Morrison said. "I can't imagine how difficult the choice is for patients to either be in intractable pain or not able to think clearly. That's a terrible choice."
Study participants, whose average age was nearly 62, completed a quality-of-life questionnaire assessing physical, emotional, cognitive and social function as well as their experience with fatigue, pain, and nausea and vomiting. Their most common diagnoses were gastrointestinal, lung, breast and prostate cancers.
Patients taking daily doses of opioids (measured in oral morphine equivalents) of 400 milligrams or more were 75 percent more likely to score lower on mental function than those receiving daily doses of less than 80 milligrams, the study showed.
"We had no idea that such a huge number of patients would present poor scores on a rather rough measure of cognitive function and that high doses of opioids were associated with [it]," Kurita said. "Smaller studies have shown that stable doses of opioids in the presence of cancer pain did not induce cognitive dysfunction."
Dr. Mary Ann Zagaria, a senior care consultant pharmacist in Norwich, N.Y., said non-drug strategies should be used to treat different types of pain whenever possible, but medication should also target specific pain symptoms.
"Key to the issue of treating patients with cancer pain is to tailor an opioid-containing analgesic regimen to the individual's needs based on the specific type of pain, which may involve more than one type of pain concomitantly and may change over time," said Zagaria. "Pain is dynamic. Therefore, pain assessment is imperative and should be ongoing."
Morrison, also director of research at the Hertzberg Palliative Care Institute at Mount Sinai Medical Center, said cancer patients may be able to try other pain therapies, such as acupuncture or guided imagery, to reduce their need for opioid drugs.
"The key point is we really need better research on pain management, so we don't have to choose between two bad outcomes," Morrison said.
More information
The American Pain Society has more on opioids.
© 2018 HealthDay. All rights reserved.
Posted: March 2011