Study Finds Aspirin Still Best at Preventing 2nd Stroke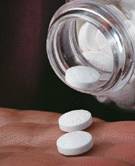 WEDNESDAY, May 25 -- A new drug that had shown promise in animal testing is not better than aspirin in preventing a second stoke in someone who's already had one, a new study has found.
In fact, researchers stopped the study early because the drug, terutroban, showed no extra benefit.
Previous research in animals had suggested that the drug was as effective as aspirin at preventing blood clots, and scientists had wondered whether it might have other positive effects on the human cardiovascular system.
The new study, by Dr. Marie-Germaine Bousser, of the Lariboisiere Hospital in Paris and her colleagues, compared the drug to aspirin in people who'd had an ischemic stroke, the type of stroke caused by a blocked artery. Of the more than 19,000 participants, roughly half were assigned to take terutroban, and the others took aspirin.
When tracked, on average, for the next 28 months, people who took terutroban fared no better than those on aspirin, the study found.
"In a worldwide perspective, aspirin remains the gold standard antiplatelet drug for secondary stroke prevention, in view of its efficacy, tolerance and cost," the researchers wrote.
One expert agreed.
"Allowing for the 'gentler' conclusion that there is no difference between terutroban and aspirin for stroke prevention, aspirin remains a widely available and inexpensive treatment throughout the world," said Dr. Richard B. Libman, chief of the division of vascular neurology at Long Island Jewish Medical Center in New Hyde Park, N.Y. "Any new medication for stroke prevention is going to have to do better than this before it can replace 'good old' aspirin," he said.
But in a commentary, researchers from Chang Gung University College of Medicine in Taiwan and the University of California, San Diego, wrote that there's still more to learn about whether terutroban could help people who have had a second stroke while on aspirin.
"Trials that randomly assign patients with a breakthrough event while on aspirin to a newer antiplatelet drug or higher aspirin dose, rather than re-initiation of the original aspirin dose, could provide insights into this issue," they wrote. "Perhaps terutroban could be called on to perform again."
The study, published online May 25 in The Lancet, was also to be presented Wednesday in Hamburg, Germany, at the European Stroke Conference.
More information
The U.S. National Heart, Lung, and Blood Institute has more about stroke.
© 2018 HealthDay. All rights reserved.
Posted: May 2011