Study Calls for Greater Scrutiny of 'Off-Label' Drug Use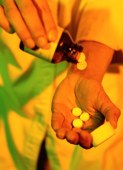 MONDAY, Nov. 24 -- It's called "off-label" prescribing, and it's the common practice of doctors prescribing a drug to treat a disease or condition that's different from the one studied by federal regulators that led to the drug's approval in the first place.
Despite the scope of the practice, there's often little evidence that using a drug for an unapproved purpose is always beneficial or safe, a new study found.
The study by American researchers has identified 14 widely prescribed medications that they think need additional study to see how effective and safe they are for off-label use. Many of the drugs are antidepressants and antipsychotics.
"Off-label prescribing is not based on the same level of evidence as on-label prescribing," said study lead researcher Surrey Walton, an assistant professor of pharmacy administration at the University of Illinois at Chicago.
Most patients aren't aware that once a drug is approved for one use, any doctor can prescribe it for any other use, Walton explained. Doctors may turn to a drug for off-label use, because studies or evidence suggest that it might benefit a patient with a disease or condition that was not studied when U.S. Food and Drug Administration regulators approved the drug in the first place.
"Typically, drugs have to pass a number of safety tests, Walton said. "But once they are put on the market, because they have received approval for an on-label indication, they can be used off-label," he said.
The new report was published in the Nov. 24 issue of the journal Pharmacotherapy.
Antidepressants and antipsychotics are the most prominent classes of drugs on the list, which specifically targets medicines that have high levels of off-label use without good scientific backing.
Topping the list is the antipsychotic quetiapine (Seroquel), which is approved by the FDA as a treatment for schizophrenia. The team noted that off-label use of this drug accounted for 76 percent of its prescriptions.
Not only are their safety concerns about the drug, because of an FDA "black box" warning, but the drug costs $207 a prescription and has been marketed heavily, the study authors said. In 2004, the FDA had the drug manufacturer, AstraZeneca, add warnings about increased risks of hyperglycemia, high blood pressure and diabetes associated with use of the drug. Also, older patients with dementia-related psychosis treated with the drug are at an increased risk of death, according to the FDA.
The next four drugs on the list are the blood thinner warfarin, used off-label to treat hypertensive heart disease; the antidepressant escitalopram (Lexapro), used off-label to treat bipolar disorder; the schizophrenia drug risperidone (Risperdal), used off-label to treat bipolar disorder; and the asthma drug montelukast (Singulair), used off-label to treat chronic obstructive pulmonary disease.
Drug companies are usually prohibited from marketing their drugs for off-label use. But, they can share studies that support off-label use, the study authors said. A study published in 2006 found that of approximately 21 percent of off-label uses of drugs in 2001, 73 percent did not have adequate scientific support for the off-label use.
Still, Walton thinks off-label use should be allowed to continue, but the practice needs to be monitored. "There are certainly clinically sound reasons for some of the off-label use, but more effort should be made to follow-up on these uses," Walton said. "So allow them, but do a better job of tracking them and establishing the evidence."
Dr. David Flockhart, director of the Division of Clinical Pharmacology at Indiana University School of Medicine, thinks off-label use of drugs will become even more common, as researchers pursue a path of so-called individualized medicine, in which drugs or treatments are based on people's unique genetic profile.
"This is the science of the study of average effects -- currently the standard for drug approval and regulation -- running into clinical reality where not every patient experiences exactly the average effect," Flockhart said.
The other drugs on the list are:
A spokeswoman for PhRMA, the drug industry lobbing group, said the group does not comment on off-label drug use, and its members do not promote such use.
More information
For more on prescription drugs, visit the U.S. Food and Drug Administration.
© 2018 HealthDay. All rights reserved.
Posted: November 2008