Spinal Cord Stimulation Need Not Keep Soldiers From Action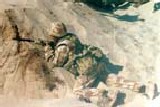 WEDNESDAY, July 8 -- In a turnabout from prior recommendations, a new study says soldiers who need electrical spinal cord stimulation to relieve chronic back pain may be able to return to active duty.
In electrical spinal cord stimulation, electric signals generated from an implanted device help disrupt nerve signals for pain. The procedure, an alternative for people who do not respond to more conventional pain treatment, is usually not recommended for physically active people, such as military personnel.
The new study, published in the July issue of Anesthesia & Analgesia, found the procedure worked successfully for five of six military patients, including one on active duty in Iraq and another now applying to diving school. The sixth patient, a military contractor, took part in several deployments but had to stop after experiencing an increase in pain.
"Due to advances in medical science and the physical and mental fortitude of our soldiers, many previously career-ending and life-altering disabilities have been overcome," study author Dr. Anthony Dragovich, of Womack Army Medical Center in Fort Bragg, N.C., and his co-authors, wrote. "Many soldiers desire to remain in military service, but unremitting pain is often the last standing hurdle."
The procedure still may not be perfect for all, as the authors note a lack of medical support in certain military outposts.
More information
The National Institute of Neurological Disorders and Stroke has more about back pain.
© 2018 HealthDay. All rights reserved.
Posted: July 2009