Speed, Size Predict Teen Football Players' Rankings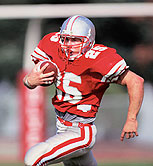 THURSDAY, May 26 -- College football scouts tend to seek high school football players who are bigger and faster than the rest, according to new research.
The study, published in the May issue of the Journal of Strength and Conditioning Research, revealed that the three most consistent factors identifying high school players who were "highly recruited" by college scouts were height, weight and sprint speed.
After analyzing the scouting data on 2,560 high school football players, the researchers found that, on average, the top-ranked players -- those earning a four- to five-star ranking -- were about one inch taller and five pounds heavier than those with two- and three-star rankings. In addition, their average 40-yard sprint time was 4.76 seconds, which was 0.08 seconds faster than recruits of lower rankings.
Overall, 40-yard sprint times were important for all 10 player positions and explained almost a quarter of the variation in star rankings. Recruitment for seven of the 10 positions could be predicted by a player's height and weight. The ranking of those playing tight end was also often predicted by vertical jump height.
"Over the past three decades, football players have become bigger, faster, stronger and more powerful," study author Jamie J. Ghigiarelli, of Hofstra University in Hempstead, N.Y., said in a news release from the journal's publisher. "The results may help strength and conditioning specialists better understand the anthropometric and physical attributes that distinguish highly recruited from recruited players, and which attributes are likely to predict higher star value scores."
© 2018 HealthDay. All rights reserved.
Posted: May 2011