Some TV Fans 'Distressed' Without Favorite Shows: Study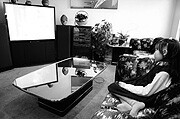 MONDAY, April 25 -- Some college students felt real distress when their favorite television shows went into reruns during the TV writers' strike of 2007-2008, a new report suggests.
Most affected were those who said they use television for companionship -- as opposed to simply for passing the time -- and who developed emotional connections with characters on the tube, the study authors noted.
"We found that people who primarily watched television for companionship were the ones who felt the most distressed by temporarily losing their programs," study co-author Emily Moyer-Guse, an assistant professor of communication at Ohio State University, said in a university news release.
The study is published in the April issue of the journal Mass Communication and Society.
The investigators used online questionnaires to interview 403 college students in 2008 about their TV viewing habits.
Those who relied on TV to help them relax, find companionship or escape were more upset about losing their favorite shows than those who just watch TV to pass the time, according to the results.
However, "while some participants felt real distress at the loss of their favorite TV shows, the distress is not comparable to the distress that comes from real breakups," Moyer-Guse said. "There are some aspects of relationships with TV characters that may be comparable to real relationships, but the intensity is generally much lower."
Without new TV shows to watch, the researchers found, many people turned to reruns and Internet use instead of spending more time with loved ones or getting exercise.
"Some people believe TV isolates people and takes them away from more social activities, but our results suggest that may not be the case," Moyer-Guse added. "Many viewers simply replaced their normal TV viewing with other media activities. They weren't using the opportunity to start exercising or spend more time with friends or family."
More information
Learn more about healthy relationships from the U.S. Centers for Disease Control and Prevention.
© 2018 HealthDay. All rights reserved.
Posted: April 2011