Smoking Could Raise Odds for Advanced Kidney Cancer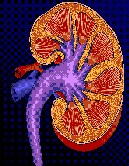 FRIDAY, April 22 -- Smoking increases the chances of developing advanced kidney cancer, the most deadly form of the disease, warn researchers from Duke University Medical Center.
The investigators examined the smoking histories of 845 people who had surgery for kidney cancer between 2000 and 2009. The group included 164 current smokers, 246 former smokers and 435 people who'd never smoked.
Advanced kidney cancer was diagnosed in about 20 percent of those who had never smoked and 29 percent of both current and former smokers, some of whom had smoked for decades before they kicked the habit.
However, every decade that a former smoker was smoke-free led to a 9 percent reduction in the risk for advanced kidney cancer. Quitting smoking, the researchers emphasized, does reduce the likelihood of developing advanced kidney cancer.
Former smokers who had not smoked for at least 20 years had a 22 percent risk for developing advanced kidney cancer, just slightly higher than the 20 percent risk for those who'd never smoked.
"If you stop smoking, the risk stops," Dr. Matvey Tsivian, a urologic oncology fellow and the study's lead author, said in a Duke news release. "And the longer you stop smoking, the better it is."
The findings were published online April 18 in the Journal of Clinical Oncology.
More information
The U.S. National Cancer Institute has more about kidney cancer.
© 2018 HealthDay. All rights reserved.
Posted: April 2011