Shortage of On-Call Trauma Surgeons in U.S. Hospitals: Poll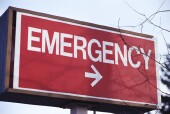 MONDAY, Nov. 29 -- Three-quarters of U.S. emergency department directors say they don't have adequate on-call trauma surgeon coverage and nearly one-quarter say their hospital's trauma center designation has been downgraded or lost, a new survey finds.
The poll also found that:
Sixty percent of directors said their emergency department lost the ability to provide 24-hour coverage for at least one medical specialty in the last four years.
More than 75 percent said their departments have inadequate coverage for plastic surgery, hand surgery and neurosurgery.
Nearly one-quarter reported an increase in the number of patients leaving before being seen by a needed specialist, a situation that can lead to worse outcomes and increased need for hospitalization.
Inadequate surgical coverage was reported by 68 percent of teaching hospitals and 78 percent of non-teaching hospitals.
The findings are published online and in the December print issue of the journal Academic Emergency Medicine.
"Without adequate on-call surgical coverage, our health care system cannot provide for emergency and trauma patients," lead author Dr. Mitesh Rao, of the emergency medicine department at Yale University, said in a journal news release. "Twenty-one percent of emergency department deaths and permanent injury can be linked to shortages in specialty physician care. Transferring patients significant distances to an available specialist is sometimes the only option, but it can create a dangerous delay in care."
The survey findings highlight a major threat to the emergency medical care system, according to Dr. Sandra Schneider, president of the American College of Emergency Physicians.
© 2018 HealthDay. All rights reserved.
Posted: November 2010