Shootings at Hospitals a Rarity, Study Finds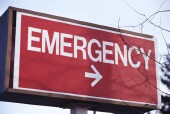 FRIDAY, Oct. 5 -- Shootings in U.S. hospitals are so rare that you're less likely to be shot in a hospital than struck by lightning, according to a new study.
Researchers from Johns Hopkins University School of Medicine in Baltimore reviewed data on more than 150 shootings that occurred in acute care hospitals between 2000 and 2011. The shootings resulted in 235 dead or injured victims.
Nearly 30 percent of the shootings occurred in emergency departments. About half of those incidents involved a police or security officer's gun that was either stolen to shoot victims or used by authorities to fire at an assailant.
Grudges or revenge, suicide and euthanizing an ill relative were common motives for shootings, according to lead author Dr. Gabe Kelen, director of the Johns Hopkins department of emergency medicine, and colleagues.
The researchers also found that shootings in hospitals are difficult to prevent because most involve a "determined shooter," and that most shooters have a personal association with victims, according to a Johns Hopkins news release.
The study authors concluded that specialized training for police and security officers, such as proper securing of guns, may prove a more effective deterrent to hospital shootings than expensive or intrusive technologies designed to detect weapons.
Such technologies can create a false sense of security, because weapons can enter hospitals through a variety of ways, and because more than 40 percent of the shootings in the study occurred on hospital property outside of buildings, the researchers said.
The study, published recently in the journal Annals of Emergency Medicine, was prompted by a 2010 shooting at the Johns Hopkins Hospital, in which an assailant shot a doctor and then killed his ill mother and himself.
More information
The U.S. Centers for Disease Control and Prevention has statistics on violence in the workplace.
©2017 HealthDay.
All rights reserved.
Posted: October 2012
Recommended for you