Sex Hormone Levels Linked to Fractures in Men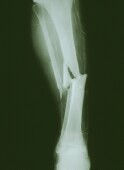 FRIDAY, Aug. 14 -- Sex hormone levels affect the risk of broken bones in older men, says a new study.
The finding comes from a study that included 1,436 men age 65 and older who had their sex hormone levels measured periodically for about five years. The researchers found that men with low levels of estradiol or high levels of sex hormone binding globulin (SHBG) were more likely to suffer osteoporotic fractures.
In addition, men with low levels of testosterone and estradiol combined with high levels of SHBG were more than three times as likely to break a bone as men with average levels of the hormones, the study found.
Testosterone is the main male sex hormone. Estradiol provides most estrogen effects in men and women. SHBG is a protein that binds to testosterone and estradiol in the blood. It's known to reduce circulating sex steroid concentrations and has previously been linked with fracture risk.
"In clinical practice today, estradiol and SHBG levels are not commonly measured when assessing skeletal health or fracture risk in men," study co-author Dr. Eric Orwoll, of Oregon Health and Science University, said in a news release from the Endocrine Society. "This practice should be revised. The results from our study strongly suggest that the measurement of both sex hormones, estradiol and testosterone, as well as SHBG levels in older men may help identify men at higher risk."
Many of the men in the study were age 80 and older, a growing segment of the population, Orwoll noted.
The study will appear in the September issue of the Journal of Clinical Endocrinology & Metabolism.
More information
The U.S. National Institute of Arthritis and Musculoskeletal and Skin Diseases has more about men and osteoporosis.
© 2018 HealthDay. All rights reserved.
Posted: August 2009