Screening Seems to Catch Dangerous Heart Condition in Kids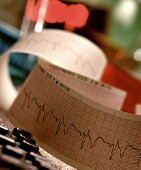 TUESDAY, March 22 -- A low-cost screening test detected potentially deadly heart conditions in 10 out of 400 seemingly healthy children and teens in a pilot study.
The findings suggest it may be feasible to screen all school-aged children for heart conditions that can lead to sudden cardiac arrest (SCA), the team from The Children's Hospital of Philadelphia said in a hospital news release.
Researchers found that a 10-minute electrocardiogram (EKG), in addition to a physical examination and medical history, identified the previously undiagnosed heart conditions.
U.S. guidelines currently recommend screening only competitive youth athletes using history and physical examination alone. Research in Italy and Japan, where screening is compulsory for all children, has shown that adding EKG to these other screening methods increases the likelihood of identifying children at risk for SCA.
Each year, SCA causes an estimated 100 to 1,000 or more deaths among children in the United States, according to background information in the study.
The study involved 400 healthy children and teens aged 5 to 19 who were screened using a medical family history questionnaire, a physical exam, an EKG and an echocardiogram.
Previously undiagnosed heart abnormalities were found in 23 children, while high blood pressure was found in an additional 20. Ten, or 2.5 percent, of the 400 children had potentially serious heart conditions. None of those 10 had a family history of SCA.
The study was published March 15 in the American Heart Journal.
"Our pilot study shows that adding [EKG] to the currently recommended guideline of history and physical examination is feasible for screening children and adolescents, and offers the potential to identify serious cardiovascular abnormalities," study leader and pediatric cardiologist Dr. Victoria L. Vetter said in the news release.
"However, our study was not designed to be generalizable to a larger population of children at risk for SCA. Larger, more representative studies must be done, as well as cost-effectiveness research," she added.
More information
The U.S. National Heart, Lung, and Blood Institute has more about sudden cardiac arrest.
© 2018 HealthDay. All rights reserved.
Posted: March 2011