Scientists Spot Key Gene Mutations in Melanoma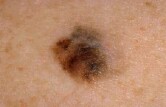 FRIDAY, April 15 -- U.S. scientists who completed the world's first "whole-exome sequencing" of melanoma say their accomplishment will improve the ability to diagnose and treat the deadliest form of skin cancer.
Whole-exome sequencing is an approach that decodes the 1 to 2 percent of the genome that contains protein-coding genes.
The team, led by researchers at the U.S. National Institutes of Health (NIH), conducted a thorough analysis of the melanoma genome and its functional components, especially gene mutations. They focused on advanced melanoma (the metastatic stage) when cancer cells have the highest number of gene mutations.
"Melanoma is one of the most challenging solid cancers to work with because it has such a high rate of mutation. Whole-exome sequencing will help us identify the most important [mutations]," study senior author Yardena Samuels, an investigator in the Cancer Genetics Branch, National Human Genome Research Institute, said in an NIH news release.
The researchers made a number of surprising discoveries. For example, they found that mutations in a gene called TRRAP occurred in the exact position in six separate patients with melanoma. In about 4 percent of melanoma cases, TRRAP has a recurrent mutation in one position along the string of DNA code.
"These data suggest that TRRAP is a driver and probably an oncogene," Samuels said in the news release. An oncogene is a cancer-causing gene.
"This was one of the most important discoveries in the study since we never expected to identify novel hot-spot mutations," she added.
The study is published in the April 15 online edition of the journal Nature Genetics.
In the United States, the incidence of melanoma is increasing faster than any other cancer. A major cause of melanoma is believed to be overexposure to the sun, particularly ultraviolet radiation, which can damage DNA and trigger cancer-causing genetic changes in skin cells.
© 2018 HealthDay. All rights reserved.
Posted: April 2011