Scientists Appear One Step Closer to Reading Minds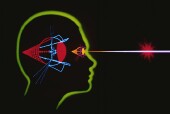 THURSDAY, May 26 -- The ability to read minds has long been considered a parlor trick or the stuff of science fiction, but new research suggests it could one day become reality.
Neuroscientists at the University of Glasgow say they have found a way to identify the type of information contained within certain brainwaves related to vision.
"It's a bit like unlocking a scrambled television channel. Before, we could detect the signal but couldn't watch the content; now we can," study author Philippe Schyns, director of the Institute of Neurosciences and Psychology and the Center for Cognitive Neuroimaging, said in a university news release.
The scientists were able to use electroencephalography (EEG) to measure patterns of electrical activity -- frequency, amplitude and phase -- in the brain while it was engaged in different activities. Specifically, they used EEG to decode brainwaves and identify the parts of the brain that were active when looking at different features on people's faces.
The six volunteers involved in the study were shown images of human faces displaying different emotions -- including happiness, fear and surprise -- and were asked to label which emotion the image represented. In some cases, images were partially covered so that only certain features, such as the eyes or mouth, were visible.
Schyns and colleagues found that "beta" waves, which have a cycle of 12Hz, were related to information about the eyes, while "theta" waves at 4Hz carried information about the mouth.
The study also revealed that information could be primarily encoded based on timing of the brainwave (phase), rather than its amplitude (strength).
"How the brain encodes the visual information that enables us to recognize faces and scenes has long been a mystery. While we are able to detect EEG activity in certain areas of the brain when particular tasks are performed, we've not known what information is being carried in those brainwaves," Schyns explained in the news release.
"What we have done is to find a way of decoding brainwaves to identify the messages within," he stated.
Schyns added that the study's findings could have a potentially profound impact on the development of brain-computer interfaces.
More information
The U.S. National Institute of Neurological Disorders and Stroke provides detailed information on the human brain and how it works.
© 2018 HealthDay. All rights reserved.
Posted: May 2011