School Sports May Spell Trouble for Ankles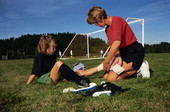 SATURDAY, Sept. 19 -- The new school year will bring more focus on student athletics -- and also more ankle injuries, an association of orthopedists warns.
"Children are at risk for injury when they take a break from sports training or don't prepare enough for the fall sports season. A rapid return to participation in sports such as football, soccer and long-distance running puts considerable stress on the foot and ankle, significantly predisposing them to injury," Dr. Ned Amendola, professor of orthopedics and rehabilitation at the University of Iowa College of Medicine, said in a statement from the American Orthopaedic Foot & Ankle Society.
Amendola said several factors put the ankles of kids and teens at risk.
"Children's bodies and bones are still in the development stage, therefore, their muscle control and maturity of bones and ligaments are not as stable when subjected to the rigors of competitive sports," he said. "In addition, children may be anatomically predisposed to injury due to growth plate attachment to tendons, causing a stress reaction through the growth plate, which, for example, happens at the attachment of the Achilles' tendon to the heel bone."
If a child or teen does have an ankle injury, the orthopedists recommend the following steps, known as the R.I.C.E. (Rest, Ice, Compress, Elevate) guidelines:
Rest the ankle -- do not walk on it.
Ice it to help reduce swelling.
Compressive bandages should be used to immobilize and support the injury.
Elevate the ankle -- keep it above heart level for 48 hours.
The society states that parents should be aware that a severe sprain may hide the symptoms of a broken ankle. The experts recommend that a doctor examine every ankle injury.
More information
Learn more about ankle injuries from the U.S. National Library of Medicine.
© 2018 HealthDay. All rights reserved.
Posted: September 2009