Risky Behavior, Drug Use Among Some Gay Men Linked to Childhood Abuse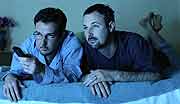 WEDNESDAY, July 21 -- Gay and bisexual men who were victims of sexual abuse and social shaming as children are more likely to have psychosocial health problems that could put them at greater risk for HIV infection, a new study suggests.
A second study found that most older gay and bisexual men report a low use of illegal drugs.
The first study included more than 1,000 HIV-positive and HIV-negative gay and bisexual men enrolled in the U.S. National Institutes of Health-funded Multicenter AIDS Cohort Study, which began in 1983.
Almost 10 percent of the participants had been victims of childhood abuse and nearly 30 percent had been the targets of gay-related victimization between the ages of 12 and 14, including verbal insults, bullying, threats of physical violence, and actual physical assaults.
The University of Pittsburgh researchers found that men who experienced childhood sexual abuse and a sense of masculinity failure were more likely to use illegal drugs and to engage in risky sexual behaviors in adulthood, both of which heighten the risk of HIV infection.
They added that those health issues have led to a "syndemic," or shared epidemic.
"Our study shows that the early socialization experiences of gay men can be deeply stigmatizing and increase their risks for syndemic [linked epidemic] conditions in adulthood," study author Sin How Lim, of the University of Pittsburgh Graduate School of Public Health, said in a university news release. "Given the long-lasting impacts, effective interventions should address multiple interrelated social issues early on rather than focusing on each problem in isolation."
The second study examined illicit drug use (poppers, crack, cocaine, methamphetamine and ecstasy) over a 10-year period among 1,378 HIV-positive and HIV-negative gay and bisexual men, aged 44 to 63, enrolled in one section of the Multicenter AIDS Cohort Study.
About 79 percent of the participants were infrequent drug users, nearly 6 percent reported consistently high levels of drug use, more than 7 percent said they'd increased their use of drugs, and 7 percent said they'd decreased their use of drugs.
"Although a majority of participants reported infrequent drug use, three subgroups of men displayed distinct patterns of use over 10 years of midlife," study author Jessica G. Burke, an assistant professor in the department of behavioral and community health sciences at the University of Pittsburgh Graduate School of Public Health, said in a university news release.
Understanding those subgroups and the factors that lead to drug use "will give us a better understanding of how we can address this behavior among similar individuals," she said.
The studies were presented this week at the International AIDS Conference in Vienna.
More information
The U.S. Centers for Disease Control and Prevention has more about HIV risk factors.
© 2018 HealthDay. All rights reserved.
Posted: July 2010