Drug-Resistant Staph Bacteria Found in Meat, Poultry Nationwide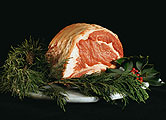 FRIDAY, April 15 -- Meat and poultry sold in the United States is widely contaminated with drug-resistant strains of Staphylococcus aureus, a bacteria that can cause serious illnesses in humans, a new study contends.
The types of health problems linked to S. aureus range from mild skin infections to life-threatening diseases, such as pneumonia, sepsis and heart infection.
In the new nationwide study, researchers analyzed 136 samples of 80 brands of beef, chicken, pork and turkey purchased at 26 retail stores in five cities: Chicago; Flagstaff, Ariz.; Fort Lauderdale, Fla.; Los Angeles; and Washington, D.C.
The results showed that 47 percent of the samples were contaminated with S. aureus, and that 52 percent of the bacteria were resistant to at least three classes of antibiotics.
DNA testing suggests that the food animals themselves were the major source of contamination with S. aureus, said the researchers at the Translational Genomics Research Institute (TGen) in Phoenix.
The study was published in the April 15 issue of the journal Clinical Infectious Diseases.
"For the first time, we know how much of our meat and poultry is contaminated with antibiotic-resistant Staph, and it is substantial," study senior author Lance B. Price, director of TGen's Center for Food Microbiology and Environmental Health, said in an institute news release.
"The fact that drug-resistant S. aureus was so prevalent, and likely came from the food animals themselves, is troubling, and demands attention to how antibiotics are used in food-animal production today," he added.
Current production methods may be to blame, the researchers said, explaining that food animals are crammed into industrial farms and continually fed a low dose of antibiotics. These are "ideal breeding grounds for drug-resistant bacteria that move from animals to humans," the report said.
Exactly what this means in terms of consumer risk is still unclear, experts say.
"Antibiotics are the most important drugs that we have to treat Staph infections; but when Staph are resistant to three, four, five or even nine different antibiotics -- like we saw in this study -- that leaves physicians few options," Price said.
The report authors suggest that the U.S. government routinely survey retail meats and poultry for S. aureus. It already checks for four types of drug-resistant bacteria, the report said.
Staph bacteria can be killed through proper cooking but may still pose a health risk through improper food handling and cross-contamination in the kitchen, the researchers noted.
© 2017 HealthDay. All rights reserved.
Posted: April 2011
Recommended for you