Report Ranks Top Sources of Illness Related to Foods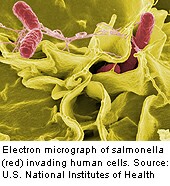 THURSDAY, April 28 -- Poultry contaminated with Campylobacter bacteria is the food-pathogen combination that causes the most foodborne illness in the United States, sickening more than 600,000 people a year at a cost of $1.3 billion, according to a new report.
Issued by the University of Florida Emerging Pathogens Institute, the report identifies the 10 riskiest combinations of foods and disease-causing microorganisms in the United States.
"The number of hazards and scale of the food system make for a critical challenge for consumers and government alike," Michael Batz, head of food safety programs at the institute and lead author of the report, said in a university news release.
"Government agencies must work together to effectively target their efforts," Batz said. "If we don't identify which pairs of foods and microbes present the greatest burden, we'll waste time and resources and put even more people at risk."
The top five illness-causing pathogens -- Campylobacter, Salmonella, Listeria monocytogenes, Toxoplasma gondii and norovirus -- cause $12.7 billion in economic losses each year, with the top 10 pathogen-food combinations accounting for more than $8 billion a year, according to the report.
The economic cost takes into account lost productivity, medical care and serious complications or chronic disabilities associated with the illness.
The report names Salmonella as the leading disease-causing microorganism (costing more than $3 billion a year), and Salmonella-contaminated produce, poultry, eggs and multi-ingredient foods all rank in the top 10 food-pathogen combinations.
Other top-ranked combinations include Listeria in deli meats and soft cheeses, Toxoplasma in pork and beef, E. coli in beef and produce, and norovirus in multi-ingredient food products.
More information
The U.S. National Institute of Allergy and Infectious Diseases has more about foodborne diseases.
© 2018 HealthDay. All rights reserved.
Posted: April 2011