Rep. Giffords Making 'All the Right Moves' Toward Recovery, Doctor Says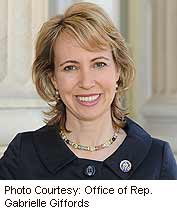 FRIDAY, Jan. 14 -- Wounded Arizona Congresswoman Gabrielle Giffords is "continuing to make all the right moves in all the right directions" toward recovery, according to the latest update from her doctor on Friday.
Giffords, who survived being shot through the head last Saturday in Tucson, has defied the odds and is continuing to show improved function day by day, the Wall Street Journal reported.
"She is beginning to carry out more complex sequences [of movement] in response to our commands, and even spontaneously," said Dr. Michael Lemole Jr., neurosurgery chief at Tucson's University Medical Center. "We couldn't have hoped for any better improvement than we're seeing now."
Giffords' doctors say she has been opening her eyes more often since beginning to do so Wednesday. It was on that day that she also touched the wedding ring worn by her husband, astronaut Mark Kelly, after being asked by him to do so.
Still, even though Giffords' condition appears to be improving and she can breathe on her own, her doctors say they aren't yet ready to remove her breathing tube, the WSJ reported.
On Thursday morning, doctors said Giffords was able to keep her eyes open for up to 15 minutes at a time and could move her legs and one of her hands, The New York Times reported.
"She is doing some fairly specific things with her left hand," Dr. Peter Rhee, the hospital's chief of trauma, said at the time. "She is yawning. She is starting to rub her eyes."
Lemole also noted that Giffords could also "move both of her legs to command," the newspaper reported.
Doctors want to ensure that Giffords doesn't regress and are watching for pneumonia and blood clots, the Associated Press reported.
Expert said that despite her remarkable progress so far, Giffords likely suffered some permanent damage, but it's not yet clear how extensive that damage might be.
Dr. David Langer, director of cerebrovascular research at the Cushing Neuroscience Institutes, part of North Shore/Long Island Jewish Medical Center in Great Neck, N.Y., said: "She's probably going to survive in all likelihood, but months or even a year from now we may not know what her ultimate prognosis will be."
"She'll likely have a deficit in the near term, but we don't know if she'll end up in a wheelchair like James Brady [President Ronald Reagan's press secretary who was injured by a bullet during a 1981 assassination attempt on the president] or a functioning Congresswoman. We can't know," added Langer, who was not involved with Giffords' care.
Giffords was gravely injured, 13 others were wounded, and six people, including a 9-year-old girl, were killed when a 22-year-old man, Jared Loughner, pulled out a semiautomatic Glock pistol in front of a Safeway supermarket on Saturday in Tucson, where Giffords was meeting constituents. A Democrat, she was first elected to the House of Representatives in 2006.
The fact that Giffords is alive is a bit of a miracle.
According to Langer, 90 percent of people with gunshot wounds to the head die.
More information
The U.S. National Institutes of Health has more on traumatic brain injury.
© 2018 HealthDay. All rights reserved.
Posted: January 2011