Regular Exercise Seems to Guard Against Migraine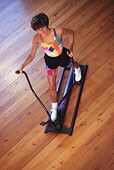 WEDNESDAY, Oct. 12 -- Exercise can prevent migraines just as well as drugs or relaxation techniques, a new study from Sweden suggests.
"Our conclusion is that exercise can act as an alternative to relaxations and [the migraine drug] topiramate when it comes to preventing migraines, and is particularly appropriate for patients who are unwilling or unable to take preventative medicines," study lead author Emma Varkey, a physiotherapist and doctoral student at the Sahlgrenska Academy, University of Gothenburg, said in a university news release.
In the study, Varkey and colleagues evaluated 91 migraine patients over the course of three months.
One-third of the patients were asked to exercise for 40 minutes three times each week. Another third of the participants performed relaxation techniques and the final third were prescribed topiramate. The researchers also followed up with the patients three and six months after the treatments ended.
The study, published in the current issue of the journal Cephalalgia, found that the patients in all three groups experienced fewer migraines. The study authors said exercise was just as effective in preventing migraines as the medication and the relaxation techniques.
One expert agreed that physical activity can be key to migraine prevention.
"The study clearly shows the importance of an exercise program," said Dr. Robert Duarte, director of the Pain Center at The North Shore-Long Island Jewish Health System in Manhasset, N.Y. "Exercise is another form of relaxation and is well known to cause a release in endorphins, the body's own pain-reducing substances. Migraine patients should be strongly advised to introduce an exercise program as part of their migraine prevention program."
But, Duarte added that patients "should see a primary medical doctor before starting an exercise routine."
More information
The U.S. National Library of Medicine has more about migraines.
© 2018 HealthDay. All rights reserved.
Posted: October 2011