Radiation Exposure Linked to Aggressive Thyroid Cancers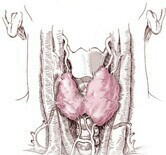 MONDAY, April 20 -- Thyroid cancer patients who've previously been exposed to radiation have more aggressive disease and worse outcomes than other patients, a new study finds.
Researchers at Mount Sinai Hospital in Toronto studied 125 thyroid cancer patients who'd been exposed to radiation -- for example, in the workplace, through environmental exposure, or for treatment of acne or other benign conditions -- at least three years before they had surgery for their thyroid cancer.
The average age of the patients at time of radiation exposure was 19.4 years, and their thyroid cancers were diagnosed an average of 28.7 years later. The patients were followed for an average of 10.6 years after diagnosis. During that time, 16 percent suffered a recurrence of thyroid cancer, and 9 percent had cancer that spread to other areas of the body (distant metastases). At the final follow-up, 86 percent were alive and cancer-free, 4 percent were alive with recurrent thyroid cancer, 4 percent were alive with distant metastases, 4 percent had died of their cancer, and 2 percent had died of unrelated causes.
The researchers compared these patients to a group of 574 thyroid cancer patients who hadn't previously been exposed to radiation and found that the radiation-exposed patients were more likely to:
Undergo total or near-total removal of the thyroid -- 83 percent vs. 38 percent.
Require additional surgery -- 23 percent vs. 2 percent.
Have stage IV disease -- 16 percent vs. 5 percent.
Have distant metastases -- 9 percent vs. 2 percent.
To have thyroid cancer at follow-up -- 8 percent vs. 3 percent.
To have died of the disease -- 4 percent vs. 1.5 percent.
Dr. Raewyn M. Seaberg and colleagues said their findings show "that patients who have been exposed to radiation have more aggressive disease and worse clinical outcomes than other patients with thyroid cancer and, therefore, may require more aggressive treatment."
The study was published in the April issue of the Archives of Otolaryngology -- Head & Neck Surgery.
More information
The American Thyroid Association has more about thyroid cancer.
© 2018 HealthDay. All rights reserved.
Posted: April 2009