Progress Made in Predicting Breast Cancer Risk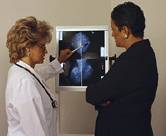 FRIDAY, Dec. 12 -- Researchers are making progress in predicting breast cancer risk, recurrence risk and response to cancer treatment by looking at such factors as breast density and tumor size, a panel of experts report.
The scientists presented their data during a teleconference Friday at the annual San Antonio Breast Cancer Symposium in Texas.
Patients with breast cancer tumors known as HER2-positive, even those a centimeter or less in diameter, have a substantially increased risk for relapse, and additional treatment after surgery should be considered, said Dr. Ana Gonzalez-Angulo, a researcher at the University of Texas M.D. Anderson Cancer Center.
Currently, guidelines call for no further treatment after surgery for these small cancers, but Gonzalez-Angulo said her findings suggest that thinking be reconsidered.
She evaluated 965 patients from M.D. Anderson Cancer Center, and validated the results with 350 European patients. All had small tumors, one centimeter in diameter or smaller, and 10 percent had HER2-positive tumors. HER2-positive breast cancer tests positive for a protein called human epidermal growth factor receptor 2, and these cancers tend to be more aggressive.
"The patients who had HER2-positive disease were the ones with the worst prognosis," she said. The five-year recurrence was 23 percent for those with HER-2 positive disease, compared to about 6 percent for those with HER-2 negative disease.
"We should start thinking about adjuvant therapy, as well as clinical trials," she said. "Twenty-three percent [recurrence] is very high."
The data show that even women with small cancers, under 1 centimeter, are at risk of recurrence, especially if the tumor is HER2-positive, said Dr. Claudine Isaacs, director of the clinical breast cancer program at Georgetown University Medical Center, in Washington, D.C.
There has been ongoing debate about how to treat these tumors, according to Isaacs. The new study, she said, "adds support to the notion to consider" further treatment.
In other findings reported at the meeting, changes in breast density during treatment with tamoxifen, a drug often used to lower breast cancer risk, can help predict how well the drug is working, said Jack Cuzick, head of the Cancer Research UK Centre for Epidemiology, Mathematics and Statistics in London.
He evaluated more than 7,000 participants involved in the International Breast Intervention Study I, assessing their breast density after 12 to 18 months of tamoxifen treatment or placebo treatment, then looking at breast cancer risk.
For the 46 percent of women in the tamoxifen arm whose density was reduced by 10 percent or greater, the risk of breast cancer declined by 52 percent compared to the control group getting placebo. The risk of breast cancer declined by just 8 percent in the 54 percent of women whose density was not reduced by 10 percent.
Breast density is easy and simple to measure on a mammogram, he said, and a useful predictor of breast cancer risk. Now, based on his findings, it's also a good predictor of response to tamoxifen.
Isaacs called that finding valuable. Being able to identify whether a woman is benefiting from the tamoxifen early will allow her physician to consider other treatments, she said.
More information
To learn more about cancer terms, visit the U.S. National Cancer Institute.
© 2017 HealthDay. All rights reserved.
Posted: December 2008
Recommended for you