Play Heads-Up Football to Avoid Getting Hurt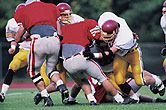 SATURDAY, Sept. 11 -- As American boys celebrate the return of their favorite professional and college football teams, many will also play the sport themselves. But the game doesn't come without the risk of potential injury.
With that in mind, a coalition of national health-care organizations has decided to tackle the issue of sports injuries in children with the launch of the "STOP Sports Injuries Campaign."
"Traumatic injuries to the knee and shoulder, as well as concussions, are the most common types of [football] injuries we see on both the professional and youth levels," orthopaedic surgeon Dr. Matthew Matava, a team physician for the National Football League's St. Louis Rams and spokesman for the American Academy of Orthopaedic Surgeons, said in an academy news release.
"Overuse injuries, especially in the beginning of the season, are another big issue with kids pushing themselves too far and too fast without proper conditioning."
The campaign noted that football injuries involving youngsters is a "growing epidemic" that last year alone cost nearly $3 billion to treat.
Because many of these injuries are preventable, the campaign is setting out to educate both the athletes and their parents and coaches on ways to minimize risk.
First, young athletes should undergo a preseason physical to assess their ability to play. Also, pre-play, low-impact warm-ups to increase the heart rate are encouraged, as are post-play cool-downs. Strength-training and stretching (at 10 seconds to 12 seconds per stretch to the point of resistance) are also advised.
Players should drink enough fluids to prevent cramping and other health problems, and should be outfitted with well-sized protective gear such as helmets, pads, shoes, and mouth guards.
Football players are advised to tackle their opponents with their head up, rather than leading with their helmet.
Finally, the campaign cautions young players not to play "through the pain."
If an injury occurs, quick action is essential, particularly in the case of a concussion. Coaches, parents and athletes should know the symptoms of a concussion, Matava said.
Symptoms include problems with balance, vision, concentration, and communication; dizziness; sleepiness; fatigue; headache; and irritability.
Any young player with signs of a concussion should be evaluated by a medical professional before returning to play, according to the American Academy of Pediatrics, which is part of the "STOP Sports Injuries Campaign."
Other organizations in the campaign include the American Orthopaedic Society for Sports Medicine, the American Academy of Orthopaedic Surgeons, the National Athletic Trainers' Association, the National Strength and Conditioning Association, the American Medical Society for Sports Medicine, the Sports Physical Therapy Section, the Pediatric Orthopaedic Society of North America and SAFE Kids USA.
More information
To learn more about preventing sports injuries, visit the American Orthopaedic Society for Sports Medicine coalition.
© 2018 HealthDay. All rights reserved.
Posted: September 2010