Plavix Plus Heartburn Drugs May Hike Heart Risk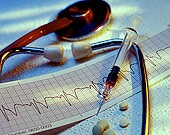 WEDNESDAY, Jan. 28 -- People taking the clot-preventing drug Plavix and an acid-reducing proton pump inhibitor medication after a heart attack have a dramatically higher risk of a second heart attack than those taking Plavix alone, a Canadian study finds.
That increased risk could have enormous public health implications. Proton pump inhibitors such as Prilosec and Prevacid are among the most widely prescribed drugs, and Plavix (clopidogrel) is the second highest-selling drug in the world, the researchers said.
The Canadian study of 13,636 people hospitalized with heart attacks between 2002 and 2007 was started as a response to basic science studies showing that the acid-lowering drugs turned off Plavix, said Dr. David N. Juurlink, head of the division of clinical pharmacology and toxicology at Sunnybrook Health Sciences Centre in Toronto.
"We linked prescribing data with hospital data on these more than 13,000 patients prescribed Plavix after a heart attack and found that people on certain proton pump inhibitors had a 40 percent increased risk of a recurrence," said Juurlink, lead author of the report, published online Jan. 28 in the Canadian Medical Association Journal.
It's not the first study to find such a link. A study of 16,000 people reported last year by Medco Health Solutions, a prescription drug provider, found that 39.2 percent of people taking Plavix and a proton pump inhibitor after implant of a stent -- an artery-opening tube -- suffered serious cardiac events, compared with 26.2 percent of those taking Plavix alone. The full study, presented at an American Heart Association meeting, has been submitted to a journal for publication, said Dr. Robert Epstein, chief medical officer at Medco.
The Medco study came about in the same way as the one done in Canada, Epstein said. "We saw the laboratory study last January and felt we needed to investigate further," he said.
Both Plavix and most proton pump inhibitors (PPIs) are metabolized by the same enzyme in the liver, Juurlink said, so the combination can make Plavix less effective.
"The PPI drug blocks the conversion of clopidogrel to its active state, so it can't have the anticlotting activity it is supposed to," said Dr. Christopher Cannon, a cardiologist at Brigham and Women's Hospital in Boston. "You're taking Plavix, but it's not having the anticlotting activity it should."
Cannon is a member of a research group that has found that individual genetic makeup can reduce the effectiveness of Plavix in some people.
The U.S. Food and Drug Administration has taken notice of the potential dangers of the Plavix-PPI combination. The agency issued a notice Monday saying it would conduct studies "that will allow a better understanding and characterization of the effects of genetic factors and other drugs (especially the proton pump inhibitors) on the effectiveness of clopidogrel."
The FDA notice did not refer specifically to an increased risk of heart problems. It did say that "health care providers should re-evaluate the need for starting or continuing treatment with a PPI, including Prilosec OTC, in patients taking clopidogrel" and that "patients taking clopidogrel should consult with their health care provider if they are currently taking or considering taking a PPI, including Prilosec OTC" (the over-the-counter, or non-prescription form, of the drug).
Juurlink said "most doctors are unaware" of the potential dangers of the combination. But, he noted that the new study found no increased risk with the use of the PPI pantoprazole (Protonix), which works by a different molecular mechanism.
"For me, if patients need to be on a PPI, I would preferably give pantoprazole and avoid other acid-lowering drugs," he said.
Cannon said: "This [the Canadian report] is very worrying to us doctors who prescribe clopidogrel and proton pump inhibitors. The FDA has said it is reviewing all the data on this issue. All of us are on notice that something is going on."
Epstein said: "The take-home message is that if you are taking Plavix, you should continue to take it. The question is whether you should take a proton pump inhibitor."
© 2018 HealthDay. All rights reserved.
Posted: January 2009