Parents Still Giving Cough, Cold Meds to Kids Under 2: Poll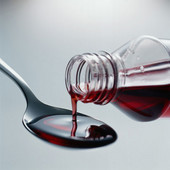 WEDNESDAY, Feb. 16 -- Many American parents of children aged 2 and younger still give over-the-counter cough and cold medicines to their kids despite United States Food and Drug Administration warnings to the contrary, researchers have found.
In response to research linking over-the-counter (or OTC) cough and cold medicines to poisoning or death in hundreds of children ages 2 years and younger, the FDA said in 2008 that the products should not be given to children in this age group.
In addition, studies have shown that these medicines have little benefit in controlling symptoms.
A new national poll of over 300 parents of children ages 6 months to 2 years found that 61 percent of parents gave OTC cough and cold medicines to their children within the last 12 months.
In addition, more than half of the parents said their child's doctor said the medicines are safe for children under 2 years, and about half reported that their doctor said the medicines are effective, according to the results released Feb. 15 by the C.S. Mott Children's Hospital National Poll on Children's Health.
Among the other findings:
Use of OTC medicines for children ages 2 and younger varied by race/ethnicity: 80 percent among blacks; 69 percent among Hispanics; and 57 percent among whites.
Use also differed by income: 80 percent among families with annual incomes of less than $30,000 and 41 percent among families with annual incomes of $100,000 or more.
Wanting their child to be able to sleep better or to be more comfortable during the day were cited by two-thirds of parents as "very important" reasons for using the medications.
The recommendation of the child's health care provider was very important to 57 percent of the parents.
"There are challenges to informing parents about this topic," poll director Dr. Matthew Davis, an associate professor in the Child Health Evaluation and Research Unit at the University of Michigan Medical School, said in a university news release.
"The FDA warning is specific to young children, age 2 and under, but parents of those kids may not have heard the warnings issued more than two years ago. Each year a 'new generation' of parents must be educated about a wide variety of health care issues for their children," he explained.
"Physicians are a valuable source of information for parents about this issue, but it appears that physicians are not heeding FDA warnings about OTC cough and cold medicines either. Kids will be safer when parents and doctors are all on the same page in limiting these medicines to older children," Davis added.
More information
Here's the U.S. Food and Drug Administration consumer update warning against the use of OTC cough and cold medicines for children age 2 years and younger.
© 2018 HealthDay. All rights reserved.
Posted: February 2011