Parents Often Confused About Kids' Health Coverage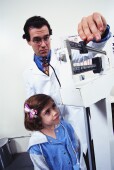 THURSDAY, March 17 -- Many American children who qualify for public health insurance may be missing out on coverage because their parents are confused about enrollment and eligibility, new research indicates.
The study looked at children in 10,175 low-income households in Oregon and found that about 23 percent of children enrolled in the Food Stamp Program were not enrolled in the Oregon Health Plan (OHP), the state's combined Medicaid-Children's Health Insurance Program (CHIP). Eligibility requirements are similar for both programs.
The researchers then analyzed 2,681 responses they received from a mailed survey designed to assess whether parents' confusion about their children's eligibility for OHP resulted in nonenrollment.
More than 20 percent of parents with children not enrolled in OHP said their children were enrolled in the program, and parents of 11.3 percent of children enrolled in OHP said their children were not enrolled in the program, the survey found.
The researchers also found that eligible children who weren't enrolled in OHP tended to be older, live in families with higher incomes, and have employed and uninsured parents.
"Our data suggest that insurance coverage is a transient phenomenon for many low-income children," the researchers wrote. "If Medicaid and CHIP are to be pillars in future health insurance reforms, public health programs should continue to work toward providing stable coverage and systems that increase parental knowledge and awareness of their children's eligibility and enrollment status."
The study is published online and in the May print issue of the American Journal of Public Health.
More information
The U.S. Department of Health and Human Services has more about health insurance for children.
© 2018 HealthDay. All rights reserved.
Posted: March 2011