Paper Money Worldwide Tainted With BPA: Study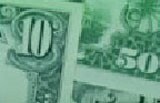 FRIDAY, Aug. 19 -- Paper money worldwide is contaminated with the potentially toxic chemical bisphenol A (BPA), according to a new study.
BPA is used to make some plastics and consumer products such as water bottles, household electronics and sports equipment. Research suggests that BPA is an endocrine disruptor, which means that it acts like the hormone estrogen, and may be linked to a number of health problems.
Researchers analyzed 156 pieces of paper money from 21 countries and found that all of the bills contained traces of BPA. Paper money from Brazil, the Czech Republic and Australia had the highest BPA levels, while bills from the Philippines, Thailand and Vietnam had the lowest levels. U.S. notes had average levels, the study authors said in a news release from the American Chemical Society.
Thermal paper used for cash register receipts is the most likely source of the BPA contamination on the money, according to the researchers, Kurunthachalam Kannan and Chunyang Liao of the Wadsworth Center at the New York State Department of Health, and Department of Environmental Health Sciences, School of Public Health, State University of New York at Albany. Thermal paper is so named because it contains a chemical that changes color when exposed to heat.
The investigators also noted that while the amounts of the chemical on paper money are higher than what's found in house dust, human intake of BPA from paper money is at least 10 times lower than intake from house dust.
The report was published in a recent issue of the journal Environmental Science & Technology.
More information
The U.S. National Library of Medicine has more about BPA.
© 2018 HealthDay. All rights reserved.
Posted: August 2011