Obese Poor Shut Out From Weight-Loss Surgeries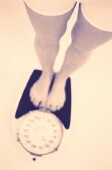 THURSDAY, June 25 -- Despite having one of the highest rates of obesity in America, the poor are less likely to undergo weight loss surgery than obese people who are better off financially, new research shows.
White women with higher incomes and private health insurance were the most likely to have the surgery, according to a study to be presented Wednesday at the American Society for Metabolic & Bariatric Surgery (ASMBS) annual meeting, in Dallas.
Using data from the 2006 Nationwide Inpatient Sample, sponsored by the U.S. Agency for Healthcare Research and Quality, researchers identified 88,000 morbidly obese adults who had bariatric surgery in the United States in 2006.
Of those, 81 percent were women, 75 percent were white, 80 percent had incomes at least two times the poverty level and 82 percent had private health insurance.
Although government statistics show that blacks make up 18 percent of morbidly obese adults, they represented only 11 percent of people getting bariatric surgeries, the team noted.
"The socioeconomic differences we found were pretty striking," said Dr. Matthew J. Martin, an assistant professor of surgery at Madigan Army Medical Center in Tacoma, Wash. "Income, race, insurance status, and even your gender, are potential barriers to access to surgery."
Morbid obesity was defined as having a body-mass index (BMI) over 40, or a BMI of 35 to 40 with an obesity-related disease such as type 2 diabetes, heart disease or sleep apnea, criteria established by the U.S. National Institutes of Health.
Despite a growing body of evidence that bariatric surgery is among the most effective long-term treatments for severe obesity, few actually undergo the procedure, which cost an average of about $37,000, according to the study.
In fact, less than one-half of 1 percent of the more than 22 million people in the U.S. who are medically eligible for bariatric surgery actually go through with it, according to statistics derived using data from the National Health and Nutrition Examination Survey (NHANES).
Socioeconomic disparities in health care are common in other types of medical conditions, including cancer and cardiovascular treatments. Lack of access to health care is one reason why the poor tend to have worse health overall than the rest of the population, Martin said.
Obesity seems to strike lower-income people more than the more affluent. About 35 percent of the morbidly obese had a household income that was less than two times the poverty level, the study found, compared to 28 percent of the general population.
About 15 percent of the morbidly obese had incomes below the poverty level, a benchmark that varies depending on household size and geographic region.
The morbidly obese were also more likely to have no insurance of be underinsured, defined as having coverage from Medicaid or other government-subsidized healthcare. About 20 percent of the morbidly obese were underinsured, compared with 8 percent of the general population.
Women and blacks also made up a disproportionate amount of the morbidly obese compared to their proportion of the population as a whole.
Nearly 30 percent of those who had bariatric surgery also had diabetes, 52 percent had hypertension and 19 percent had chronic pulmonary disease. The morbidly obese took twice as many sick days per year (5.4 vs. 2.8) and missed more work days (8 vs. 5).
"Increasing access and breaking down the socioeconomic barriers to bariatric surgery among the underserved population has the potential to significantly impact the health and well-being of millions of people throughout the U.S," Martin said.
While Medicaid and government-run medical plans do cover bariatric surgery, patients often have long wait times for approval and often are denied coverage for seemingly arbitrary reasons, added ASMBS President Dr. Scott Shikora.
Even after a surgeon, mental health professional, dietician and physician who specializes in obesity has determined the patient should have bariatric surgery, the patient is told to try six months or a year of additional, medically supervised weight loss attempts before trying surgery, Shikora said.
"In our area, it's difficult for patients with Medicaid to get approval even if they meet all of the criteria," said Shikora, director of Weight and Wellness Center at Tufts Medical Center in Boston. "They seem to arbitrarily reject applications, require lots of paperwork and take a long time to approve anything."
Another study also scheduled to be presented Wednesday found that weight loss surgery may work just as well for older patients as it does for younger ones. Researchers found that morbidly obese seniors age 65 and older who had laparoscopic gastric bypass surgery lost about 76 percent of their excess body weight and had no more complications than younger patients.
"Bariatric surgery in the older population is underutilized because of a misperception that old age alone puts patients at higher risk for complications and mortality, said Dr. Joseph Kuhn, MD, study co-author and director of General Surgical Research at Baylor University Medical Center in Dallas. "We found seniors can benefit just as much as younger people from bariatric surgery without taking on additional risk."
Despite a higher prevalence of surgical risk factors such as sleep apnea, type 2 diabetes and hypertension, 100 patients aged 65 to 77 with an average BMI of 45 had hospital stays and complication rates that were comparable to younger patients, the team found.
More information
There's more on bariatric surgery at the U.S. National Institute of Diabetes and Digestive and Kidney Diseases.
© 2018 HealthDay. All rights reserved.
Posted: June 2009