Nutrition Still Not 'A' Grade in U.S. Schools: Studies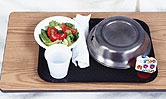 WEDNESDAY, Oct. 7 -- Schools in the United States are becoming healthier places thanks to more nutritious food and an increased focus on exercise, but still more is needed to combat teen obesity, a series of studies concludes.
Among the findings of the studies, which appear in a September supplement to the Journal of Adolescent Health:
Students in California schools have a choice of healthier foods and beverages. More than 85 percent of 56 schools studied complied with state beverage standards that went into effect two years ago, and nearly 64 percent meet standards regarding healthy food in their cafeterias and other venues.
In a study of 64 schools in Washington state, researchers found that students drank fewer sugar-sweetened beverages, such as soft drinks, when schools made it harder for students to obtain these beverages.
Also in Washington state, schools are offering less junk food, such as candy, baked goods, ice cream and potato chips.
In Texas, schools are devoting more time to physical activity.
Nationally, however, physical education standards vary greatly. Physical education is required for 88 percent of eighth graders, but only 20 percent of 12th graders.
"Studies such as these, examining how policies are implemented and the impact they have, are a compass guiding our efforts to prevent and reduce childhood obesity," C. Tracy Orleans, senior scientist at the Robert Wood Johnson Foundation, said in a news release from the foundation. "The supplement is a valuable addition to our growing knowledge of which policy efforts are working and which are not."
The researchers called for more state and school district policies regarding nutritious food and beverages and exercise levels. They also called for more research to determine if the policies are working, according to the news release.
More information
For more about healthy eating, see the Nemours Foundation.
© 2018 HealthDay. All rights reserved.
Posted: October 2009