Novel Drugs Show Early Promise Against Several Cancers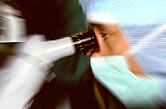 SATURDAY, June 2 -- Two related "immunotherapy" drugs show early evidence of being able to thwart a variety of tough-to-treat, advanced cancers.
About one-quarter of patients with advanced melanoma, kidney or lung cancer saw their tumors shrink when taking one of the two drugs, researchers reported Saturday.
But the findings are extremely preliminary. Phase 1 studies such as this aren't designed to look at tumor shrinkage at all, but simply to establish dosage.
And the therapies produced some serious side effects.
While seeing results in a study such as this is "exciting," said Dr. Len Lichtenfeld, deputy chief medical officer at the American Cancer Society, "this was not the focus of the study."
The two experimental drugs are antibodies that target two proteins in a key pathway of the immune system.
"Cancers seem to have co-opted this pathway to enable them to fly below the radar of the immune system," explained study lead author Dr. Suzanne Topalian, professor of surgery and oncology at Johns Hopkins University School of Medicine in Baltimore.
One protein, programmed death-1 (PD-1), is produced on the surface of immune-system cells; the second protein, programmed death ligand-1 (PD-L1), is produced on the cancer cells themselves, Topalian said.
When the proteins interlock, they "form a shield that protects the tumor [from the immune system]," she said.
The first trial tested a drug currently known as BMS-936558, which blocks PD-1, in 236 patients with either advanced non-small-cell lung cancer, melanoma or kidney cancer. None of the patients had benefited from prior therapies.
Depending on the type of cancer, 18 percent to 28 percent of the patients saw their tumors shrink. In 20 of the 31 people who responded to the drug, those responses lasted one year or more, the researchers said.
"These are notable results," Topalian said. "These patients had an average life expectancy of less than a year coming into the trial."
The patients most likely to respond to the drug had so-called PD-L1 positive tumors, indicating that this biomarker might help identify patients who would be good candidates for this therapy.
The second study assessed a drug known currently as BMS-936559, which blocks the PD-L1 protein. Ten percent to 17 percent of about 200 patients responded to BMS-936559.
But, the drugs also caused side effects that were "not insignificant," Lichtenfeld noted.
Three of the patients receiving anti-PD-1 therapy died.
Although there's no indication yet of what effect the therapies might have on overall survival, "we think this pathway is an important one to target for cancer therapy," Topalian said.
And, she added, "we are having a significant impact on multiple cancers, [which is] unusual."
Added Lichtenfeld: "The mechanism of action is intriguing, working in a way applicable to a number of cancers so it may be broadly applicable. We will just have to follow this with interest."
The study findings were presented Saturday at the annual meeting of the American Society of Clinical Oncology in Chicago, and published simultaneously in the New England Journal of Medicine.
The trials were funded by Bristol-Myers Squibb and Ono Pharmaceuticals Co., Ltd.
More information
The American Cancer Society has more on immunotherapy for cancer.
© 2018 HealthDay. All rights reserved.
Posted: June 2012