New Weapons in Fight Against TB?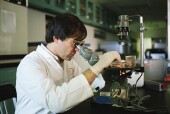 FRIDAY, July 3 -- Extreme drug-resistant tuberculosis might someday meet its match in two drugs now used to treat Parkinson's disease, suggests a new study.
Researchers, led by a team from the University of California, San Diego, report in the July 3 issue of PLoS Computational Biology that commercially available entacapone and tolcapone have the potential to treat the difficult-to-kill strain of TB.
The discovery was made after a computational analysis that found the chemical structure of the two Parkinson's drugs might work to thwart the TB enzyme InhA, which previous research had determined to be a prime target in treating the disease. A subsequent lab experiment found that the active ingredient in the two drugs inhibited the M. tuberculosis bacterium without being deadly to its host cells.
"We have computational and experimental data to support this [drug] repositioning," principle investigator Philip E. Bourne, a professor of pharmacology at the university's Skaggs School of Pharmacy and Pharmaceutical Sciences, said in a university news release. "Here we have drugs that are known to be safe and with suitable binding properties which can be further optimized to treat a completely different condition."
About 2 million people each year die from extreme drug-resistant tuberculosis, which poses a worldwide threat.
The study's lead author, graduate student Sarah L. Kinnings, said the lab experiment was just a step in the long process of possibly creating a new TB treatment.
"Given the continuing emergence of M. tuberculosis strains that are resistant to all existing, affordable drug treatments, the development of novel, effective and inexpensive drugs is an urgent priority," she said in the news release.
More information
The U.S. Centers for Disease Control and Prevention has more about tuberculosis.
© 2018 HealthDay. All rights reserved.
Posted: July 2009