New Drug May Work Better Against Chemo Side Effects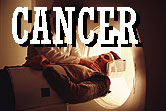 THURSDAY, Jan. 8 -- A drug that better prevents the nausea and vomiting that commonly follows chemotherapy treatment for cancer may be on the horizon, Japanese researchers report.
Studies headed by a doctor at Juntendo University Hospital in Tokyo found that palonosetron was not only as effective as the common anti-nausea drug granisetron at avoiding the sickening side effects in the first 24 hours after chemo, but is even better at preventing those side effects in the first five days.
In the phase III trial, about three-fourths of the people given either drug (both given in combination with dexamethasone) did not experience nausea and vomiting in the 24 hours immediately after receiving a chemotherapy regimen that included drugs most likely to cause vomiting -- cisplatin or a combination of anthracycline and cyclophosphamide, according to the study. However, nearly 57 percent of those on palonosetron avoided the ill effects in the first five days after treatment, compared with about 44 percent who had been given the standard granisetron regimen.
The study, which was released online and will appear in the February issue of The Lancet Oncology, reported similar safety records for the two drugs.
SOURCE: The Lancet Oncology, news release, Jan. 7, 2009
© 2018 HealthDay. All rights reserved.
Posted: January 2009