New Guidelines Issued for Deep Brain Stimulation in Parkinson's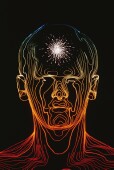 MONDAY, Oct. 18 -- A group of more than 50 experts on the treatment known as deep brain stimulation (DBS) have agreed on new guidelines as to which Parkinson's disease patients should receive DBS and how it should be applied.
An electrical stimulation technique targeting highly specific parts of the brain, the intervention has been in use since the late 1990s to treat those for whom medicinal approaches fail to prevent the loss of movement control, balance and coordination that typically accompanies the disabling neurological disorder.
The new consensus was arrived at during a meeting in April 2009 and is designed to address any confusion regarding patient selection and the specifics of electrode placement and supplemental surgery.
"We know that very little accessible information is out there to help a Parkinson's patient make an informed decision as to whether he or she would be a good candidate for deep brain stimulation," study lead author Jeff Bronstein, a University of California, Los Angeles (UCLA) professor of neurology and director of the UCLA Movement Disorder Program, said in a university news release.
Bronstein and his colleagues published the consensus outline in the Oct. 11 online edition of Archives of Neurology.
The authors explained that DBS is a treatment provided by neurosurgeons, who use MRI scans to target the area of the brain where abnormal electrical signals set in motion the disease's telltale tremors. Once the area is identified, a neurostimulator is surgically implanted in order to provide electrical stimulation and restore proper signaling.
Among the new indications, experts say the ideal candidates for DBS are those otherwise healthy patients who suffer from tremors and motor problems but for whom medication options are intolerable.
The procedure should be performed by an experienced neurosurgeon and team with an expertise in deep microsurgery involving high-tech neuroimaging equipment, the experts advise.
As for how it should be applied, the authors noted that while the two brain regions most commonly treated with DBS are suitable targets for Parkinson's intervention, physicians should be aware that applying DBS to one of them -- the so-called "subthalamic nuclei" -- can trigger depression and other side effects in some patients.
Lastly, the new consensus acknowledges that surgery still has a role to play in Parkinson's treatment, with removal of the affected portion of the brain an alternative treatment that should be considered for most patients.
More information
For more on Parkinson's disease, visit the U.S. National Institute of Neurological Disorders and Stroke.
© 2018 HealthDay. All rights reserved.
Posted: October 2010