More Can Be Done to Slow Obesity's Toll on Health: Experts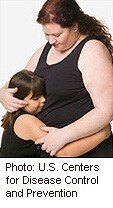 TUESDAY, July 28 -- Obesity in the United States now carries the hefty price tag of $147 billion per year in direct medical costs, just over 9 percent of all medical spending, experts reported at a national conference Tuesday in Washington, DC.
"To put that figure in perspective, the American Cancer Society estimates that all cancers combined cost our health care system $93 billion a year. So ending obesity would save our health care system 50 percent more dollars than curing cancer," Health and Human Services Secretary Kathleen Sebelius said Tuesday morning in prepared remarks for the "Weight of the Nation" conference, sponsored by the U.S. Centers for Disease Control and Prevention.
But Sebelius also believes that interventions that can be put in place today can help turn the tide against obesity, especially among America's children.
"Right now, they're learning the wrong habits. The share of children that are overweight has quadrupled in the last 40 years," she said in her prepared statement. "If there was an epidemic of little kids getting cancer, it would be a national crisis. But because it's obesity and the damage doesn't come until later in life, we've been slow to act."
However, simple steps can work to change youngsters' eating habits, she added. Cheaper, healthier offerings of fruits and vegetables at school cafeterias and improved access to classes and programs that emphasize physical activity have worked around the country to keep kids slim, Sebelius pointed out.
In the meantime, the cost of caring for obesity-linked health woes continues to rise. According to the new CDC data released at the conference, people who are obese spend almost $1,500 more each year on health care -- about 41 percent more than an average-weight person. Beyond those costs are the disability and early deaths caused by obesity, CDC director Dr. Thomas R. Frieden said during a press conference held Monday.
"Obesity, and with it diabetes, are the only major health problems that are getting worse in this country, and they are getting worse rapidly," Frieden said. "The average American is now 23 pounds overweight."
Between 1998 and and 2006, obesity rates in the United States increased 37 percent and now one in three adults in the country are obese. Experts have long known the toll overweight takes on health, but the new report, published in the July 27 online edition of Health Affairs, outlines the financial cost of obesity.
"A normal-weight individual will spend about $3,400 per year in medical expenditures and that number rises to about $4,870 if that individual is obese," study author Eric Finkelstein, director, RTI Public Health Economics Program in Research Triangle Park, N.C., said during the Monday press conference.
For people on Medicare, expenses for a normal-weight person average about $4,700 a year, while costs for an obese person range about $6,400 annually, Finkelstein said.
The biggest driver of these excess costs are prescription drugs, Finkelstein said. Among the normal-weight population, prescription drug costs average about $700 a year, but among those who are obese the cost rises to about $1,300 a year, he said.
"For Medicare, the costs of obesity are about 72 percent greater just for prescription drugs," Finkelstein said. An obese person on Medicare is going to pay $1,400 in drug costs more a year than a normal-weight person, he said.
"Today's report demonstrating the clear link between rising rates of obesity and increasing medical costs is alarming, but not unexpected," Risa Lavizzo-Mourey, president and CEO of the Robert Wood Johnson Foundation said in a statement. "Obesity is the driver of so many chronic conditions -- heart disease, diabetes, cancer -- that generate the exorbitant costs that are crushing our health-care system," she said.
"The only way to show real savings in health expenditures in the future is through efforts to reduce the prevalence of obesity and related health conditions," Finkelstein said.
Hoping to turn the tide of the obesity epidemic, the CDC is taking several steps it hopes will alert people to the problem and get Americans to make the changes need to reduce obesity.
Among the strategies the CDC is promoting are making healthy food more available, encouraging more choices of healthy foods, encouraging breast-feeding, encouraging physical activity and creating sites in communities that support physical activity, Dr. William H. Dietz, director of CDC's Division of Nutrition, Physical Activity, and Obesity, said during the press conference.
"These recommendations, I believe, set the foundation for the community interventions necessary to reverse this problem in the United States," Dietz said.
One of the biggest problems facing Americans is soaring consumption of soda and other sugar-sweetened drinks, which add almost 150 calories to the daily diet, Frieden said.
Frieden believes that taxing sodas and other sugar-sweetened drinks will help cut down on consumption and raise revenues that can be used to fight the obesity epidemic.
The upshot of Monday's meeting is that stemming the obesity epidemic is going to take a societal effort.
"Reversing obesity is not going to be done successfully with individual effort," Frieden said. "We did not get to this situation over the past three decades because of any change in our genetics or any change in our food preferences. We got to this stage of the epidemic because of a change in our environment and only a change in our environment again will allow us to get back to a healthier place," he said.
HHS head Sebelius agreed. "These are investments that can be made at the neighborhood, city, and state levels," she said. "Everyone -- from parents to schools to local governments to food and beverage companies -- has a role to play in promoting prevention and wellness."
More information
There's more on obesity and health at the American Heart Association.
© 2018 HealthDay. All rights reserved.
Posted: July 2009