Milk Thistle of Little Help Against Hepatitis C: Study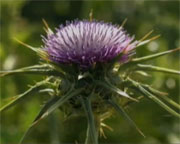 TUESDAY, July 17 -- Many patients with chronic hepatitis C turn to an alternative herbal treatment known as milk thistle, but a new study finds that it has little effect on the liver disease.
However, milk thistle doesn't appear to be harmful and it's still not clear if a treatment derived from the plant might have benefits when given through an IV drip.
In the big picture, though, the milk thistle products that you can buy at a health food store just don't work, said study author Dr. Michael Fried, director of the University of North Carolina Liver Center. "There's really no benefit to be treated with milk thistle."
According to an information sheet from the University of Maryland, people have used milk thistle for thousands of years to treat mushroom poisoning, liver problems -- particularly those due to alcoholism -- and hepatitis. Milk thistle products are derived from the seeds of the white-streaked sunflower-like plant, which was named, according to legend, for milk that fell from the breast of the Virgin Mary.
Milk thistle capsules are fairly inexpensive and may cost just pennies each, although some recommendations suggest that people take a few each day.
Fried estimated that perhaps a third of patients with chronic liver disease have tried milk thistle.
In the new study, researchers took 154 hepatitis C patients who hadn't responded well to drug treatment and randomly assigned them to take daily doses of 420 milligrams (mg) of milk thistle extract, 700 mg of milk thistle extract or a placebo. (Those doses are much higher than typical recommendations.) They took the capsules for six months.
A few patients -- two in each group -- showed signs of progress after the six months. "We didn't find any benefits whatsoever," Fried said.
Symptoms were about the same among the three groups, suggesting that milk thistle doesn't cause noticeable side effects.
Patients often turn to milk thistle because they're frustrated by the inability of medicine to relieve the symptoms of their liver disease, explained Dr. Eugene Schiff, director of the Center for Liver Diseases at the University of Miami Miller School of Medicine. Milk thistle appears to be safe, he said, but it just doesn't have any effect.
The good news is that new drugs are on the horizon that should help improve the treatment of hepatitis C, Schiff said.
The study appears in the July 18 issue of the Journal of the American Medical Association.
More information
For more about milk thistle, try the U.S. National Library of Medicine.
© 2018 HealthDay. All rights reserved.
Posted: July 2012