Med Students Need Hand Holding on Hand Washing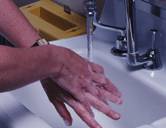 WEDNESDAY, Dec. 14 -- A new study finds that two out of three medical students don't know when to clean their hands.
Researchers gave seven scenarios to 85 third-year medical students at Hannover Medical School, in Germany, and asked them to identify which of the situations required hand hygiene.
Only 33 percent of the students correctly identified the five scenarios that required hand hygiene: before contact with a patient; before preparation of intravenous fluids; after removal of gloves; after contact with the patient's bed and after contact with vomit.
Only 21 percent of the students correctly identified the five correct and two incorrect situations.
The researchers also found that the medical students expected their own hand hygiene would be better than nurses', even though studies show that nursing students have a higher rate of hand-hygiene compliance than medical students.
"There is no doubt that we need to improve the overall attitude toward the use of alcohol-based hand rub in hospitals," researchers concluded in a journal news release. "To achieve this goal, the adequate behavior of so-called 'role models' is of particular importance."
The study appears in the December issue of the American Journal of Infection Control.
More information
The U.S. Centers for Disease Control and Prevention has more about hand hygiene.
© 2018 HealthDay. All rights reserved.
Posted: December 2011