Too Many Tots Watching Too Much TV: Study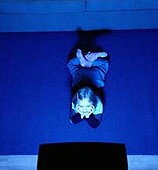 THURSDAY, July 15 -- A study of 2-year-olds in Oregon finds that almost 20 percent watch at least two hours of television a day, and researchers say that's probably true for kids in the rest of the nation.
Expert have warned that too much time in front of the TV could hamper a young child's mental development and raise the odds for obesity, and the new findings are "what many pediatricians know and have feared," said Dr. Gwen Wurm, an assistant professor of pediatrics at the University of Miami Miller School of Medicine. She was not involved in the study.
According to guidelines from the American Academy of Pediatrics, children's TV time should be limited to no more than one hour or two hours a day of "quality programming," and TV sets should be kept out of their bedrooms.
However, Wurm said, "we know that many, many children are watching too much television. When TV becomes a major part of a child's life, there's a problem."
"That goes for anything that involves screen time," including computers and video games, she added. "Anything that involves a screen is really where the problem is at."
The study is published in the July 16 issue of the U.S. Centers for Disease Control and Prevention's journal Morbidity and Mortality Weekly Report.
In the report, researchers at the CDC and the Oregon Public Health Division used data from the Oregon Pregnancy Risk Assessment Monitoring Survey to determine the TV watching habits of two-year-olds throughout the state.
The researchers found that on an average day, 19.6 percent of two-year-old's watched at least two hours of TV. Several factors were associated with amount of TV these children watched.
For example, about 36 percent of black mothers reported their child watched TV at least two hours of TV a day, compared with just under 19 percent of white mothers. Also, children who had a TV placed in their room were more likely to watch a lot of TV (about 34 percent) than children without a TV in the room (16.3 percent), according to the report.
Being kept at home throughout the day mattered, too. Almost 23 percent of the children who went on fewer than four outings a week watched at least two hours of TV a day, compared with 14.5 percent of the children who went on frequent outings. Moreover, children who spent time in a child care center were less likely to watch a lot of TV (7.8 percent) than children who didn't (about 23 percent) or children who had other types of child care (18.6 percent), the researchers found.
Limiting the amount of TV children watch when very young may help reduce the amount of time they spend on media as they get older, the researchers said. Right now, the average school-age child spends 4.5 hours watching television each day and 7.5 hours using media overall, a recent Kaiser Family Foundation study found.
Too much screen time can take a toll on a child's development, Wurm believes.
"The more kids are spoken to, the better their language development," she said. "When children are engaged in the television, they are not being spoken to by adults. We know that cognitive development is linked to speech development, so children who don't learn to speak well, those are the kids who will not reach their cognitive potential."
The problem, Wurm said, is that TV can become a substitute for a "healthy interaction with adults and other humans. Parents often discount what they mean to their child. There is nothing a child likes more than sitting down and doing something with their parent."
In addition, because images on TV go by at lighting speed, it may be taking a toll on a child's ability to concentrate and may be partly responsible for the increase in attention deficit hyperactivity disorder (ADHD) among children, Wurm theorized.
And there's a potential physical cost of too much media in childhood -- obesity, due in part to the kind of foods children see advertised, Wurm said. "They advertise Apple Jacks not apples," she said.
The solution, according to Wurm, is simple: turn off the TV and spend more time with your kids, and get them outdoors more often.
"The more outside time your children have, the healthier they are going to be," she said.
More information
For more information on children and TV, visit the Nemours Foundation.
© 2018 HealthDay. All rights reserved.
Posted: July 2010