Drug Maker Recalls More Than 40 Allergy, Cold Meds for Kids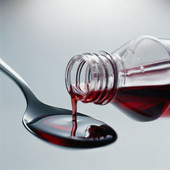 SATURDAY, May 1 -- McNeil Consumer Healthcare on Friday recalled more than 40 of its liquid cold and allergy products for children because some of the medications may not meet federal quality standards.
The medicines involved in the voluntary recall include Tylenol, Tylenol Plus, Motrin, Zyrtec and Benadryl. These medications have been sold in the United States and 11 other countries, the company said.
"This recall is not being undertaken on the basis of adverse medical events," McNeil said in a statement on its Web site. "However, as a precautionary measure, parents and caregivers should not administer these products to their children."
"Some products in the recall may have a higher concentration of active ingredient than specified while others may have inactive ingredients that don't meet testing requirements," the company explained. Others may contain particles, while still others may contain inactive ingredients that do not meet internal testing requirements.
In its statement, the company told parents that they should stop giving the products to their children as a precautionary measure. However, the recall was not started because of any adverse health effects, the company stressed.
More information
For a complete listing of the recalled products, visit McNeil Consumer HealthCare.
© 2018 HealthDay. All rights reserved.
Posted: May 2010