Low Testosterone May Raise Risk of Early Death: Study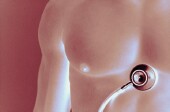 TUESDAY, Oct. 19 -- Men with low testosterone levels may be at increased risk for premature death from heart disease and all causes, a finding that challenges the current belief that testosterone is a risk factor for cardiovascular disease, according to new research.
The study included 930 men with coronary artery disease who were followed-up for about seven years. At the start of the study, low testosterone levels were noted in about one-quarter of the men.
During the study period, one in five men (20 percent) with low testosterone levels died, compared with one in eight (12 percent) of those with normal levels of the hormone, according to the report in the Oct. 20 online edition of the journal Heart.
After taking into account other risk factors -- such as age, co-existing health problems, smoking and weight -- a low testosterone level was found to be an independent risk factor for premature death from heart disease and all other causes, reported Kevin Channer, of the department of cardiology at Royal Hallamshire Hospital Sheffield, in the United Kingdom, and colleagues.
Borderline levels of testosterone were also associated with increased risk of death, the study authors found.
Low, rather than high, levels of testosterone are associated with obesity, risky blood fats and insulin resistance, all of which are risk factors for diabetes and heart disease, the researchers noted in a news release from the journal's publisher. They suggested that men at high risk for these diseases might have the most to gain from testosterone replacement therapy.
More information
The American Association for Clinical Chemistry has more about testosterone.
© 2018 HealthDay. All rights reserved.
Posted: October 2010