Low Income May Keep Cancer Patients Out of Clinical Trials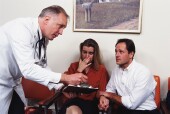 SUNDAY, June 3 -- Low-income cancer patients are less likely to participate in clinical trials, according to a new study that found income affects participation even among older patients likely to have Medicare.
The researchers said patients may not have equal access to study enrollment.
The research was scheduled for presentation Sunday at the American Society of Clinical Oncology annual meeting, in Chicago.
"This is the first time in a large, national study that we have actual patient-reported income on which to base this finding," study lead author Joseph Unger, a health services researcher and statistician with the SWOG Statistical Center at the Fred Hutchinson Cancer Research Center, in Seattle, said in a society news release. "Our study found that after accounting for all factors such as age, education, sex, race, medical conditions and distance to a clinic, income on its own was associated with a patient's clinical trial participation."
Patients participating in clinical trials tend to receive high-quality cancer care, while contributing to researchers' understanding of cancer and the development of new treatments, the U.S. National Cancer Institute says.
The researchers surveyed approximately 5,500 adults recently diagnosed with breast, lung, colon, or prostate cancer about their treatment decisions over the course of four years. Forty percent had discussed clinical trials with their doctor, and 45 percent of these discussions led to an offer for participation in a clinical trial, the study found. Of these offers, about half led to participation in a clinical trial for an overall participation rate of 9 percent.
Patients with a reported annual income of less than $50,000 were roughly 30 percent less likely to participate in a clinical trial than those who had a higher income, the researchers found. And patients who made less than $20,000 a year were 44 percent less likely to be involved in clinical trials than patients with higher incomes.
Lower-income patients, the study showed, were more concerned about how to pay for their participation in a clinical trial than higher-income patients. The researchers suggested some possible financial barriers might be direct costs, such as co-pays, and indirect costs, such as having to take time off work.
Because this study was presented at a medical meeting, the data and conclusions should be viewed as preliminary until published in a peer-reviewed journal.
More information
The U.S. National Cancer Institute has more about cancer health disparities.
© 2018 HealthDay. All rights reserved.
Posted: June 2012