Low-Cost Strategies to Maintain Health in Hard Times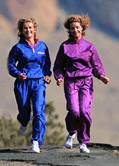 MONDAY, Jan. 19 -- Everyone needs to make sacrifices during hard economic times, but you don't have to shortchange your health.
Experts with the Dana-Farber Cancer Institute in Boston say people can live healthy and cut their risk of cancer without breaking the bank by following several free and low-cost strategies.
Get moving. Moderate to intensive aerobic exercise, including brisk walking, are good for the heart and can help cancer survivors reduce the risk of recurrence. "The most consistent evidence we have so far for reducing the risk of several types of cancer is exercise and avoiding becoming obese," D. Jeffrey Meyerhardt, a Dana-Farber gastrointestinal cancer specialist, said in a news release issued by the institute. Activities can include taking the stairs instead of an elevator, using a stationary bicycle or treadmill while watching TV, or playing a team sport.
Eat healthy. Keeping consumption of processed sugars, red meat and calories low, but fruits and vegetables high, helps you maintain a healthy weight and cuts the risk of certain cancers. "Many of the beneficial nutrients in fruits and vegetables are concentrated in the pigment or rich colors, which are often in the skins," said Stacy L. Kennedy, a nutritionist at Dana-Farber. An apple a day is a good start. The uncooked skin contains the cancer-fighting antioxidant quercitin. Pumpkin, sweet potato, squash (butternut and acorn), carrots and other orange fruits and vegetables contain carotenoids, cancer-fighting nutrients shown to lower one's chances of getting of colon, prostate, lung and breast cancer.
Quit smoking. Kicking the habit will save you money later in health-care costs. "Even though there have been many recent advances in lung cancer treatments, the most effective way to eradicate lung cancer is to prevent it from ever happening," said Dr. Bruce Johnson, director of the Lowe Center for Thoracic Oncology at Dana-Farber, noting that smokers who stay off tobacco for at least 10 to 20 years cut lower their chances of developing lung cancer by 50 percent. Though smoking is the cause of 80 percent of all lung cancers, according to the American Cancer Society, it also increases the risk of oral, throat, pancreatic, uterine, bladder and kidney cancers.
Mind your Ps and Qs. Obviously you save money by cutting out alcohol consumption, but you may also lower the risk of developing some cancers. For example, Dana-Farber researchers found one drink a day for postmenopausal women may raise their risk for breast cancer.
More information
The Dana-Farber Cancer Institute has more about healthy living.
© 2018 HealthDay. All rights reserved.
Posted: January 2009